Players Championship
Players 2021: Jordan Spieth leading this key statistical area is proof the Players Championship is already drunk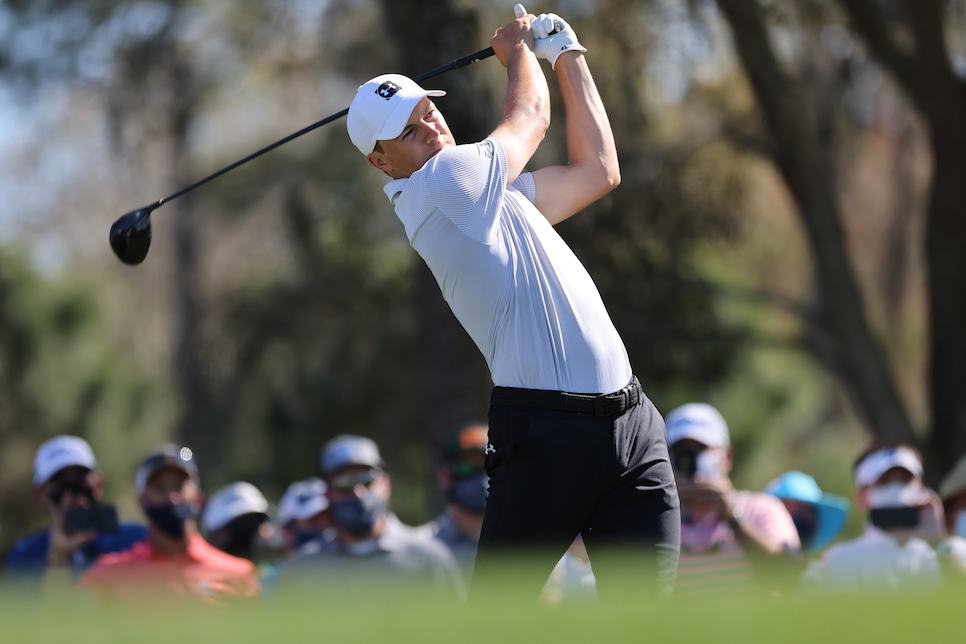 Jordan Spieth plays a tee shot on the ninth hole during the first round of the Players Championship.


Icon Sportswire
PONTE VEDRA BEACH — Someone needs to take away the Players Championship's keys, because it's already drunk.
The first warning sign came bright and early, when Rory McIlroy made double bogey on his first hole, the par-4 10th. The opening round of his title defense only got wobblier from there, the biggest lowlight coming at the par-4 18th, where the Northern Irishman rinsed two balls and walked off with a quadruple-bogey 8. He went on to finish with a 79, all but shooting himself out of the tournament.
Multiple other signs of inebriation came in the form of a 78 from Tony Finau, who lost to playing partner Phil Mickelson by seven shots, as well as a 76 from Xander Schauffele, one of the betting favorites.
But the tournament didn't truly start slurring its words and stumbling all over the place until the late afternoon, when Jordan Spieth … found his driver?
That's right, Spieth hit 12 of 14 fairways on Pete Dye's crown jewel, which demands surgeon-like precision off the tee. It's was his best off-the-tee round in ages, and without question his best at this course. And these were no flukes, either. The three-time major champion split fairway after fairway, the only squirrely tee ball coming at the 18th, where he set up to play a cut that didn't quite cut but still cleared the water. As everyone held their breath, Spieth did not, knowing it had enough.
"I hit one yesterday [at 18] that was about five yards left of that and it didn't carry," said Spieth, who opened with a two-under 70. "But it was also a little more into the wind. I knew there's a split tree there and if it comes down on the split tree today, it was going to be fine. So I lined up just right of that and tried to actually play a little fade into the breeze and it came out, and it was still hanging on or just right of that tree.
"As much as it kind of looked scary in the air, I would have been surprised if it was in the water. I thought I got away with almost a perfect drive on accident and that's what ended up happening."
The fact he knew it was going to clear is a great sign of his current confidence level, which continues to build with each solid round. Looking at the data can only help boost that confidence, and the data shows that … deep breaths now … Spieth is leading the field in strokes gained/off-the-tee after one round.
Entering the week, Spieth had lost strokes off the tee in 13 of his last 15 starts. In the two that he gained strokes, it was by mere totals of 0.6 and 0.4. On the year, he ranks 181st on tour in SG/off-the-tee.
Now, the two key questions: Is it an anomaly? And how did he only shoot 70 while driving it that well?
"From the spots I was playing and the shots I hit into greens mid-air, I would have said I should have shot lower," said Spieth, who burned the edge on back-to-back birdie putts at 15 and 16. "But at the beginning of the day, I would have certainly signed for 70. So it's kind of—I feel really good about today overall as far as if I'm continuing down the path of the way things felt today, I feel like lower scores could come from it, which is really nice around this track."
If Spieth continues to drive it like this, there is no telling how low he could go over the next three days. On Friday he'll have fresh greens in the morning wave, presenting a nice opportunity to marry a hot driver with his all-world putter. If Spieth is heavily in the mix on the weekend, the Players Championship will continue to be drunk both literally and figuratively, and there will be nothing we can (or want) to do to stop it.