Front-row Seat
Presidents Cup 2022: Veteran caddie Joe Skovron is enjoying the Tom Kim ride along with everyone else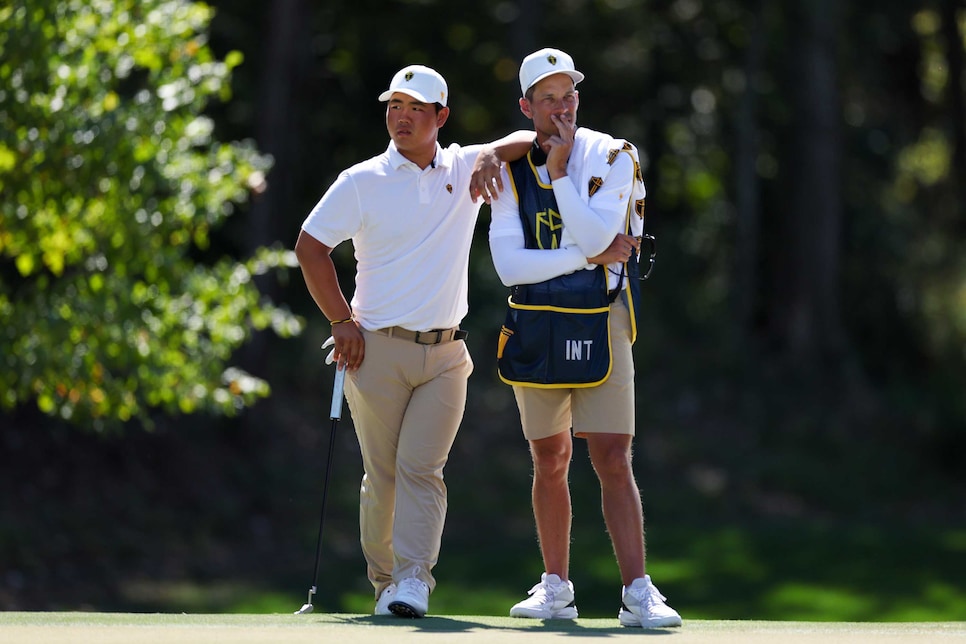 Caddie Joe Skovron hadn't met Tom Kim until the Friday prior to the Presidents Cup. Needless to say he's been impressed while working with him at Quail Hollow. "He has the X factor," Skovron said. "He's not scared of a moment."
Rob Carr
CHARLOTTE — Joe Skovron only met Joohyung "Tom" Kim a week ago Friday. But within a week, the former caddie to Rickie Fowler knew he was looking at one of the most colorful stars to emerge on the PGA Tour in some time.
Skovron and Fowler parted ways in August just before the FedEx Cup Playoffs after spending Fowler's entire professional career together. Skovron was on the bag for all five of Fowler's PGA Tour wins, including the 2015 Players Championship as well as the 2012 Wells Fargo at Quail Hollow, site of this week's Presidents Cup.
Skovron was at home in Arizona when he got a call from the management of 20-year-old Kim, who at the Wyndham Championship last month became the second youngest winner of a PGA Tour event since World War II. Kim's management asked Skovron to come to Trinity Forest in Dallas, where Kim is based, and observe his game before carrying the clubs at the Presidents Cup.
"First impressions of his game? He's an exceptional iron player," Skovron said Saturday at Quail Hollow. "I didn't know much about him before. I mean, I did my homework on him, and I watched the Scottish Open [where Kim finished third]. I have a couple buddies who play in Asia who knew a little bit about him. Exceptional driver, he hits it very straight. He's pretty solid all the way around. And this week he's been really good with the putter from inside 10 feet. So that's been nice to see."
It's a slight understatement to say Kim has been "really good" from inside 10 feet. On Saturday, Kim, playing with fellow countryman Si Woo Kim, drained a 10-foot birdie on Quail Hollow's 18th to secure a 1-up four-ball victory over the formidable partnership of Xander Schauffele and Patrick Cantlay. Kim had set that birdie up by hitting a 20iron majestic approach into the par 4 from 239 yards. He let out a primal scream—as he's been doing all week in North Carolina—knowing it was a vital point that reduced the International team' deficit to the U.S. to 11-7 heading into Sunday's singles.
"It's been a little different for me being on the other side," Skovron said with a laugh, having caddied for Fowler on the U.S. team at four Ryder Cups and three Presidents Cups. "But you can tell there's something about Tom, he has the X factor. He's not scared of a moment. He has fun out there. He likes it. He's got a big personality, and you can tell people kind of respond to him."
'He has the X factor. He's not scared of a moment.'
—Joe Skovron on Tom Kim
Kim has certainly had fun interacting with the enormous crowds in Charlotte this week. They've given every other member of the International team a visibly icy reception, not wanting to pump up the visitors. But they can't help but cheer for Kim, who on the first tee of his four-balls match Saturday afternoon was waving his arms and asking the crowd to go wild during his swing. Kim's teammates, including veteran Adam Scott, have all labelled him the most infectious personality in the locker room.
For Skovron, his role has just been to guide this phenom around Quail Hollow, where 10 years ago Fowler won the Wells Fargo in a playoff that included Rory McIlroy.
"I've been around this place a lot. My former boss won here. I try to bring experience because he's still just 20 years old," Skovron said.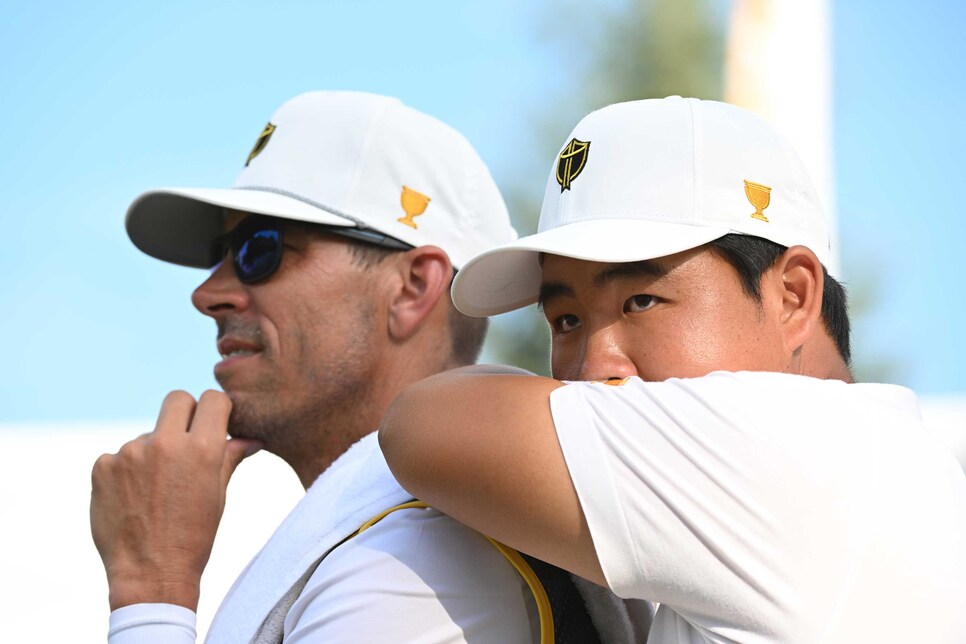 Tom Kim leans on caddie Joe Skovron during a Saturday afternoon four-ball match at the Presidents Cup.
Stan Badz
Kim agreed when asked what Skovron brought to the bag. "I don't think I would have been able to accomplish what I've accomplished this week without him," Kim said Saturday night. "He has so much experience and every word he says gives me confidence and reassurance."
Skovron was certainly open to the idea of caddieing for Kim full-time. But one thing is clear at Quail Hollow, the pair are having a lot fun.