PRESIDENTS CUP
Presidents Cup 2022: Internationals rally late thanks to Tom Kim and Cam Davis, making Sunday comeback possible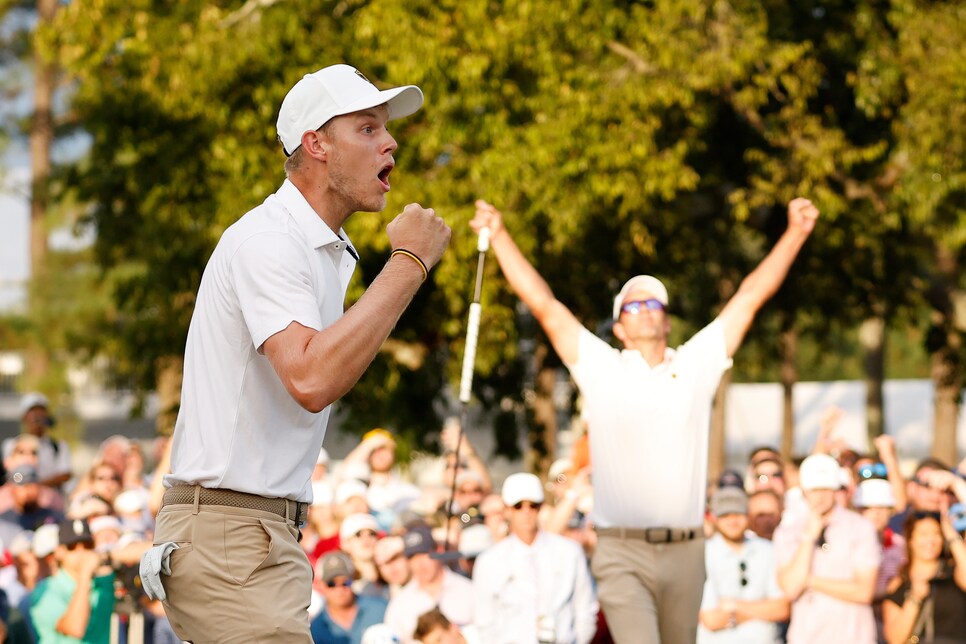 Cam Davis celebrates his winning putt with teammate and fellow Aussie Adam Scott raising his hands in the background.
Jared C. Tilton
CHARLOTTE — The oldest and youngest members of the International team breathed life into the Presidents Cup during a thrilling Saturday afternoon four-ball session at Quail Hollow.
International team rookie Tom Kim, 20, was just 17 months old when Adam Scott made his Cup debut in South Africa in 2003. The pair combined Saturday to provide two of the three crucial points the Internationals won from four matches. The visitors salvaged a ray of hope that Captain Trevor Immelman's underdog side could pull off the unthinkable on Sunday and topple A great American team. They trail 11-7 going into the Sunday singles.
Playing with fellow South Korean Si Woo Kim, Tom Kim let out a primal scream when he drained a tricky 10-foot birdie on Quail Hollow's 18th to secure a 1-up victory over the formidable partnership of Xander Schauffele and Patrick Cantlay. Kim had set that birdie up by firing a majestic approach into the par 4 from 239 yards.
"I had my team looking over; I wanted that putt more than anything in the world," Kim said after the match. "I was already thinking in the back of my mind, 'if this goes in, what am I going to do? How am I going to celebrate?'"
It was a dramatic end to a wild session for Kim, which he began by waving his arms to the large crowd on the first tee to cheer during his swing. "I'm trying to bring energy to the team," Kim said. "I feel like that's the least I can do for the team. I just want to get the crowd going. We're on American soil, and it's not easy for us Internationals. I was trying to use it as my motivation and definitely using it as my energy. I've thrown a lot of fist pumps. It's been amazing."
Before Kim's victory, Sungjae Im and Sebastian Munoz had defeated Tony Finau and Kevin Kisner, 3 and 2. In the last match of the session, Cam Davis sank a nine-foot birdie that ensured a 1-up victory over Billy Horschel and Sam Burns for he and partner Scott.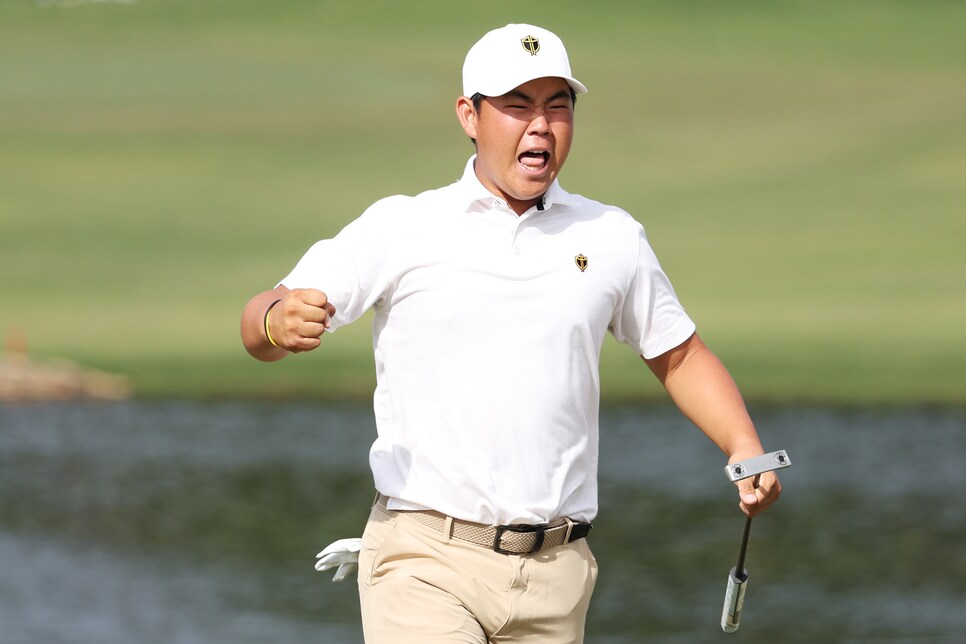 Tom Kim celebrates a putt made by teammate Si Woo Kim on the 13th green Saturday during the afternoon four-ball session at the Presidents Cup.
Warren Little
Scott has been the heartbeat of the International side over a team record 10 appearances, but apart from the tie in 2003 the Australian star has lost the past eight editions. The 42-year-old isn't thinking about whether this might be his last Cup and whether he'd play with an appropriate level of determination. The 2013 Masters winner said the Internationals' fightback on Saturday was enough motivation to leave everything he has at Quail Hollow in the Sunday singles.
"We'll have to [leave it all out there] anyway," Scott told Golf Digest. "I really haven't thought about [whether this is my last Cup]. Playing the last couple of holes really well, I feel like I'd like to hang around another couple years. I'm so happy the team is in with a chance tomorrow because it's been such a grind. Trevor has been so patient and we've finally got some momentum going, so I'd love to have a crack tomorrow."
Scott provided plenty of that momentum which the Internationals stole from the four-balls. He and Davis were 1 down to Horschel and Burns before Scott's birdie at the par-5 seventh levelled the score. He then produced an incredible stretch of holes around the turn while Davis was struggling, to keep the pair in the match. Scott rattled off birdies at Nos. 8, 9, 11 and 12, which were just to halve those holes. When the Australian pair were again 1 down, Davis eagled the par-5 16th to set up victory. Davis then made birdie at No. 17 to go 1 up and then halved the 18th with a birdie to win the match. Scott didn't need to putt his eight-foot birdie attempt.
"Today was a great day," Scott said. "We were in a deep hole coming here on the bus this morning, and all of the boys dug really deep. We halved the morning [foursomes] session, and we won the afternoon session. Over the course of my career in this, there hasn't been many times I've felt momentum going our way. We certainly have it finishing this evening, and it will be great if we could keep it rolling tomorrow."
Davis, a softly-spoken 27-year-old from Sydney, said he went into a trance playing with his idol Scott. "The last three holes, I kind of went numb, to be honest," he said. "I was in a situation where I was going for it. This [has been] a dream come true to be in this scenario. I don't want Adam to feel old or anything, but he's been a childhood hero of mine from when I started to taking golf seriously."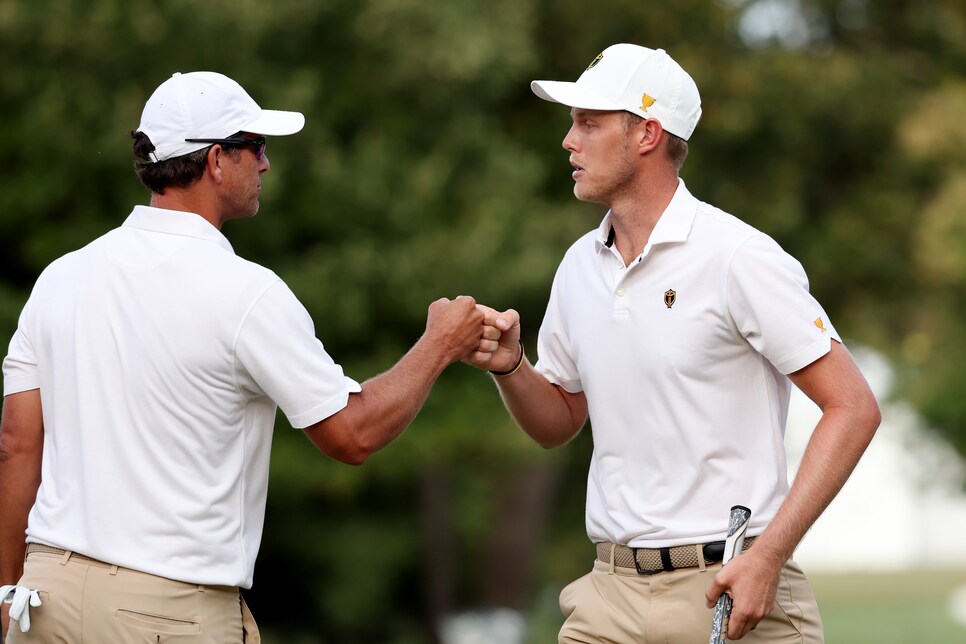 Cam Davis idolized fellow Aussie Adam Scott while growing up in their homeland. On Saturday, the two played together in afternoon four-balls and both put on a show to win their crucial match.
Warren Little
Scott was glassy-eyed on the 18th green, knowing what the experience will do for Davis. Scott credits earning 3 points in his 2003 debut, playing with his idol Ernie Els, as a large contributor to the self-belief required to win the Players Championship the following year, which kickstarted his career.
Whether the Internationals can win the 8½ points required from Sunday's 12 singles matches to steal the Cup, only time will tell. But it was clear on Day 3 at Quail Hollow that several stars had been born this week.
"They are the future, for sure and they're proving they've got what it takes to mix it," Scott said. "I have no doubt that these experiences will push them forward in their own careers, not just [the] Presidents Cup. When you can perform like this down the stretch against this American team, you can do it in big tournaments."