Majors
UPDATED: Talor Gooch is in the PGA, but not the U.S. Open because of the USGA's criteria tweak, and he's not happy about it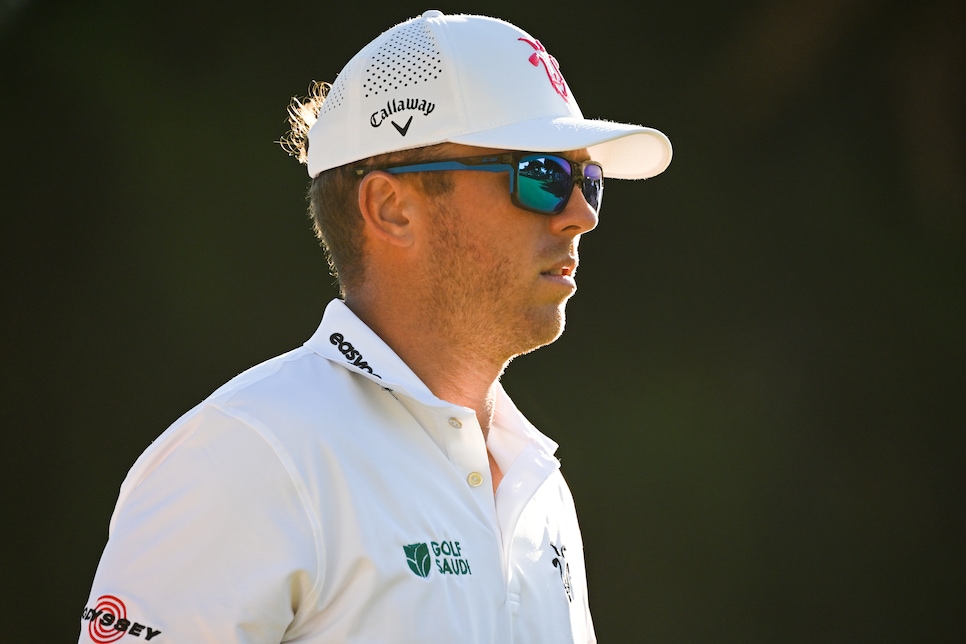 Talor Gooch is leading after the first round of the LIV Golf Singapore event after coming off a $4 million win in last week's LIV Golf event in Australia, but he's not quite as happy as you would think. Actually, he still a bit irked that he's not in one of this year's four men's majors.
Gooch noted earlier this week's 73rd Hole Podcast that he is not in the field for the U.S. Open despite having believed he qualified for the event at L.A. Country Club in June. Confused? Well, so is Gooch.
Actually, the 29-year-old is well aware of how he's being kept out, he's more upset about why. Gooch appeared to lock up a spot in this year's Masters, U.S. Open and Open Championship last August by qualifying for the 2022 Tour Championship on the PGA Tour; at the time the most recent qualifying criteria for those three majors gave invites/exemptions to all who qualified for East Lake. And that indeed got him his invite to Augusta National in April, where he finished T-34.
"I was glad that Augusta recognized that because, historically, up until this last year, if you make the Tour Championship, it gets you into the Masters, the U.S. Open and the British Open," Gooch said. "So when Augusta came out and made that decision, I was very optimistic that everybody else would follow suit."
Augusta made its decision on the 2023 qualifying criteria for the Masters in December. But when the USGA came out with its qualifying criteria for this year's event, a list that was published in February, there was a slight change to its language from previous years. Whereas it used to say "Those players qualifying for the season-ending Tour Championship" were in, it now read, "Those players who qualified and were eligible for the season-ending 2022 Tour Championship."
The "and were eligible" is obviously the key. With Gooch leaving for LIV last June, the PGA Tour banned him from playing at East Lake in August. Gooch and several other LIV players including Phil Mickelson were involved in a lawsuit against the tour, but he dropped out of that in November. But he's still upset about the USGA changing its criteria for this year's U.S. Open.
"That was obviously disappointing because that changed rule only affected one person, which was me," Gooch said. "So that was frustrating and tough because with LIV still not being rewarded with World Ranking points, I have only two options to qualify for the U.S. Open: via my World Ranking, which is going to be very challenging, or trying to obviously go through the qualifying route of sectional qualifying."
A USGA spokesperson offered Golfweek an explanation for the language change: "The USGA annually reviews its exemption criteria for all championships, and we did for the 2023 U.S. Open. Importantly, we provided more clarity to a specific exemption category to reflect that players must be both qualified and eligible for the Tour Championship, beginning with the 2023 U.S. Open. The change was not made retroactively, but rather as a part of our annual review process and included within several other changes made to the criteria for the upcoming 2023 championship."
Gooch is coming off a win at The Grange Golf Club in Adelaide in which he shot a pair of 62s to build a 10-stroke lead before holding on for a three-shot victory. It was his first individual victory on the new tour. He kept that momentum going at Sentosa Golf Club on Friday with an opening-round bogey-free 64 to take a one-stroke lead.
As Gooch mentions, he still could have tried to earn a spot in the field at LACC through Final Qualifying, but he didn't submit an entry to the USGA by the April deadline when a record number of golfers signed up. The 59th-ranked player in the Official World Golf Ranking still could qualify if he remains in the top 60 on either the May 22 or June 12 cut-off date.
And Gooch did get some good news on Thursday when he learned from the PGA of America that he had secured a spot into the field for next month's PGA Championship at Oak Hill. A solid performance there should help him stay in the OWGR top 60 and still find a way into the field at LACC.
"I'm hopeful that my ranking stays high enough for the next month that I get in," Gooch said. "Time will tell on that."
But at least for now, those three added words have him out of the U.S. Open.
On the bright side? The R&A did not tweak its language when publishing its criteria for 2023 at Royal Liverpool, and Gooch is listed as exempt into the field for the 151st Open.