Give It The Old College Try
Masters 2023: Augusta National announces NCAA D-I champ now gets a Masters invite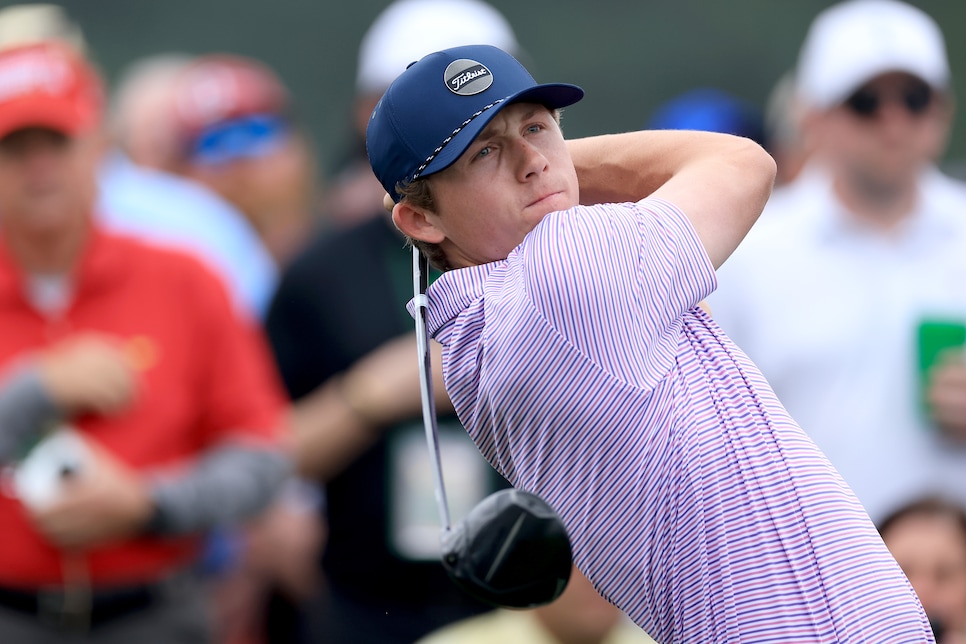 Gordon Sargent tees off on the eighth hole during a practice round at the 2023 Masters.
David Cannon
AUGUSTA, Ga. — Stay in school, kids. It might just lead to earning an invite to the Masters.
Augusta National chairman Fred Ridley announced on Wednesday a couple changes to the qualifying criteria for future Masters tournaments. New language will allow winners of the PGA Tour's fall events to still earn Masters invites despite the tournaments not being part of the tour's official regular season. Also, players will get into Augusta if they qualify "and are eligible to play" in the Tour Championship , closing a loophole exploited by LIV Golf's Talor Gooch this year.
But the big change came on the collegiate level.
Starting in 2024, the reigning NCAA Division I individual champ will automatically qualify for the Masters, so long as they are still an amateur. We say automatically, because Augusta National gave a special exemption to the reigning NCAA champ, Vanderbilt's Gordon Sargent, this year.
In addition, the NCAA Division I Women's individual champion will also be invited to compete in the Augusta National Women's Amateur.
"These additions to our qualifications are in recognition of the impressive quality of today's collegiate game, and in continued respect to Bobby Jones who believed in the importance of the best amateurs in the world competing at Augusta National," Ridley said.
In January, Sargent, 19, became the first amateur to receive a special invitation to the Masters since Aaron Baddeley in 2000. The Masters traditionally invites the reigning U.S. Amateur champion and runner-up, along with the winners of the British Amateur, U.S. Mid-Amateur, Asia-Pacific Amateur and Latin America Amateur.
Sargent, the current No. 1 in the World Amateur Golf Ranking, was mistaken for a Drive, Chip and Putt competitor upon arriving to Augusta National last week. But there is no doubt he belongs playing against the big boys with ball speeds approaching 200 miles per hour.
Earlier this year, the USGA also announced it would exempt the NCAA D-I winners through qualifying into the U.S. Open and U.S. Women's Open, starting this summer at Los Angeles C.C. and Pebble Beach, respectively. That the USGA and Augusta National would both implement these exemptions is recognition of level of talent displayed among the top college players.
"[The NCAA Championship] is a major amateur championship, and I thought it was time that we acknowledged it," Ridley said. "And we couldn't be happier to have Gordon here this week. He's a fine young man and a heck of a player. We are codifying that now going forward."
Sargent will attempt to defend his NCAA individual title at Grayhawk Golf Club in Scottsdale next month in what will be the first time the event will also serve as a Masters qualifier. So if you're a current college golfer, even more reason to ramp up practice for the next few weeks.