Takeaways
Major FedEx Cup moves made, Henley in full control and the game within the game … within the game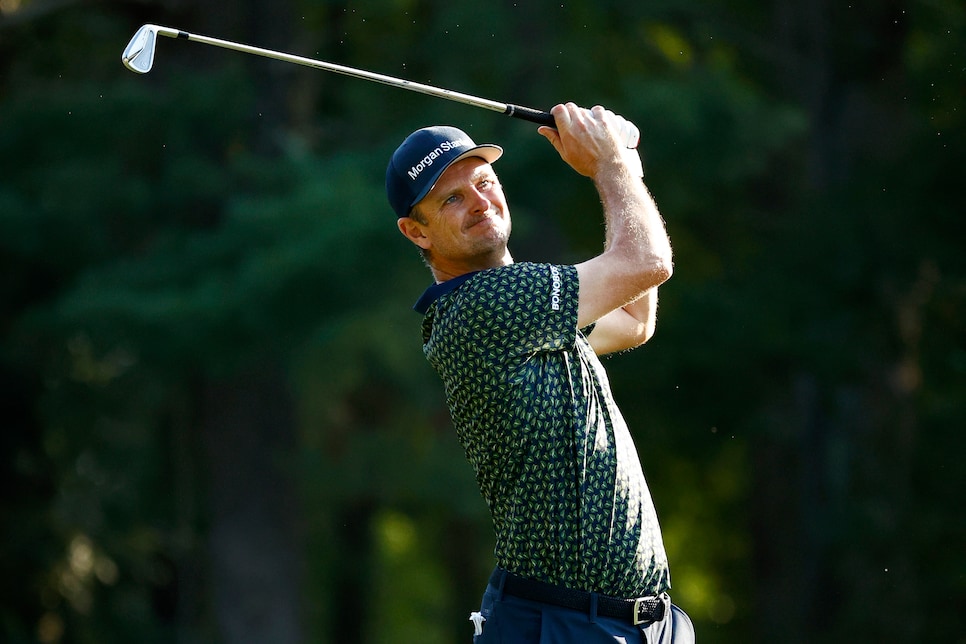 Justin Rose plays his shot from the 12th tee during the second round of the Wyndham Championship.
Jared C. Tilton
It's no secret what purpose the Wyndham Championship serves on many a struggling PGA Tour pro's schedule—a season-saver or a season-ender. As John Feinstein pointed out earlier this week, Sedgefield in mid-August is home to the most high-stakes tour drama one can find.
And on Friday, AKA cut day, there was plenty of drama to go 'round, beyond Russell Henley shooting 64 to take a four-shot lead. Below you'll find our attempts to update you on all the important movers in the FedEx Cup rankings in a short, concise manner (we'll see about that). Who's still alive? Who has work to do? Who is done for the season? Let's jump in.
Scott Piercy, -10 (64-66, T-2, four back)
Starting position in the FedEx Cup standings: 126th
Projected position in the FedEx Cup standings: 80th
Importance level?: High. Technically, just making the cut would have kept Piercy's season alive and allowed him a chance to crack the top 125, but if he keeps this up he could be thinking East Lake and the Tour Championship on Sunday afternoon. This after coming into last week's Barracuda Championship at 144th in the standings. Piercy wound up finishing third and has obviously carried that momentum into Greensboro. As a four-time tour winner, he'd still get into a number of events next season, but his two-year win exemption from his 2018 Zurich Classic victory alongside Billy Horschel was about to run out this season. There are still 36 holes to go, but Piercy's last two starts to the 2020-21 regular season are literal proof that it ain't over 'til it's over on tour.
Rory Sabbatini, (-10, T-2, four back)
Importance level?: High. While Sabbatini actually has two more tour wins than Piercy, his last victory came in 2011. He was exempt this season because he finished in the top 125 of the FedEx Cup in 2019-20, and it looks like he'll do that again at the buzzer in 2020-21. The silver medalist is riding a hot hand right now.
Justin Rose, -9 (66-65, T-5, five back)
Importance level?: Low. We're talking Justin Rose here, former World No. 1 and 10-time PGA Tour winner. One of those 10 victories came at the 2017 WGC-HSBC Champions, which earned him a tour exemption through the 2023-2024 season. He was going to be just fine whether he shot 65 or 85 on Friday, but it's still good to see the Englishman keep his season alive and playing some good golf after a so-so summer.
Tyler Duncan, -9 (69-62, T-5, five back)
Importance level?: Medium. Duncan, 32, won the RSM Classic in November 2019, which earned him an exemption through next season and the following season. So the former Purdue Boilermaker wasn't going to be losing much sleep tonight either way. Having said that, he not only lived to fight at least two more days this season, his scorching 62 on Friday has put him in contention. The only way he actually gets to Liberty National next week is if he wins or finishes in solo second this week, and he's at least given himself a chance at that.
Matt Kuchar, -7 (66-67, T-13, seven back)
Importance level?: Low-to-medium. Like the aforementioned Rose, Kuchar has a boatload of tour wins (nine), including the 2019 Sony Open in Hawaii, which exempts him next season and the one to follow. But his season would have ended with a fifth straight missed cut on Friday, so his three-under 67 was clutch. Yes, you read that correctly, Matt freakin' Kuchar was on the verge of a fifth straight MC. Do you know that last time he went on a skid like that? Thirteen years ago, when he missed seven straight cuts between July and October of 2008 before finishing in solo second at the '08 Shriners. The 43-year-old has been a model of consistency in the last decade-plus (he went 23-for-23 on cuts in 2013). Perhaps the threat of missing the playoffs for the first time since their inception was just what Kuch needed to snap out of his funk.
Camilo Villegas, -5 (68-67, T-32, nine back)
Importance level: High. As you can see, Villegas hasn't moved a spot, but that can be a good thing when you are directly on the bubble. Just making the cut was half the battle for the veteran this week. Now he needs to make a serious weekend move to crack the top 125. Ditto for Canada's Roger Sloan, who started 131st and is projected 130th after shooting a six-under 64 to get inside the cut line on Friday. Step 1 is done for those two.
Adam Scott, -4 (66-70, T-41, 10 back)
Importance level?: Lowwwww. Adam Scott doesn't seem all that concerned with much on a regular basis, and he's definitely not concerned over going backwards after two rounds. The man's exempt through 2023-24, and he simply showed up this week hoping to get his game back into the shape he knows it can be. If he falls inside the top 125 and makes it to lovely New Jersey, great. If not, he's still Adam Scott, still dominating life.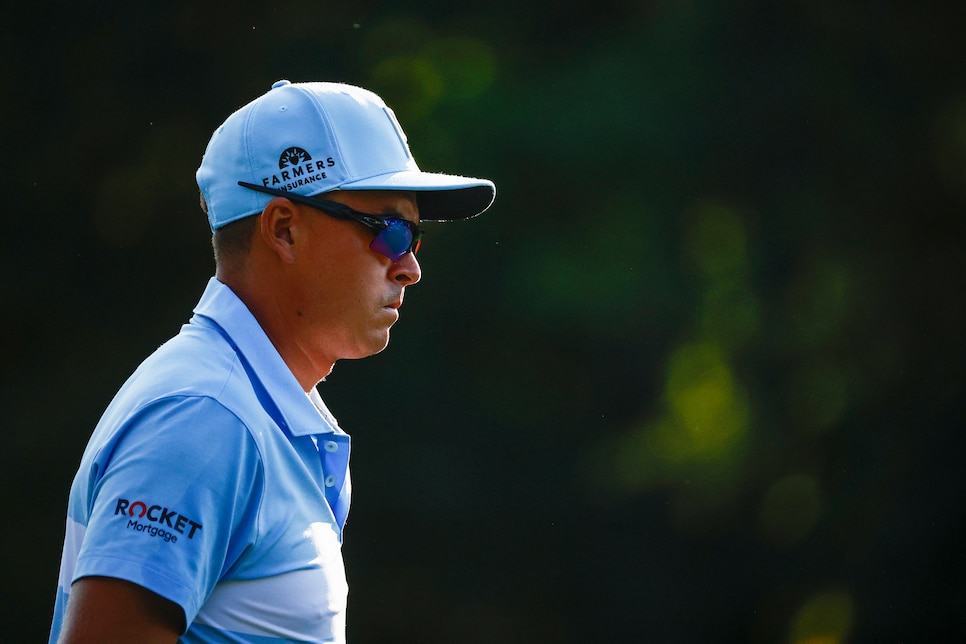 Rickie Fowler looks on from the 11th green during the second round of the Wyndham Championship.
Jared C. Tilton
On to the not as fun stuff. Whose season ended Friday? Rickie Fowler's, for one. He needed a monster week and did not get it, badly missing the cut at three over and finishing the year at 135th in the standings. Patrick Rodgers, who was exempt this year because he finished in the top 125 in 2019-20, missed the cut as well, falling from 123rd to 127th. Ouch. Bo Hoag, who entered the week as Mr. 125, missed the cut by a stroke and dropped to 128th. At 122nd to start the week, Ryan Armour dug himself too deep a hole with a first-round 74, and his two-under 68 on Friday saw him miss the cut by five and drop to 126th in the standings, right outside the line. Fortunately, these guys all still have a chance to earn their card back via the Korn Ferry Tour Finals series (except Fowler, who is exempt through the 2022-'23 season), but it still stings to be that close to getting the job done at Sedgefield. That brings us to our next takeaway.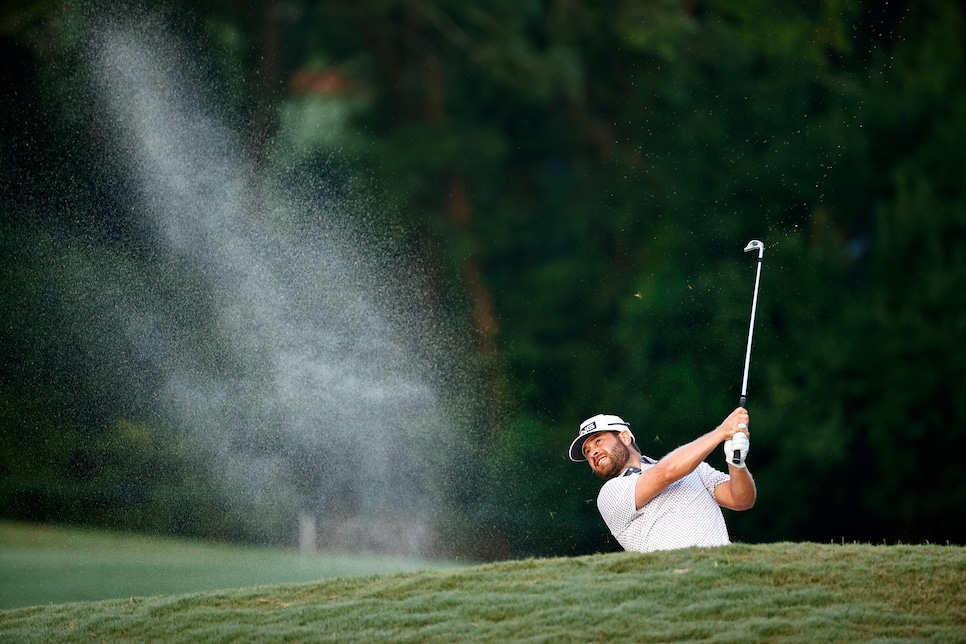 David Lingmerth plays a shot from a fairway bunker on the 10th hole during the second round of the Wyndham Championship.
Jared C. Tilton
The game within the game ... within the game
As nail-biting as it is to watch the top-125 bubble, you aren't a true woke golf fan if you're not keeping tabs on the top-200 bubble. Why? Because those who finish in that 126th-200th window are eligible for the previously mentioned Korn Ferry Tour Finals series, where 25 PGA Tour cards are up for grabs. Two guys deserving of shine on that bubble are David Lingmerth and Kiradech Aphibarnrat, who each began the week outside the top 200 and are now firmly inside that bubble. Lingmerth, who Monday-qualified into Wyndham, is tied for 32nd at five under, which projects him at 197th in the FedEx Cup standings after starting at 205th. The Barn Rat started at 204th and is now 192nd thanks to rounds of 66 and 68, which has him at six under for the week. Some serious grinding from these two, which has afforded them the opportunity to do more serious grinding. Pro golf, baby!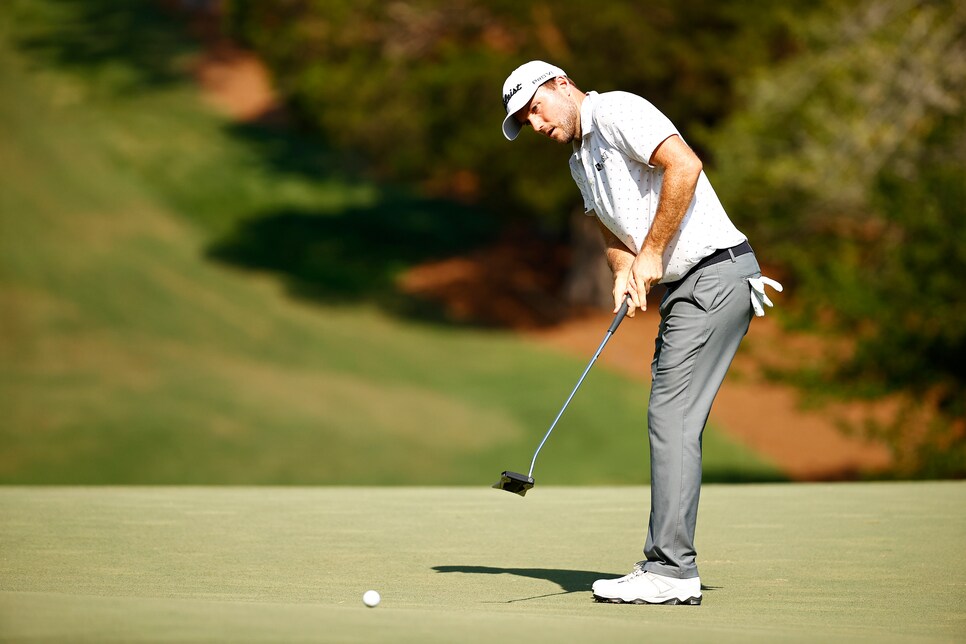 Russell Henley putts on the 18th green during the second round of the Wyndham Championship.
Jared C. Tilton
Russell Henley in full control
Not much more to add, really. Henley is at 14 under, four clear of the pack, a product of him putting the damn lights out. When you're one of the best iron players on the planet, you're always a hot putter away from running away with a tournament. Henley can absolutely do just that this weekend, so long as he keeps reading that alert on his phone (we're guessing he will).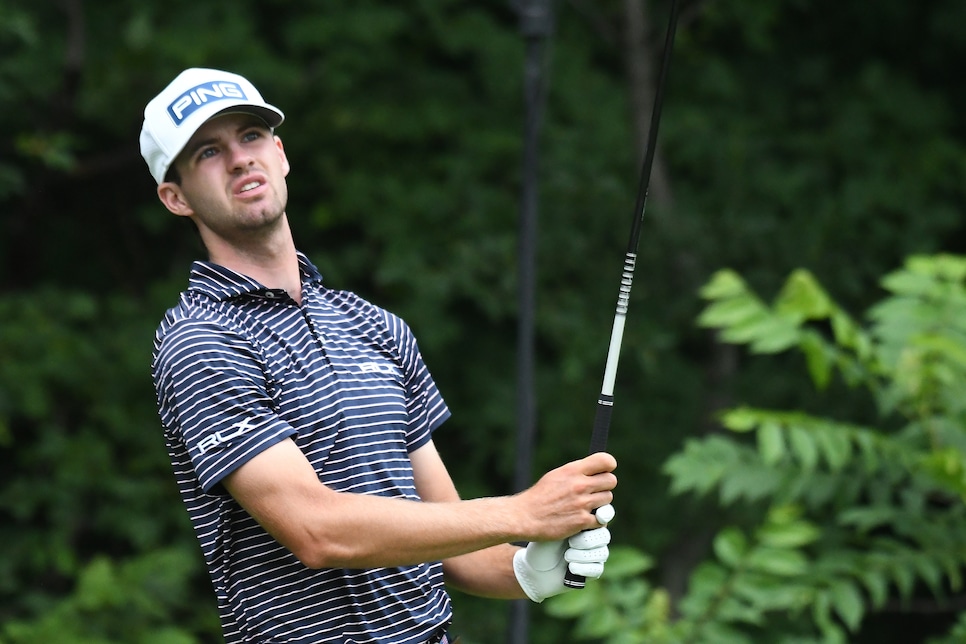 Alex Smalley reacts after hitting his tee shot at the 2021 John Deere Classic.
Icon Sportswire
Sedgefield County Club member in contention. Wait, what?
OK, we'll be more specific. It's Sedgefield Country Club member Alex Smalley, a former Duke standout who has had a number of strong finishes over on the Forme Tour (PGA Tour Canada) this summer. Smalley, who joined the club a year and two months ago, was given a sponsor's exemption into the 2021 Wyndham last year by tournament director Mark Brazil. He's making the most of it so far, with rounds of 68 and 64, putting him in a tie for eighth. The weekend will be new territory for the 24-year-old, of course, but he's just going to try to replicate what he's done so far, which might be possible for a guy who estimated he's played Sedgefield 60-to-75 times in the last 14 months alone.
"I don't think I need to change anything," Smalley said. "Just need to keep doing what I'm doing and keeping the ball in front of me. When I do miss, miss on the fat side of the hole and just hit as many greens as I can, hit as many fairways as I can and try to stay in the moment will be the biggest key."