PGA Tour
Rickie Fowler's toughest season ends with a missed cut and no spot in playoffs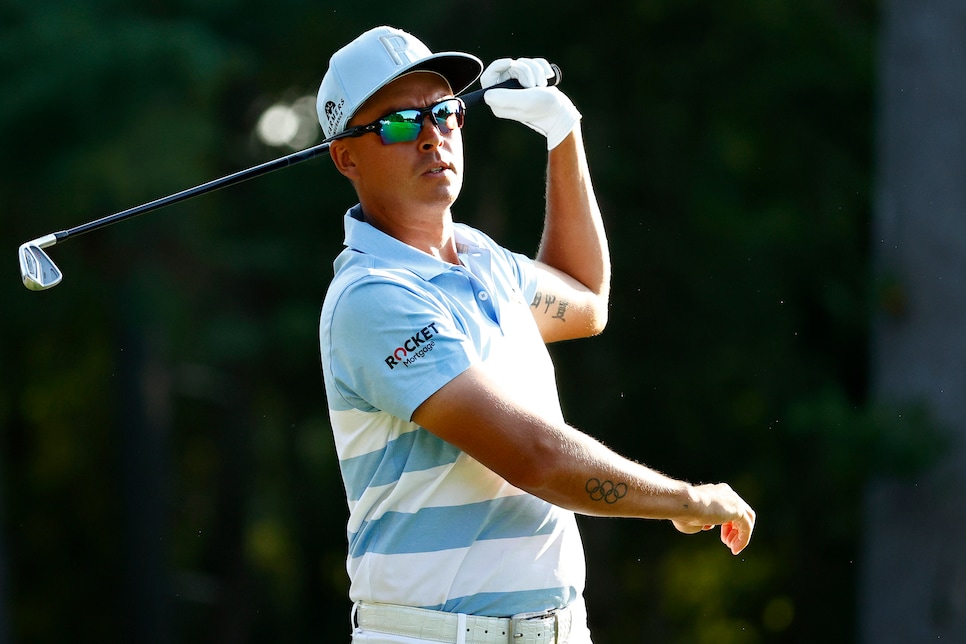 Rickie Fowler watches his shot on the 12th tee during the second round of the Wyndham Championship.
Jared Tilton
GREENSBORO, N.C. — The last time Rickie Fowler missed the FedExCup Playoffs came in 2009, and the reason he missed it that year was because, well, he wasn't a PGA Tour member. The first time he had a chance, in 2010, he made the playoffs with ease and finished in 32nd place, and he's made it every year since. That's a streak of 11 years total, but it came to an end Friday at the Wyndham Championship, where an unremarkable 72 left him at two over total, far off a cut line that will likely get higher as the day progresses.
Perhaps the writing was on the wall in 2020, when Fowler finished 94th in the standings, the worst showing of his career, but for someone who has been at or near the top of that leader board for most of his career, finishing outside the top 125 still feels like a shocking result—as does notching only a single top-10 for the entire year. Fowler felt as though his season was turning around after that T-8 at the PGA Championship, especially when he followed it up with a solid showing at the Memorial, but since then he's slipped back into relative mediocrity.
"It sucks," he said at his post-round presser. "I know what I'm capable of, I've been up there and played against the best in the world and been a top-five, top-10 player in the world for a number of years in my career. I'm not in a position where I'm comfortable or where I want to be."
Speaking to the media before the tournament began, Fowler held out hope that he could improve his place in the standings—he came in at 130th—make the playoffs, and perhaps go on a late run to salvage what felt like a lost season. But while other prominent players outside the playoff bubble, like Justin Rose, Tommy Fleetwood, and Rory Sabbatini, responded by making the cut with terrific opening rounds, thereby giving themselves a chance on the weekend, Fowler couldn't get anything going. He made only four birdies over 36 holes on a course whose only defense this weekend is the burning North Carolina heat, and it wasn't nearly enough to reverse his fortunes.
Fowler is a consummate professional, someone who rarely shows negative emotion on the course, and even agreeing to speak publicly after his Friday round distinguishes him from some pros who avoid the media if they're not close to the top of the leader board. (Not to mention the fact that immediately after finishing his round, he acknowledged and spoke to several young fans as he walked to scoring.) He fielded questions with a rueful smile, and when asked if he felt like he came up a "little bit" short, he laughed.
"I wouldn't say it was a little bit short," he corrected. "It was a lot of bit short. Yeah, obviously very disappointing."
His plan now is to get his entire team together and make an airtight plan for what to do in the coming weeks, in the hope of bringing this two-year slump to an end.
"I was telling Joe [Skovron, his caddie] out there today towards the end," he said, "[I] operate best when I'm kind of told what to do. Like I love having my trainer, Derek, he's there with us at home, on the road taking care of what I need to be doing in the gym ... if I had to go work out on my own, I probably wouldn't do as well. So just being efficient with time and taking advantage of the time that we do have, whether it's in the gym, at the range, on the course. So that's the big thing is just kind of lay out a plan that we all want to accomplish and take advantage of the time that we have and get after it."
To all appearances, Fowler remains optimistic even in the midst of his personal golfing wilderness, and if in the quiet moments he looked frustrated and even tired, that's understandable at the tail end of 2021. The prominent question about Fowler for most of his career has been when (or whether) he'd ever win a major. That talk has faded, and now the five-time tour winner has to deal with something less intense, but perhaps more critical to his career: when (or whether) he's going to make it back. Many of his contemporaries have had to deal with similar stretches, Jordan Spieth included.
On Friday, Fowler didn't sound rueful or defeated, but a positive attitude won't make the reality any easier to bear. On Wednesday, he spoke about how slumps like his can "make or break" a professional. Both possible outcomes are now in front of him, and there's plenty of work to be done.