There's no doubting Sunday's finish to the WGC-FedEx St. Jude Invitational in Memphis was about as crazy as any seen on tour this season. Just when it looked as if Bryson DeChambeau would chase Harris English to the finish line, both men had epic back-nine meltdowns. English was 20 under par at TPC Southwind for 63 holes, Dechambeau was 18 under. Playing in the final group, they had opened a gap between themselves and the rest of the field. And then, remarkably, both men forgot how to play golf. English double bogeyed two par 3s and limped home with a back-nine 40. That made him low man in the twosome. DeChambeau threw in a triple bogey and shot 41.
Enter Abraham Ancer, who ended up winning a three-man playoff with a birdie on the second sudden-death hole to beat Masters champion Hideki Matsuyama and Sam Burns for his first PGA Tour victory. All three spent most of the day thinking they were playing to finish in the top five before English and DeChambeau began playing like 8-handicappers.
It was great theater, but it was also very different from the hold-your-breath drama that was playing out in Truckee, Calif., at the Barracuda Championship or what we will see this coming week in Greensboro. Ever since the Wyndham Championship became final regular season event on the PGA Tour calendar in 2007, it has become a place where players come to try to save their seasons—and keep their golf careers alive.
"The last chance saloon," was what Ernie Els dubbed Greensboro when he played it in 2011, needing a high finish to make the playoffs. Even Tiger Woods showed up to play in 2015 to make a last-ditch effort to get into the postseason. He was treated like royalty showing up at a fast-food counter and contended for three days to the delight of the locals—and the tournament's directors and sponsors. But a T-10 finish wasn't enough to get him on the right side of the top 125.
The Barracuda, colloquially known as an "opposite" field event, gives players who didn't make the WGC field a place to play and the chance to take the suspense out of Greensboro. Or, in some cases, to play well enough to get IN to Greensboro.
When all was said and done Sunday, Erik van Rooyen had won for the first time on the PGA Tour. He beat Andrew Putnam by five points in the Modified Stableford scoring system the tour uses for the event. Van Rooyen is a 31-year-old South African who went into the week 139th on the FedEx Cup points list. The victory jumped him to 78th—but more important gives him a two-year tour exemption.
The money in Memphis was three times what it was in California: $10.5 million with no cut for a field of 66 players, first place earning Ancer $1,820,000, the three golfers in last grabbing $42,000 apiece. The total purse at the Barracuda was $3.5 million, with Van Rooyen winning $630,000.
In all, 132 players teed it up at Tahoe Mountain Club. Sixty-two missed the cut and walked away without making a dollar—or scoring a FedEx point—and the last-place finisher among the 70 who made the cut, Camilo Villegas made $7,500 and scored three FedEx points.
A handful of those who played in Memphis will be in this week in Greensboro—some because they've had success there in the past; some because they like Sedgefield Country Club; some because they want to improve their standing going into the playoffs.
Most of the Wyndham field, though, will come from the Barracuda. Putnam's runner-up finish jumped from 104th to 75th on the points list—he's safe. So is Adam Schenk, who finished fourth and went from 113th to 95th. But Scott Piercy, who finished third, still has work to do after moving from 144th to 126th. Piercy is 42, a four-time tour winner, who finished T-2 at the U.S. Open in 2016. You could almost see his beard getting grayer as Sunday's round went on. It may be all gray by sundown in Greensboro on Sunday.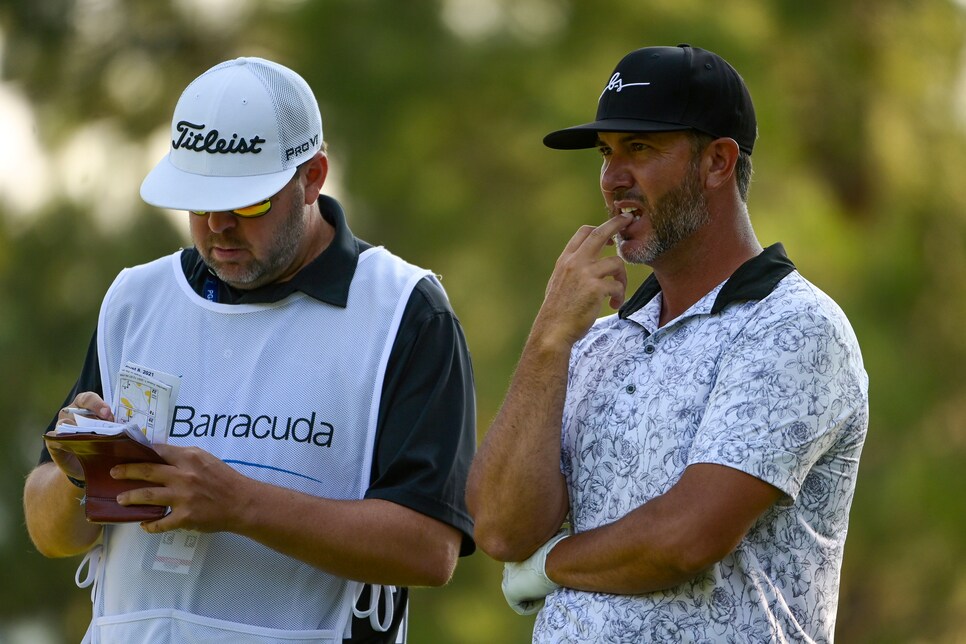 Scott Piercy's third-place finish at the Barracuda jumped him 18 spots in the FedEx Cup points list but still leaves him one spot outside the top 125.
Alex Goodlett
As the 2019 U.S. Open champion, Gary Woodland didn't have to worry about exempt status on tour for next season but didn't want the embarrassment of missing the top 125. So, he played last week and finished T-7, moving him from 119th to 108th on the points list, meaning he's safely into postseason. Bo Van Pelt is 46 and playing this year on an exemption earned for being in the top 50 in career earnings. He moved from 149th to 146th last week and will need a high finish in Greensboro to be fully exempt next season.
Van Pelt is one of those guys other players root for because of his self-deprecating sense of humor. In 2010, at the opening playoff event, Jim Furyk's cell-phone alarm didn't go off and he missed his pro-am tee time. Under the rules back then, he was disqualified from the tournament. As luck would have it, Van Pelt was first alternate in the pro-am and was sent to the tee (shotgun start) to replace Furyk.
"I know how disappointed Jim is," he said later that day. "But you should have seen the looks on the faces of the amateurs when I showed up to take his place. Not a happy group."
No one will be watched more closely this coming week than Rickie Fowler—who usually plays under a microscope anyway because he's Rickie Fowler.
He chose not to play in the Barracuda, and his ranking in the FedEx Cup standings dropped from 125th to 130th. In his 11 full years on tour, Fowler has never missed the playoffs and, clearly, neither he nor his many sponsors want to see that happen. He has his PGA Tour card through the 2022-23 season thanks to his victory at the Players Championship in 2015, so he doesn't have to worry about that part of missing out on the top 125. But missing the Playoffs after missing the Masters and the U.S. Open this year would be painful for him, as will being passed over for his fifth Ryder Cup team.
Matt Kuchar is also a four-time Ryder Cupper and is a nine-time tour winner. He missed the cut last week and dropped to 124th on the points list, meaning he needs to at least make the cut in Greensboro. Kuchar was the tour's leading money winner in 2010 and has top-10 career finishes in all four majors, including his runner-up to Jordan Spieth at the 2017 Open Championship. Now, at 42, he's had his worst season since he had to go all the way back to second stage of Q-school after the 2005 season.
There are plenty of other stories coming out of California and going into Greensboro. Bill Haas, the 2011 FedEx Cup champion, who played his college golf a few miles down the road from Sedgefield at Wake Forest, moved from 205th to 197th on the points list. He's in the Greensboro on a sponsor's exemption and needs a performance like the one Jim Herman produced last year when he came from nowhere (192nd on the points list) to win at Greensboro and jump to 54th.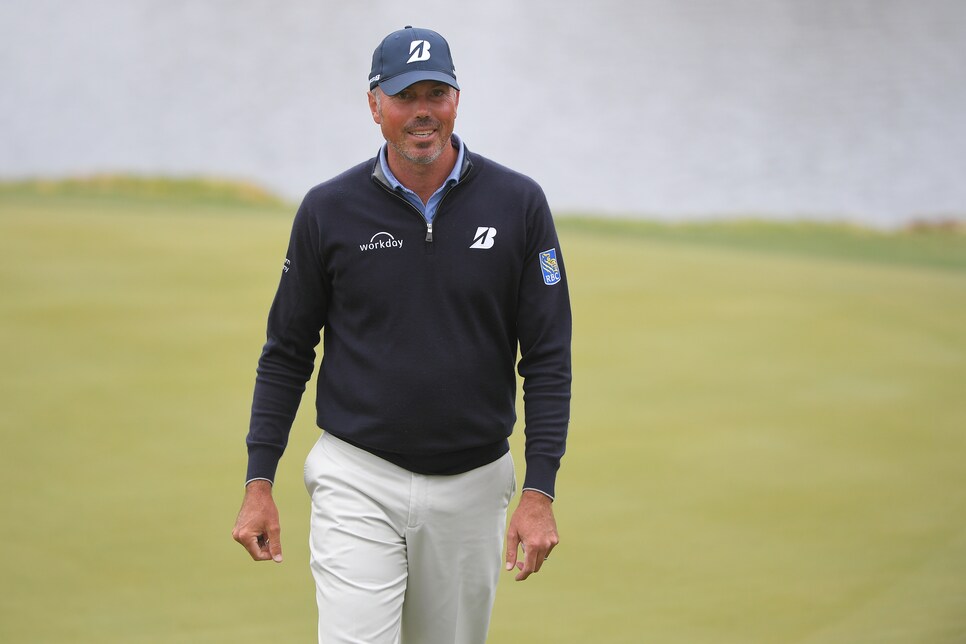 Matt Kuchar is No. 124 entering this week's Wyndham Championship, but needs to play hard to stay inside the "125 bubble."
Ben Jared
It IS the "last chance saloon." Barracuda was the second-to-last chance. The drama continues.