Wyndham Championship
Olympic silver medalist Rory Sabbatini stays hot while fighting for a playoff berth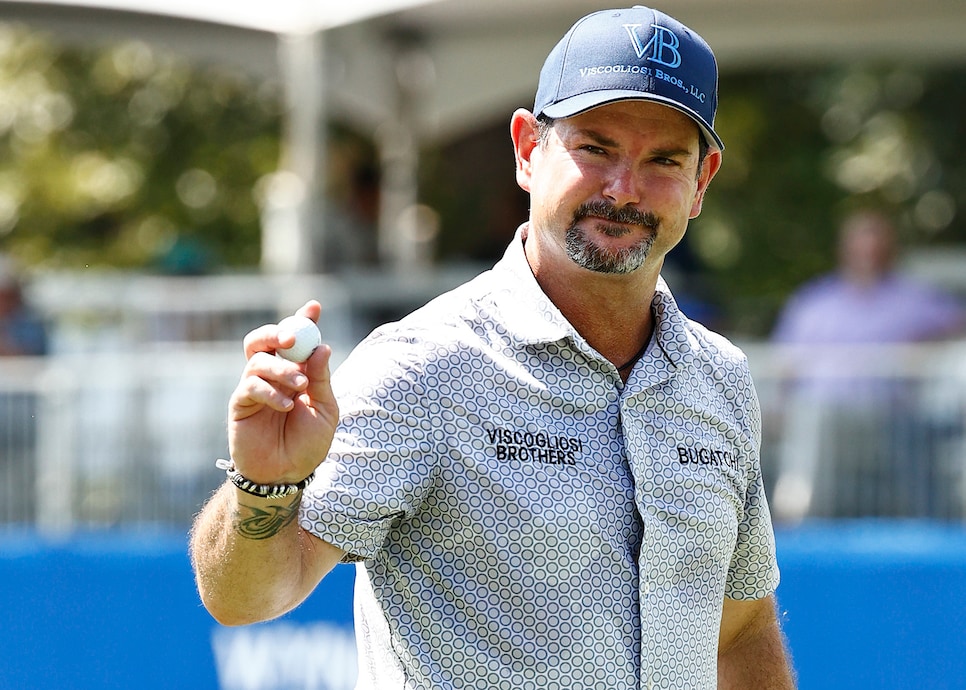 Rory Sabbatini waves after making birdie on the 17th green during the second round of the Wyndham Championship.
Jared Tilton
GREENSBORO, N.C. — In any normal year, if a professional golfer stood at 141st in the FedExCup standings near the end of the regular season, had missed four straight PGA Tour cuts and 11 of 18 overall, and hadn't even played in a major, he'd probably consider that a pretty tough season. But if that professional golfer is Rory Sabbatini, all those black marks on the resume would be offset by something else: an Olympic silver medal.
Much has been made of Sabbatini's triumph for his adopted nation of Slovakia, and rightly so, but now that he's outside the Olympic bubble he has everything to play for at the Wyndham Championship, including a spot in the playoffs (he has an exemption available next year for full status). The Wyndham is his first start since Tokyo, and at the end of his second round Friday at Sedgefield Country Club, Sabbatini showed no signs of cooling down. With a 64 to follow his opening 66, he was at 10 under, tied for the afternoon lead with Webb Simpson and Scott Piercy. (Russell Henley re-took the lead at 11 under hours after Sabbatini finished.)
"Ironically enough, I think I've been, over the last, I don't know, six weeks to two months, kind of trending in the right direction with my golf game," he said afterward. "But golf, it's weird how it doesn't add up sometimes, even though you're doing the right things. I think the final round in Tokyo was the final key. I think I've always put too much pressure on myself on the golf course, being too hard on myself on the golf course, expected too much of myself, and I think maybe there I just kind of took a step back and relaxed and somehow it just seems to have clicked."
Armed with that new perspective, and emboldened by the silver medal, Sabbatini maintained a torrid pace at the Wyndham on Friday. On the back nine alone, he began by sinking a 35-foot birdie putt on 10, hit approaches to within six feet on 13 and 17, and made an easy two-putt birdie on the par-5 15th. Add that to his outward 33, and by the afternoon only Russell Knox (63) had posted a better score.
Before the silver medal, it had not been a strong season for Sabbatini. In his usual gruff manner, he described it Friday as follows: "Started well, fell off quickly and then did a nosedive and crashed and burned."
Succinct. Now, he's playing pressure-free golf and is currently projected to climb all the way into the top 60 of the FedExCup standings, more than good enough for a playoff berth among the top 125. He's got flight reservations pending, and one very good possibility is that he'll be heading to New Jersey for the Northern Trust. There's even more at stake this week, as he tries to win on tour for the first time since the 2011 Honda Classic.
"People always ask me my favorite event," he said, "and I say Maui, because it means you won. So I would definitely like to get back to the Tournament of Champions."