Valero Texas Open
Jordan Spieth is ready to hurt us again, Rickie's small victory and a leader we proudly saw coming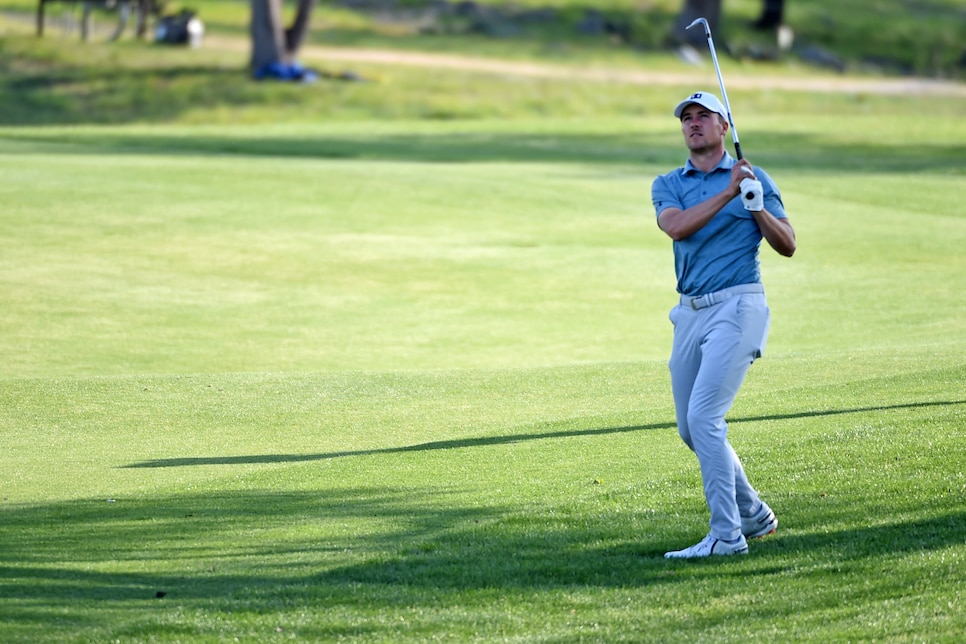 For five straight weeks, beginning in early February, Jordan Spieth got himself in contention on the weekend in a PGA Tour event. It was pure electricity each time, even if none of them ended in victory. Then, at the Players Championship, we were deprived of another ride on the human rollercoaster, as Spieth finished 13 shots back and was never really in it.
In the two weeks since, TPC Sawgrass has proven to be a small bump in Spieth's long road back to prominence. At last week's WGC-Dell Match Play he won his group, one that included the scorching-hot Matthew Fitzpatrick, an similarly hot Corey Conners and a not-so-hot but could-get-hot-if-healthy Matthew Wolff, who managed to be the only one Spieth didn't beat.
Through 36 holes of the Valero Texas Open, Spieth is back in the mix once again, sitting just two shots off the lead of Cameron Tringale. The three-time major winner followed up his opening 67—a round he described as an "off day" contact wise—with a Friday two-under 70, which will do nothing to quell the shouts of "he's back!" and "give him the green jacket now!" On Saturday, he will play in the penultimate group at TPC San Antonio, making an otherwise ho-hum pre-Masters tour event a must-watch affair as Spieth attempts to win for the first time since the 2017 Open Championship.
Surely, it will be another rollercoaster ride of epic proportions, and how it will end remains a mystery. What we do know is this—we are ready to get hurt again.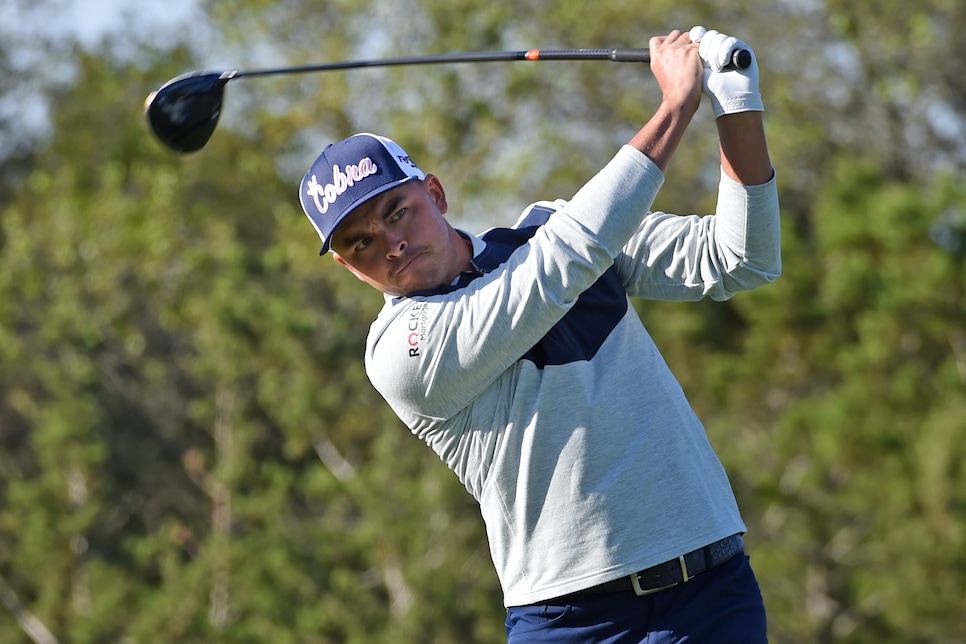 Rickie Fowler's small victory
How bad have things gotten for Rickie Fowler? We're about to celebrating him making a cut, folks. Yep, that bad.
The thing is, Fowler has actually been making cuts, four of his last five, to be exact, but he's then proceeded to freefall down the leader board almost every time. His T-20 at Riviera in difficult conditions provided a small glimmer of hope, but then he finished last at Bay Hill, missed the cut at the Players and almost finished last again at the Honda. The flashes have been there (70-71 start at Riviera; Friday 70 at Bay Hill; Friday 68 at Honda), but the debacle rounds have been much more plentiful.
This week, in order to earn an invite into the Masters, Fowler has to win, which, to be blunt, is not going to happen. However, there was another small step forward on Friday for Fowler, a bogey-free four-under 68 that vaulted him 78 spots up the leader board into a tie for 32nd. It's borderline insulting to say these are big steps for a player of his caliber, but bogey-free rounds have not been his bag over the years. Yes, he will miss his first Masters since 2010, but two more forward-moving rounds could do wonders for his confidence. That's all he should be worried about right now.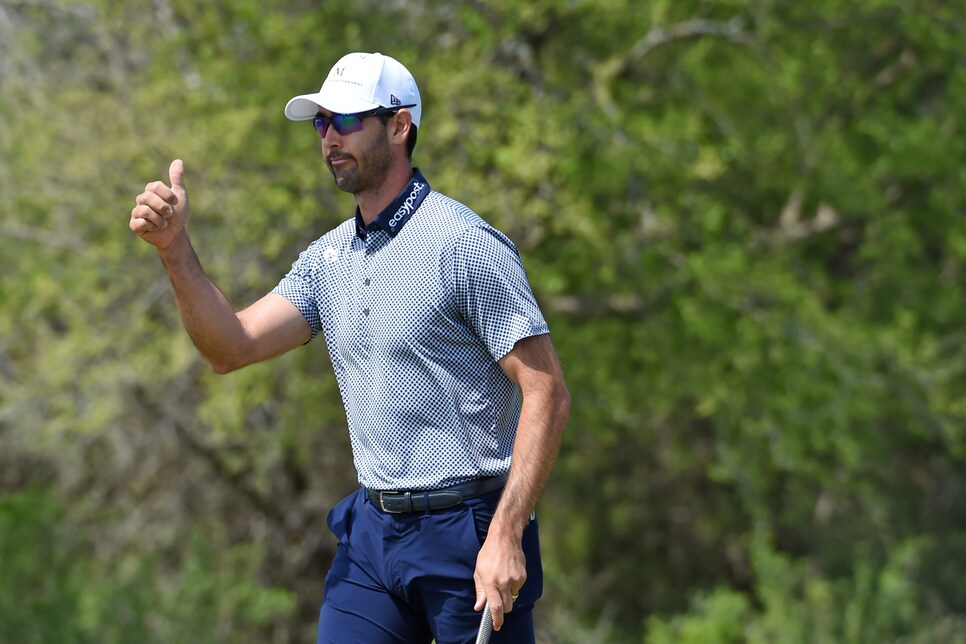 This Cameron Tringale week has been brewing for some time
If you're a stat geek/a person who follows all the great golf stat geeks on Twitter, you probably knew that Cameron Tringale was having a sneaky great season. If you're not a stat geek or a golf diehard, you might not have been able to pick Tringale out of a lineup.
The point being, whether you were aware of him or not, the stats would have indicated that a potentially big week had been brewing for Tringale for some time. His approach play has been elite since the fall (Tringale ranked 12th in this field in strokes gained/approach over his last 50 rounds, per FantasyNational), and so was his tee-to-green play (Tringale has gained strokes tee-to-green in 10 consecutive starts, also per FN). The results were there, too, with Tringale making 11 of his last 13 cuts, finishing inside the top seven twice and collecting four other top-20s along the way.
Now, the 33-year-old California native is in prime position to capitalize on his hot form in the form of a victory, which would be his first on the PGA Tour. At nine under, he's two clear of Spieth and Matt Wallace, who are each gunning for a big win of their own. Tringale plans on changing nothing this weekend, except trying to hit more fairways.
"My driver was just kind of leaking left, or not fading back," Tringale said. "Hit a few extra drives tomorrow. But other than that, I'm just going to keep doing what I'm doing."
Consistency has been key for Cam over these last few months. We'll see if he can ride the wave all the way to a win, which would get him into his second career Masters, and his first since 2015.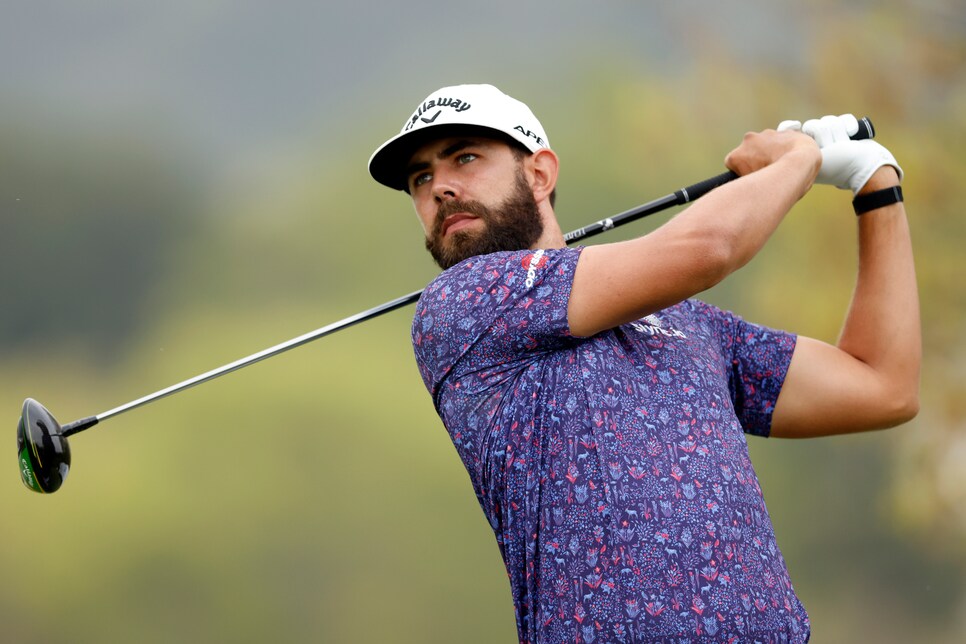 Patience pays off for EVR
Erik van Rooyen first popped on the PGA Tour scene when he finished T-8 at the PGA Championship at Bethpage in 2019, which he backed up with a T-20 at the Open Championship later that summer. At the 2020 WGC-Mexico, he posted what remains his best tour finish, a T-3. The South African has been relatively quiet since.
And yet, he remains at the forefront of many golf fans brains, mostly for his style (van Rooyen is a big joggers guy), and because he just seems like an interesting cat. Even without a ton of great results in America to back it up, he's a well-known pro most would be thrilled to see in the winner's circle.
This week and last, van Rooyen has re-entered our lives, first by winning his group at the WGC-Dell Match Play and now by shooting a four-under 68 on Friday at Valero. At five under, he's just four off the lead, and among the number of guys attempting to play his way into the Masters with a win. Getting into Augusta would be extra special for EVR, as he had to withdraw from his first Masters in November due to injury. He did get one round in, but it was a four-over 76.
A few months later, the 31-year-old from South Africa seems to be back at full health and playing well again. Patience has been a big factor.
"Everything's just ticking rather nicely," van Rooyen said. "I've been working on some great stuff as always. This game, it's going to be a rollercoaster sometimes. You're going to play really well and you're going to play bad at some points and it's just kind of trying to ride that out. It was a terrible first eight weeks for me results-wise. You can get kind of hard on yourself sometimes, but you've got to stay patient, you know, and trust yourself, trust the process. It's so cliche, but it's the truth."
That it is. You know where patience really prevails? Augusta. EVR would love to test out that theory, but first he'll have to overcome a four-shot deficit on the weekend, and somehow fend off Jordan Spieth. Piece of cake.