Valero Texas Open
Jordan Spieth doesn't sound like a guy who just shot a 67 to take the early Valero Texas Open lead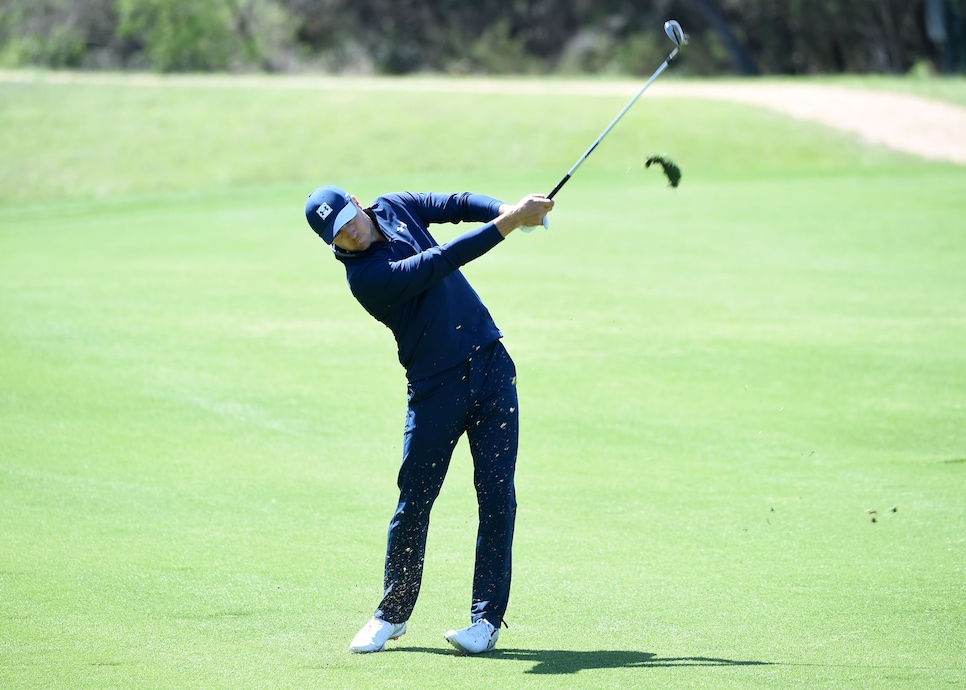 Jordan Spieth plays his second shot on the fifth hole during the first round of the 2021 Valero Texas Open.
Steve Dykes
Like the azaleas at Augusta National, Jordan Spieth's game appears to be blossoming just in time for the year's first major.
On Thursday, seven days ahead of the first round of the Masters, the 27-year-old three time-major winner shot a five-under 67 at TPC San Antonio in the opening round of the Valero Texas Open. It was Spieth's lowest score in 19 rounds in the event. It also gave him the early lead and moved him a step closer to ending a nearly four-year winless drought.
But what was the most promising part of the round? How about the Texan's negatively conflated assessment of his play afterward.
"I had really bad contact today," he said. "Normally, even if I don't necessarily strike the ball well, normally I'm hitting it close to the middle of the face."
Leave it to Spieth, who made seven birdies and just two bogeys, to stretch his level of bother over what was ultimately a good round. That is a true sign of just how much progress he's made with his game of late. We did mention he's leading, right?
Still, Spieth had his adventurous moments. He hit just half his greens in regulation and even fewer fairways. That included on the par-4 ninth, his final hole of the day. After losing his tee shot right into the trees, he hit a provisional, unsure he'd be able to find the original.
"I was telling [caddie Michael Greller], I just can't find the center of the face right now," Spieth said. "I hit that one as much off the heel as the one before."
The good news for Spieth fans was that he found the first tee shot. It was up against some rocks, though he went on to make bogey.
"Yeah, it was just kind of an off day on contact," he said. "But I mean, it's a nice enough afternoon, should be able to get enough reps in and just kind of clean it up a little bit."
The comeback is all but complete now.