Travelers Championship
Rory's back-nine blowup, Xander's squeaky-clean start and Morgan Hoffmann makes the cut (!!)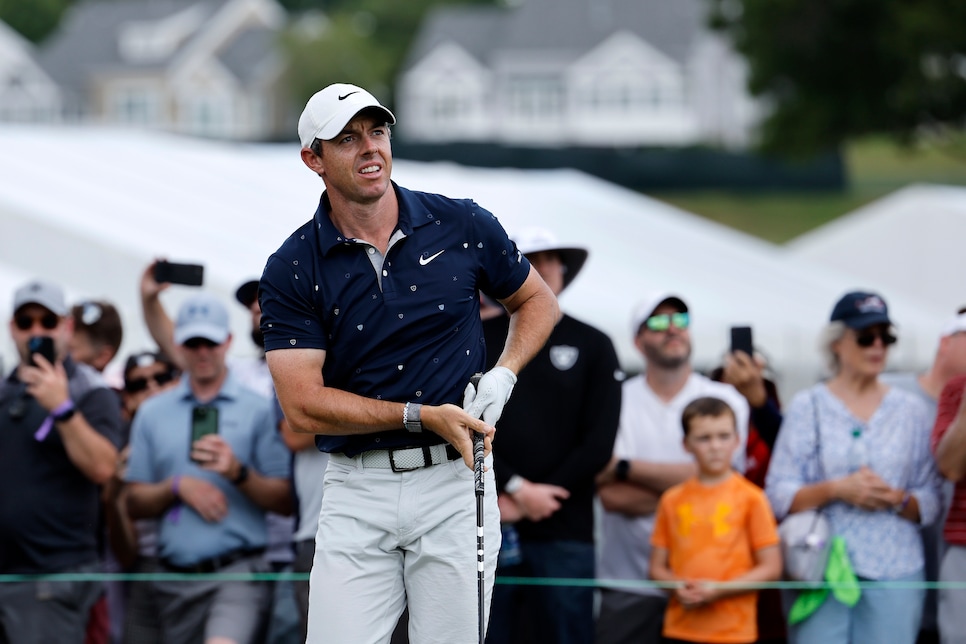 Rory McIlroy watches his tee shot on 2 during the second round of the Travelers Championship.
Icon Sportswire
If we told you Rory McIlroy made seven birdies on Friday, just one day after torching TPC River Highlands to the tune of an eight-under 62, you might call game. Curtains. Night night. Thanks for coming out, everybody.
Unfortunately, you wouldn't just be wrong, you'd be comically, laugh-out-loud funny wrong. Not only is McIlroy not leading, he's six strokes back, and it wasn't because he made seven bogeys, either.
In fact, through 11 holes McIlroy had made just one bogey against six birdies, at the time putting him at 13 under and at the top of the leaderboard. Then came the 12th hole, where McIlroy, the No. 2-ranked golfer in the world, morphed into a 15-handicapper who was playing with his future father-in-law for the very first time:
"It sort of came out of the blue," McIlroy said afterward. "I haven't made a big number like that—a couple of big numbers like that—in a long time. When you hit a tee shot like that on 12, the first one, it makes the second one pretty difficult. You're sort of guarding against that left one, and I missed it right. It was just one of those where I put myself in a great position in the tournament and three bad swings have sort of cost me six shots, and I've got all that work to try to make up over the weekend. But at least I have the time to do it."
Hey, it happens, even to Rory freakin' McIlroy. It all added up to what should have been a tournament-killing ocho, but McIlroy had been so good up to that point that he was still very much in contention. A double-bogey 6 at the short par-4 15th quickly sucked some more life out of him, however.
McIlroy did manage to pick up a birdie at the 16th and then had good looks at 17 and 18, settling for back-to-back pars to finish of a psychopathic even-par 70. A reminder of how good these guys are: McIlroy made an 8 and a 6 on the back nine and still shot 39.
And still, he's only six off the lead of Xander Schauffele, one behind second place. A front-nine 30 on Saturday and suddenly he'll be right back where he was on the 12th tee on Friday. Would not put it past him.
Stefan Schauffele knows best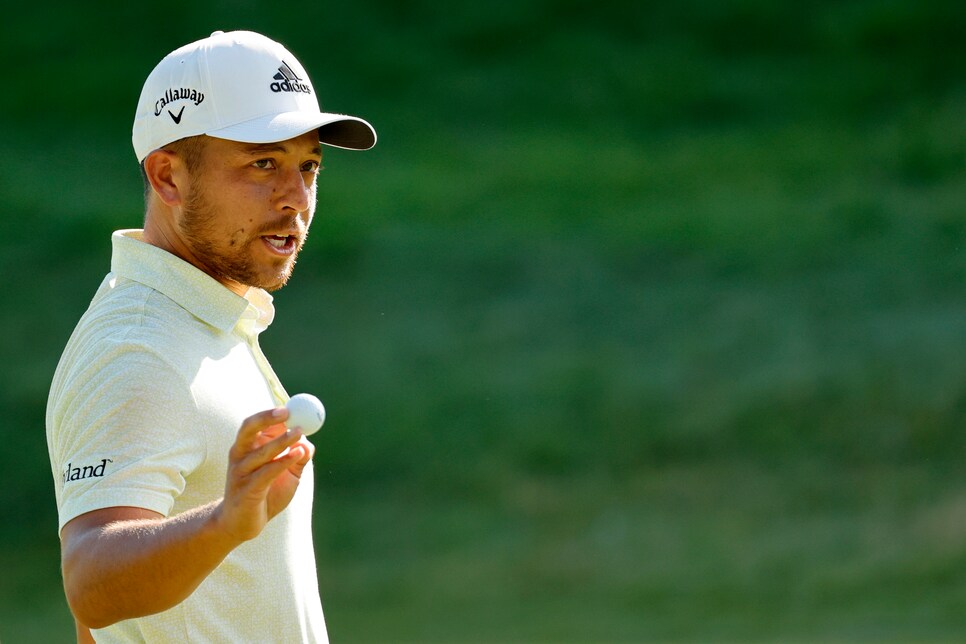 Xander Schauffele reacts to his putt on the 18th green during the second round of Travelers Championship.
Tim Nwachukwu
On Thursday, Xander Schauffele hit all 18 greens in regulation en route to a seven-under 63. On Friday? Only 15 of 18. For shame.
Despite those abysmal GIR numbers, Schauffele still managed to match his opening-round score, opening up a five-shot lead in the process. It's the largest 36-hole lead in the Travelers Championship since 1984, per the PGA Tour.
"Anytime you can hit a lot of greens at any tournament, it definitely makes it a little bit easier on yourself," Schauffele said. "I feel like Austin [Kaiser, Schauffele's caddie] and I have just been a little bit more diligent and a little more deliberate with our task when we're over the golf ball and picking numbers and picking sort of the right shot. So I think I'm very focused on that and not much else."
After his first 63 of the week, Schauffele said his recent form has been solid, but his father Stefan believed he'd been doing too much tinkering. Thursday and Friday featured very little of that, he says.
"He [my dad] wants me to do what I did today. Just Austin and I work together, focus a lot on land numbers," Schauffele said Thursday. "Just numbers in general versus me trying to tinker with my golf swing too much. It kind of made me hone in on targets versus sort of golf swing."
It's clearly working, and it's put Schauffele in position to ... wait for it ... earn his first solo, non-Olympic, PGA Tour victory since the 2019 Sentry Tournament of Champions. It's an impossible-to-believe sentence to type, given how good he is, but it is accurate. He's not getting that far ahead of himself, naturally.
"It's only Friday," he said. "We've got 36 more holes, and I need to stay aggressive. This is a course that's giving up some birdies, and if you're leading the pack and you get kind of comfortable, people are going to hunt you down."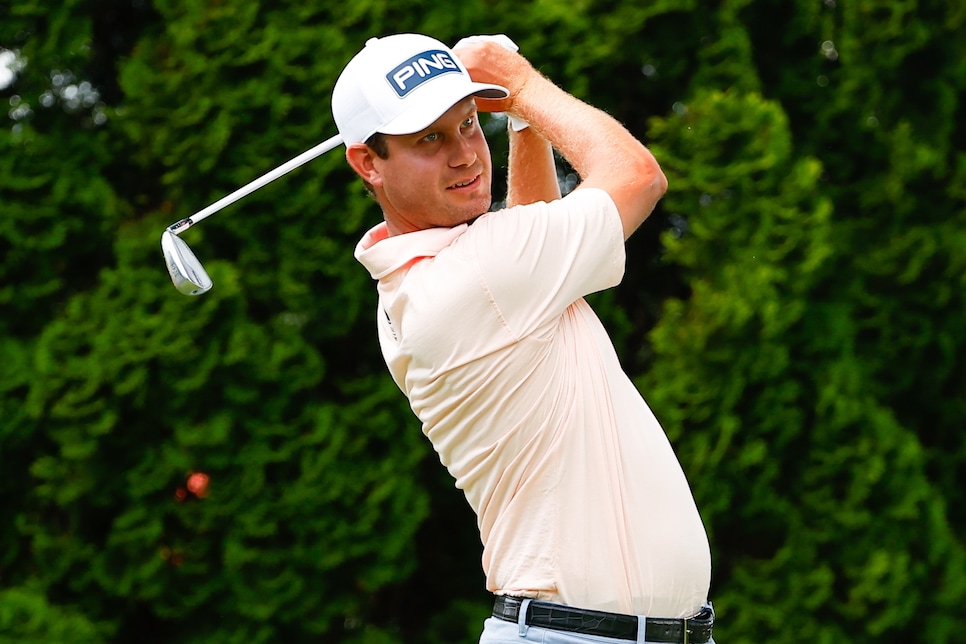 Harris English tees of at the ninth hole during the second round of the Travelers Championship.
Icon Sportswire
McIlroy's recent title defense at the RBC Canadian Open was one of the strangest in recent memory, not only because the wins came three years apart but also because of what transpired in those three wild, COVID-affected years. Should Harris English go on to defend his Travelers Championship title this weekend, it would be equally as strange given what English has been through over the last year.
In the time since his Travelers win, which he earned after an epic eight-hole playoff against Kramer Hickok, English picked up a wacky solo fourth at the WGC-FedEx St. Jude that included a Sunday meltdown alongside Bryson DeChambeau. He then played a solid supporting role in the Ryder Cup at Whistling Straits, going 1-2-0 in the American team's 19-9 romp of Europe. That same week, a rules call came in during the matches about English's weathered putter grip, which he then had to switch out before Sunday singles. After the Ryder Cup, he struggled in the fall due to issues with his hip, which he decided to get surgery on, ultimately leading to a five-month layoff.
English, who before the surgery was enjoying some of the best golf of his life, returned in early June at the Memorial, where he missed the cut with a pair of 77s. The U.S. Open treated him a bit nicer, English opening with rounds of 73 and 69 before fading to T-61 on the weekend. On Thursday at TPC River Highlands, a four-under 66 was another nice step on the road back, but Friday's five-under 65 confirmed he's just about rounding back into form.
"The hip is doing better," English said Friday. "The toughest thing is walking and playing. I feel like back home I can go hit a bunch of balls on the range, but up and down these hills and being on your feet for five or six hours is the toughest part.
"I feel like the more I play competitive rounds out here, it's just going to get stronger," he added. "So I'm happy to have made the cut, made the weekend for two tournaments in a row. This is my third tournament back, so I am just excited to keep playing golf."
English did a little more than just make the cut. At nine under, he's among a group of five players who are tied for second, a group that includes Ryder Cup teammate Patrick Cantlay.
"I was kind of getting tired of watching these guys on the couch," said English. "Missing the majors hurt me pretty bad. I love playing the Masters. That was definitely weighing on my decision to get surgery. I'm going to miss the Masters if I get surgery. But it is what it is, and hopefully I can play many more. Really just I love playing competitive golf and I love being out here with the guys competing, so I definitely missed that and made me want to be out here even more."
Should English return to his pre-surgery form, which saw him pick up a pair of wins in 2021 and finish solo third in the U.S. Open at Torrey Pines, there will be many more Masters, and many more majors, in his near future.
Morgan Hoffmann to the weekend, and beyond!
If you've not read our Dan Rapaport's profile on Morgan Hoffmann, you should drop what you're doing and read it now. The too long, don't read version, though, is that it's been a very long, very circuitous route back to the PGA Tour for the former Oklahoma State Cowboy. Once the next big thing, his promising career was brought to a screeching halt by a diagnosis of muscular dystrophy, which forced him to leave golf behind, for the time being, in the fall of 2019.
He returned in April at the RBC Heritage, narrowly missing the cut after rounds of 71 and 72. A 73-80 week at the Wells Fargo in May meant another MC, meaning this week, the Travelers Championship is his last shot at getting his PGA Tour card. He had just three starts left on a major medical extension, and this is No. 3. Making the cut on the number is nice, but he'll need a miraculous weekend to have any chance of regaining his tour card. For now, it's a start.