FIRE PIT COLLECTIVE
The timeless appeal of pro golf is being destroyed by money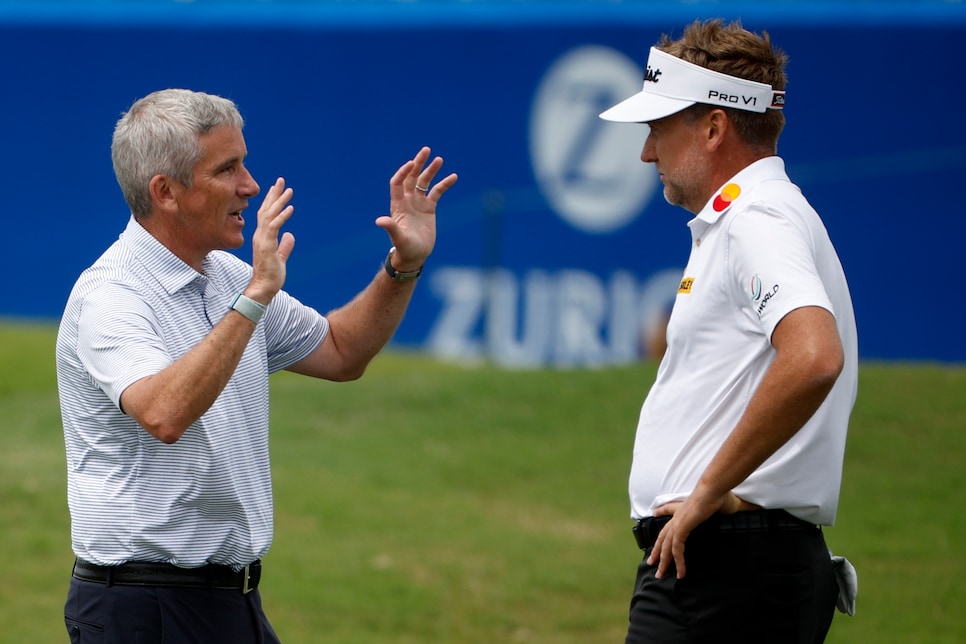 Take-take-take-take-take-take-take-take-take.
Also: more-more-more-more-more.
Everywhere you look these days in professional golf, there's a whole lot of taking going on, coupled with a demand for more. It's not good for business.
The LIV Golf series—Greg Norman presiding; the notorious MBS lurking—is taking various name-brand players from the PGA Tour.
The players leaving for greener pastures—Brooks Koepka, Dustin Johnson, Patrick Reed, Bryson DeChambeau, Phil Mickelson, Sergio Garcia and various other me-me-me's—are taking all that Saudi have-you-over-a-barrel oil money and falling into the richest black hole in professional golf history.
Can you imagine the LIV events as competitive tournaments with meaningful outcomes, with events that paying fans and TV viewers and the mainstream sports media will ever really care about? Hard to see it. Maybe LIV Golf will try to buy Golf Channel, or start something similar, and pay people to watch.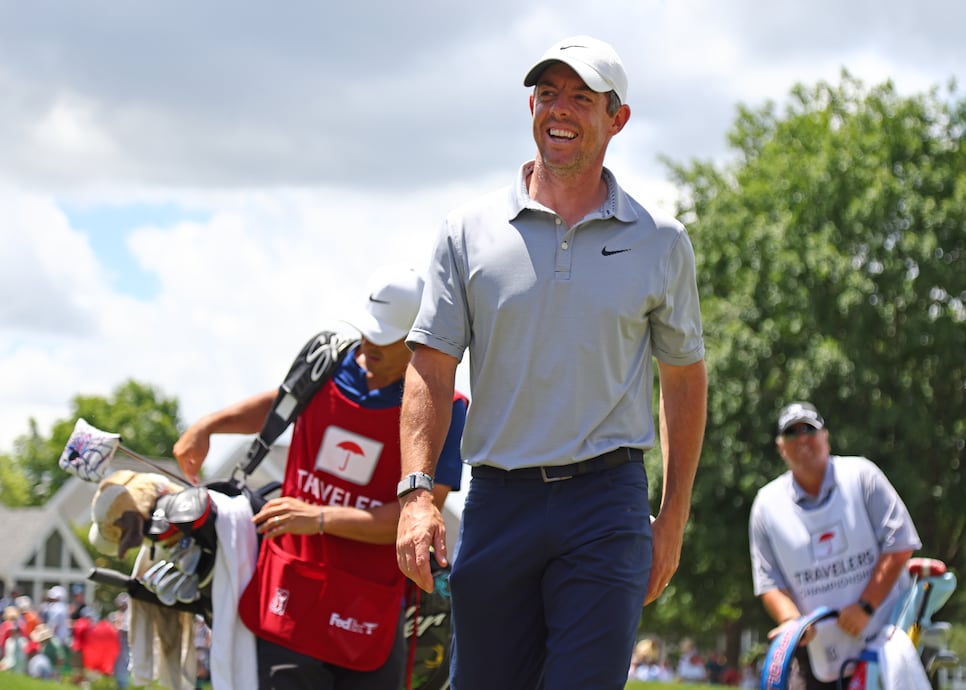 Quick aside: On the Monday after a Masters, nobody has ever talked about the first-place money. But millions of us have discussed so-and-so's second shot into 13.
And now comes the PGA Tour's misguided response to the Saudis, as outlined on Wednesday at the Travelers Championship, Jay Monahan, playing an expensive round of tit-for-tat. Here's the subtext of what he said: The tour will now take hundreds of millions of corporate dollars from publicly traded companies—our money, really—in a desperate attempt to stop the upstart league from buying more tour players.
By the commissioner's own admission, adding all this eureka money into the pot is not a sound or sustainable business plan.
"If this is an arms race and if the only weapons here are dollar bills, the PGA Tour can't compete," Monahan said. Behind him was a scrim adorned with FedEx and Travelers and PGA Tour logos. By his right hand was a bottle of Dasani water, a Coca-Cola product. Coca-Cola is a proud sponsor of the PGA Tour. In 2018, Dasani Sparkling water became the official sparking water of the PGA Tour. Well, somebody has to pay the bills around here.
Quick Aside II: FOX Sports executives found they couldn't make any money from the $1.1 billion deal they signed with the USGA in 2013. Plus, they didn't understand golf and didn't do golf-on-TV particularly well. Both sides couldn't wait to get out. History has a tendency to repeat itself.
Monahan on Wednesday, from prepared remarks: "The PGA Tour, an American institution, can't compete with a foreign monarchy that is spending billions of dollars in attempt to buy the game of golf."
Nobody owns golf. You can't buy it. But you can buy the appearance of looking modern and capitalistic and mainstream, and that's what the Saudis are doing. Yes, this golf-washing is a real thing. We've all taken mud-encrusted golf balls, put them in those red-and-black ball-washing cylinders and seen the magic they can produce. Multiply that by infinity.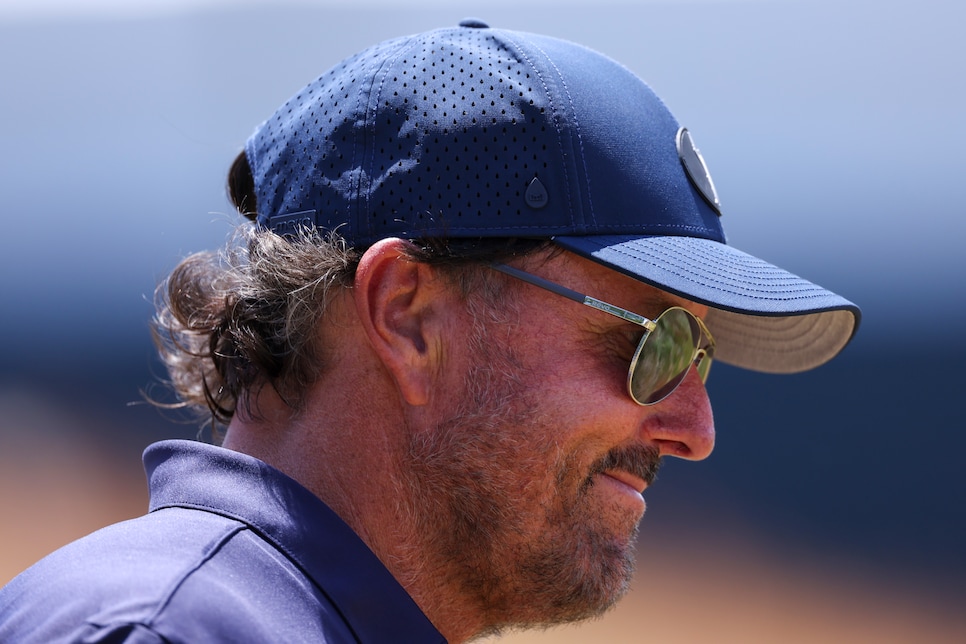 Donald Trump is all in on this LIV series, after being rejected by the PGA Tour and the USGA and the PGA of America and the Royal & Ancient. As the 45th president of the United States, he was our first president who would not publicly commit to the peaceful transition of power. Trump is fun to play golf with—I've played with him a bunch—but how can you not see that as dangerous? Yet as the de facto host of two LIV events in the U.S. between now and October, he will have opportunities to press flesh with Bryson and DJ and Phil. He will be engaged in some high-quality golf-washing, and the fellas will be his co-conspirators.
Quick Aside III: Trump, as president and now ex-president, has tried and is trying to turn a sacred American practice, trust in the independent counting of votes, into a piñata. Here's a golf equivalent: Can you imagine any kind of serious golf where we could not trust the score the players say they shot?
Monahan guided the tour with considerable skill through the dark days of the pandemic. Now, though, the tour he leads is suddenly hyper-focused on the wrong thing, trying to keep the Saudis from buying more name-brand players. The starting point to the tour's appeal is that millions of us like to watch golf, a notoriously difficult game requiring astounding ethics and self-control. There was barely a nod to us in his 40-minute press conference.
The players cashing in with LIV (including Graeme McDowell and Louis Oosthuizen) made their names by contending at multiple televised PGA Tour events and (most especially) in Grand Slam tournaments. Pretty much all of the players cited in this story could walk the Mall of America near Minneapolis for a week and be recognized about three times. As people, they have no cultural impact on the world at large. They take. Their lack of gratitude for the world that enriched them is stunning.
I cannot imagine any player making the jump to this LIV series having the mettle it takes to win another Grand Slam event, but maybe that's just wishful thinking.
John Feinstein wrote this the other day in The Washington Post:
"[Rory] McIlroy and Garcia are good friends; they were in each other's weddings. But when Garcia told McIlroy the reason to join the LIV Tour was `so we can finally get paid what we deserve,' McIlroy laughed out loud. `Sergio,' he said, `We're golfers. We don't deserve to be paid anything.'"
Maybe Rory will take over the tournament that Mickelson used to host, the old Bob Hope event. He has to be in line for something here. I wish I could take credit for this next idea, but I'm stealing it from one of Monahan's compatriots. Here's a message for any player who wants to leave the PGA Tour for the LIV series: Bye-bye.
Quick Aside IV: Create a new system for earning World Ranking points. You can only get them by playing in 72-hole events with a cut. If that forces the LIV series to redefine its whole MO, so be it. If that compels the PGA Tour to rethink the WGCs and the newly proposed big-money events, I'm all for that.
The tour is taking its cues from LIV, and we're going to be stuck with it for years to come. All this emphasis on the top 70 players brings to mind the old tour, where only the top 60 money winners had full status for the following year. Top 60 used to be a magic number. Come 2024, top 70 will be. It guarantees you a place in four tournaments with giant paydays and small fields, including Tiger's event (L.A.), Arnold's (Bay Hill) and Jack's (the Memorial).
In professional golf, free and fair competition, to use a phrase Monahan likes, starts with full fields and four rounds with a cut. The PGA Tour, pretty much as is, might have been in for a couple of rocky years, but new players, new so-called stars, would have emerged, by winning these hard-to-win events and contending, and maybe winning Grand Slam events.
Quick Aside V: Will Zalatoris. There are others Willie Zs out there. We just don't know their names yet. Did you know his name three years ago?
I think this needs to be said: It's not like the PGA Tour is some cuddly us-against-the-world sports league. Over the years, I've had dozens of conversations with players, caddies, reporters, fans, course operators, sponsors, volunteers, TV executives and others who can cite for you, chapter and verse, the tour's astounding arrogance. The tournaments do all manner of good works. They put on a show and raise money for charity. Nobody would ever accuse the NBA of taking itself too seriously. The modern PGA Tour strikes me as too self-satisfied for its own good. It's overstuffed.
I won't waste much time on this because it's too late and it's a fantasy, but I would have liked to see the Tour keep its traditional January-through-October schedule, pretty much, with some serious tweaks to the three playoff events. I would have used October, November and December to invent some forms of competition based on what fans might enjoy watching and players might enjoy playing. Team events. Events with men and women and seniors and top amateurs playing together. Maybe an event where the players can use only four clubs. Six similar-but-different events would have been plenty and maybe would have brought in new viewers. But the main point here is, start with the fans. Fans draw sponsors. Sponsors draw players.
The players want to be shown the money.
Instead, the tour has gone straight down the same rabbit hole as the Saudis. We all know the famous O'Jays lyric:
Money-money-money. MON-ey. Mon-EEE!
The song, you may know, is called "For the Love of Money."
The oddest bit of news this week is Nick Faldo's retirement announcement. Trevor Immelman, winner of the 2006 Cialis Western Open (its name then) and the 2008 Masters, will replace Faldo as the new CBS lead golf analyst. Faldo said he wants to spend more time on his Montana ranch with his wife, Lindsay De Marco. If you say so, Sir Nick.
Quick Aside VI: The comedian Tom Segura has a 3-year-old son who insists on being called "sir."
What a shame, for golf if not for Phil, that he didn't get Faldo's job. What a shame that he danced with the Saudis as they showed all those sparkling rubies, got even more cocky (which had been his stock in trade) and then mouthed off to my colleague Alan Shipnuck.
Had he played his hand with a soupçon less greed, Mickelson could have played the Masters this year as the reigning PGA champion, maybe even made the cut, then climbed into the booth late on Saturday and been introduced as Sir Nick's worthy successor.
This would seem more than realistic: a $100 million deal for 10 years, 10 tournaments a year and Mickelson could still play wherever he wished, including the Masters. (Imagine what Callaway and KPMG and Workday would have paid Mickelson in that scenario!) That would have made the PGA Tour a more interesting, as they say these days, product.
Maybe that's the root of the problem, turning golf into a product, something that can be bought and sold. An entertainment product. None of us care about a product. What drew us in was the game.