News
Hudson Swafford proves golfers are tough and other takeaways from Day 2 at Corales Puntacana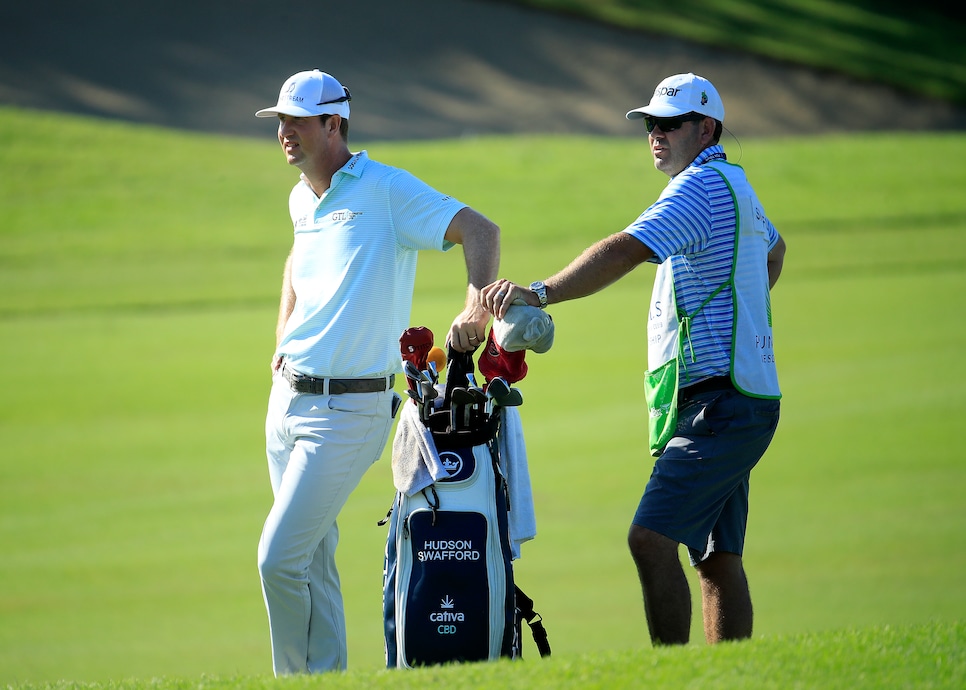 Hudson Swafford prepares to play his second shot on the 15th hole during the second round of the Corales Puntacana Resort & Club Championship.
Andy Lyons
It's not a leader board full of stars, but, as expected, the Corales Puntacana Resort & Club Championship looks like it could produce a few intriguing stories. There are young guns in the mix, veterans looking to end long win droughts and a few 30-somethings still searching for their first tour victory.
Here are our takeaways from Day 2 in the Dominican Republic.
Hudson Swafford proves golfers are tough
No, we're not talking about the foot injury that caused Swafford to miss significant time this summer. We're talking about something much, much worse. Something so gruesome it'll make your stomach turn. Folks, we're talking about a bee sting.
OK, so maybe we were overselling it. We're sure any NFL or NHL player reading that a golfer "played through a bee sting" would fall out of their chair laughing. But this did sound painful, and it happened in the worst possible spot for a tour pro who is trying to contend.
"Right in the joint of my finger on the second hole," said Swafford. "It kind of started swelling up and it was nice and warm, so it was kind of some chaos the first few holes.
"I grabbed my putter on the second tee box, No. 11 tee box, and I guess there was a little hornet. Actually, my caddie got stung yesterday on the forearm on the first hole, and I guess he just said it's kind of a good omen. We played well and we ended up playing well again today. But yeah, literally right in the joint of my pinky. It started swelling up, so I was just kind of rubbing ice on it after tee shots for the first five, six holes on the back side. I guess it kind of just cleared my mind of the golf thing and just let me focus on something else."
It certainly seems like a good omen through two rounds. Swafford backed up his Thursday 65 with a five-under 67 on Friday, which earned him the solo lead at 12 under. If it was me, I'd find the nearest hornet's nest on Saturday, wait for the pain and embrace it. It's working well so far.
Sean O'Hair would be a great comeback story this week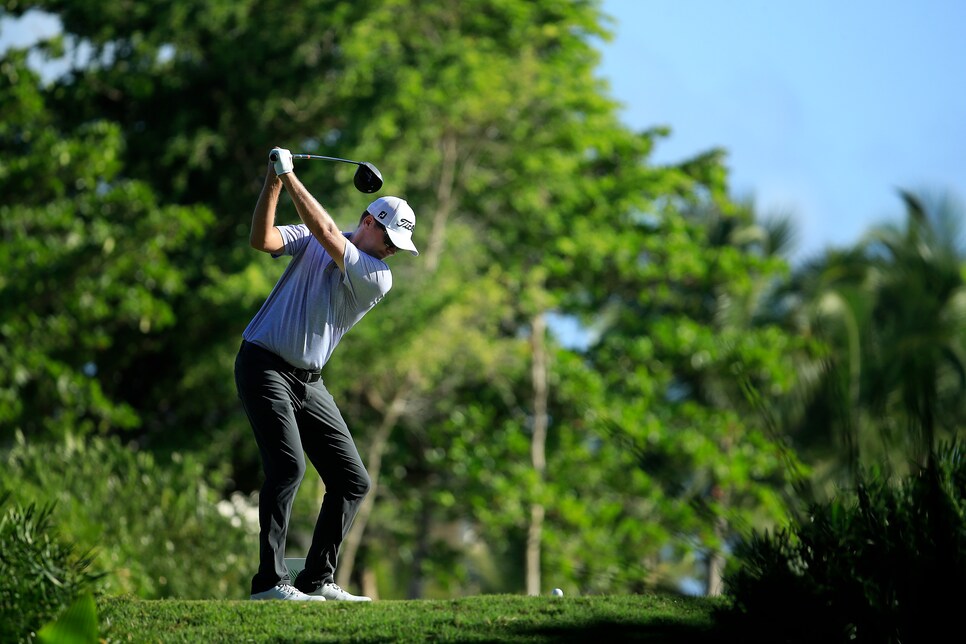 Sean O'Hair plays his shot from the 15th tee during the second round of the Corales Puntacana Resort & Club Championship.
Andy Lyons
As mentioned at the top, there are a plethora of intriguing storylines that could play out in the D.R., specifically of the comeback variety. Sean O'Hair, who sits two of Swafford's lead, would be one of the better ones. As our Brian Wacker covered nicely here, it sounds like O'Hair went through an absolutely brutal injury battle, one that caused him to miss a year and a half.
Even before that, though, O'Hair, now 38, was going through some serious struggles on the course. In 2018, O'Hair made 24 starts on tour and missed 11 cuts, the lone highlight coming in the form of a T-2 at the Valero Texas Open. In 2019, he made four starts before withdrawing at Pebble Beach with a rib injury that actually turned out to be a torn left oblique muscle.
It's been quite the slump for the Lubbock, Texas, native. This was a guy who once reached No. 12 in the world, contended in the Players Championship, contended in FedEx Cup Playoffs events, played in the final group at Bay Hill alongside Tiger Woods in 2008, and, people forget, was in that wild playoff with Patrick Reed and Jordan Spieth at Innisbrook in 2015. He was a mainstay on leader boards for a lot of years. This week, he's hoping to prove he can return to that type of form as he closes in on 40. Perhaps that long layoff due to injury was a blessing of sorts.
"I still love the game," O'Hair said when asked what he learned while he was away from golf. "I think I got a little bit lazy and took too much for granted right before I got injured. I think I was more counting the days to retirement and I think you get that taken away from you, the ability to play golf, and you figure out that you love the game still and you still want to compete. It was a really hard recovery for me and I didn't know if I was going to make it back or not, so it took a lot of hard work to get to this point and it feels good, but obviously I've got a long road ahead of me."
The "other" young star is lurking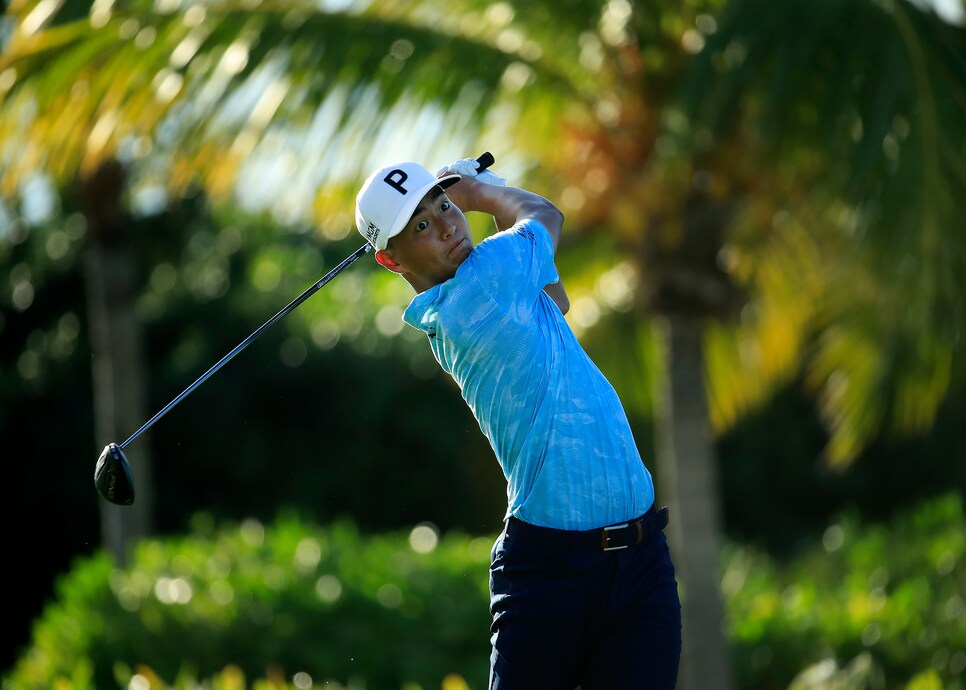 Justin Suh plays his shot from the 16th tee during the second round of the Corales Puntacana Resort & Club Championship.
Andy Lyons
As Brian Wacker also wrote here (guy is grinding this week), the young star who was expected to rival Collin Morikawa, Viktor Hovland and Matthew Wolff is finally finding his groove this week. And we only say "finally" because the other three guys have gotten off to such incredible starts to their careers.
Justin Suh, the former top-ranked amateur from USC, was expected to get off to a similar hot start, but a nagging wrist injury, among other issues, slowed him down. While Morikawa, Hovland and Wolff were all lighting the golf world on fire, Suh practically disappeared from the picture. Through two rounds at Corales, the 23-year-old is reminding everyone he's pretty good too. A pair of 67s have him two off the lead and a step closer to once again earning mention against that fantastic trio of rising stars. Are we looking at golf's next "Big Four"? Ok, we'll calm down. Baby steps.
The bet heading into the weekend is ...
You didn't think I was going to let you go into the weekend without a betting angle, did you? This tournament was always going to be a tough one to bet given how many guys had very short odds without the winning pedigree to back it up. That's why you probably should just take a flyer for the final two days. Yes, both O'Hair and Swafford have winning experience, but it's been awhile since either has been in the hunt.
For me, one name that pops off the board is Kelly Kraft, who is at eight under following a second-round 68, which included a double bogey. Kraft has a decent history of contending (runner-up at the 2019 Barbasol, T-5 in this event last year, runner-up at the 2018 Greenbrier), but he just hasn't finished one off yet. The most intriguing part here are his odds, which are 60-1 on DraftKings Sportsbook. Something seems off. Sam Burns and Patrick Rodgers are also at eight under, and they are 12-1 and 20-1, respectively. No offense to either of them, because I think they both have what it takes to win, but neither of them have won yet either. Among this group, Kraft has all the value.