News
Sean O'Hair contending again after lengthy and frustrating battle with injury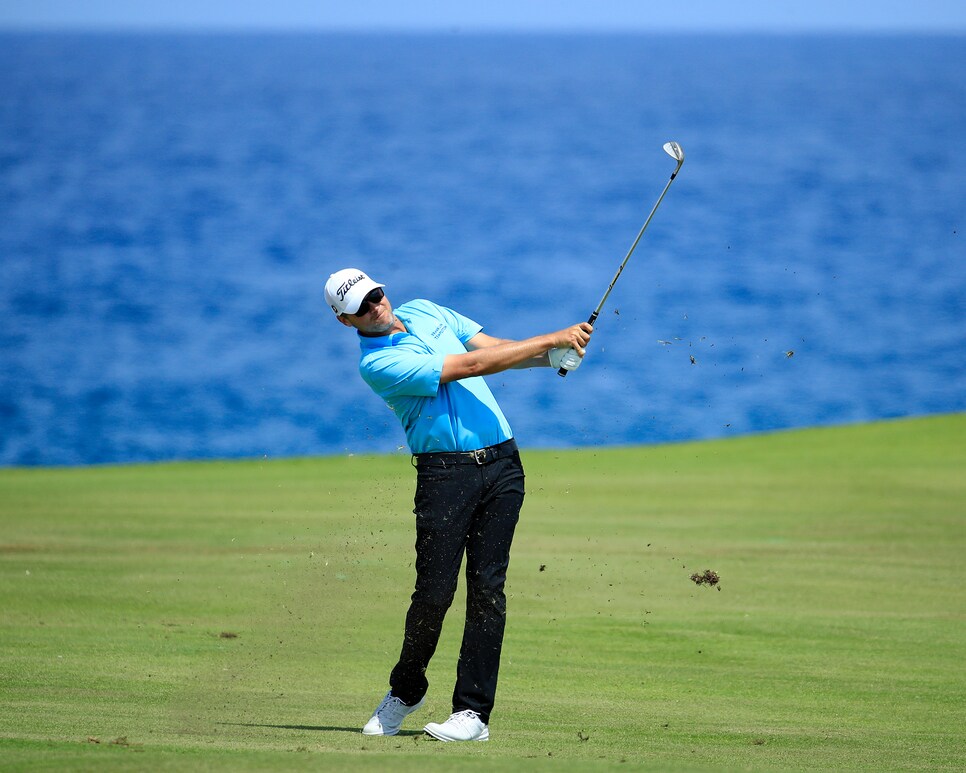 Sean O'Hair plays his second shot on the eighth hole during the first round of the Corales Puntacana Resort & Club Championship.
Andy Lyons
It's been nearly a decade since Sean O'Hair last won on the PGA Tour, but after a second straight five-under 67 on Friday at the Corales Puntacana Resort & Club Championship, the 38-year-old enters the weekend in the Dominican Republic with a chance for a fifth career victory and first since 2011.
It's a position that just 18 months ago seemed unimaginable, if not impossible.
In February 2019, O'Hair withdrew from the AT&T Pebble Beach Pro-Am with what doctors thought after an MRI were broken ribs. It turned out that it was much worse than that—after a month off, another doctor discovered that O'Hair had completely torn his left oblique muscle.
The injury was so bad that it required surgery and a recovery process that included dry needling, a procedure in which a long, thin needle is used to treat the underlying muscular trigger points for pain and movement impairments.
"I had quite a bit of scar tissue built up for whatever reason," O'Hair said. "I had a car accident in '08 that it could have been that, I have no idea, but I hurt it playing golf at Pebble a couple years ago and that was it."
It was also just the beginning.
Following months of arduous rehab, O'Hair slowly made his way back. After a couple of months of being able to hit balls, he finally teed it up last December in the QBE Shootout, a three-day hit-and-giggle event at Tiburon Golf Club in Naples, Fla.
He got through the event pain-free and continued his slow climb back, first on the Korn Ferry Tour and then the PGA Tour, where he's playing on a major medical extension.
The PGA Tour, meanwhile, has proved a tougher haul. With 16 more starts to keep his card, O'Hair came into this week with two missed cuts and a T-50 in three starts. Friday, though, he made five birdies, no bogeys and was near the top of the leaderboard though two rounds in the Dominican Republic.
Health-wise, O'Hair says he feels "great." His game is starting to come around, too, and he's cautiously optimistic.
"I've got 16 starts to try to keep my job, and after I keep my job, I've got to keep my job as far as make enough points to get in the playoffs," he said. "I don't want to get ahead of myself. I think my potential is a lot better than that, but I think mentally I just want to kind of take one step at a time and just baby steps."
O'Hair also learned plenty along the way as well, about his game and himself.
"I think I got a little bit lazy and took too much for granted right before I got injured," he said. "I think I was more counting the days to retirement and I think you get that taken away from you, the ability to play golf, and you figure out that you love the game still and you still want to compete."