News
He was expected to rival Morikawa, Hovland and Wolff when they turned pro in 2019. Now Justin Suh is playing catch up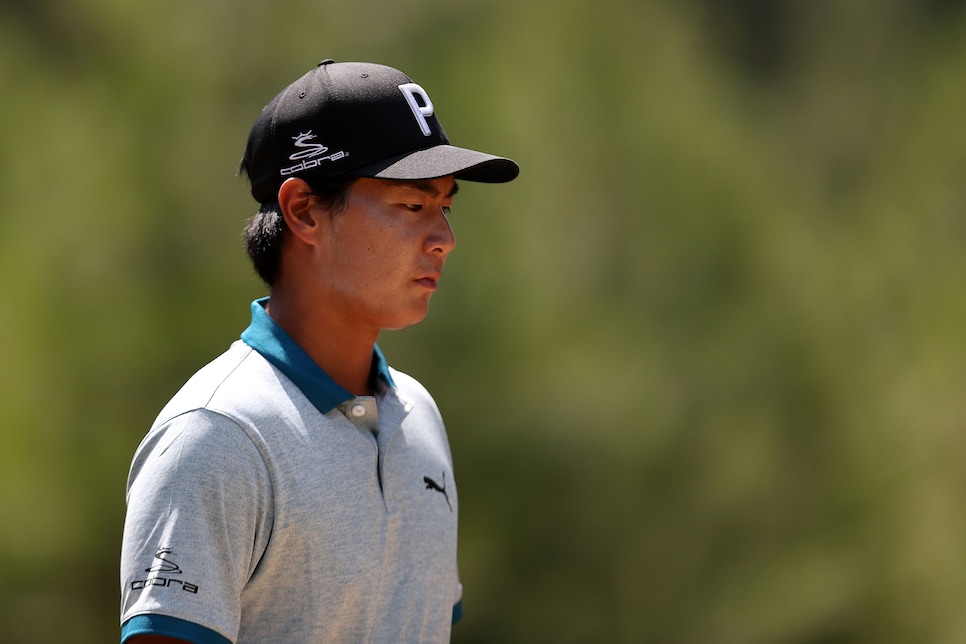 Justin Suh shot a 67 on Day 1 at the Corales Puntacana Resort and Club Championship, his best round yet on the PGA Tour.
Jed Jacobsohn
The rookie class of 2019 didn't take long to make its mark on the PGA Tour. In the last 12 months, three of its members—Collin Morikawa, Matthew Wolff and Viktor Hovland—have already combined for five victories, including a major championship after Morikawa won last month's PGA Championship.
Thursday, the 23-year-old shot a five-under 67 to sit near the top of the leader board after the opening round of the Corales Puntacana Resort & Club Championship. It's his best score in a dozen starts on the tour. It's also, perhaps, a sign that he isn't far behind in joining his 2019 classmates after what has so far been a bumpy ride in the professional ranks.
Last summer, Suh, the former top-ranked amateur out of the University of Southern California, turned pro at the Memorial and three weeks later joined Morikawa, Wolff and Hovland in a pre-tournament press conference at the Travelers Championship as a way of introducing golf's next wave of young stars. While the rest of the group saw their careers take off, Suh missed the cut in six of his first seven starts and battled through a nagging left wrist injury born from overuse in his transition from college golf to the heavier workload of the pro game.
It wasn't long before Suh's mind got beat up, too.
While Morikawa, Wolff and Hovland all flourished, Suh struggled not just with his game but with expectations and what he called "noise" on social media when his results didn't compare to the others.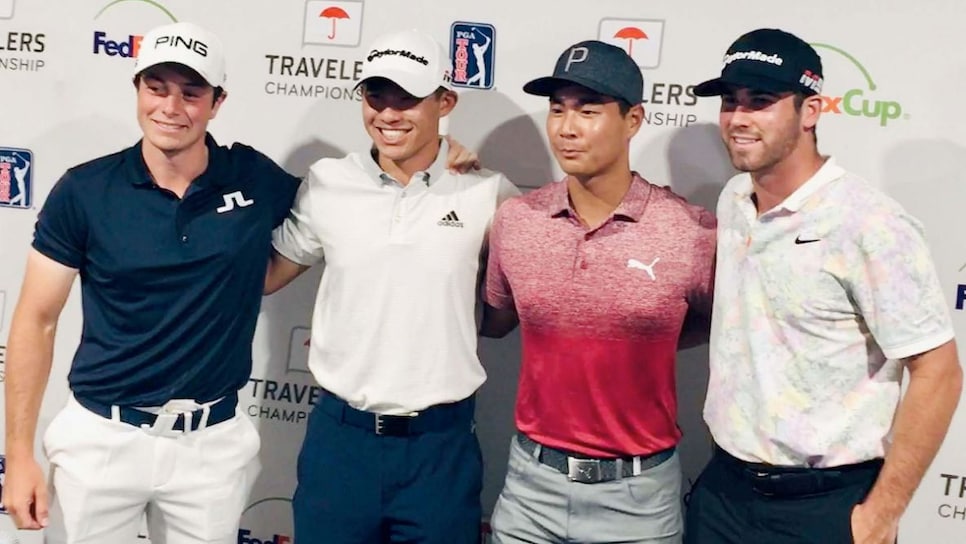 Viktor Hovland, Collin Morikawa, Justin Suh and Matthew Wolff were all given sponsor's exemptions into the 2019 Travelers Championship after each had just turned pro.
"The second half of last year, I spent a lot of down time in my hotel room, just me and my phone and I was just scrolling and scrolling," he told Golf Digest on Thursday. "It was toxic. You start looking at 10,000 golf videos, it's going to creep into your swing."

Eventually, the wrist got better following physical therapy and a swing adjustment that included a change in his set-up and a swing that is now longer and less short and snappy. So did the results. After failing to advance out of the first stage of Korn Ferry Tour Q School last September, Suh headed for PGA Tour Latinoamerica, where he had four top 10s on the circuit, including a T-2 in Argentina, to earn full status for this year.
Putting the phone away helped, too.
Though he missed the cut in of his three starts on the PGA Tour in 2020 at Torrey Pines, Pebble Beach and Puerto Rico, Suh could see that he was turning the corner. Then the COVID-19 pandemic hit, shutting down the sport for three months.
The time off turned out to be blessing for Suh, though. He visited his former college coach, Chris Zambri, and went back to doing the same drills that propelled him to eight victories while at USC, where he was also a two-time All American.
"Ever since then I've been playing really good," he said.
Indeed. In a handful of attempts to Monday qualify this season, Suh narrowly missed out each time but shot a combined 30 under in that span. He also finished T-21 at the Barracuda Championship last month for his highest finish yet on tour. And coming into this week's tournament in the Dominican Republic he finished in the top 10 in three of his last four starts on the LocaliQ Series, which consists of players from the Mackenzie Tour, PGA Tour Latinoamerica and PGA Tour China after those seasons were wiped out because of the pandemic.
Along the way Suh also managed to sneak in an 18-hole match with Morikawa two weeks ago.
"I got him," Suh said. "So the game's there, it's just a matter of putting it together at a tournament."