News
The Akshay Bhatia era has begun and other takeaways from Day 1 of the Safeway Open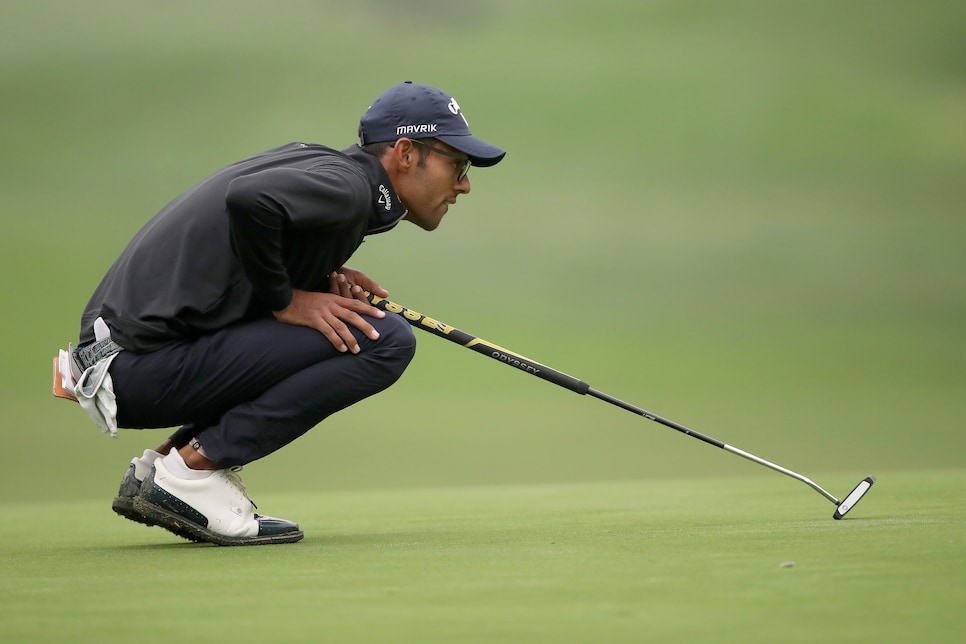 Akshay Bhatia lines up his putt on the 13th green during round one of the Safeway Open at Silverado Resort.
Sean M. Haffey
After two long days and a one-hour "fog" delay, the PGA Tour returned in Napa Valley at Silverado Resort, site of the first event of the 2020-'21 "super season," the Safeway Open. This year's field is even leaner than usual, as many of the world's best are gearing up for next week's U.S. Open on the other side of the country.
That could change with another strong round on Friday, which would put Bhatia in the hunt in just his eighth career PGA Tour event. Before we get too far ahead of ourselves, here are our four takeaways from Day 1 of the Safeway Open.
The Akshay Bhatia era has begun
Collin Morikawa? Old news. Viktor Hovland? Flash in the pan. Matthew Wolff? Never heard of him. The PGA Tour now belongs to Akshay Bhatia.
OK, OK, that screech you hear is me slamming on the brakes, but an 18-year-old shooting a six-under 66 on the big tour will always be impressive. What's more impressive, though, is that it came in his 16th career round on tour. It already feels like this kid has been around awhile and he literally hasn't even gotten started yet. For those who need a refresher, Bhatia was the former top-ranked junior player in the world, a two-time PGA Junior winner and runner-up at the 2018 U.S. Junior Amateur at Baltusrol. He then skipped college entirely and turned pro at 17 after playing on the 2019 U.S. Walker Cup team, his first pro start coming at the Sanderson Farms Championship last September. A year earlier, he played in his first PGA Tour event on a sponsor's exemption at the Valspar.
This week's Safeway marks Bhatia's eighth tour start, and he has not made the cut in any of his previous seven. Barring a second-round 78, he should safely make the weekend in Napa, which would be the biggest accomplishment to date in his young pro career. Something tells us he has much bigger aspirations than making cuts, though.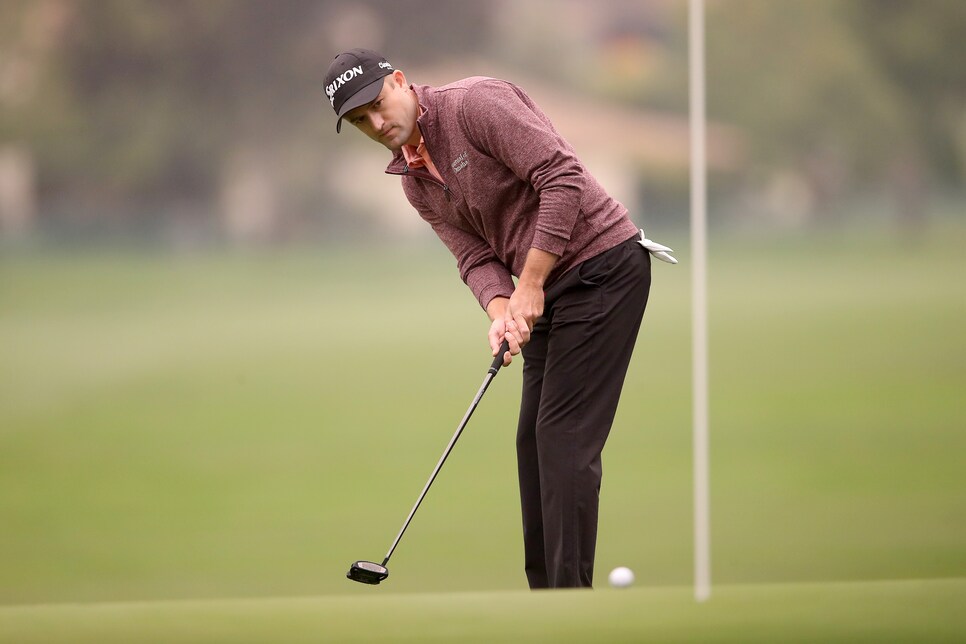 Russell Knox putts on the 13th hole during round one of the Safeway Open.
Sean M. Haffey
Well, considering he's at the top of the leader board, everyone sees him, but it's somewhat shocking to read his name there. When you think of Knox, two things immediately jump to mind: 1) The hat throw celebration when he holed the winning putt at the 2016 Travelers Championship and 2) His implosion at the 17th at the 2016 Players (which included a shank). In other words, this guy has had some very high highs and some very low lows. At one point in 2018, the Scotsman climbed all the way to 18th in the Official World Golf Ranking. He then fell as low as 116th before getting all the way back to 49th. At 35 years old, he's seen all the ups and downs.
Coming into this week, Knox had fallen to his lowest ranking ever, 208th. On Thursday, he shot a bogey-free nine-under 63, with just one of his birdie putts coming from longer than 14 feet. He's always been a machine with his irons, but poor play off the tee and some even worse putting have plagued him even during his good years. Last season was arguably his worst on the PGA Tour, and it featured a stretch in which he missed 10 consecutive cuts. But as he's shown throughout his career and particularly on Thursday, he has the ability to keep grinding away and eventually snap out of his funk. Don't be surprised if he keeps up this stellar approach play through the weekend and remains in contention until the very end.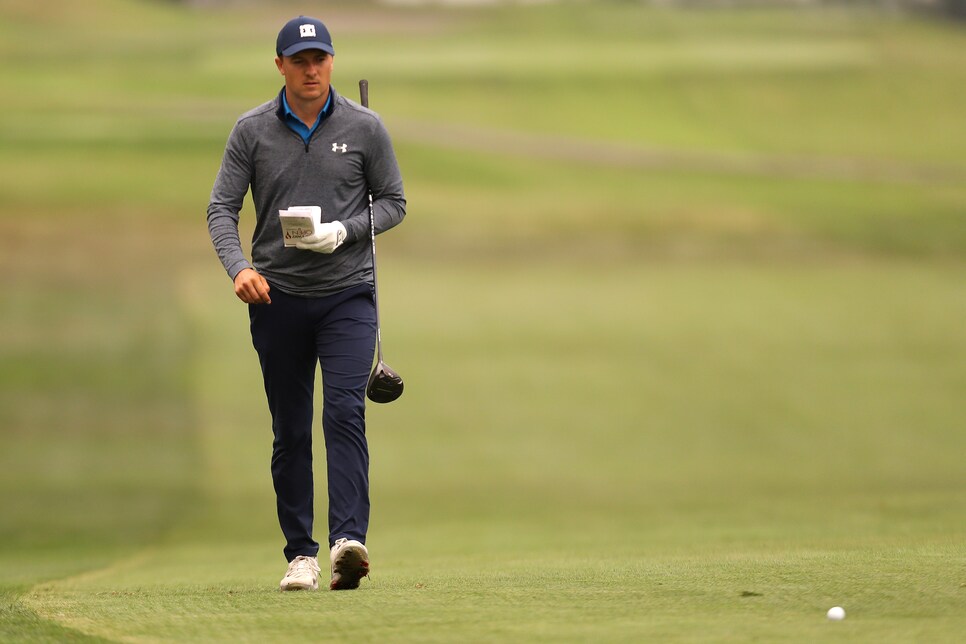 Jordan Spieth walks on the third hole during round one of the Safeway Open.
Jed Jacobsohn
Jordan Spieth did Jordan Spieth things (not a compliment)
A few years ago, that sentence would lead you to believe Spieth was hitting his irons better than anyone in the field and holing putts from everywhere. Today, in September of 2020, that sentence means Spieth was erratic with his driver (he lost 0.905 strokes off the tee), not great with his irons (he lost 1.063 strokes on approach) and didn't make anything with his putter (he lost 1.880 strokes putting). All that added up to a one-over 73 on a course where 32 players are currently four under our better. To his credit, he made two late birdies, but those feel a lot less like momentum heading into Friday and a lot more like Spieth patching up a torn-apart teddy bear with a couple of pieces of scotch tape. It's bad right now, real bad. We're writing about Jordan Spieth's (three-time major champion Jordan Spieth) middling round in the Safeway Open a week before Winged Foot. THAT kind of bad. It goes without saying since it's been said roughly a billion times now, but we're all pulling for him to get it together, but it's not happening this week and it's definitely not happening next week either.
It's so good to have live golf back in our lives
I'm sorry, I had to. Let's all agree that that's the final "how about that offseason!" dad joke, OK?