News
Danielle Kang is an early co-leader in pursuit of another major and possibly a No. 1 ranking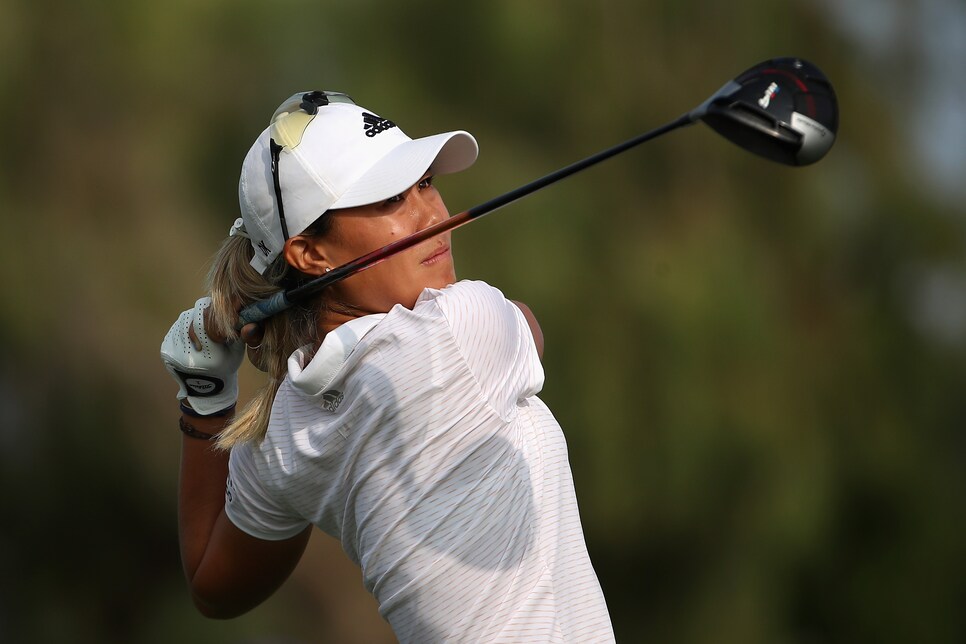 Danielle Kang of the United States plays a tee shot on the 12th hole during the first round of the ANA Inspiration. (Photo by Christian Petersen/Getty Images)
Christian Petersen
RANCHO MIRAGE, Calif. — There are plots and subplots in every story, though it doesn't necessarily hold that the same individual is the principal in both. Danielle Kang was the exception here on Thursday.
Kang, 27, opened the ANA Inspiration with a four-under par 68 on the Dinah Shore Tournament Course at Mission Hills CC, to share the first-round lead after the morning half of the field was finished.
Obviously it's early in the proceedings, but should Kang win on Sunday, it is projected that she will ascend to No. 1 in the Rolex Rankings and would become the first American to occupy that position since Stacy Lewis was No. 1 at the end of October, 2014.
Kang has been a dominant player since the LPGA resumed its season last month. She won the first two events and tied for fifth in a third.
Confidence feeds on itself, and Kang has been mining hers for more than three years now. This is her ninth year on the LPGA, but all five of her victories, one of them the Women's PGA Championship in 2017, have come in the last three-plus years.
"I think that's something that I've gotten better at over the years, trying not to dwell on the previous mistakes," Kang said. "Just try and focus on execution and knowing that I could still execute even if I made a mistake. Just telling myself it's okay that I made a mistake. I think that's kind of giving me a sense of just confidence.
"I'm trying not to be so result-based anymore. I definitely mis-hit some shots today, but I don't let that affect the next shot, and it happens. Golf is a game of misses."
Kang made three bogeys, but she covered his mistakes with seven birdies. In the morning session, Canadian Brooke Henderson, Kelly Tan of Malaysia and Yu Liu of China also shot 68s to share the lead.
"It feels pretty good to post a lower score in the first round," Kang said. "I definitely made some mistakes out there but kept trusting my putting and trusting my speed, and then I made some good birdies coming down the line."
Kang, now a Las Vegas resident, needs no further motivation, given that this is a major championship, but this Southern California native has some nonetheless.
"I think it's more so than for a major for me, to win this specific tournament, the ANA Inspiration just because it's in California," Kang said. "It's Palm Springs and it's a tournament I've been playing since I was an amateur and I was invited here. I think it would just be a little bit different than winning different majors."