News
The ANA Inspiration: 'I didn't know the course could change that differently' with Bermuda replacing rye grass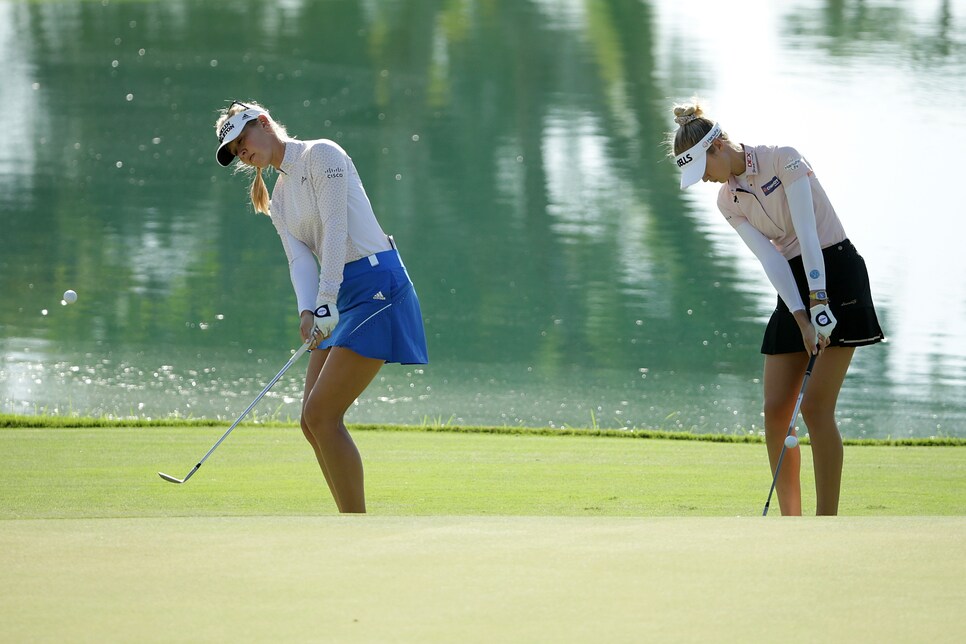 Sisters Jessica (L) and Nelly Korda hit pitch shots to the sixth green during a practice round prior to the ANA Inspiration at the Dinah Shore course at Mission Hills Country Club on September 09, 2020 in Rancho Mirage, California. (Photo by Jeff Gross/Getty Images)
Jeff Gross
RANCHO MIRAGE, Calif. — Grass does not ordinarily receive much attention beyond the agronomists and superintendents responsible for it, but at the ANA Inspiration that begins here on Thursday it has been a popular subject.
Ordinarily, on its late March/early April dates, the tournament is played on rye grass. But the Dinah Shore Tournament Course at Mission Hill C.C., like all the courses in the Coachella Valley, is over-seeded with Bermuda, a warm weather grass that can withstand the brutal summer heat and plays markedly different.
"It's playing way different than I expected," Danielle Kang said. "I didn't know that the golf course could change from April to September that differently. But I'm really excited to see what kind of golf course and what kind of game is going to be shown this entire week."
Pernilla Lindberg, who won the 2018 ANA, noted how different it would play from its spring dates.
"I think all of us players probably noticed, obviously, in a different time of the year is the Bermuda grass," she said. "And it's Bermuda grass on the greens, in the rough, on the fairways, and that's the biggest change. It just makes the course play different. It plays longer and the rough is just really tough."
Several players are exceedingly comfortable playing on Bermuda, among them Stacy Lewis, who lives in Houston, and the Korda sisters, Nelly and Jessica, Floridians.
"I kind of knew because I played Q-school here," Stacy Lewis said Wednesday, on the eve of the ANA Inspiration. "That was 10-plus years ago now, but I kind of knew what the grass was going to be like, the Bermuda rough, the surrounds. There's more grain in the greens, so you have to adjust everything, and I think a lot of the adjustments are chip shots you're playing.
"You're chipping a lot more into the grain. You can get a little bit more spin on some. In some aspects it plays easier. Doglegs, the ball is not going to run through. It's definitely playing longer, just being the fairways have a ton more grass in them than normal. You can probably hit more fairways, but when you do miss, I think the rough now is tougher than the rough we play in April, so the ball goes to the bottom."
Lewis is comfortable playing on Bermuda. "I know how to hit the different types of chips out of the rough, so I feel like I have a little bit of an advantage there."
Korda noted her familiarity with Bermuda and that "it's not going to be that big of a change for me," she said. "But it is very grainy around the greens and the rough is very thick. But the whole golf course is actually in really good condition.
"The rough is really thick around the greens, and it's hard. Definitely I would say there's going to be a lot of fliers this week."