News
Tyrrell Hatton's red-hot run continues and three other Thursday takeaways from Shadow Creek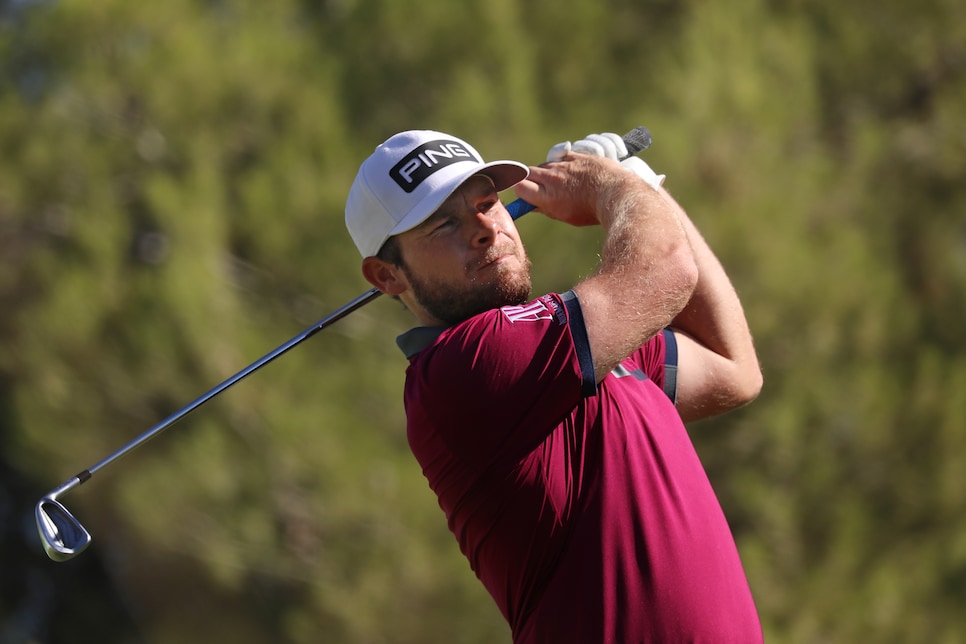 Tyrrell Hatton plays his shot from the 13th tee during the first round of the CJ Cup.
Christian Petersen
The big question coming into the CJ Cup for Tyrrell Hatton, and for any player making the trip from England to Las Vegas, was how much energy he'd have, especially after exerting a ton of it in winning the BMW PGA Championship.
Judging by his opening-round 65, the Englishman is feeling none of the post-victory, long-plane-ride effects. That or he's just on an all-time heater, fitting given he's in Sin City.
Here are our takeaways from Day 1 of the CJ Cup at Shadow Creek.
Don't touch Tyrrell Hatton. You might get burned
Somebody call the dude from NBA Jam, because Hatton IS ON FIRE. Forget that he just won the BMW PGA Championship, he was lighting it up before that too. His run actually began in this event last year. The Englishman tied for sixth at Nine Bridges in South Korea, then won the Turkish Airlines Open on the European Tour in November. Not long after, he had surgery on his injured right wrist, and we didn't see him again until February 2020.
In his first start back at the WGC-Mexico Championship, Hatton tied for sixth. His next start? A win at Bay Hill, then a T-3 at Harbour Town and a T-4 at Rocket Mortgage before finally cooling off. Last week he returned to pre-FedEx Cup Playoff form with a win at Wentworth and kept it rolling with a Thursday 65 at Shadow Creek. This despite battling through some major jet lag, a sore throat and ... grumpiness?
"Well, the issue today, I was grumpy out there, I was quite agitated," said Hatton. "Even though I had a really good score going, I was like just on edge. That's generally quite a hard thing for me to manage. I mean, Wentworth, I did a great job of that, I was quite happy all week. Today, being as tired as I was, I was just a bit more on edge. I wasn't happy with kind of how I managed myself after some poor shots, but I think this is kind of easy when everyone loses their cool when they're tired and haven't slept enough. It is what it is."
Man, if he's throwing up grumpy 65s, imagine what he could do on Friday after a good night's sleep? That's no easy task in Las Vegas, but Hatton sounds up to it.
"Today was a long day," he said. "Very happy with my score, and I just need to try and get back to the hotel this evening, have a good rest and hopefully sleep better than I did last night and fingers crossed for another good day tomorrow."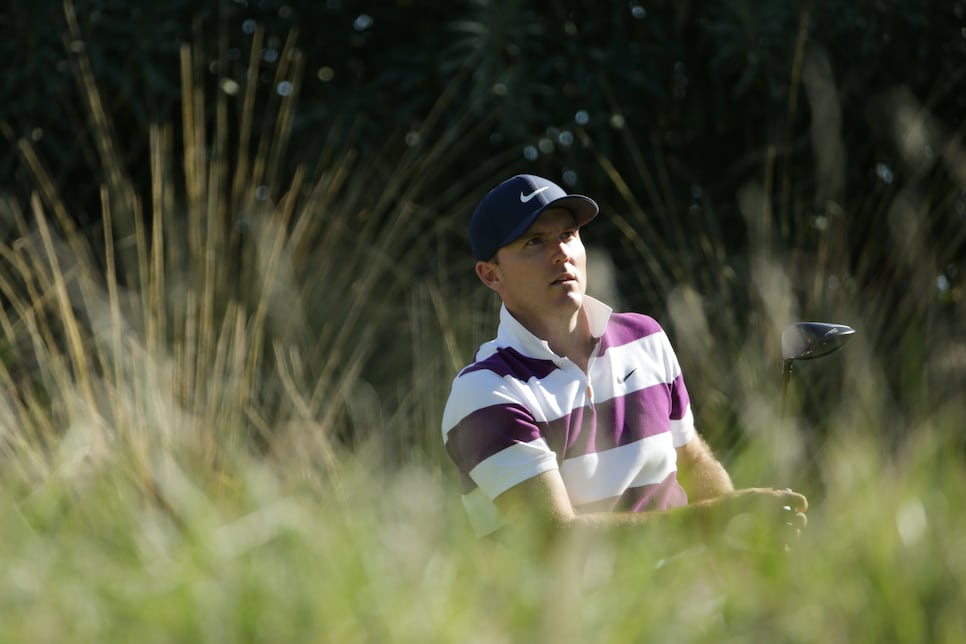 Russell Henley plays his shot from the ninth tee during the first round of The CJ Cup at Shadow Creek.
Jeff Gross
Russell Henley has been cooking for some time now, too
No, the three-time PGA Tour winner has not been on a Hatton-like run, but his game has been quietly rounding into form over the last year or so. Last fall, Henley missed five straight cuts, the first at the Mayakoba Classic and the fifth at the Waste Management Phoenix Open. He was able to quickly turn it around, tying for 17th at Riviera and then tying for eighth at the Honda Classic. Then, COVID hit, crushing his forward momentum.
Henley was able to carry over the good form into the restart, collecting three top 10s in his 10 starts post-quarantine. Putting, which has been a huge issue for Henley over the years, has been key. He's gained strokes putting in two of his last four starts, and on Thursday he gained 1.883, good enough to rank seventh in the field.
"I've been working with Ramon," said Henley, referring to Ramon Bescansa, the creator of The Perfect Putter. "I just feel like the work I've done with The Perfect Putter with him has really helped me. Yeah, I mean, nothing too crazy, pretty simple stuff, but just practicing the right way's really helped."
It helped in a big way on the par-5 18th hole, Henley's ninth, where the former Georgia Bulldog rolled in a nine-footer for eagle to turn in three under. A back-nine 33 gave him a first-round 66, putting him one off the lead. Henley is looking for his first victory since the 2017 Houston Open.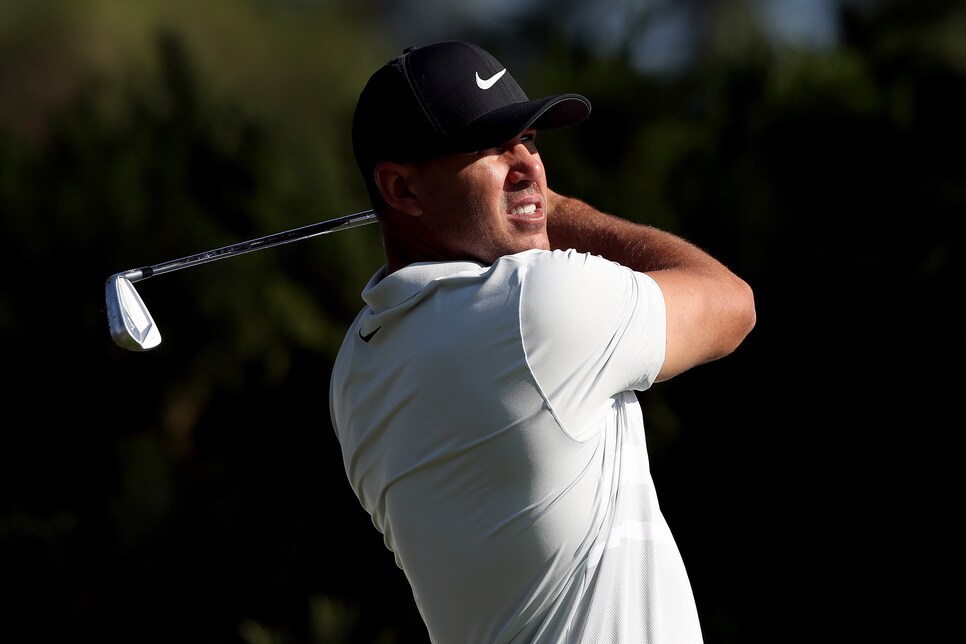 Brooks Koepka hits off the fifth tee during practice for the CJ Cup.
Matthew Stockman
A sloppy return for Brooks Koepka
In his first competitive round since August, Brooks Koepka was ... rusty. Understandable. There's little doubt he used the time off to stay sharp, but he was also rehabbing two separate injuries, on which he blamed his recent poor play. There was some good on Thursday (three birdies), but too much bad to overcome. At one under through 14 holes, the four-time major champ looked primed to post a decent score with two par 5s remaining. Instead, he doubled the par-4 15th after finding the water off the tee, then finished with bogey at the par-5 18th, where he also hit the drink with his second shot from an awkward lie. Statistically he was not great, losing strokes in five of the six major strokes-gained categories. It was bound to happen, just like he's bound to knock off the rust quickly. Quick enough to contend at Augusta National? We're going to find out.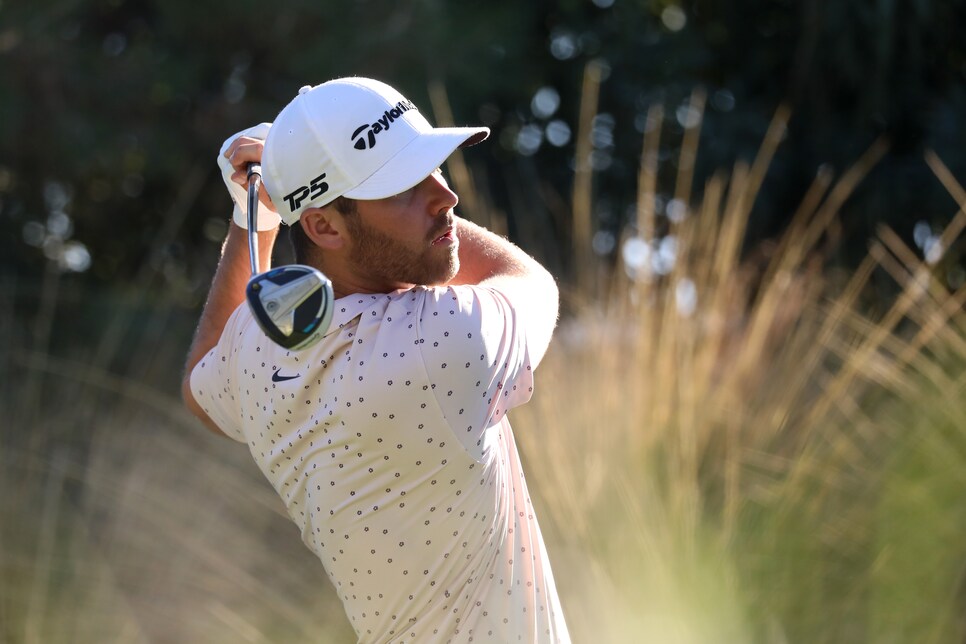 Matthew Wolff drives from the ninth tee during the first round of The CJ Cup.
Christian Petersen
Matthew Wolff shot 80 and sits in dead last. Cue the "that's golf" tweets
Ahh, one of Golf Twitter's favorite pastimes. Dude who won or almost just won throws up a big score in his very next round and everybody makes the same "That's golf" or just simply "Golf" tweet. Original.
Wolff made this tweet structure extremely easy to use on Thursday. Following his 61-66 weekend at the Shriners, Wolff shot an eight-over 80 at Shadow Creek, good enough for ... checks notes ... DFL. It was quite shocking, but it happens to the best of 'em. Wouldn't be the least bit surprised to see him post a 63 on Friday or over the weekend, which he's guarantedd to make since this is a no-cut event. That'd give us even more opportunity to do the "that's golf" tweets we so desperately need more of.