RBC Heritage
Maybe Stewart Cink is getting old, but he keeps proving that winning doesn't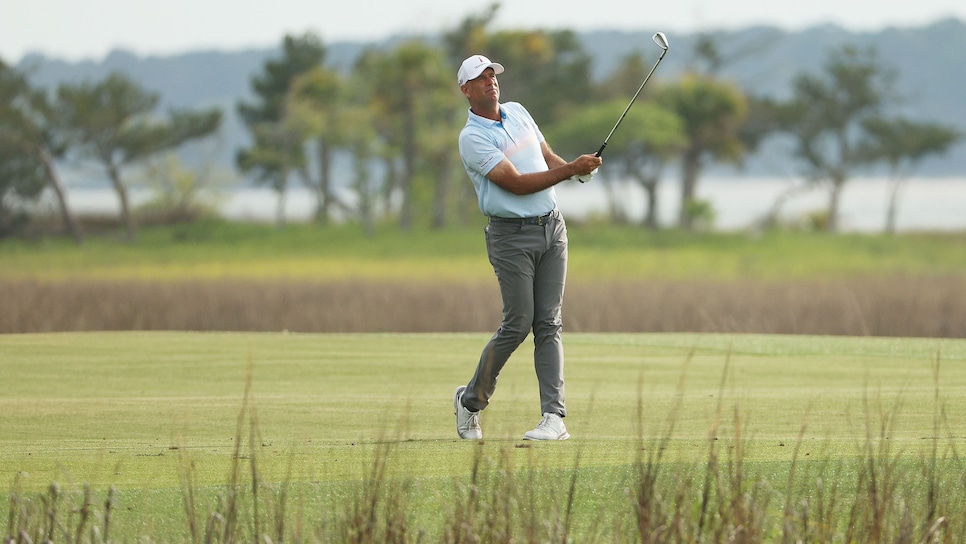 HILTON HEAD, S.C. — "He's old and he's kicking everyone's a**."
Those words, from Harold Varner III, came right after he called Stewart Cink "old as—" and stopped himself in the nick of time, and may be all the summary we need for what went down this weekend in Hilton Head.
The truth is, we're running out of things to say about Cink in the aftermath of his near wire-to-wire victory, so how about a question: Was the 2021 RBC Heritage over as soon as the second hole on Sunday, when Collin Morikawa followed up his opening birdie with a bogey on the relatively easy par 5? Or was it basically clinched when Cink—now a three-time champion at this event—followed-up his opening 63-63 with a Saturday 69 that maintained a five-shot advantage and turned a hot South Carolina Sunday into a long, slightly dull coronation? It's tempting to endorse this viewpoint, especially considering the methodical approach mastered by Cink and his son Reagan, who plotted out the course in almost robotic fashion to the point that only a full meltdown from the 47-year-old in the midst of a career renaissance could change the outcome.
Of course, a scintillating round to the tune of 64 or 65 from Morikawa wasn't out of the question. But the weakest part of his game—putting—was under the spotlight almost immediately. After holing a 16-footer for birdie on the first—the definition of false hope—he missed par putts of six feet and five feet in close succession, and then went on a long par parade, nine holes long, until he found the water on 14 and officially put an end to even the faintest chance of victory. Morikawa needed a hot streak on the greens, but as 14 proved, even his usually stellar irons let him down for most of the final round.
"Just overall nothing was feeling great," he said. "When you're trying to win in a final round, that's not going to do the job."
With Morikawa gone, the job of forming a chase pack fell to Harold Varner III, Emiliano Grillo and Maverick McNealy. But they all started from too far behind, and Cink's methodical, defensive round—high in cautious intelligence, if not in style or ambition—slowly, boa constrictor-like, choked the life out of the field. The closest anyone would come was 15 under, which was nowhere near good enough when you consider that Cink started at 18 under.
In all, the now eight-time PGA Tour winner's brilliance peaked on Thursday and Friday, when he obliterated the 36-hole record at Harbour Town by three shots. Sunday will rightly be remembered an exemplary bit of defensive golf. Cink would not call his effort defensive, but the one-under 71 qualifies, and the only vaguely negative thing you can say about the day is that he didn't quite catch the all-time record of 22 under set by Webb Simpson last summer.
In his post-round presser, Cink spoke of his Christian faith. A questioner then asked about Varner's "compliment," seemingly apologizing for the language.
"I don't think that just because you're a follower of Christ that you can't say you kicked ass," he said. "I kicked ass."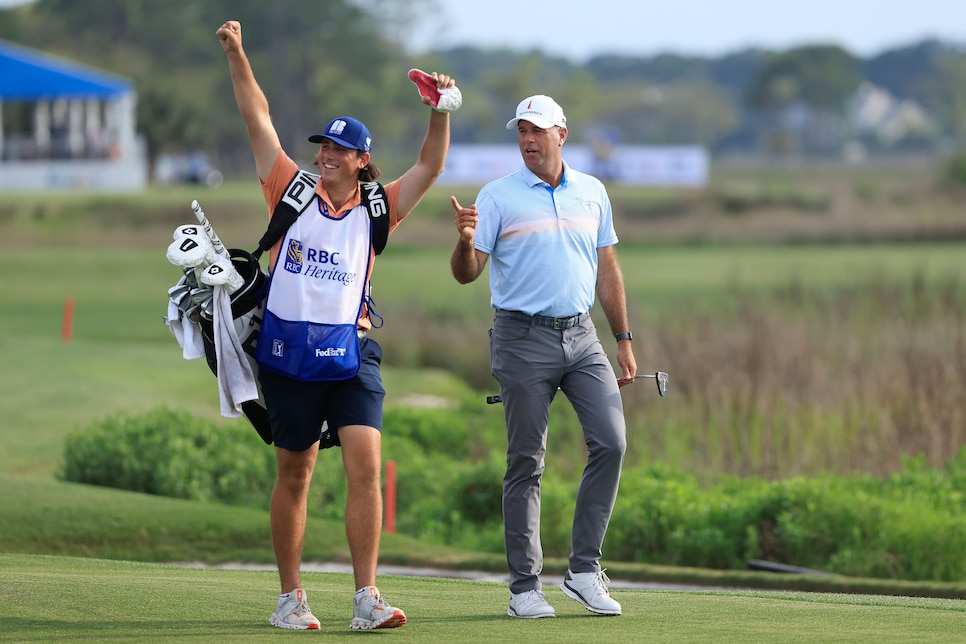 Cink talked up all week his son Reagan's influence on his career resurgence since he took over as caddie last fall.
Sam Greenwood
Even the hecklers couldn't faze Cink. When a spectator shouted "don't choke today!" before his round, he used it as a chance for introspection, to wonder if deep down, choking was his big fear. And touching base with himself that way allowed him to return to what he calls his "mountaintop of trust," which applies to such broad concepts as mid-round serenity and such narrow ones as making short putts.
And really, what more is there to say about Cink and the 2021 Heritage? We wrote about him Thursday, Friday, and Saturday, and here we are again. At this beautiful venue with its laid-back vibe, well … it was a great weekend to write about yachts and mascots. You know all about Cink's son and their system, you know all about his new strength and fitness regimen with Cornell Driessen, you know he hit his first shot in the water on Thursday and never looked back, and if you're really following this closely, you might even know he has to move from one Atlanta residence to another starting Monday morning at 7:30 a.m. Short of contacting his movers for a quote, we're running out of things to say, and as early as Friday, a group of writers were reduced to wondering if his son Reagan was named after Ronald Reagan (answer: no).
Well, here are a few more: Cink joined Julius Boros, Sam Snead and Kenny Perry as the only men to ever win multiple times on the PGA Tour at age 47 or older. His chief challenger at the start of the day, Morikawa, was born a few months after Cink's first win on the old Nike Tour. When his son Reagan (born the same year as Morikawa) took over his bag, Cink was hanging around outside the top 300. With this win, he'll be inside the top 45 and in prime position to make the Tour Championship and can perhaps dream of the Ryder Cup, too.
But Cink isn't the kind of person who's going to look too far into the future, especially when the present is so good. On the 18th hole, after his approach ran off the green, Cink and his son laughed, and he joked, "it's dry." That could have been a description of the final round, but his career resurgence at this late stage is boring in no respect, and the exchange between father and son in the moments after the last par putt went down was one of those simple moments that cuts through cynicism:
Ditto for the CBS interview, standing beside his whole family, a portrait of wholesome triumph, and a group experiencing one of the best moments of their lives.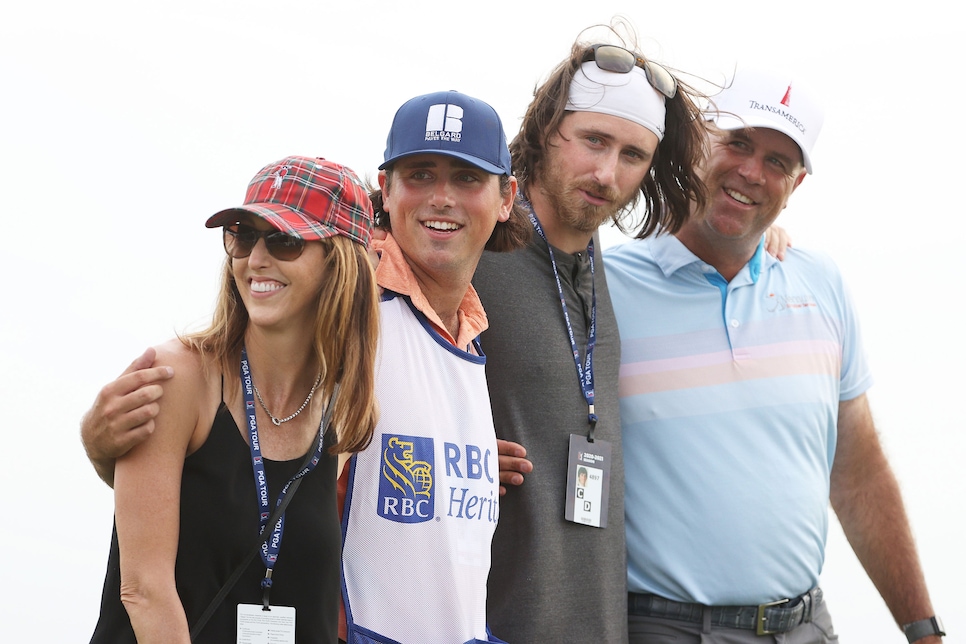 Unlike at Safeway, where Connor (second from right) was missing, the entire Cink family, including wife Lisa, was on hand at Hilton Head to enjoy the cheers.
Patrick Smith
"What's so amazing is this kind of rebirth that Stewart is experiencing and at such an older age," his wife Lisa said. "I'm just in awe of how well he's playing at this time in his career."
Between Varner and his own wife, it seems that the price of winning at 47 is being reminded that you're no longer young, but Cink won't complain. If anything, victory is sweeter with age.