RBC Heritage
The Cink renaissance: Father and son obliterate 36-hole Heritage record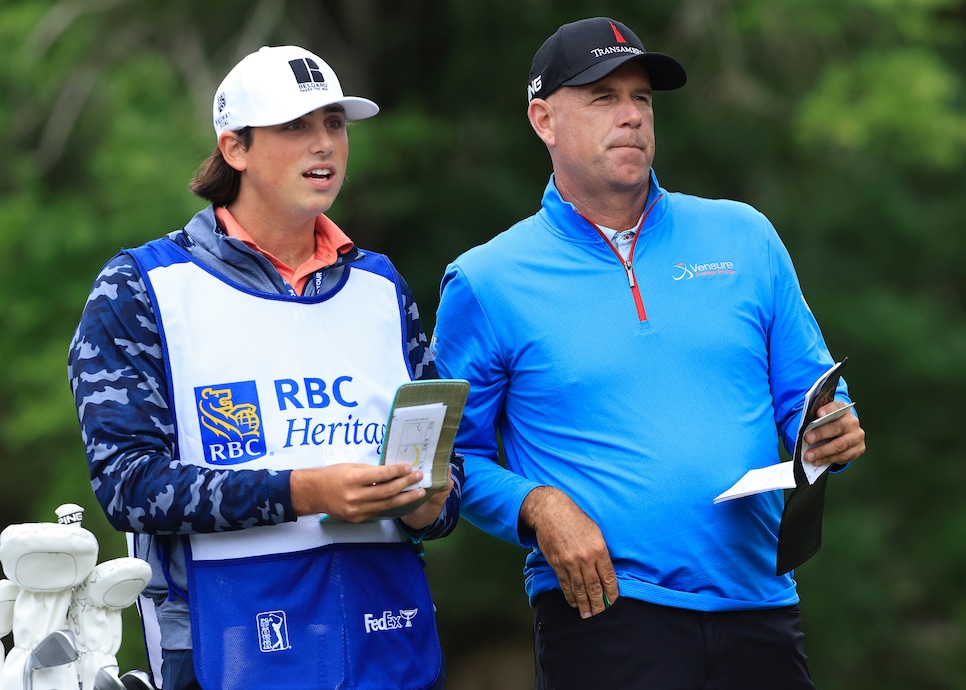 Stewart Cink talks with his caddie and son, Reagan Cink, before playing his shot from the 14th tee during the second round of the RBC Heritage.
Sam Greenwood
HILTON HEAD, S.C. — If you squint your eyes just a little, the most interesting man on the PGA Tour is 23-year-old Reagan Cink. At the very least, he seems to be the most valuable; as his father's caddie, he seems to have played a major role in rejuvenating a career that looked to be deep in that dusky place where you start counting the days until your 50th birthday. At 47, Stewart Cink wasn't ready to hang them up by any means, but to a neutral observer, the trajectory was very much on the downswing.
To put it mildly, things have changed. Here are a few simple numbers:
Before the Safeway Open last fall, Stewart Cink hadn't won since 2009.
Before he "bludgeoned" (his words) the Harbour Town Golf Links the last two days to the tune of 63-63 (16 under), the previous 36-hole record here was held by Jack Nicklaus (1975) and Phil Mickelson ('02), who were three shots worsethan Cink in 2021.
The cumulative 126 is the best 36-hole total of Cink's entire 25-year PGA Tour career.
The 36-hole lead is the first one he's held since 2008.
This is more than rejuvenation; in sporting terms, it's practically a rebirth. And if you believe Cink, his son Reagan is one of the principal agents of change.
In situations like these, you're always on the lookout for bias. Yes, Cink is effusive in praise of his son, but it's human nature to wonder if he's just being a good father. And yet, the results speak for themselves.
Initially, of course, it wasn't supposed to happen—Reagan graduated from Georgia Tech, got engaged, and father and son wanted to spend time with each other before he began full-time work with Delta Airlines. The elder Cink even said that he didn't envy the itinerant life of the tour caddie. Then they won the Safeway Open their first time out, finished T-12 the next week, and before you knew it, Kip Henley was getting the bad news that he was out of a job.
On Thursday at the Heritage, it was Reagan who apparently talked his father out of the doldrums when his opening tee shot found the water, and after a second straight 63, Cink was again giving the lion's share of the credit to his son.
"He's not just my son caddieing," Cink said. "He's a professional caddie doing an excellent job. He could caddie for any player in the world right now. He understands the game plan. He understands golf at a really high level. He's a good golfer, but he thinks about golf way higher than his scratch handicap would indicate."
Reagan, with a son's privilege of speaking his mind in a way that a regular tour caddie might not, wasn't shy about elaborating on his influence.
"I think I call the shots," he said. "He listens to me most of the time. It's a blast out there. We operate on the same wavelength pretty much all the time, so we get to joke around and have a great time in between shots, even when the stakes are pretty high and he's playing really well. And then it's efficient planning when we get to the shots, so it really works on a lot of levels."
As an example of the tactics Reagan brings to the partnership, Cink pointed to the 12th hold on Friday, when he had a "little narrow opening" on his approach after a wayward drive to the left. He was torn between taking a big risk or simply chipping out and leaving himself a longer third shot. Reagan pointed out that if he went through the opening up the left side, it wasn't necessary to reach the green; if he left it short, he'd have a nice simple pitch for an up-and-down. Cink took his advice, left his approach 42 yards short, pitched to 16 inches, and walked away with par.
"That was an example of how a caddie and somebody like Reagan with a comfort level to suggest that can influence a player who may be thinking other ways," Cink said. "Sometimes the brain doesn't just quite work like it normally does when you start getting adrenaline and all the cortisol and all the things mixed up."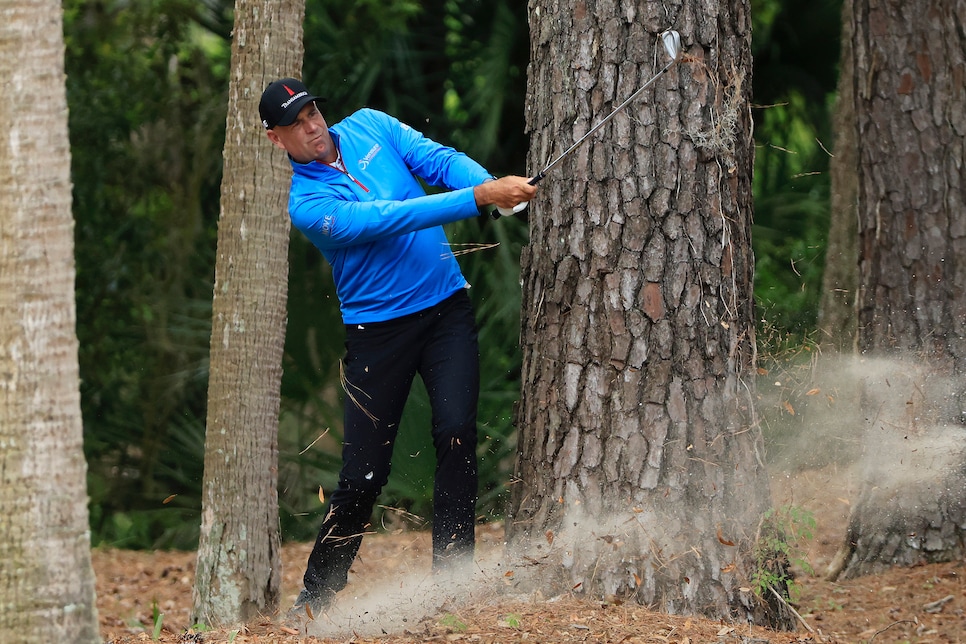 Stewart Cink plays a shot on the 12th hole during the second round of the RBC Heritage.
Sam Greenwood
Father and son use a system on every shot, and it's a bit complicated. It relies on research done the night before and changes slightly based on tee and pin locations, which are mapped out beforehand with special attention to trouble spots, while also adjusting based on wind direction. "Essentially," Cink said, "drop this blob on the green that says, hit it there."
With that level of planning, they take some of the hard decision-making off the table during the actual round, and in the times when they do have to pick between one of two options, Reagan is on hand with the information needed to advise which is the more prudent choice ... which is almost always the one Cink takes.
"I'm a firm believer that you just don't have enough energy," Cink said, after reminding the gathered media that he was 47. "There's a lot of information now, a lot more than there used to be. And so if you just come into every hole, like, blind and you walk up to it and then start making your decision, that eats away at your reserve of energy, especially at my age. It's kind of a conservation plan that we came up with."
The job is far from done—Cink knows full well that even a five-shot lead can disappear quickly—but he's fresh and ready and obviously has a good plan. Tonight, he'll sit down with Reagan again and plot out the tactics for Saturday, and together father and son will attempt to keep the Cink renaissance alive.