RBC Heritage
Collin Morikawa continues the hoodie revolution (and plays pretty well, too)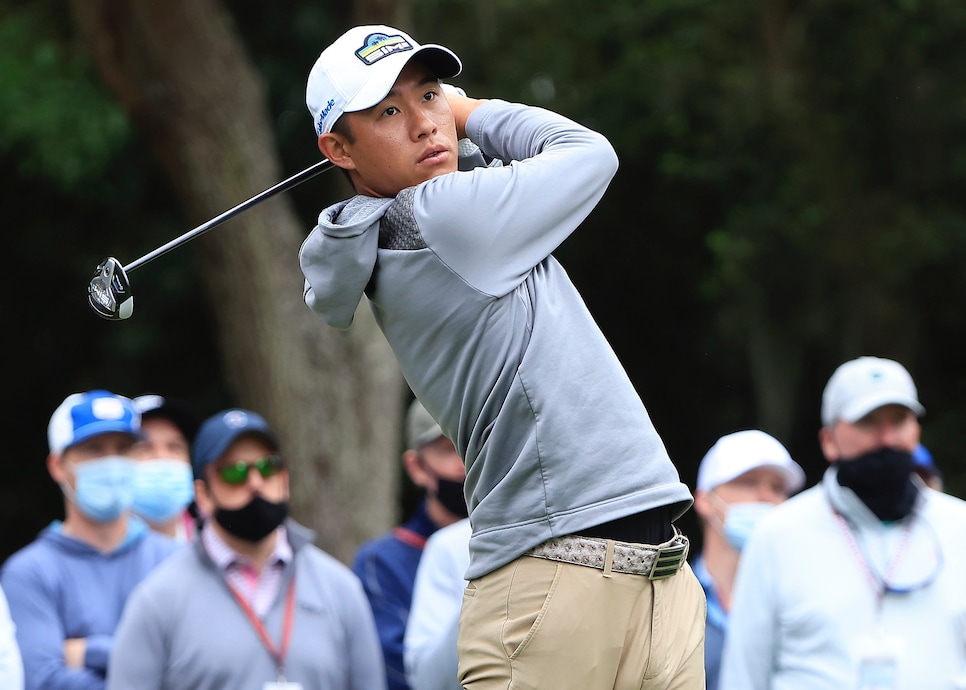 Collin Morikawa plays his shot from the ninth tee during the second round of the RBC Heritage.
Sam Greenwood
HILTON HEAD, S.C. — Are you sick of hearing about hoodies in professional golf? Have you become weary with the Great Hoodie Debate, whether it involves Tyrrell Hatton or Rory McIlroy or Harold Varner III or the Golf Digest editors themselves? If so, you may actually be happy at the news that in his second round at the RBC Heritage, Collin Morikawa hoodie'd up with a slick, gray Adidas number:
The reason you might be happy is that by continuing to normalize the hoodie, Morikawa has sped us closer to the day when wearing one won't be that big of a deal. Imagine: A golfer wears a hoodie, and it inspires no comment! In fact, a simple Twitter search for "Morikawa hoodie" on Friday reveals mostly positive comments. If you want a historical analogy, perhaps this is kind of like when the Pope John Paul II spoke out in favor of the Polish solidarity movement; he wasn't the first, but his blessing carried a whole lot of weight.
Too much? Probably. Or definitely. In any case, there was also some golf played on Friday, and along with rocking the hoodie with aplomb, Morikawa was pretty good on the course, too. The putter wasn't quite as hot as it had been in his opening-round 65, but once again he was all over the pins and finished with a bogey-free 68 to sit two shots out of second place (and seven shots behind leader Stewart Cink).
"Everything felt good," Morikawa said afterward. "Just was probably about a foot short on speed all day. Could have had five, six more birdies out there. It happens, and I was glad to have a bogey-free round."
Despite the slight mis-calibration on the greens, Morikawa said that his putting—often considered the weakest part of his game—has felt great lately, and his confidence was obvious on Thursday. But Harbour Town is known as a course that rewards accurate driving and great iron play, so it's no surprise to see a player like him near the top of the leader board. When asked whether he licks his chops especially at a tournament like this, Morikawa demurred … at first.
"To be honest, I haven't showed up to a course and been afraid, thinking I couldn't win," he said. "If I have, then we've got a problem and I've got to figure out what I need to do. But when you show up to a course like this that has smaller greens, yes, it gives you a little boost of confidence knowing that you can get a little advantage on some other guys."
As for the hoodie, he laughed when asked if he considered himself the latest fighter in a sartorial revolution, but was quick to defend the souped-up sweater when asked if it was at all cumbersome.
"It's fine," he said, at which point he began to tug on the drawstrings. "We got two little straps right here. I should probably just cut them off or take it out. So I tuck it in. I don't mind it. It's comfy, right? Look at the people out here. They're wearing T-shirts and whatnot, so … "
Exactly. More hoodies brings golf closer and closer to becoming the people's game … maybe. Morikawa pointed to Hatton, who won with a hoodie at the BMW PGA Championship in 2020, as the man who "started something." But though he's not the original pioneer, history will remember him as one of the original adopters—a select group that braved the hostile standards of the time to advance the cause of the mighty hoodie.