The Loop
Harold Varner III had the ultimate mic drop in the so-called hoodie debate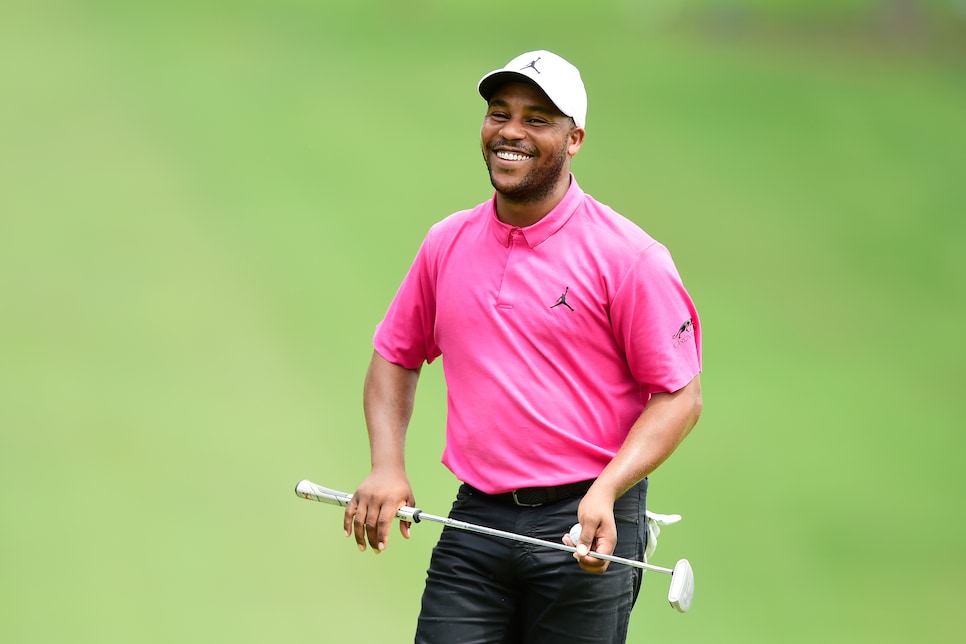 In 2020, all that constitutes a "debate" is a few people screaming at each other on the internet. That's how we got to this point with hoodies in professional golf. A handful of folks with 28 Twitter followers got mad about Tyrrell Hatton's hoodie at the BMW PGA, and thus, a "debate" was born.
For the most part, everyone is in agreement that hoodies are perfectly fine on the course, including Rory McIlroy, who stamped his flag on team hoodie by wearing one at the Zozo Championship this past Sunday. No one seemed to be arguing about it, at least on social media, but that didn't stop Harold Varner III from weighing in on the matter:
Yup. Everyone but crusty old dudes agrees with you, Harold. Point made.
Naturally, HV3 was asked to expand on his thoughts on Wednesday at the Bermuda Championship, where he's making his first start since the Shriners Hospitals for Children Open. This debate simply refuses to die.
"The funniest part is I was watching the Panthers play, I had some beers and I've had people ask me about a hoodie," Varner said. "I'm like, 'Damn, is it really a hoodie?' They're like, 'What's the deal with the hoodie?' So I had about five or six people ask me about a hoodie and I just, I said, 'The problem with golf is that we're talking about a freakin' hoodie.'
"My tweet had nothing to do with a hoodie, it's the fact that we're talking about a hoodie and we're not worried about how we're going to get more people into golf and how we're going to grow the game. That's the part that's funny to me because some people are bitter, man. They want it to be like a certain way."
Amen to that. Varner wasn't done there, though. He had to provide what should be the final mic drop in this godforsaken debate.
"I don't really care that you're mad what I think of a hoodie, you know, and if you really think a hoodie's a problem, then you probably suck at golf anyway."
Preach, HV3, preach. The most hilarious part is, despite being very passionate about the subject, Varner wouldn't be caught dead wearing a hoodie on the course.
"No. That's another point, I would never wear a hoodie. If I put on a hoodie, man, I wouldn't take [the club] past my hip."
OK, can we be done with this now?