Voices
The story behind Sir Willie Innes, the PGA Tour's only tournament mascot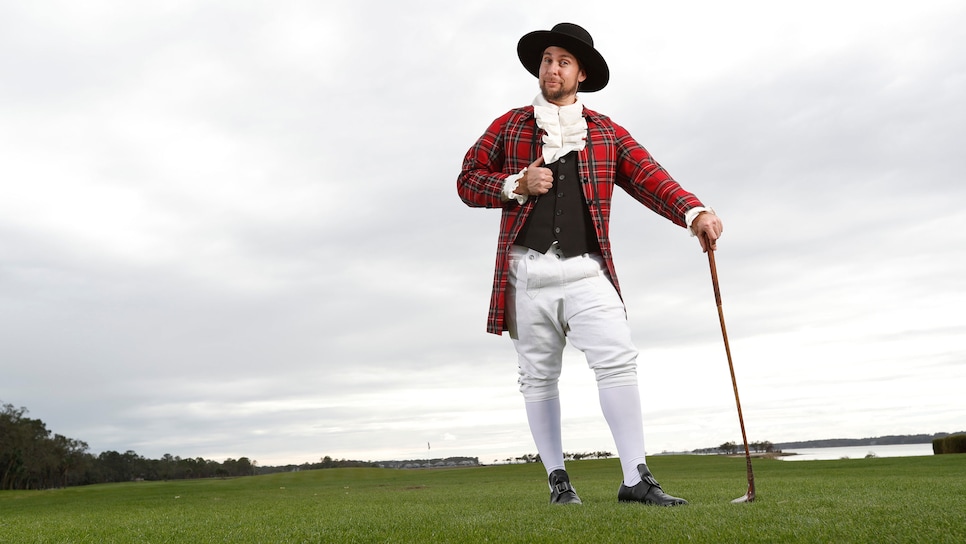 Sir Willie has been the mascot of the RBC Heritage since 2010.
Paul Zoeller
HILTON HEAD, S.C. — He appeared before me on Friday: Sir Willie in the flesh, dressed in a red tartan cloak, frilled blouse, white knickers, white stockings, black-brimmed hat, and buckle shoes, and leaning stylishly on an old wooden club. This is traditional 1700s Scottish golf attire, apparently, and when I spoke to him, he answered in an accent that strives for, but never quite achieves, that Scottish brogue. ("The accent is a blend of so many different things," he confessed later. "Sometimes I sound a little bit like Mrs. Doubtfire, but people seem to like that.")
He's the official mascot of this week's RBC Heritage in Hilton Head, showing up in three-hour shifts to engage the fans, take pictures, and spread the message of … well, community, I guess. Sir Willie, whose full name is Sir William Innes, an actual 18th-century historical figure who loved golf, has been around in the flesh at the Heritage since 2010, and the current figure is actually the third incarnation—Willie 3.0.
I knew I must write about this man. And yet, he refused to give me even a slice of backstory. I learned his first name by accident when I called and got his voicemail, but in person, he remained fully immersed in his character, an unflinching method actor.
"The thing is, they don't want me to know the difference," he said. "I stay in character the whole entire time. The Willie is the thing. The answer to the question 'Who is Willie?' is 'Willie,' and there's no separation from that."
How could I not respect this level of dedication?
To see the essence of what this man represented, to watch him in his element, I knew I had to follow him around the course. He primed me for what I was about to witness—about what he called, without any sense of irony, "giving people their first Willie experience." There would be swag, there would be photographs, there would perhaps be women who got "a little huggy." It also would be hot, at least for him.
"It doesn't breathe very well wear it out here in South Carolina heat," he said, pointing to his black hat. "My head warms up pretty well, and I do very much have to wash everything I wear before I wear it again, because it could walk on its own through the golf course by the time I'm done with it."
And so, along with his wife and an assistant tasked with the thankless job resupplying the swag, we hit the course. I told him I'd stay in the background, at which point, starting to round into witty form, he said, "Ah yes, you're a very small man, you'll be practically invisible!"
(Have I mentioned that his accent needs work?)
As we strolled along the ninth fairway, children called out his name, and when they didn't, he accosted them, sneaking up on one girl with a cry of "I've caught you cheeto-handed!" He handed out sunglasses, and boating keychains, and reusable straws ("Save a sea turtle! Waste your money on boats!"). "Well worn!" he cried to a woman in a red plaid shirt, and whenever he posed for a photo, he cocked his head to one side and widened his eyes. When a man with a plaid cap in a group of women showed some hesitancy to be photographed, Sir Willie browbeat him with cries of "Marty! Marty! Marty!" until the man relented.
"I've got to hit the pisser!" Marty protested.
"What did you call me?" Sir Willie gasped.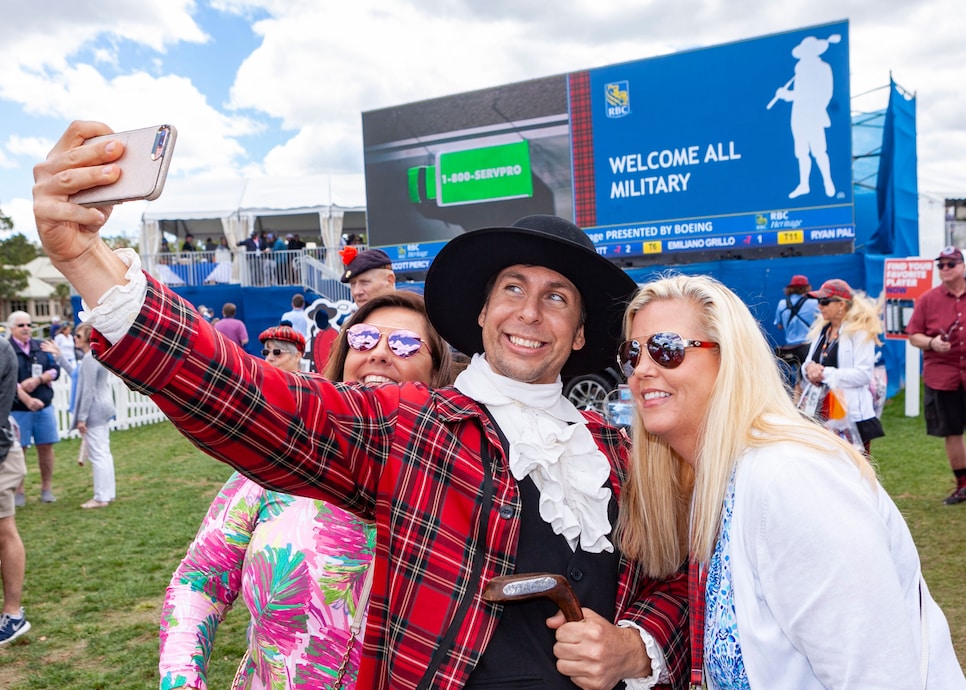 Sir Willie poses with fans during the tournament.
In short, Sir Willie was a spitfire. While he was engaged with the fans, I interrogated his wife, who in the midst of all this had to fend off an advance from a very drunk man. In real life, Willie was an actor and an acting coach, and from this information, along with their hometown, I was later able to find him online. Still, it would be unsporting to reveal the secret, especially considering how thoroughly he embodied his Scottish role. Even in the off moments between fans, while we walked along toward the sponsor tents, he never broke character.
"I admire you doing that out in this heat," said a passing man.
"I sweat in places God didn't intend you to sweat," he shouted back. "Gold Bond is my middle name!"
Children loved him especially, but so did everyone else, and I left him by the water as it became clear that a big part of the rest of his day would be alternately placating and fending off drunken spectators.
"You get the point," he said, and we said goodbye.
When I began to consider the title of the story, I asked the PGA Tour media officials in Hilton Head whether Sir Willie was, actually, the PGA Tour's only mascot.
"In the history of the PGA Tour, nobody has ever been asked that before," said John Bush.
This set off a robust debate among several staffers. Among the greatest points of contention was whether "Fezzy," the Shriners bear who can be seen cavorting shamelessly at the Shriners Hospital for Children Open, counted as a PGA Tour-specific mascot. After a spirited back-and-forth, a consensus emerged that he was a Shriners mascot generally, and not specific to golf. (Angela McSwain, the Marketing Director of the Heritage Classic Foundation, played a role in influencing this conclusion, which proves how good she is at her job.)
Next, we tackled the thorny issue of Faaaabel, the official goat of the Valero Open and namesake of tour rules official Brad Fabel. The goat seemed to be a massive problem for Sir Willie's exclusivity, until Taylor Crosby, a senior content manager at the tour, dispensed the valuable information that Faaaabel hadn't been present at this year's Valero due to an apparent proclivity for head-butting fans. He had been replaced by a rescue dog called Ducky, but like Fezzy, Ducky is associated with Valero as a broader company and can't in good faith be called a tour-specific mascot.
Unlike these impostors, Sir Willie is here for one reason and one reason only: the golf. As such, he can credibly claim the title. (When I told him about Faaaabel, his former rival, he joked that he had just finished a plate of goat curry.)
There is, of course, a charitable element to Sir Willie. He represents the public face of the tournament, and since 1987, the Heritage Classic Foundation has made charitable contributions of $45.8 million to educational, healthcare, artistic and environmental causes. Among their flagship programs are the Heritage Scholar Award scholarship program, benefiting 353 students so far, and Second Helpings, a nonprofit food distribution network that provides 45,000 meals to needy families each week.
Mostly, though, Sir Willie is about having fun. He's perfect for the job, an enthusiastic ambassador and one who inevitably makes the fans he encounters, young and old, smile. In 2021, that is not an inconsiderable skill.
"It's fantastic," he said of the fans. "It's why I do it. They say it's a party after the Masters, and everyone's here to have fun. Some people don't know me, and I say, 'How dare you! This is my tournament!' It's about the enjoyment of what the Heritage is. It's the spirit of the plaid."