RBC Heritage
This huge lead feels different to Stewart Cink heading into Sunday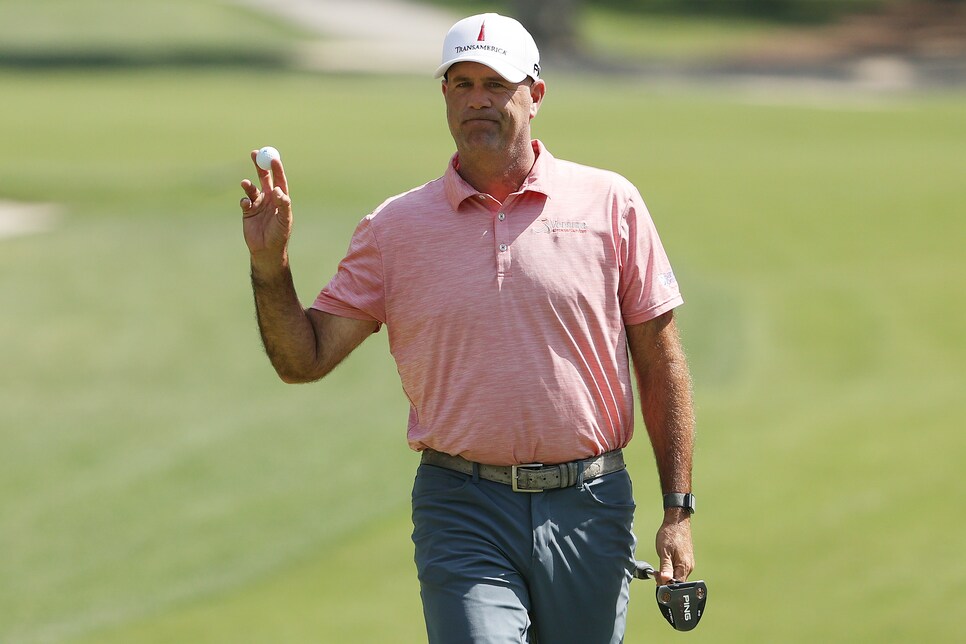 Stewart Cink reacts to making his putt on the sixth green during the third round of the RBC Heritage.
Patrick Smith
HILTON HEAD, S.C.—This coming week, after the RBC Heritage is over, Stewart Cink will undergo one of the least fun processes in life: moving from one place to another. Saturday night, following a third-round 69 that represented a comedown from his ridiculous 63-63 opening rounds, but kept him five shots ahead of his nearest competitor, Cink claimed that the move—and not the pressure cooker awaiting him Sunday—represents his greatest source of stress. It's up to you whether you believe him or think it's a bit of useful fiction, but standing at the podium, he didn't look like someone with a case of the Saturday night jitters.
"It'll be a nice respite tomorrow from the real pressure which is coming the next three days when the movers show up," he said.
Of course, his is not a flawless record while holding Saturday night leads, as he was quick to admit.
"I've been there before," he said. "I've certainly been nervous and thrown up on myself and I've also played great in that situation."
In all, Cink has held a solo or shared lead after 54 holes 12 times and has translated only two of those leads into victories—the WGC-NEC Invitational in 2004, and the Travelers in 2008. He's lost a lot more than he's won, and as he noted, some of them weren't so pretty—a 74 at the PODS Championship in 2008, a 72 at the U.S. Open in 2001, and, perhaps most relevantly for this year, a 73 right here in Hilton Head in 2003, which saw him slip from the solo lead to T-10.
That said, this is an emphatic lead, with Cink standing at 18 under (the Heritage 54-hole record by two strokes), and though Collin Morikawa (third-round 67) is certainly capable of chasing him down from five back, it will require something close to a perfect round, and a major hiccup from Cink. The last time Cink held a five-shot lead, at the '04 NEC, he beat Tiger Woods and Rory Sabbatini by four. On Saturday, he referred to that win and seemed to indicate that he'd be even better prepared this time around.
"I was in this situation one time about 17 years ago at Firestone," he said. "I remember sleeping little that night, and I'm a little different person now, and I think I'm treating this whole tournament with a little bit more gratitude, with Reagan caddying and all that stuff, and it's been sort of a stop and sort of pinch myself along the way and enjoying it more than I'm fretting over it."
Cink has clearly benefited from the presence of his son Reagan as caddie, and his work with trainer and physiotherapist Cornel Driessen—in which they target various muscle groups to increase specific strength, flexibility, and balance. That effort has resulted in greater speed and power and also helped rejuvenate his game.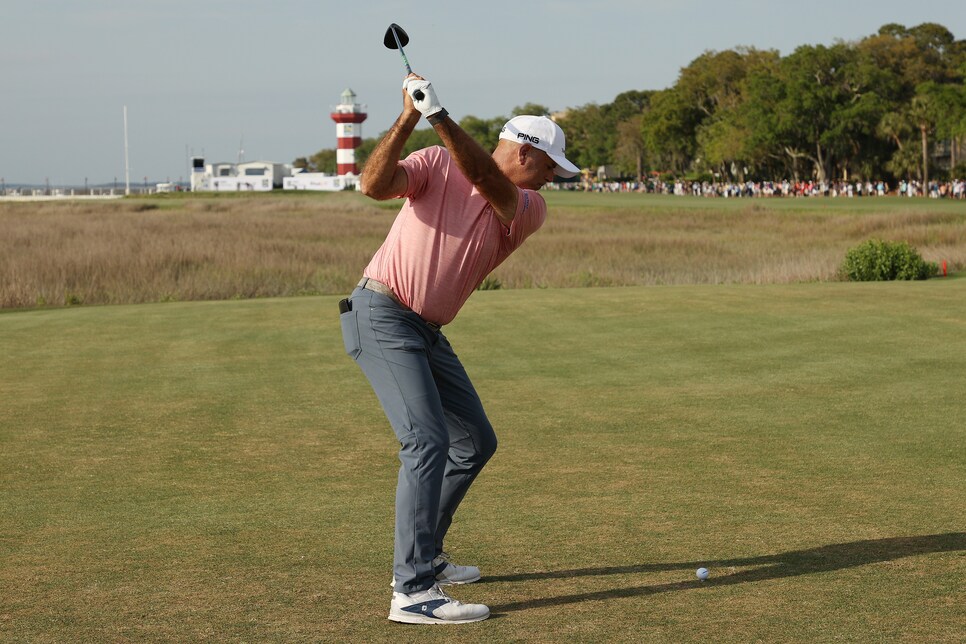 Stewart Cink plays his shot from the 18th tee during the third round of the RBC Heritage.
Patrick Smith
"It's been a huge help for me to have him overseeing sort of my physical state of my body," he said. "I was going through an injury right when I started with him in '19. I missed some time and had to work my way back from the medical ranks. Winning at Safeway [in 2020] was the icing on the cake as far as getting out of the medical ranks for sure."
In short, Cink is prepared mentally, psychologically, and physically, and there will be no shortage of planning in the Saturday night strategy session with Reagan. Still, he knows better than to take anything for granted.
"It'll still be a roller coaster tomorrow emotionally," he said, "and it's going to be a fun challenge to embrace that instead of fighting against it, creating some kind of a conflict."
Cink mentioned that point frequently—the inevitability of wanting to play cautious, defensive golf in order to protect his lead, and the need to embrace what he called the "tingles" that will come on Sunday.
He scrambled successfully on Saturday on a day that was significantly more difficult for him, and for most of the rest of the field, than it had been on Thursday and Friday, and smart money says he'll have to pull himself out of a few jams on Sunday too. But if anyone has ever been ready for this moment, it's Cink.
Prior to the Heritage, he was a golfer on the rebound, but as the week goes on, he's looking more and more like one of the best golfers in the world. At 47, he's entering a late peak, and that alone is miraculous. One more competent day, and he'll add an eight PGA Tour win to his resume ... at which point he can exhale, raise the trophy, and start worrying about those movers.