RBC Heritage Takeaways
Stewart Cink finishes the job, HV3's career-first and Maverick McNealy keeps getting closer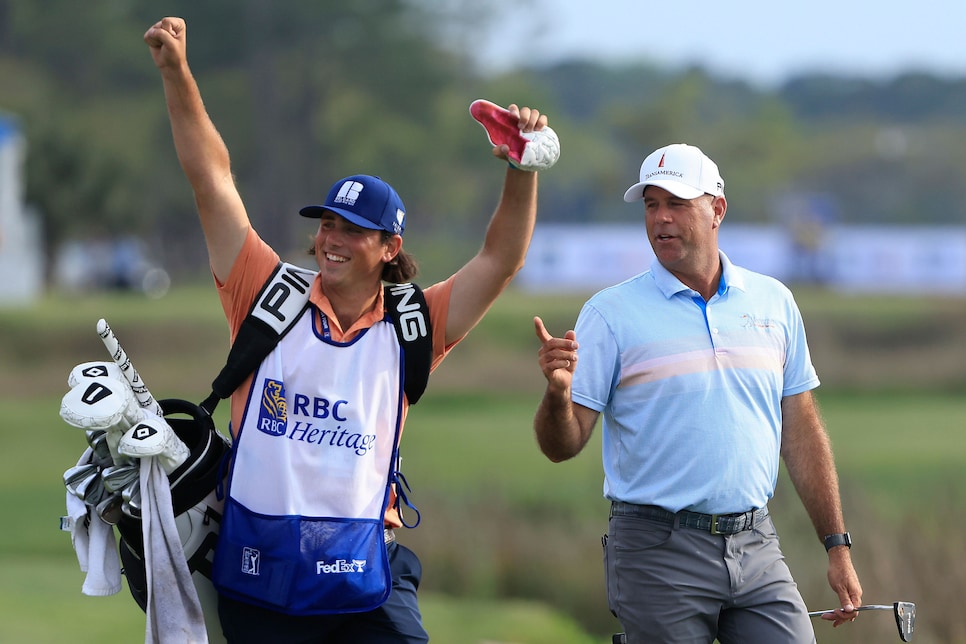 Stewart Cink and his caddie/son, Reagan, enjoy walking up the 18th fairway at Harbour Town Golf Links, the 2021 RBC Heritage title locked up.
Sam Greenwood
For the last four days at the RBC Heritage, the game of golf was very easy for 47-year-old Stewart Cink. He went 63-63 Thursday and Friday, then closed the deal with a 69-70 weekend to finish off his eighth career PGA Tour win. At times, it looked carefree, but he and his caddie/son Reagan know that executing a game plan to near perfection is anything but.
But that's exactly what the father and son duo did for 72 straight holes. They were nearly perfect, pops playing expertly tee to green and son coaching him every step of the way. The one-two Cink punch now has two victories on the 2020-21 PGA Tour season, the first coming at the Safeway Open in the fall. It's evolved into quite the productive partnership, a credit to their relationship on and off the course.
"Everything between the shots, walking down the fairways, just hanging out," said Reagan when asked why they are so successful together. "We talk and we plan the shots, and we've got a good system and all that, but it's the time we spend together joking around and walking down the fairway.
"It's awesome. It's the best, it really is."
Cink, who became the first player to win twice in the same season at 47 years or older since Kenny Perry (in 2008 and in 2009), couldn't agree more. As the whole family lined up to be interviewed after the final putt dropped, none of them could contain their excitement.
"I don't know if I have words," said Cink as he pulled his other son Connor in close. "It just keeps getting better. Winning with Reagan back in the fall was amazing but Connor couldn't be there, it was his birthday. But today he changed his flight from Wyoming to be here just for this. There was no way I was gonna not win with him coming all the way from Wyoming."
There was no way Cink was not going to win, period. For the fourth straight day he hit at least 12 of 18 greens, he finished the week ranked first in the field in strokes gained/tee-to-green as well as total strokes gained. He hit the ball so well that he needed less than 30 feet of putts to shoot a one-under 70 in the final round. That turned out to be plenty good enough for a four-shot win, his third career victory at the RBC Heritage. It was a clinic in finishing the job, and it makes him the second multiple-winner this season on tour. The other? Bryson DeChambeau.
Three other takeaways from the final round at Harbour Town.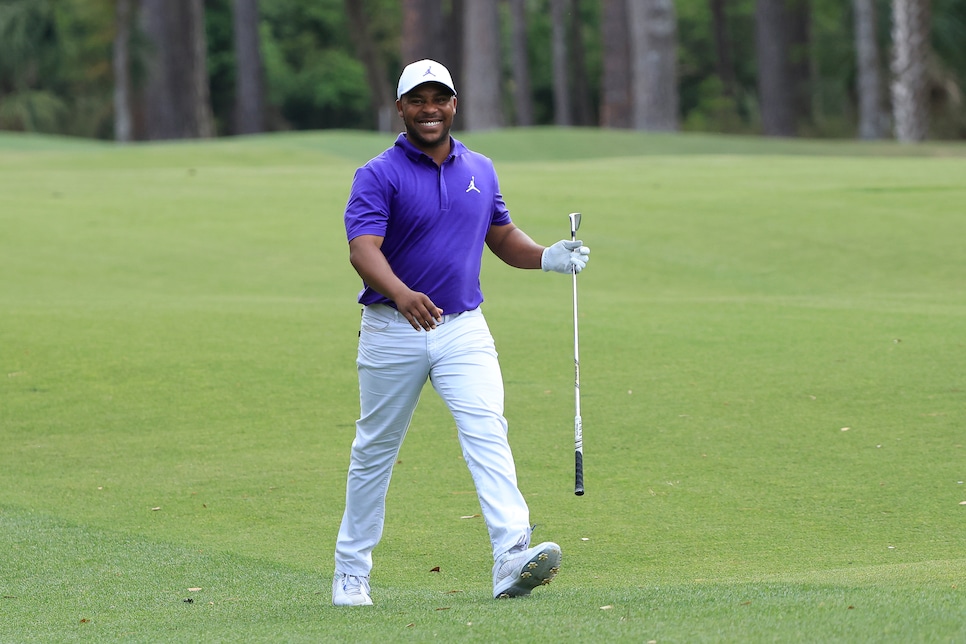 A (surprising) career-first for Harold Varner III
Given his popularity, and how often he seemingly hangs around the top of the leader board, you'd think Harold Varner III would have a bunch of "near wins" piled up already. In reality, HV3's career best finish is a T-3 at the 2019 Northern Trust, and that remains his only finish inside the top three. Wait, really?
Yes, really. Varner has collected a decent amount of top-10s, but not much in the way of victory scares. On Sunday, the 30-year-old from North Carolina didn't scare victory either, but he did lock up a tie for second, which is now his career best finish on tour. Considering how much they give out for T-2s on today's PGA Tour, we can almost guarantee Varner will have a proper celebration on Sunday evening.
After the round, Varner made a big deal of how he hopes his play this week will kick-start his game into the run-up not just for the PGA Championship at Kiawah Island, but the Wells Fargo in his home state. "That's my major," he said. "And if I want to play well there, I know I have to start playing well now."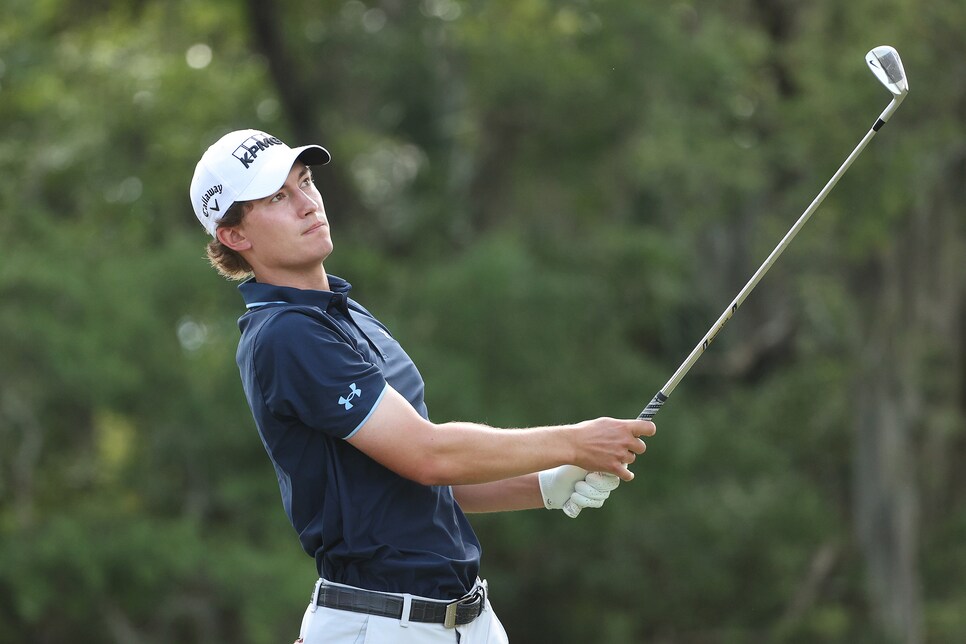 Maverick McNealy keeps getting closer
Like Varner, Maverick McNealy is already a well-known name on tour despite not having the résumé to back it up. That's changing in 2021, though, as McNealy has now added a second finish of T-4 or better this season, both of them coming in his last six starts. Next week, at Zurich Classic of New Orleans, the two-man team event on the PGA Tour, McNealy will partner up with fellow Stanford alum Joseph Bramlett. They could be live, according to McNealy.
"We're actually roommates," McNealy said of he and Bramlett. "I'd be lying if I said I wasn't preparing a little extra hard for this couple-week stretch, and I think that helped me a lot because I'm playing for more than myself next week, and Joseph and I can't wait to get going."
The Bramlett-McNealy duo will likely be a juicy number on odds boards Monday morning. They have our attention.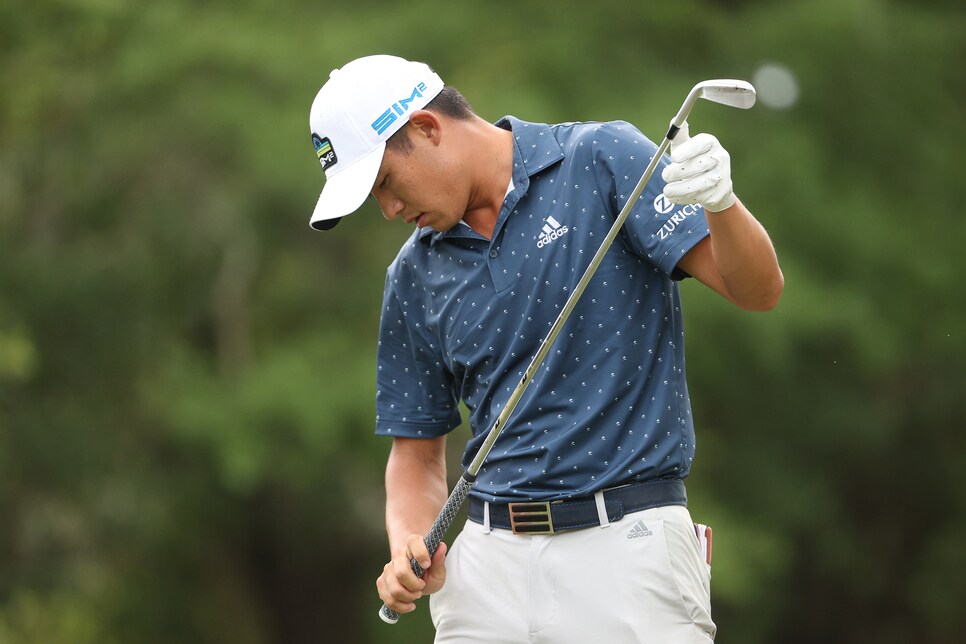 An uncharacteristic Sunday for Collin Morikawa
On Saturday night, Collin Morikawa didn't sound too pleased with how he played up to that point, calling it "little specks of good golf." It shows how highly he regards his own game, since he was tied for second at that point, but also that he wasn't feeling particularly great about how he was playing.
He may have been on to something, as he shot a one-over 72 to finish seven back. It was a very uncharacteristic Sunday for Morikawa, who has proven to be a very clutch player in his first few seasons on tour. We're going to go out on a limb and say he'll bounce back, though, Next week, he'll play Zurich, then take three weeks off before he defends his title at the PGA.