Austrian Golf Open
European Tour five-hole playoff produces one of the most bizarre finishes you can imagine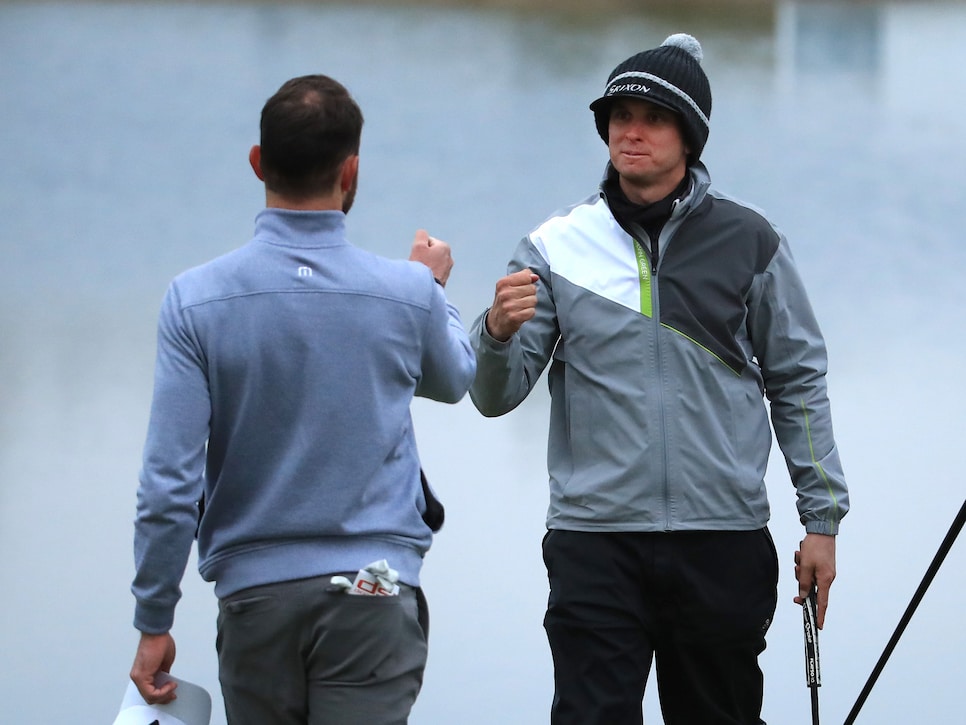 John Catlin fist bumps Maximilian Kieffer after defeating him on the fifth sudden-death playoff hole Sunday at the Austrian Golf Open.
Andrew Redington
There was bit of a "Groundhog Day" feel to the playoff on Sunday at the European Tour's Austrian Golf Open between John Catlin and Maximilian Kieffer. The two finished their final rounds on the par-3 18th hole at Diamond Country Club outside Vienna tied at 14 under for the tournament. So it was on to a sudden-death playoff, which would be played exclusively on that same 18th hole until somebody emerged the winner.
As it turned out there was nothing "sudden" about the playoff, however, the duo putting up matching pars the first two times around, then each making a birdie on the third playing under chilly overcast skies (both players bundled for what appeared like winter weather rather than spring). After each made another par the fourth time around—Catlin with an impressive up and down from a bunker—they trudged back to the tee box on the 180-yard hole, a scant few onlookers patiently waiting to see if somebody would finally seize the moment.
Once more, Catlin, a 30-year-old American who had won twice in a three-week stretch last summer on the European Tour, found the right greenside bunker, seemingly giving his opponent an opening. But Kieffer, a 30-year-old German looking for his first Euro Tour title, proceeded to hit his tee shot fat, the ball finding the water.
It wasn't necessarily a mortal wound for Kieffer, who shot a closing 66 to get into the playoff, as he could get up-and-down from the drop zone for bogey, and maybe Catlin doesn't save his par. But Kieffer then hit his third shot into the water as well. Then his fifth hit the green but spun 15 feet back and into the water once more.
The outcome now, in a quick moment of distress, pretty clear. Except Catlin had to finish the hole to officially claim victory. (Kieffer could not conceded the win given they're in a stroke-play setting). Which meant Kieffer had to play his seventh, finally hitting the green.
Catlin then got to proceed with his bunker shot, getting it on the green to roughly 10 feet. Kieffer managed to hole his 17-foot putt for a quintuple-bogey 8, and Catlin then missed his par putt, which of course didn't really matter.
"It's always nice to win," Catlin said afterward. "It's tough to watch that happen … we're out here giving it our all."
Kieffer, who is familiar with long playoffs having have lost on the ninth playoff hole to Raphael Jacquelin at the 2013 Open de España, was disappointed by stoic. "Every shot on the playoff felt good, too, but the last shot [first tee shot on the fifth extra hole] was a bit stupid. I got a bit too aggressive."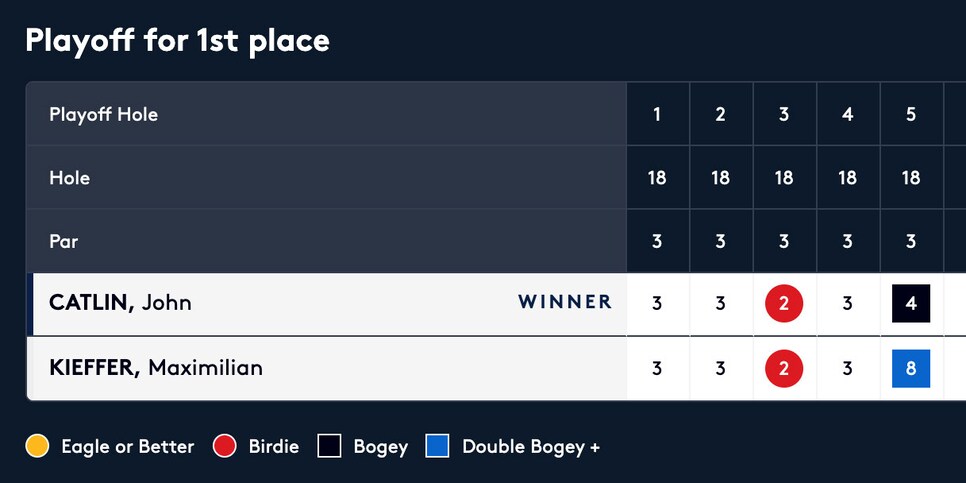 Suffice it to say, we don't think we're going to see a playoff scorecard like this again any time soon.