The Loop
Stacy Lewis' charitable win, Justin Thomas' impressive playoff push, and introducing the newest PGA Tour WAG
Welcome to another edition of The Grind, where we're happy to report this old dog can still learn new tricks. Saturday's biggest upset wasn't a 45-point underdog winning on the gridiron, but me actually trying and enjoying a GolfBoard on the course — and not getting hurt!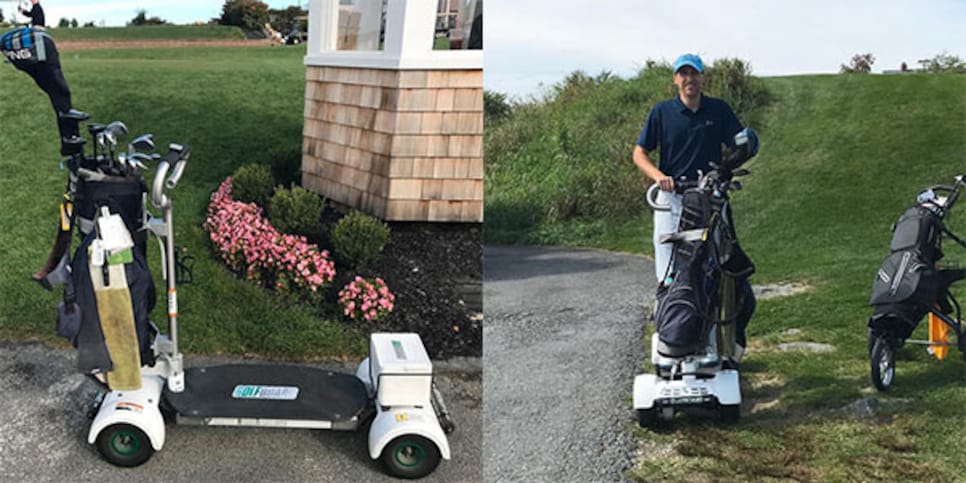 Seriously, what a fun and efficient way to navigate a golf course. Being able to zip out to your golf ball and hit your next shot is the definition of ready golf. And even if you're not playing well, you'll still feel like Marty McFly on that hoverboard in Back To The Future, Part II. OK, so there were a couple of close calls with parked cars in a parking lot test run, but by the third ninth hole, you start to get (somewhat) comfortable. And talk about a great way to get kids into the game. If you get a chance to use a GolfBoard, go for it. In the meantime, here's what else is going on in golf.
Justin Thomas: So much for any PGA Tour Player of the Year drama. Maybe his buddy Jordan Spieth can run the table at the final two events, but we're penciling in JT for POY after picking up a fifth victory of the season at the Dell Technologies Championship to go with the first major he won at last month's PGA. And just look at the heady company the youngster now finds himself in:
With his three-shot win over Spieth, Thomas ascended to No. 4 in the Official World Golf Ranking. Next year's #SB2K18 might have a stronger field than some tour events.
Stacy Lewis: The native Houstonian gave us one of the year's best stories in any sport when she pledged to donate last week's check from her LPGA start to Hurricane Harvey relief efforts — and then made it a winner's check by claiming victory at the Cambia Portland Classic. She got a surprise victory embrace from her husband, Gerrod Chadwell, who is the University of Houston women's golf coach and spent some time last week kayaking to his team's facility to save some equipment.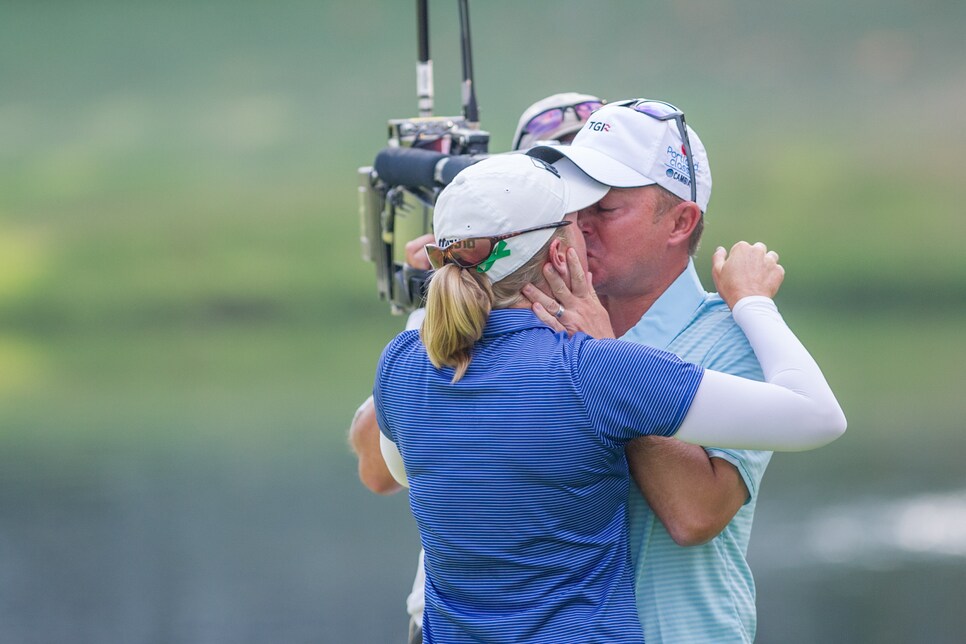 What made it an even more storybook result was the fact that Lewis hadn't won in more than three years despite finishing runner-up a remarkable 12 times during that span. Sports are a heckuva a thing, aren't they?
Peter Uihlein: With a win in the first Web.com Tour Finals event, Uihlein locked up his PGA Tour card for next season. If the name sounds familiar, that's because golf fans have been hearing it for a long time. Uihlein is the son of Titleist CEO Wally Uihlein and he won the 2010 U.S. Amateur before taking his game to Europe a la Brooks Koepka. Anyway, congrats, Peter, but what took you so long? Kidding! Sort of.
Tiger Woods: He's BACK! To pitching and chipping, that is. Woods put the golf world in a frenzy with a quick video of him hitting a single shot while showing off some serious pipes in a tank top. And this time, it wasn't even a full shot.
Baby steps, Tiger. Baby steps.
People complaining about Thomas and Jordan Spieth being too friendly: Seriously, how is this bad for golf/sports/humanity?
U.S. Presidents Cup bubble boys: Congrats to Kevin Chappell moving into 10th and final automatic spot — by less than a single point — and a pre-emptive congrats to Charley Hoffman, who at No. 11, will likely join Chappell on a first Presidents Cup squad. Everyone else below No. 10 in the standings? You're out of luck following Phil Mickelson's T-6 that virtually guarantees he'll be the final captain's pick by Steve Stricker. And for No. 12 Brian Harman and No. 13 Jason Dufner, there's no one to blame but themselves after both failed to crack the top 60 at TPC Boston.
Raymond Floyd's house: As in, the World Golf Hall of Famer has put his Hamptons house up for sale. For $25 MILLION: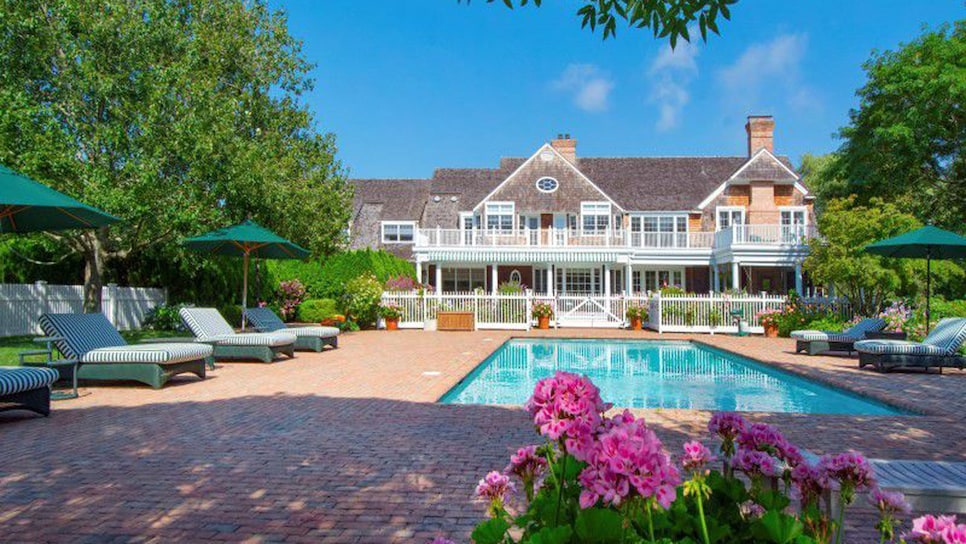 But before you scoff at the price tag, keep in mind it's 14,000 square feet of living space (there's a main and guest house) and it's just a seven-minute drive from . . . Shinnecock Hills! If we all pool our money together, maybe we can buy it. The guest house, that is.
The PGA Tour takes a rare week off before the final two legs of the FedEx Cup Playoffs, but there's still some exciting golf to watch. The LPGA is playing in Indianapolis for the inaugural Indy Women in Tech Championship, and you can get a glimpse of some future PGA Tour stars at the Walker Cup, an event Justin Thomas played in just four years ago: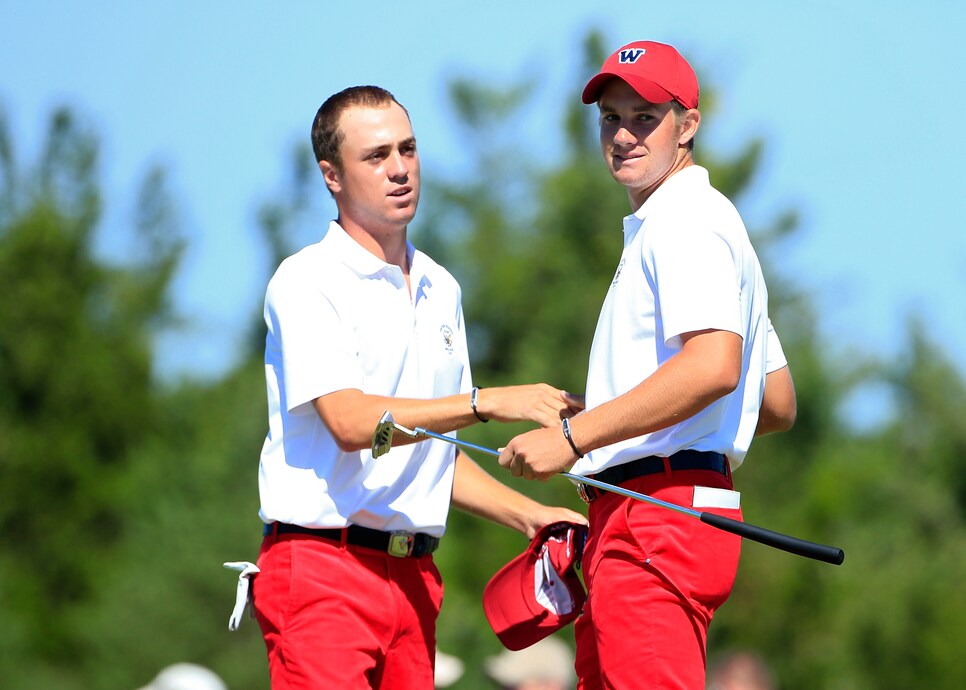 Random tournament fact: The U.S. leads the all-time series against Great Britain & Ireland, 35 to 9, but each side has won the biennial event seven times since the 1989. And Justin Thomas or his buddy Jordan Spieth (Did you know they are buddies?) won't be playing this year.
RANDOM PROP BETS OF THE WEEK
-- There will be a better golf story this week than what Stacy Lewis did last week: 1 MILLION-to-1 odds
-- Tiger Woods will play in the next Presidents Cup: 10-to-1 odds
-- Tiger Woods could still win a chipping contest at this year's Presidents Cup: LOCK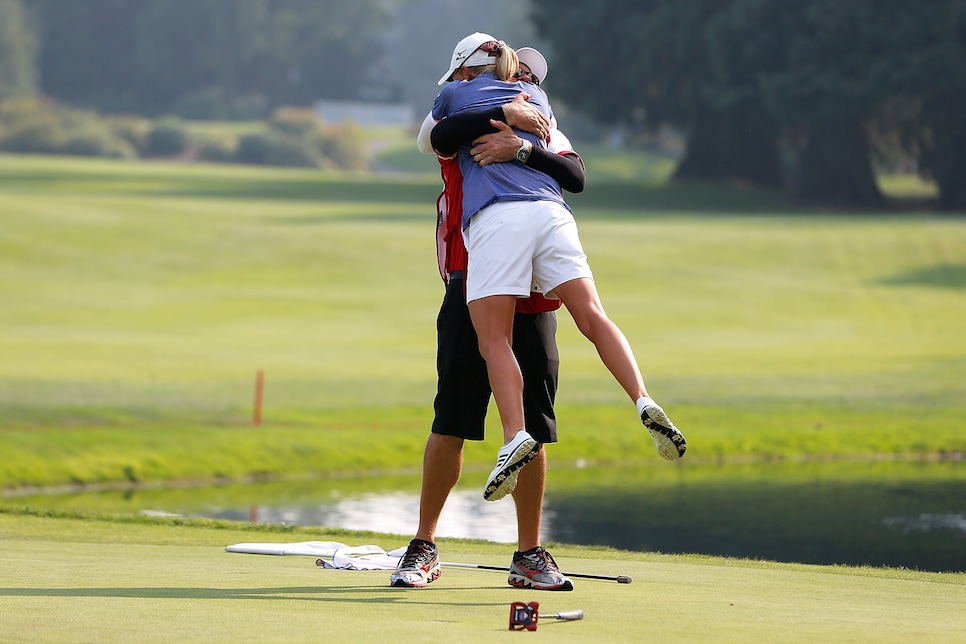 Stacy Lewis' victory leap into her caddie's arms showed how much she wanted to win — for herself and Houston.
VIRAL VIDEO OF THE WEEK (NOT INVOLVING TIGER WOODS)
Check out an NBC cameraman's nifty footwork to avoid being hit by a Marc Leishman shank on the final hole of the Dell Technologies Championship:
And Leishman was thankful for this unexpected display of agility:
THIS WEEK IN CELEBRITY GOLFERS
Supposedly, this is the wedge of Maury Povich, who happens to be a scratch golfer:
THIS WEEK IN BUBBA BEING BUBBA
Bubba Watson had a day that Boston sports fans can only dream of, first, hitting a "home run" over the Fenway Park's Green Monster:
And then hanging with Bill Belichick and Tom Brady on the sidelines of a New England Patriots pre-season game:
Speaking of Brady, Jordan Spieth said he tried the legendary quarterback's diet recently. "Tried" being the operative word. Not surprisingly, a diet of no sugar/gluten/caffeine/dairy/flour/basically anything didn't stick with the young Texan.
THIS WEEK IN PHIL BEING PHIL
Check out this adorable/funny interaction between Phil Mickelson and a young fan at TPC Boston:
Good stuff, Phil. Although, you really miss chatting with Bones, don't you?
"Just what we're going to be able to do, we're going to be able to help me rebuild houses and get their homes back. That's more important than anything." -- Stacy Lewis #Perspective
THIS WEEK IN DUSTIN JOHNSON-PAULINA GRETZKY PETER UIHLEIN-CHELSEA GATES PUBLIC DISPLAYS OF AFFECTION
With Uihlein earning his PGA Tour card for the first time, that means golf fans have a new PGA Tour WAG to get to know. Everyone say hi to Chelsea, a TV sports reporter and yoga instructor:
Jake Olson, the blind long snapper who warmed hearts with a successful PAT during USC's season opener, is also a very good golfer. That is one talented — and inspiring — college kid. … NBA superstar Kevin Durant admitted to playing the video game Rory McIlroy PGA Tour "seven or eight hours a day sometimes." We're guessing Golden State head coach and avid golfer Steve Kerr would rather KD use that time to play 36 real holes a day. … A South Korean woman allegedly cut off her husband's penis in part because he spent too much time and money on his golf habit. I did not tell my wife about this story. … And finally, congrats to co-worker Mike Johnson's son Shawn on making his first hole-in-one:
Of course, this now means that not only do all of my colleagues have an ace before me, but all of their kids will beat me to it, too.
RANDOM QUESTIONS TO PONDER
Why don't more golf courses have GolfBoards?
How many hours of Tiger Woods PGA Tour did I play in college?
Did you remember to re-order the NFL RedZone channel before Sunday?