News
USC's blind long snapper is also a heck of a golfer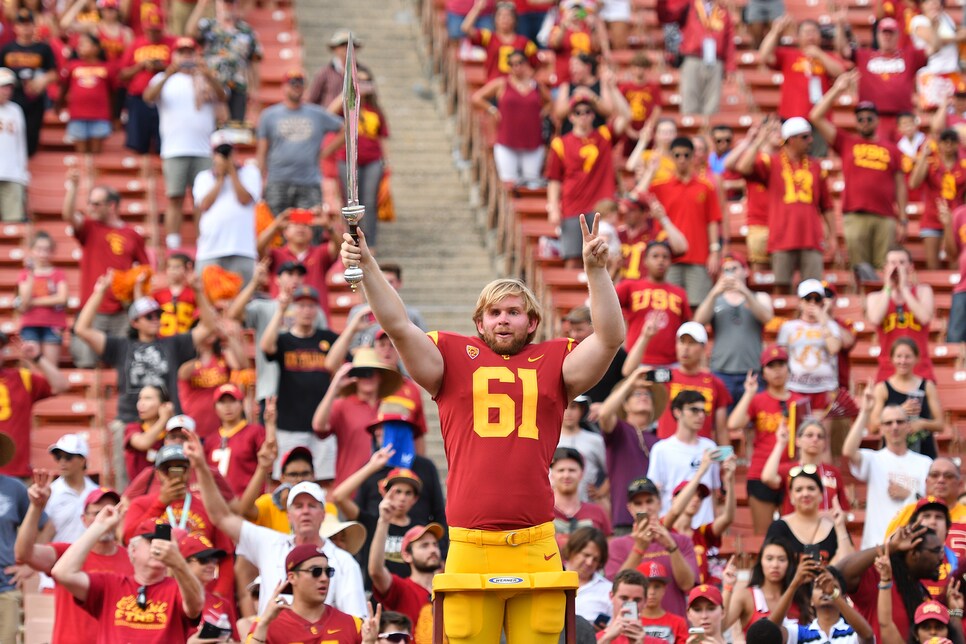 Though college football is a regional sport, one story during this weekend's opening kickoff ascended to national headlines. Jake Olson, a sophomore at the University of Southern California, has been blind since the age of 12. That hasn't stopped Olson from chasing his dreams, earning a walk-on spot with the USC football team in 2015 as a long snapper. In Saturday's win over Western Michigan, Olson came in and successfully executed a PAT snap.
As the world learns more about Olson's inspiring journey, it's worth noting that the 20-year-old's first love is not the gridiron, but golf.
Like most men of a certain age, Olson was inspired by Tiger Woods, who he saw at the 2008 U.S. Open. Already a casual player, Olson was galvanized by Woods' feats at Torrey Pines. Six months later, Olson played the same course, and was hooked.
"I fell in love with the game then and there," Olson said to Golf Digest's John Strege. "It was really cool to play a course the caliber of Torrey Pines where Tiger had won. So I really wanted to start practicing hard and maybe make a professional career out of it one day."
Unfortunately for Olson, there was a seemingly impassable obstacle in his path. As a toddler, Olson was diagnosed with a rare form of cancer, retinoblastoma, losing his left eye to the disease. He dealt with the same issue in his right eye until 12, when he discovered he would lose that eye as well.
"I was playing decently for a 12-year-old," Olson said. "Then I learned I would have to go blind."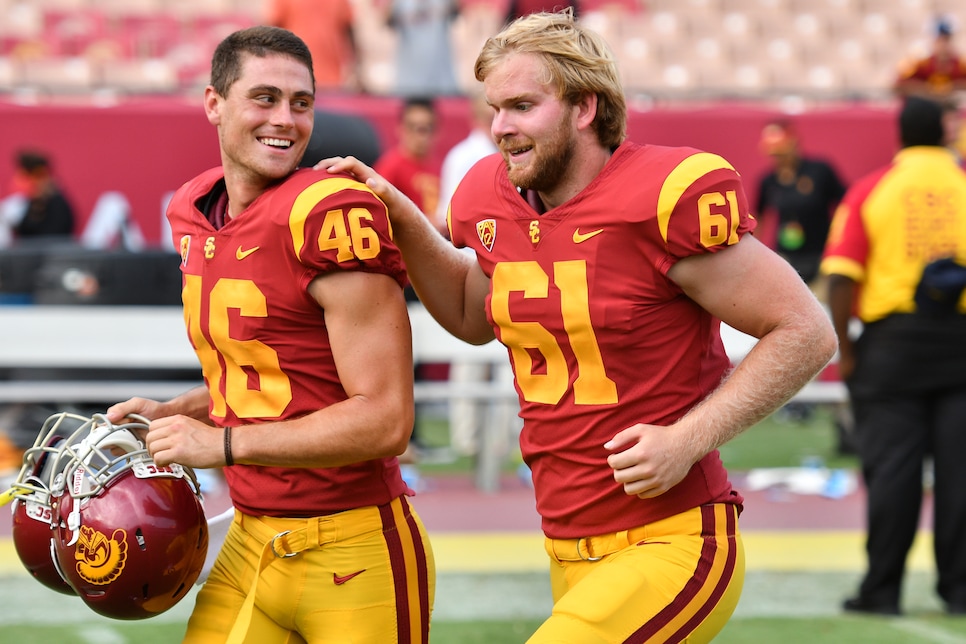 Despite this disadvantage, Olson's spirit for the game did not subside. Though admitting going blind was a "setback," Olson fought through the adjustment period.
"Probably for a good six months to a year I was trying to make consistent solid contact on the ball," Olson said. "There had been days that were total frustration, throwing clubs, not seeing results, just frustrating. But I wasn't going to let it stop me."
With the help of a caddie -- usually his dad, Brian -- he played on the Orange (Calif.) Lutheran High varsity golf team.
"It's a simple routine," Brian said. "Get him lined up, get the club behind ball, and then I back away. My main role is to get his club squared up behind the ball."
As one can imagine, unfamiliar terrain or bad lies can be trouble. Still, Olson routinely shot in the 80s, with a career-best of 78.
"If you get me on tight grass with a flat lie, I really play well," Olson said.
He even uses the game in his motivational speeches.
"There are people out there with perfect sight who can't hit a golf ball," Olson once said. "For a blind person to even make solid contact, that's absurd, right?"
As the world noticed Saturday, Olson has a habit of turning the absurd into reality.