The Loop
Jake Olson is blind, plays varsity golf, scores in the 80s and will attempt to play football at USC
Jake Olson was not unlike other kids of his generation whose interest in golf was stoked by Tiger Woods. He was an enthusiastic golfer, but not a serious one, until Woods won the U.S. Open at Torrey Pines in 2008.
Six months later, Olson played the same South Course at Torrey Pines and the hook was set. "I fell in love with the game then and there," he said. "It was really cool to play a course the caliber of Torrey Pines where Tiger had won. So I really wanted to start practicing hard and maybe make a professional career out of it one day."
Then, suddenly, he was unlike other kids of his or any other generation. "I was playing decently for a 12-year old," he said. "Then I learned I would have to go blind."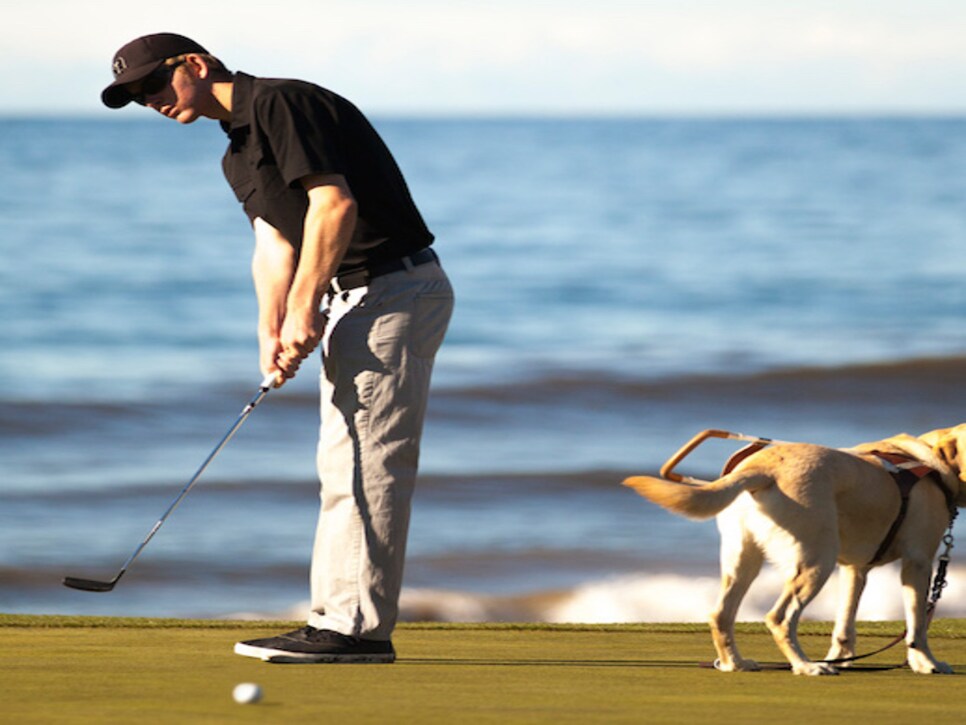 (Photo courtesy of TravisMathew)
When Olson was a toddler, he was diagnosed with a rare form of eye cancer, retinoblastoma, that cost him his left eye. He battled the same cancer in his right eye for the next 12 years, then he lost that eye, too.
A tragedy? On the surface, maybe. But there is nothing superficial about Olson, who has proven to be unlike virtually anyone any of us likely has ever known. He is a senior at Orange (Calif.) Lutheran High and plays on its varsity golf team. He also played on the varsity football team as its long snapper, will enroll at USC in the fall and will walk-on as a long snapper for the Trojans.
As for golf, "going blind was a setback," he said.
It would seem so. But it was more than that. A substantial growth spurt, six inches, was a major contributing factor to his inability to unite the center of the clubface with the golf ball. "Probably for a good six months to a year I was trying to make consistent solid contact on the ball," he said. "There had been days that were total frustration, throwing clubs, not seeing results, just frustrating. But I wasn't going to let it stop me.
"Now, five-and-a-half years later, it's gotten to the point that the things I struggle with are things that any other golfer struggles with — fine tuning my swing and repeating the same swing."
His father Brian flatly said, "he plays better golf now than before he lost his sight."
Olson, a developmental team member for apparel company TravisMathew, requires a caddie, of course, either Brian or a teammate. "It's a simple routine," Brian said. "Get him lined up, get the club behind ball, and then I back away. My main role is to get his club squared up behind the ball."
The most notable challenge for Olson, whose home course is Seacliff Country Club in Huntington Beach, is playing a course with which he is not familiar. "He's dialed into a certain 10-foot putt and when thrown onto a strange course, he's probably in the 90s," Brian said. "If it's a course he's familiar with he's in the 80s. His best round is a 78 at this point and he's capable on any given day of shooting 39 [over nine holes]."
Hilly courses present issues, too, Olson said. "But if you get me on tight grass with a flat lie, I really play well."
Olson, incidentally, already is an author and accomplished motivational speaker (website: openyoureyes.org).
"There are people out there with perfect sight who can't hit a golf ball," he said in one such speech. "For a blind person to even make solid contact, that's absurd, right?"