News
Justin Thomas and Jordan Spieth enjoy their friendship, but it's their rivalry that's pushing them to get better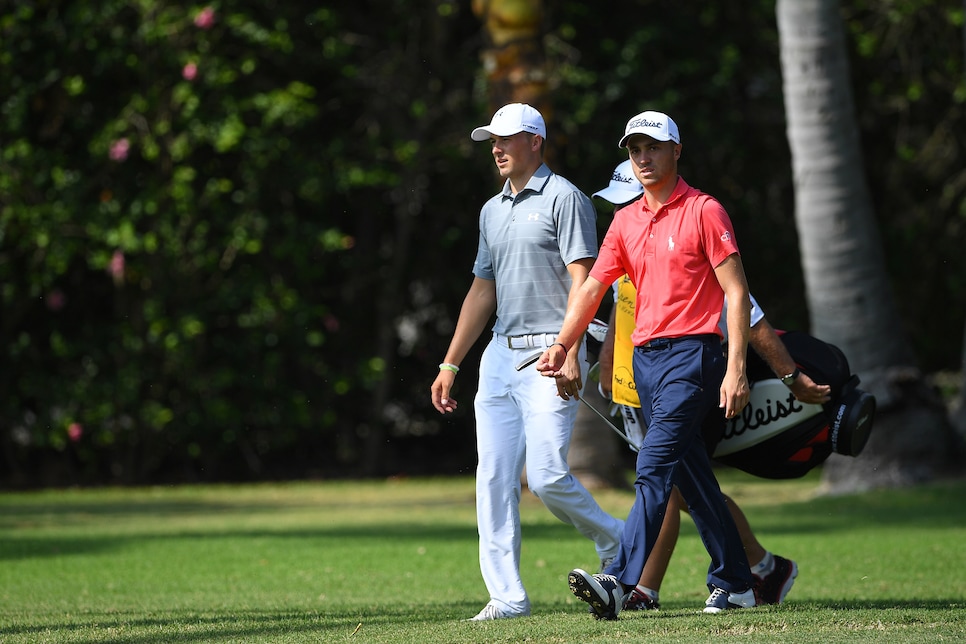 NORTON, Mass. — Rivals have a way of pushing one another, bringing out the best in the other. It's human nature.
By the game's nature, though, golf doesn't typically lend itself to many rivalries, making the rare exceptions all the more memorable. Snead, Nelson and Hogan. Palmer, Nicklaus and Player. Woods and Mickelson (and to a less extent Singh, Els and Duval).
Jordan Spieth and Justin Thomas still remember the first time they went against each other down the stretch of a tournament. They were 13 and playing the Junior All-Star event at Walnut Creek Country Club's Pecan Course outside Dallas/Fort Worth in Mansfield, Texas. Both opened with 68 in the two-day event before Spieth took a two-stroke lead on the front nine of the second day, eventually pulling away to win by five.
Thomas hasn't forgotten it, either. He shot 76 that day, and five years later lost to Spieth again, this time in the 2012 NCAA Championship at Riviera, as the Longhorns defeated the Crimson Tide to take the team title.
Monday at TPC Boston, it was Thomas' turn.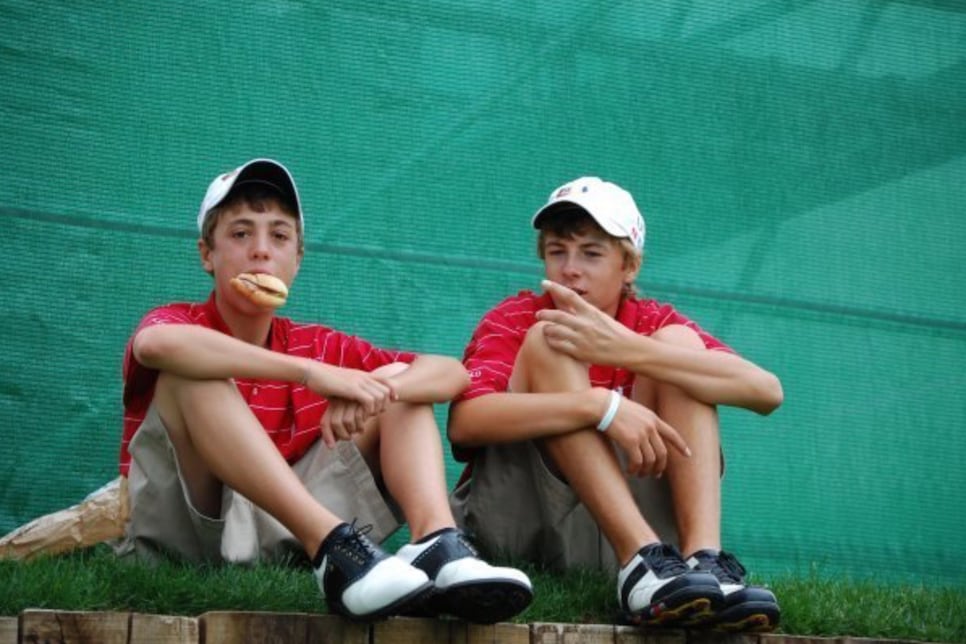 Tied for the lead with five holes to play, Thomas birdied the 15th hole and made a clutch up-and-down to save par at the par-3 16th to break free and eventually win the Dell Technologies Championship by three strokes over Spieth, who played the same stretch in two over.
Marc Leishman, who started the day in a tie for the lead with Thomas, finished third, four shots back after making five bogeys over his final nine holes.
The victory was Thomas' fifth of the 2016-'17 season and second in his last three starts. It also likely locked up PGA Tour player-of-the-year honors, and his five wins ties for the second-most in a year over the last decade, surpassed only by Tiger Woods' six in 2009.
But Thomas' triumph also served as something else: Another moment in the growing rivalry of a generation that, while it includes others—Dustin Johnson, Rory McIlroy, Jason Day, etc.—is tied to the two star pupils of the high school Class of 2011.
Spieth and Thomas are friends and have been competing against each other seemingly for forever. That they're now doing it at the highest level of the sport continues to fuel each other's success.
"I think we've kind of pushed each other at every level," said Thomas, who closed with a five-under 66 and made just two bogeys all week. "I mean, we're always competing, whether it was, you know, we want to be the top of the Rolex Rankings in junior golf when we're 15 or 16; we want to be the low junior golfer at the U.S. Amateur; we want to make the cut as an amateur in a tour event; we want to win college player of the year and we want to lead our team's scoring average.
"It's just now we're at the top level you can get."
It just took a little longer for Thomas to catch up.
In Spieth's first three years after turning pro in late 2012, he won six times, including two majors and a FedEx Cup title. He reached No. 1 in the world at one point and has since added a third career major, earlier this year at the British Open.
In Thomas' first couple of seasons after turning pro in late 2013, he netted just one victory, with a handful of opportunities slipping through his fingers. Spieth's success made Thomas jealous, but it also pushed him.
"I feel like we're a very similar caliber of player, and I just got a couple years of experience head start," Spieth said. "You want to get yourself in those positions, and you learn a lot from wins and losses."
Two things Thomas learned were patience and learning to score when he wasn't hitting it his best. The former was evident last month at Quail Hollow, where he won the PGA Championship for his first career major. The latter was evident at various points this past week in Boston.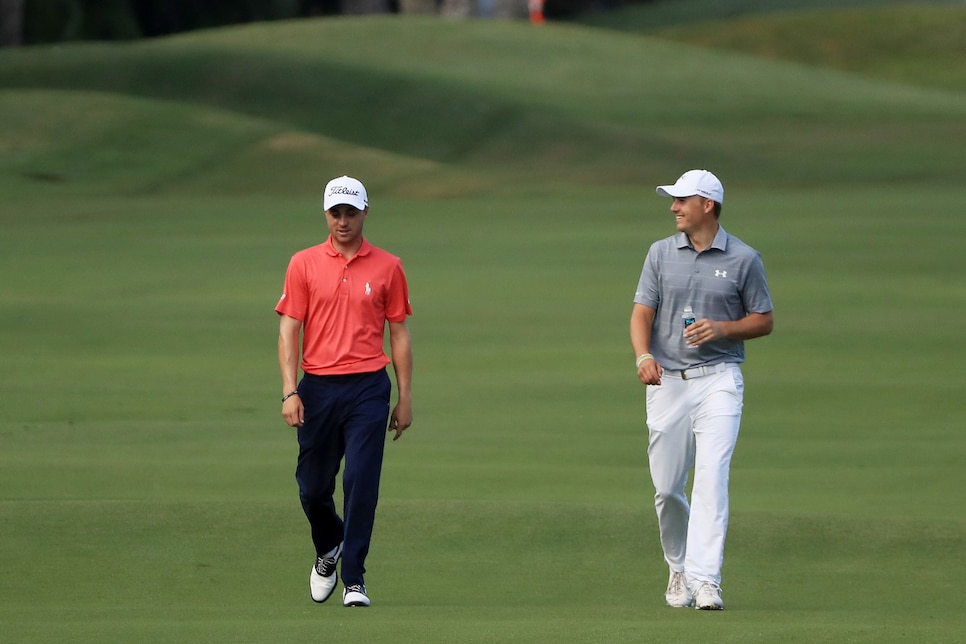 Sam Greenwood/Getty Images
During Monday's final round, though, Thomas needed some of his best, too. Spieth, who began the day two shots back, opened birdie-eagle-birdie-birdie. Thomas didn't flinch, making birdie on the second and reaching the drivable fourth, where he knocked in a 30-footer for eagle.
Game on, and eventually game over.
"Obviously he's become a tremendous closer," Spieth said. "What he did today, it's tough when you've got somebody that's that good and hot and can close, and he's two shots ahead of you starting the day."
Thomas seems to relish the role, too, at least judging by how he has handled it. He's now four-for-six in closing out 54-hole leads on tour.
"I'm just comfortable when I get [near the lead]," he said. "I enjoy that rush and just the satisfaction of beating everybody that week. I know it's going to happen, I'm sure there will be plenty of times in my career where I'm not the one sitting up here getting interviewed, but it is what it is, and I'm just trying to ride this wave all I can."
Here's to a Thomas-Spieth rivalry. May it last many, many more years, for our sake and theirs.