News
Tour pros with Houston ties worry about Hurricane Harvey's destruction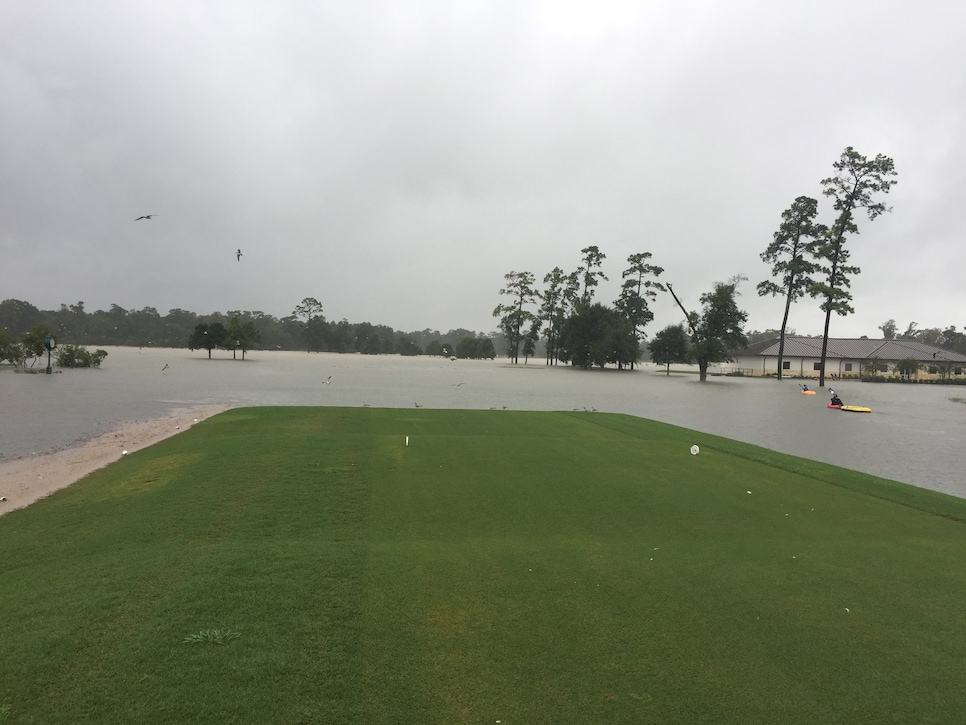 "Totally under water," is how my conversation with Robin Burke started Monday afternoon. The wife of two-time major champion Jackie Burke was my eyes and ears to the devastation unfolding in Houston, describing what the golf community at historic Champions Golf Club was doing in the on-going aftermath of Hurricane Harvey and what many were describing as the 500-year storm. "It's more flooded than I've ever seen," said Robin Burke, the club's VP. "[What's next is] going to depend on how long the water stays over us."
With Harvey sitting over south Texas and appearing to be heading back to the gulf to reload, higher on Burke's the priority list than the recovery of her two golf courses was the safety of her members stranded in their homes along the banks of Cypress Creek. Some of them have evacuated by kayaks and canoes.
"It's pouring down raining, and as it continues to flood, it's who can you help along the way," Burke said. "It's awful to go into people's homes and water is up to the waist. This is devastating."
With the one of America's great golf cities now a water hazard, the top 100 golfers remaining after the opening round of the PGA Tour's FedEx Cup playoffs were doing corporate outings on their way from Long Island to Boston. One of those was Patrick Reed, who told me in a text that the backyard of his house at The Woodlands outside of Houston had 10 to 12 feet of water, which was encroaching on his home. Worse, several of his neighbors' homes were completely flooded.
Jhonny Vegas was in a better spot. Coming off a T-3 with Jon Rahm at The Northern Trust, ranked 10th in FedEx Cup points, Vegas started this trip with his father, who was visiting from Venezuela. At home in The Woodlands, four miles from Reed's house, were Vegas' mother, wife and children. There was plenty of food and supplies on hand. But with airports closed and expressways turned to rivers, there's a question of just how long it would be before Greater Houston was accessible again.
Chris Stroud, who made a big splash at the PGA Championship, also lives north of the city, in Spring, Texas. Twenty family members and close friends were holed up at his house over the weekend and were hurricane equipped with a generator and plenty of food. It sounded like a pretty good hurricane party until police showed up at the door with a warning that while evacuations were not mandatory, flood-controlled reservoirs to the north would be opened with 30 more hours of rain coming.
On Sunday, a close friend of Stroud's who is a former Navy SEAL, was contacted to help some of the elderly evacuate from the neighborhood. They took Stroud's truck, which sits five feet off the ground, and were barely above the high-water mark. Escaping to a lake house two hours to the north was not advisable on flooded I-45. He had been on the phone all day, texting people back home.
"I hate not being there to help my family," Stroud said. "This is a tremendous problem, and it just started. It's a scary situation. I pray nobody gets hurt."
Steve Timms, president and CEO of the Houston Golf Association, paid a visit to the Golf Club of Houston, site of the Shell Houston Open. He emailed the photos and explained how Nos. 1 and 18, once separated by a lake, is now just one body of water (above photo). "Just the damage that's going to happen remains to be seen," Timms said. "The longer that this water stays on top of the turf, the longer it gets a lot of silt." And silt is not what Timms needs, not when he's hoping to sign a title sponsor before next year's Houston Open.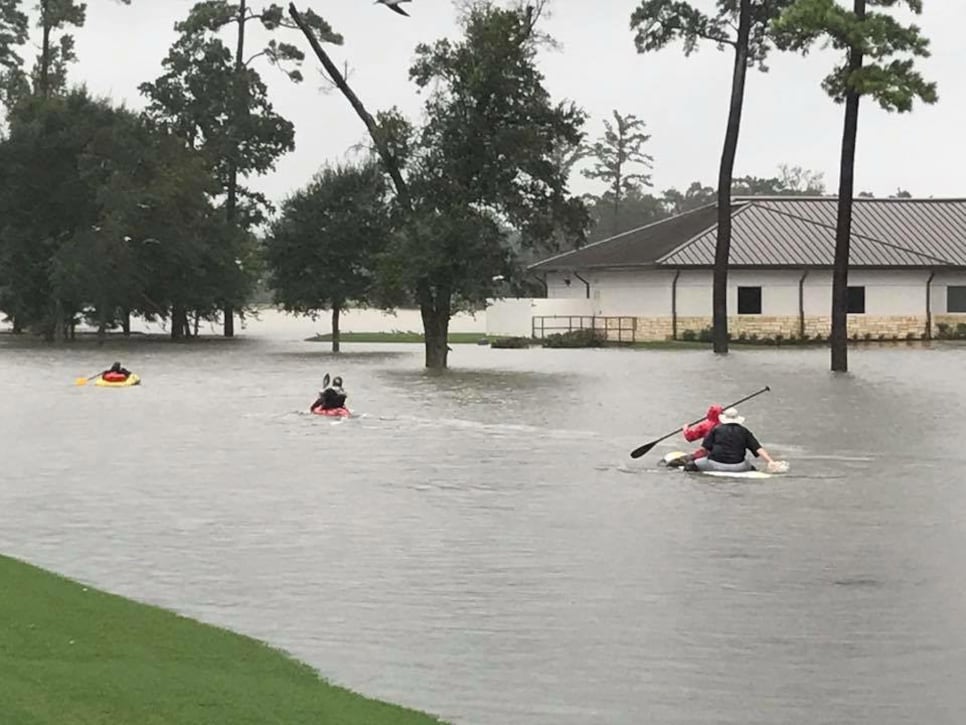 Typical of the golf culture rallying in times of need, Steve Elkington opened his home to the University of Houston golf teams, and UH men's coach Jonathan Dismuke joined Women's Golf Team coach Gerrod Chadwell (husband of LPGA pro Stacy Lewis) in saving six sets of clubs and two TrackMan golf computers stored in a building on the range at the Golf Club of Houston. Checking the radar, they took advantage of a one-hour break in lightning to take three kayaks (above) and two blow-up mattresses on their mission.
"Kayaking with golf clubs is not a great idea," Dismuke said. "It was a terrible situation, but we're so fortunate that we're talking about saving TrackMan rather than human lives."
That's the general sentiment right now, as the rain continues to fall and people remain stranded in their houses. At some point, golf will matter again and Houston will go from search and rescue to rebuilding. But in the moment, everyone is focused on the here and now.
"We are concerned for all those in need, so many families in Houston need help," Robin Burke said. "We will see all the damage as soon as the water recedes. … We can grow grass. More important are the families all over Houston. Let's get everyone safe first."