Ryder Cup
Ryder Cup 2021: American fans, please be on your best behavior. It will make the Europeans furious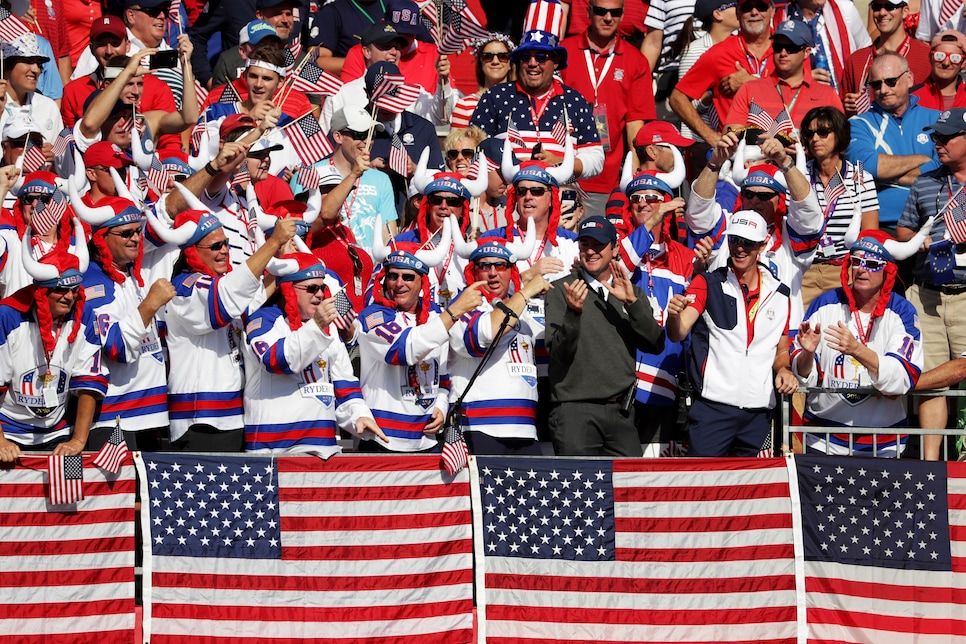 HAVEN, Wis. — It is Ryder Cup week, a week that, while special in this country, is sacrosanct in Europe, for it's a celebration of a continent's pastime. We, of course, are not referring to golf, but the Europeans' love of chastising the American golf fan.
Oh, how they do enjoy dressing in their ceremonial white wigs—headpieces that harken to a bygone era when England mattered on the geopolitical stage—and turning on the tele to hear reports of poor conduct from a Yankee gallery. "Mmmmmm, not very proper behavior, I see," they hiss as they bite into those day-old gas station bread bricks they call "biscuits." And boy, are they especially hungry for what's on tap at Whistling Straits. After all, Team Europe is likely to get bounced from Wisconsin, and with Patrick Reed not here and Bryson DeChambeau now yelling "Fore!" we're pretty sure the only reason the European media cognoscenti showed up is to fill Lake Michigan with enough sanctimony at the first catcall to flood Sheboygan.
Which is why we are asking, nay, imploring American fans this week at Whistling Straits:
Please, don't be jackasses.
Listen, it's not been a banner year for fan behavior on the PGA Tour, and the provincial nature of national team events tend to conjure xenophobic and abhorent reactions in the delusioned name of patriotism. The boorish behavior at the 2016 Ryder Cup testifies to that. But there is a better way, a way that doesn't involve British tabloids accusing Americans of being juvenile, which we find ironic, given said tabloids are currently ridiculing Prince Harry and Megan Markle for the audacity of posing for Time magazine.
You may be asking how to act. Well, sometimes the best examples are the worst examples. In short, don't be like soccer hooligans, a sport Google tells us is called "not real football" in Europe. Granted, you may wonder why hooligan culture is often romanticized over there while way, way less aggressive behavior here is shamed. In their defense, if you devoted your life to following a game that involved 90 minutes of nothingness, you'd want to smash beer bottles over your head and fight strangers, too. Still, golf is not soccer, so please, no yelling profanities at children of the opposing fan base while wearing scarves.
Speaking of yelling, don't yell! At least not in the backswings of players. This may seem like a simple concept, yet a European fan did just that to Tiger Woods on the 72nd hole during the final round of the 2018 Open at Carnoustie. We know it's a European fan because if said fan was found to be from the States and said towards a Euro player it would have been grounds for reigniting the American Revolution.
In fact, don't yell anything negative, period, for this is supposed to be an exhibition of goodwill. You may think ridiculing a player is funny, but that is funny in the way Ricky Gervais is funny, which is to say not funny at all.
Also, don't streak. Americans don't really do that anyway but it's worth mentioning that Mark Roberts, who ran across the hallowed grounds of St. Andrews in his birthday suit at the 1995 Open, is considered a Liverpool icon.
Good behavior is not just the right thing to do, it could actually be weaponized. Ian Poulter, a man who takes American umbrage and turns it into renewable energy, has been treated nicely this week. "The U.S. fans have been brilliant so far," Poulter said Wednesday. "They really have. They're wishing me well. Not too well, but they're wishing me well, which is quite nice. That hasn't always been the case, but so far so good." Poulter has been a destroyer of worlds in this event, a question the Americans have tried to answer but never can. Maybe the way to revert him back to being mortal is to treat him like a human.
Besides, how can you be mean to this European team? They're a bunch of good lads! Heck, nearly all of them play and live in America, proving just which area of the world is truly the best.
Look, we get why Europeans love to hate us. Paul Azinger referred to their tour as second rate, the most popular British TV show is about an American football coach and we mentioned that thing about gaining independence from them, yes? And we understand you want to do everything in your power to bring the cup back to these shores.
But if you really want to do your part, be better. Because while the taste of victory is sweet, the greatest pleasure is doing what your critics think you cannot do. Especially when it forces your critics to dismount off their g******* high horses.
MORE RYDER CUP PREVIEW STORIES FROM GOLF DIGEST