Wells Fargo Championship
PGA Tour frontman Rory McIlroy awakes from slumber—and the timing couldn't be better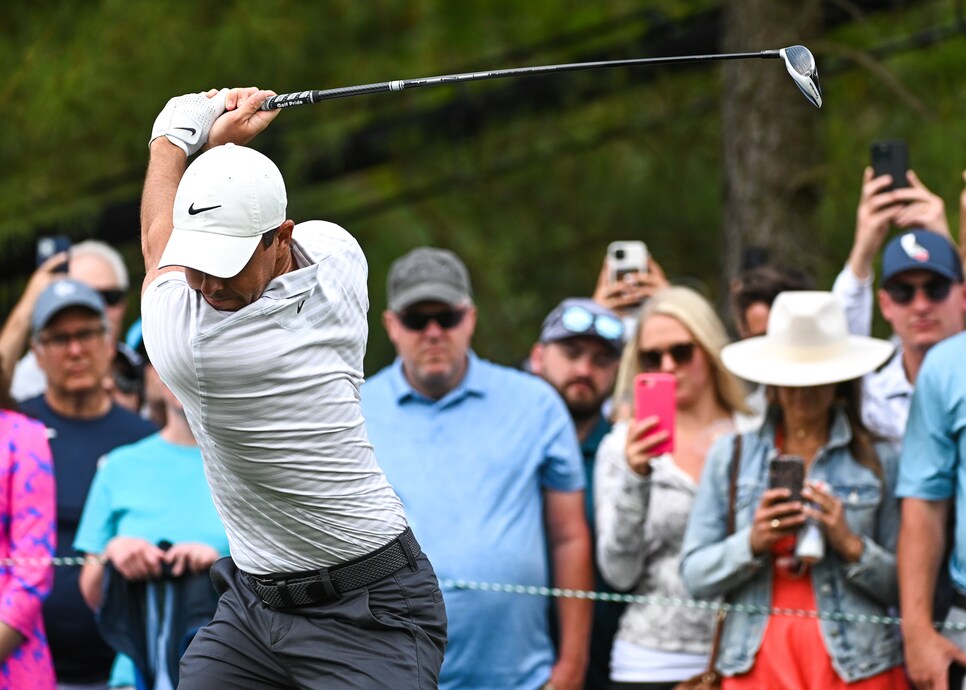 Rory McIlroy swings on the eighth tee box during the third round of the Wells Fargo Championship.
Ben Jared
CHARLOTTE — "Hey, Rory—you got a nice butt!"
A well-served woman offered that compliment to Mr. McIlroy, who couldn't help but flash the pearly whites. He then poured in a 21-footer for birdie, his fourth in eight holes, to get his freckled nose in front. As he parted the sea of fans bordering the walkway to the ninth tee—COVID felt a distant memory on Saturday at Quail Hollow—a chant erupted.
"I hadn't heard a noise like that in a while," he said.
It could've been a commercial for the PGA Tour, the type that plays over and over and over on the broadcast: A beautiful spring day, a mint golf course, with Ponte Vedra's poster boy fist-bumping the kids.
McIlroy does not hold the 54-hole lead here at the Wells Fargo Championship; a buzz-killing double-bogey at 12 is to blame for that. Keith Mitchell has that honor, and we shall not minimize his five-under 66 on a beefy golf course in not-easy conditions.
But Rory was the star of this show. After a 68 that has him in the final group and just two back heading into money-making day, he's in prime position to win for the first time since October 2019, to re-announce himself two weeks ahead of the PGA Championship at Kiawah, where he won the last time that place held a major. By eight.
Four days ago, a foreign entity with a limitless checkbook sought to shake the very foundations the tour rests on. The Super Golf League, backed by Saudi Arabian interests, has emerged as a competitor to a previous potential breakaway group, the Premier Golf League. The wannabe king-slayers in the PGL first approached McIlroy in 2014, and he has rebuffed their advances at every turn.
On Wednesday, McIlroy deemed the new Saudi effort a "money grab" and perfectly articulated the tour's argument against the encroachers. He made it extremely clear that he's happy where he is.
Why wouldn't he be? He is, absent Tiger and maybe Phil and double-maybe Jordan, the most popular guy out here—the rare superstar who's as popular with his peers as he is with the fans. He chairs the Player Advisory Council and has Commissioner Jay Monahan's ear whenever he wants it. He is adored by young and old, traditionalists and new-schoolers, left and right. The guy you want to bring home to your mom, and the guy your dad can't wait to play golf with.
And yet, coming into this week, he'd missed three straight cuts and dropped to No. 15 in the world. It's hard to fathom if you've been so lucky to see him swing a golf club. Rory will tell you that golf is important to him but not that important, especially since he became Dad last summer. He has ... drumroll please … perspective.
But Rory McIlroy is a golfer through and through, a man who feels most alive when he's walking through a crowd that's chanting his name. He sulked as he left TPC Sawgrass and Augusta National on those Friday afternoons, the slightest hint of sadness in his eyes.
You had to look hard to see it, but it was there. On Saturday, he bounced around Quail Hollow all day, almost childlike. He relished every single second of it. The fans love him, and he loves them right back.
"I've missed it," he said. "I didn't think I would miss it as much as I did, but I really have.
"I felt that I'd actually enjoy the quietness, but I sort of realized that it's hard for me to bring the best out of myself without that atmosphere that we had today."
He could very well win on Sunday. It'd be his third victory at Quail Hollow, where he won his first PGA Tour event back in 2010 and added another in 2015. This being one of the handful of tour events that has not been jerked around the schedule merry-go-round, he celebrates his birthday in Charlotte year after year. (No. 32 fell on Tuesday.) He has a membership here, though it's not quite clear whether he asked for it or they gave it to him.
"People can draw those conclusions that I've came here to Quail, one of my favorite places on tour, that I've had a birthday, everything feels good," he said. "I'm sure there's partly something to do with that, but I would say there's still quite a bit of coincidence.
"If we were at Colonial this week instead of Quail, I still think I've been playing good enough golf to get myself in contention. I'm happy that it is here because it's a golf course that I am comfortable on, and going into a final round tomorrow with a chance to win, I feel like I need everything I can get to try to get over the line. For me to be in contention for the first time in a while and for it to be here is probably beneficial."
He could also very well lose. Read between the lines of the statement above, and it's clear he knows this. The game remains a work in progress. He brought in a new coach less than two months ago, and his goal at the beginning of the week was as modest as it gets: make the cut.
He's done a bit better. Rory used the word "coincidence" to describe the timing of this sudden resurgence. He was talking about the venue, but he just as well could've been talking about the PGL business. Of course, McIlroy is not playing well because some Saudi-backed suit reportedly offered Dustin Johnson $30 million dollars. There is no extra motivation. It is indeed a coincidence. But coincidences lend themselves to irony, and there is an unmistakable irony in all this: Days after the tour confronts an existential crisis, its frontman—the embodiment of all that is right with the current order—awakens from his slumber.
"I'm excited to be in the position I'm in," he said. So are the fans, and the TV executives, and the PGA Tour.