Wells Fargo Championship
Keith Mitchell and his not-bent putter in the lead, Rory giving chase and Quail Hollow's 18th hole remains a beast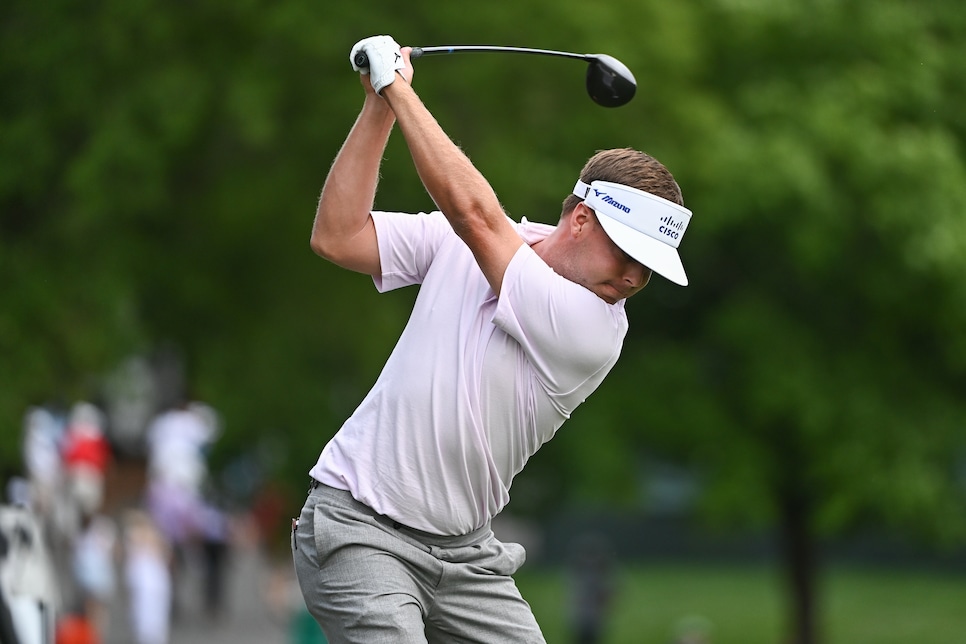 Keith Mitchell swings on the eighth tee box during the third round of the Wells Fargo Championship.
Ben Jared
If you did a deep stats dive, you'd find that Keith Mitchell, despite a lack of strong results, had been hitting the ball very nicely of late, both off the tee and with his irons. During that same deep dive, though, you'd also see his putting numbers from the Valspar Championship, which would cause you to projectile vomit.
For the week, Mitchell lost 12 strokes with the flat stick, the majority of the damage being done on Sunday. In the final round at Innisbrook he lost a staggering 8.92 strokes on the greens, a number that would make lesser men snap their not-so-magic wand in two.
Turns out, while it wasn't snapped, Mitchell's putter was actually bent and he didn't know it. "I realized it was my putter, not me," said Mitchell, who needed 42 putts in Tampa last Sunday.
The craziest part, is that Mitchell didn't figure it out until Tuesday at Quail Hollow, when his coach noticed the loft was off by a few degrees. That was a timely find, and it's helped Mitchell grab the 54-hole lead at the Wells Fargo Championship. On Saturday, he backed up his 67-71 start with a third-round bogey-free 66, which has him two clear of a pair of major winners in Rory McIlroy and Gary Woodland.
The putter, not surprisingly, has been key. Mitchell has gained nearly 3.5 strokes on the greens, good enough to rank 17th in the field. The driving has been elite, as it often is for Mitchell (he's first in SG/off-the-tee), and the approach game has been strong as well. All-round play usually gets it done at tough golf courses, which appear to be Mitchell's specialty. If he wins Sunday, he'll have wins at Quail Hollow and at PGA National, where he won the Honda Classic in 2019.
"Really tough golf courses demand every part of your game," Mitchell said Saturday. "I've definitely played poorly on tough golf courses, but my best weeks have been at the tough ones, Bay Hill, Honda, here. When you hit a bad shot you get penalized, and when you hit a good shot you get rewarded. Some golf courses on the PGA Tour where you can hit bad shots, get away with it and still try to make birdie. You can't do that here. I think that's a true test of golf. I don't think golf would be fun if every course was like this. I just feel more comfortable around a tougher course."
On Sunday, Mitchell will play alongside another guy who plays tough courses well—McIlroy, who has a pair of wins and a number of high finishes at Quail Hollow. Mitchell shouldn't feel too scared, though. When he won the Honda, he held off a guy named Brooks Koepka on Sunday.
Here are four other takeaways from Day 3 at the Wells Fargo.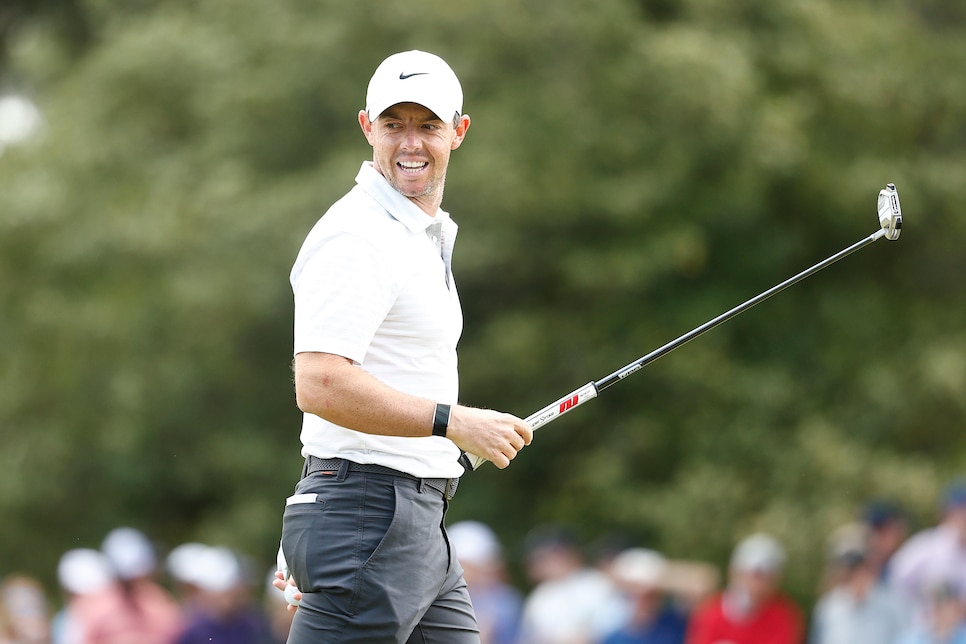 Rory McIlroy reacts on the second green during the third round of the 2021 Wells Fargo Championship.
Maddie Meyer
Is Rory going to hurt us again?
Theoretically, Quail Hollow should be the one place where McIlroy can't hurt us based off his course history. When he won here in 2010 he shot a closing 62, and when he won again in 2015 he went 61-69 on the weekend. He loves the course, it's tailor made to his game. He should be immune to a Sunday sputtering, the type we've seen a few too many times from him since his last win in November of 2019. But all the past success in the world means nothing when he walks to the first tee on Sunday. Unfortunately, it would not be surprising to see him stall, but we're all sincerely rooting for that not to happen. McIlroy being back in the fold for this upcoming Kiawah-Torrey-Royal St. George's-Ryder Cup stretch is something we all desperately need.
Quail Hollow's 18th remains one of the great beastly finishers on tour
Not breaking any news in saying that many of Quail Hollow's holes are pretty forgettable. The 18th is not one of them. It remains an absolute beast of a par 4 that gives these guys fits and always produces high end-of-round drama. On Saturday there were zero ... zero (!) birdies, and the scoring average was well over a half-stroke over par (4.701). The three par 5s all played easier in the third round. It's a monster.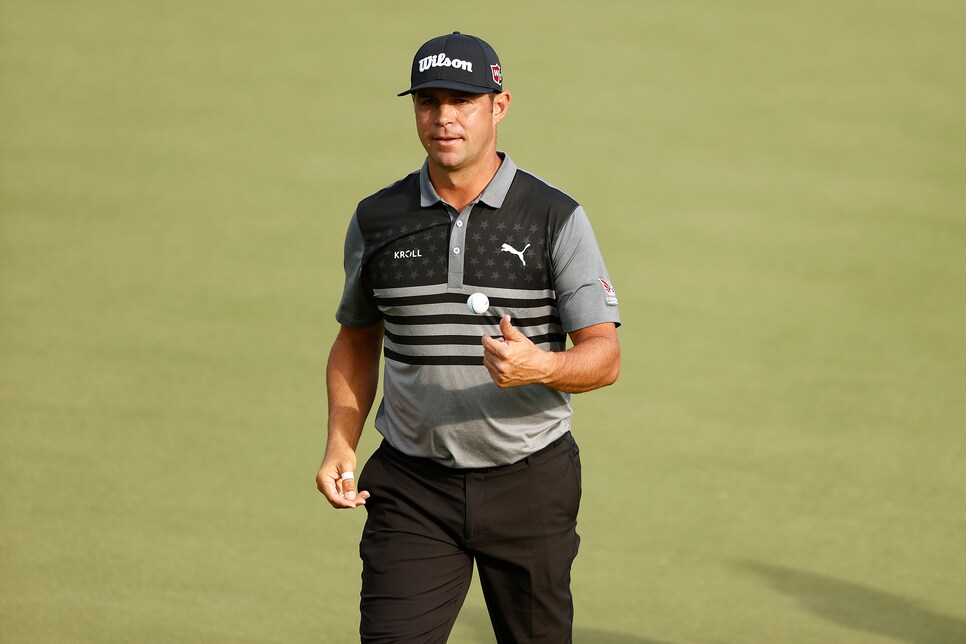 Gary Woodland walks the 18th hole during the third round of the 2021 Wells Fargo Championship.
Maddie Meyer
This is a BIG boy leader board
In other words, it's a Quail Hollow leader board. We're not complaining. Mitchell, Rory, Woodland, Luke List, Scott Stallings, Viktor Hovland. If you want to win here, you better be able to smash driver and hit a bunch of greens, something all the aforementioned names do very well. It would be tough to watch this style of golf every week, but a handful of times a year it can be very entertaining.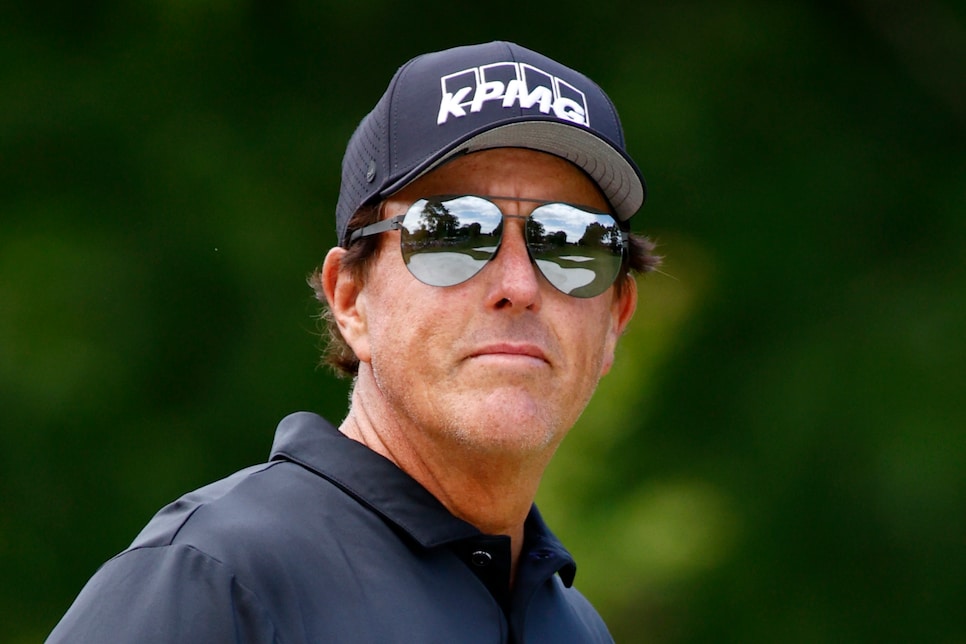 Phil Mickelson looks on from the third green during the third round of the 2021 Wells Fargo Championship.
Jared C. Tilton
Phil Mickelson's first round was such a tease
What some Phil pessimists feared turned out to be very, very true—Thursday was a tease of the highest order. His seven-under 64, which gave him the solo lead after 18 holes, did not end up being a sign of things to come for the weekend. Friday and Saturday, Mickelson came all the way back to the pack and then some, shooting 75-76 to fall outside of the top 50.
It's a shame, because Lefty has been grinding his face off of late and it looked like he was finally reaping the rewards. But the irons, which were red hot Thursday, failed him in the second and third rounds. Friday he lost 0.759 on approach, which paled in comparison to the nearly 4.2 strokes he lost on approach Saturday. That'll lead to some ugly numbers at Quail Hollow. Hopefully, we'll get more of the Thursday version of Phil in the near future, though those days are becoming fewer on the big tour for the 50-year-old.