Major Recovery
Here are the surprisingly simple ways Jon Rahm recovers between rounds
*All products featured on Golf Digest are independently selected by our editors. However, when you buy something through our retail links, we may earn an affiliate commission.*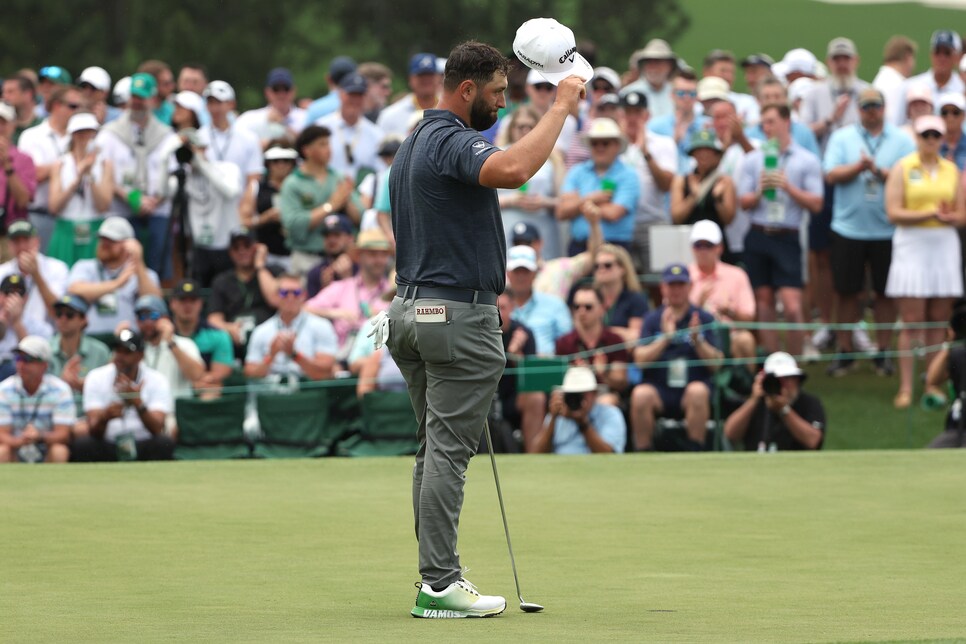 In recent years, Jon Rahm has opened up about being born with severe foot issues that have plagued him his entire career. He's worn custom insoles since childhood to balance out the centimeter-and-a-half difference between his right and left leg, but he often struggled with pain on his entire right side during and post-round.
Rahm has tried just about every recovery method to try and manage the pain between rounds, from ice baths to CBD oil to compression, but he swears by one tool that costs less than $20—and it's something you might already have in your medicine cabinet.
We caught up with Rahm earlier this year to learn more about how he keeps his feet fresh between rounds.
"For recovery, I use toe separators to open up my foot." Rahm said. "Golf shoes can make you feel tired after wearing them all day, and sometimes your feet even cramp up because of them. So I use the toe separators, like you're gonna paint your nails basically. The more you can separate [the toes], the better."
Rahm says, by recommendation from his trainer and physiotherapist, he uses silicone separators he found on Amazon. He puts them on as soon as he gets home from a round and suggests getting a pair you can walk around with when they are on.
"I put the toe separators on as soon as I get home after a round," Rahm said. "I think absolutely every athlete should do it."
"If I know I'm playing more than 18 I will always change my socks [between]. I started doing that in college." Rahm said. "You really feel like you somehow change things just changing socks, it feels unbelievable."
Rahm added that if he has time, he'll shower and change his whole outfit. "It really makes me feel like I can tackle that new 18."
"I have a compressive massage gun from Amazon that's mini and was $30 that I'll hit the base of my feet with. It's the easiest thing anyone can do for recovery," Rahm said. "I do it more for warm-ups and exercises to strengthen those muscles, but it's great for recovery too."
If you don't have a massage device, Rahm also recommends using a lacrosse ball, or if you're desperate, a golf ball will work, too, but he warned: "Just be light because a golf ball can be extremely tough on the feet."
"I'll lay flat on the ground with my butt against the wall and have my feet up in the air," Rahm said. "Sometimes I put on the iPad and when I'm watching a show, I don't even realize how long I'm doing it for."
Elevation is said to encourage blood flow to inflamed muscle tissue and reduce swelling in the limbs. As a bonus, Rahm will add toe separators to this recovery routine.
"I did that once in Dubai a few months ago, when I won," Rahm said, referring to his win at the DP World Tour Championship in November. "The first time I did it, my feet started cramping. After a long flight and all that, you got to do something to help because the body is tired."
"I will often go in the shower and hit my legs to my lower body, with cold water just because it's a great quick recovery," Rahm said. "If you can, get an ice bucket and throw your feet in. That'll be the best thing you can do. If you're not used to it, it's hard, but worth it."
Rahm said he doesn't have to soak as much anymore because the pain has been reduced so much but recommends it for anyone looking to flush out the legs between rounds.
Finding the right footwear
In addition to his custom insoles, Rahm went through extensive testing to find the best pair of golf shoes to reduce pain and allow for better ankle mobility.
"One of the misconceptions that we had, is because my ankle has low ankle mobility, I needed restricting shoes, but that ended up being why I couldn't get the ball speed that I wanted," Rahm said. "Without the shoes, when I literally stand on my insoles, I could get more ball speed. It was so funny to see."
These findings led Rahm and his footwear team at TravisMathew's Cuater to select a lower profile shoe that allows for more mobility at the ankle, The Ringer. Rahm's driving distance jumped from 309 yards in 2021 to 318.9 yards in 2022 after switching shoes.