Clean those grooves
The secret weapon that players are obsessed with at the Masters
*All products featured on Golf Digest are independently selected by our editors. However, when you buy something through our retail links, we may earn an affiliate commission.*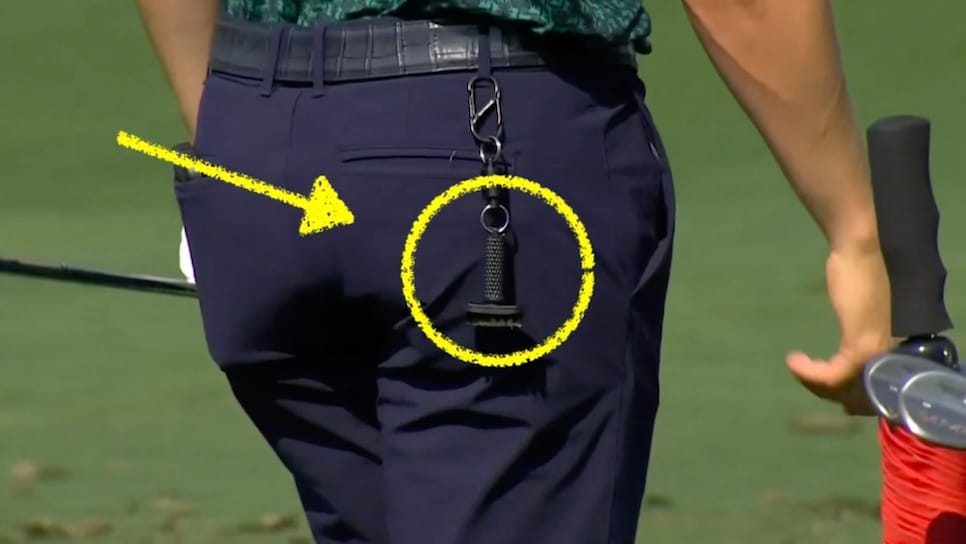 If you were watching any of the Masters range coverage this morning, you might have noticed the latest accessory that players are wearing on their belt loops: a groove cleaner.
Justin Thomas, Shane Lowry, Min Woo Lee, Francesco Molinari, Collin Morikawa and Gary Woodland, amoung others, are a few of the players who have been spotted using them. There are lots of groove cleaners floating around, but the trendy choice of tour players is Groove It Brush Mini.
The reason why pros are flocking to the brush isn't for fashion, but funciton.
A dirty clubface can affect your ball flight and performance on the course, especially with clubs that rely on the groove to create spin—like your wedges.
Don't just take our word for it. Andrew Rice, a Golf Digest 50 Best Teacher, did some research on the topic that you can find here, on his website.
After hitting multiple pitches under different conditions with his 54-degree wedge, Rice found that a wet club and dry ball produced a launch angle of 27.8 degrees, a spin rate of 5463 rpm and a height of 26.5 feet. When he tested a dry clubface and wet ball, he found it produced a launch angle of 30.1 degrees, a spin rate of 5291 rpm and a height of 28.4 feet. His final test was a dry club and dry ball, which produced a launch angle of 25.4 degrees, the highest spin rate at 6603 rpm and a height of 21.2 feet.
Simply putt, Rice found that dirty clubfaces and grooves send the ball into the distance with a lot less spin. That means shots than land on the green and bounce over, rather than grabbing.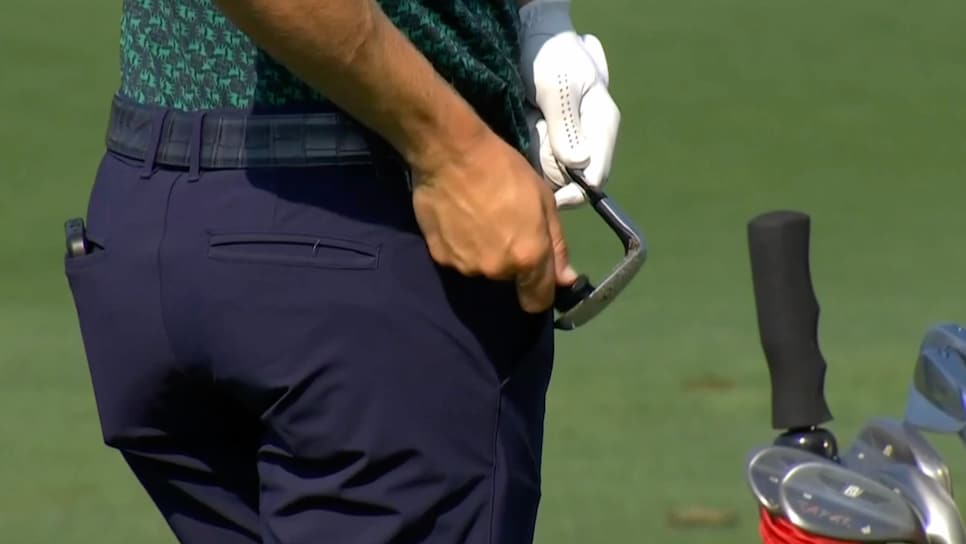 "Clearly there was more friction between the face and ball, which led to a lower launch with substantially more spin," Rice says.
Rice says that playing with a dirty or wet clubface decreases your friction, due to slippage, which produces higher launch angles and less spin.
"Moral of the story?" Rice says, "Always clean the clubface, and dry your club and ball when possible."
Rice also offers a piece of advice for the dew sweepers who battle the early-morning mist and condensation: don't plan on hitting any low spinners.

"The drier the ball and club, the better the friction and the better the quality of shots you will hit," Rice says.
It's the kind of minor detail pros care a lot about, and the rest of us don't notice. But look closely, and you'll see it on the bags and beltloops of players all over the place at the Masters. And you'll see the results when the ball spins backwards on the green, too.