Presidents Cup
Presidents Cup 2022: Why the U.S. vs. Internationals matchup at Quail Hollow is still worth watching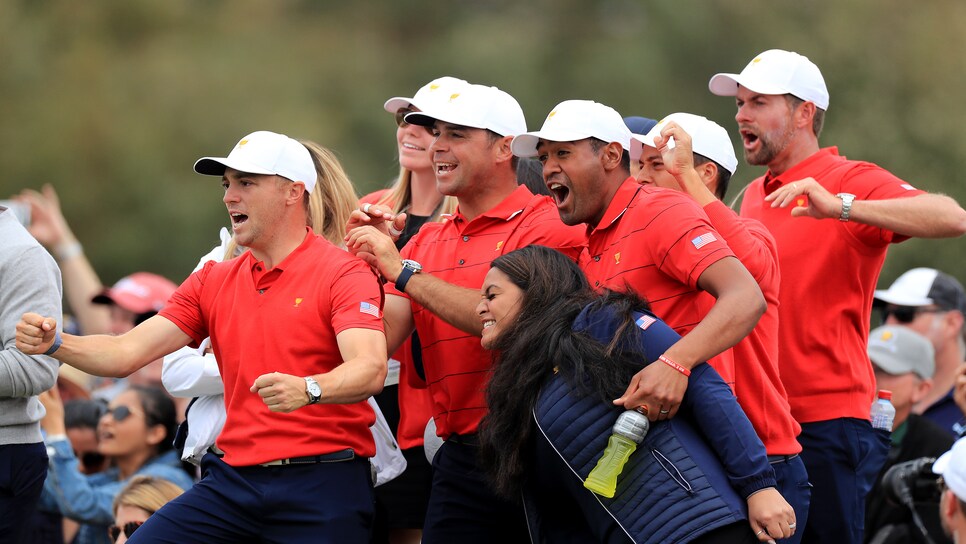 The Presidents Cup is a conundrum, an event that is an exhibition in nature but something more in reality. That is the aspiration, at least, with the standard set by the Ryder Cup. And after a thrilling 2019 Presidents Cup in Melbourne, it appeared that ambition had manifested.
With that in mind, here are eight reasons why the 2022 Presidents Cup is worth watching:
Rowing is an exercise that the rich have turned into a sport. The high point of volleyball was the beach scene in "Top Gun." If anyone introduces themselves as a fan of swimming, it's time to run because you've just met a serial killer. Yet during the Summer Olympics these events become must-watch (or at least watchable) spectacles solely because the competitors are representing not themselves but their countries. The psychology is elementary: Any game with a nation-geared element speaks to the inherent human want of being part of a group, and athletics is a usually peaceful channel for patriotism. Even with the Americans entering as heavy favorites, the sight of a team draped in the stars and stripes—or in the case of the 1999 Ryder Cup, red, khaki and framed black-and-white photos—is enough to conjure national pride and a rooting interest.
A team event that means something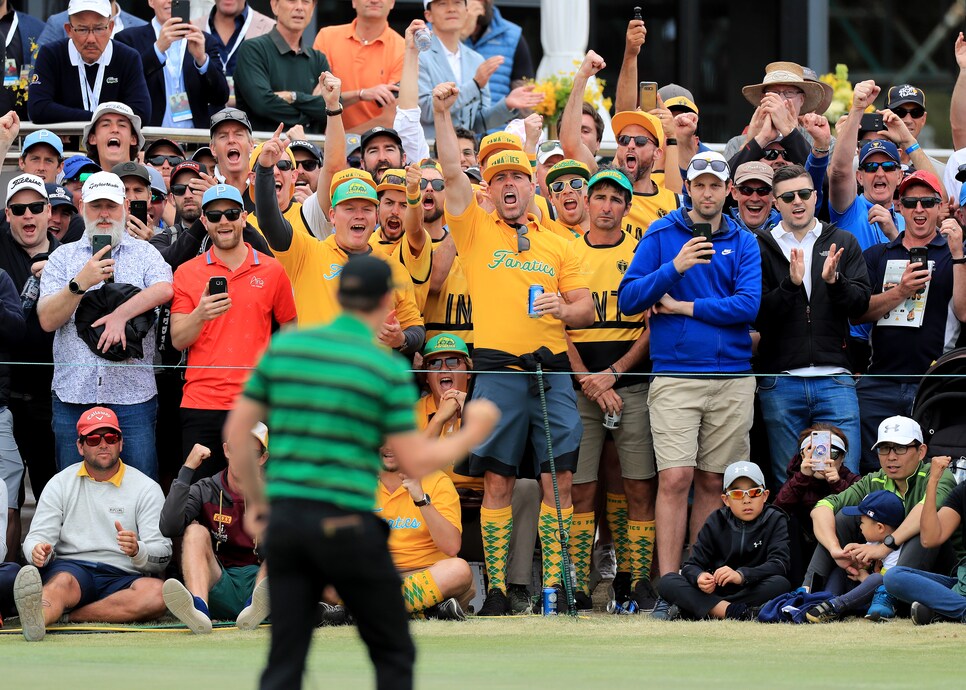 The Australian "Fanatics" fans react as Cam Smith holes a putt to win his match on the 17th hole against Justin Thomas during the final day singles matches in the 2019 Presidents Cup.
David Cannon
LIV Golf sees its team dynamic as the engine that gives the circuit staying power. Only, at least at the LIV event in New Jersey, the fans didn't seem to grasp what was going on, seemingly not knowing team names, let alone who was on those teams. The Presidents Cup team element is straightforward—the United States vs. the World, except for Great Britain, Ireland and Europe. Unlike LIV there is no money involved, although that's the point: What is on the line can't be bought.
Few golf course projects had more national attention in recent years than Quail Hollow, mainly because its front nine was redesigned just a year before it hosted the 2017 PGA Championship, won by Justin Thomas. The par-4 first and par-3 second holes were completely torn up, replaced by a new long dogleg-right par-4 opening hole. Several acres of pines to the left of the fifth tee were removed to make room for a new par-3 fourth. (With its knobby green fronted by three traps, it proved to be the most frustrating hole for pros in the 2017 PGA.) More pines were removed to the left of the par-4 11th, replaced by bunkers, and even more trees chopped down on a hill left of the par-4 18th to make room for money-making hospitality boxes. There's no question that this latest remodeling, rushed though it was, improved the course. The course was also rerouted for the 2022 Presidents Cup.
View Course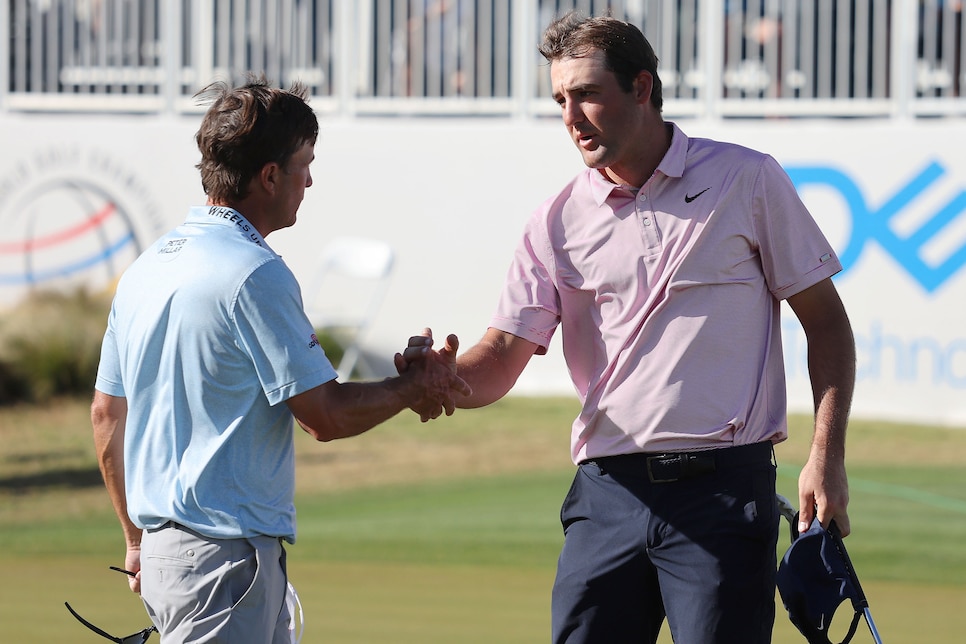 Scottie Scheffler shakes hands with Kevin Kisner after winning 4 and 3 in the fnials to capture the 2022 WGC-Match Play.
Gregory Shamus
It's the best. Match play is simultaneously the most intellectually stimulating rendition of the game and a character-revealing cauldron with a visercial dimension that stroke play usually lacks. Really, the pinnacle of stroke play is when it becomes a version of match play … which is why broadcasters trip over themselves whenever a tournament has glimpses of becoming "a match play situation."
There's a premium on shotmaking and strategy, on fortitude and conflict, in an environment where every match, every hole and every shot can boost or dent a player's legacy. Also, vagaries. Tons of vagaries. That we only get this format one other time on the calendar is a crime.
Mentioned above, Americans love pulling for their fellow Americans, no matter the arena. But America also loves an underdog, and boy, are these Internationals underdogs. For context the United States has 10 of the top 16 players in the world on its roster, which could have been 11 had Will Zalatoris been healthy. The Internationals … well, their highest-ranked player is Hideki Matsuyama (17th) and they boast eight Presidents Cup rookies on their roster.
The case has been made that the future validity of this event would be boosted by an International victory, and though we don't necessarily disagree, rooting for the away team can be distilled to the notion that underdogs serve as the undercurrent of the sports-viewing experience. Be it schrendfraude or a sense of justice in an unjust world, pulling for the little guy feels good, and this sense is so powerful it makes the slog of college basketball appealing for three weeks every spring.
While we don't presume the crowds in Charlotte this week will turn on the Americans like the Russians did to Ivan Drago in "Rocky IV" (although we won't be upset if that happens and Sungjae Im recites Rocky's "If I can change, youse can change" speech that ended the Cold War). But to those at home, an American defeat won't sting.
Golf betting is hard. It can make the smart look dumb, turn the happy-go-lucky into mean SOBs, the sane into doings things like dropping $100 on Patrick Rodgers at 170-1 at the Players Championship because while he hasn't won in his previous 201 starts, the 202nd is the charm. But the Presidents Cup is a one-on-one matchup that can be broken down by event or day or session. There are the head-to-head pairings which give you an emotional investment in each match, and the props (like highest individual scorer from a team, captain's pick, etc.) are fun too. Make no mistake, you're still going to lose money, because, you know, it's gambling … but at least you'll have some confidence that you won't!
Poorly executed celebrations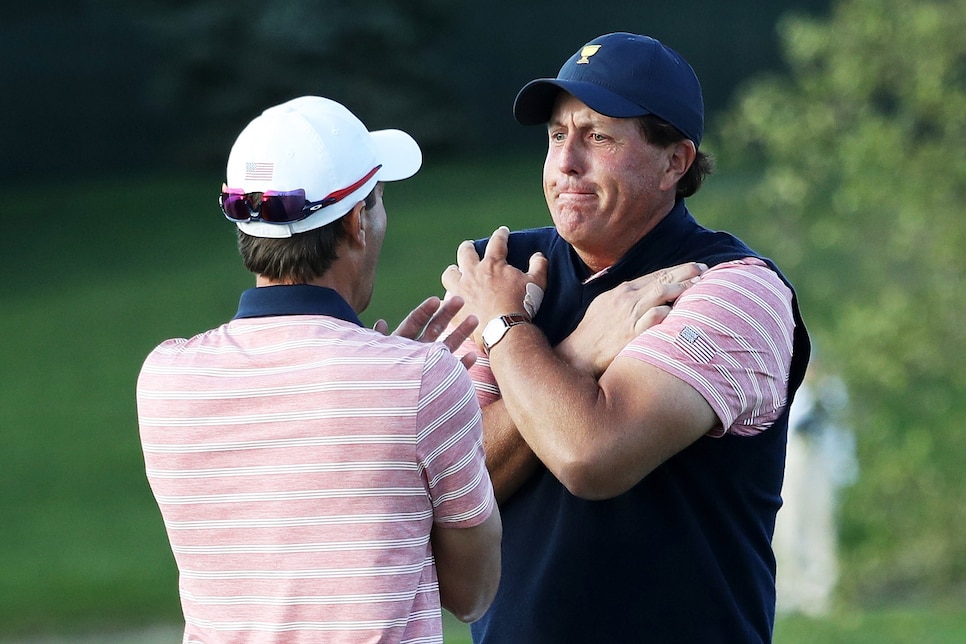 This is the one time on the calendar when it's OK to lose your cool and play to the crowds. Unfortunately those displays are not innate to most golfers, leading to infinite botched high fives and performative celebrations that are so stilted they belong in a "Real Housewives" reunion show. (It's taken years of therapy to get the Kevin Kisner-Phil Mickelson three amigos dance from the '17 match out of our heads.) These moments are both entertaining and humanizing, as it's the rare sight of professional golfers looking like the rest of us schmucks.
The Presidents Cup—more specifically, the folks behind it—abhor the idea that the match acts as a testing site or stepping stone for the Ryder Cup. That doesn't make it any less true, and embracing that truth could unlock some of the Presidents Cup's untapped potential.
This week that means a baptism by fire for the likes of Cameron Young, Max Homa and Sam Burns, all three candidates for next year's battle against Team Europe in Rome. It gives more reps to the Xander Schauffele-Patrick Cantlay front, to see if Scottie Scheffler can build off of last year's stellar debut at Whistling Straits, and allows Justin Thomas to solidify his standing at the team's heart and soul. Plus, those ridiculous Spieth saves always seem to mean a little more in match play. The look on opponents' faces when they think he or his pairing is out of it, only to watch Spieth do Spieth things, is a mix of righteous indignation and befuddled amusement.
The final congregation of stars
For a meaningful event, that is (sorry, Hero World Challenge). Individually, most of those gathered at Quail Hollow will play an event or two this autumn, yet the cluster of star power won't match this. And let's be honest, once October hits—with baseball's postseason in swing and college football powerhouses no longer playing Little Sisters of the Poor—even the most zealous of golf fans need a break. Factor in that this year might have been the most draining golf year since, well, ever, the Presidents Cup is a solid coda to a tumultuous campaign.


MORE PRESIDENTS CUP 2022 STORIES FROM GOLF DIGEST