CHARLOTTE — The Ryder Cup wasn't played from 1939 through 1945 due to World War II, and the truth is, there was absolutely no reason for it to come back. There was nothing wrong with event, per se, but it had only begun in 1927, and the nascent enterprise didn't have a ton of traction in the world of professional golf through its first six matches. Miraculously it was resuscitated by a grocery executive from Oregon, Robert Hudson, who learned that the British PGA and most of Great Britain was broke after a long, devastating war, and paid for everything, from travel to food to lodging, to have them come to Portland in 1947. He even met the British team in New York to throw a party for them at the Waldorf Astoria and travel with them by train to the west coast. If not for him, the Ryder Cup might have simply been forgotten.
Fast forward 30 years. Between Hudson's Ryder Cup in Portland and the '77 event at Royal Lytham & St. Anne's, the Americans won or retained the Cup an astounding 15 of 16 times. "Lopsided" doesn't begin to describe it. Tom Weiskopf opted out of the '77 Cup because he wanted to hunt bighorn sheep, which sounds like a funny historical footnote except for what it said about the stature of the event. It took Jack Nicklaus and British PGA president Lord Derby to insist on expanding the British and Irish team to all of Europe, and even so, after two more blowouts, it was one lost sponsor away from going under in 1982. Then Tony Jacklin took over as captain, the Europeans rose from the dead, and almost overnight this match-play exhibition, which had limped along for more than half a century, always seemingly about to collapse without much sound or fury, became one of the greatest institutions in golf.
If you'll pardon the extended history lesson, there's a point here: It took 60 years for the Ryder Cup to become transcendent, and the Presidents Cup, which is not yet 30 years old, is also going to be great. We just need to stop worrying and put our faith in father time.
It's really that simple, but patience is tough for us to collectively summon in the TV/digital age, when there's a subconscious need for an institution to succeed immediately or get hand-wrung straight to the guillotine. It's probably true that global men's golf has developed a bit more slowly than the PGA Tour first expected when the Presidents Cup was launched in 1994, and the influx of new talent has been slower to arrive. It's also true that the global game is greater than ever before, and it doesn't take a genius to predict that the historical trend will continue.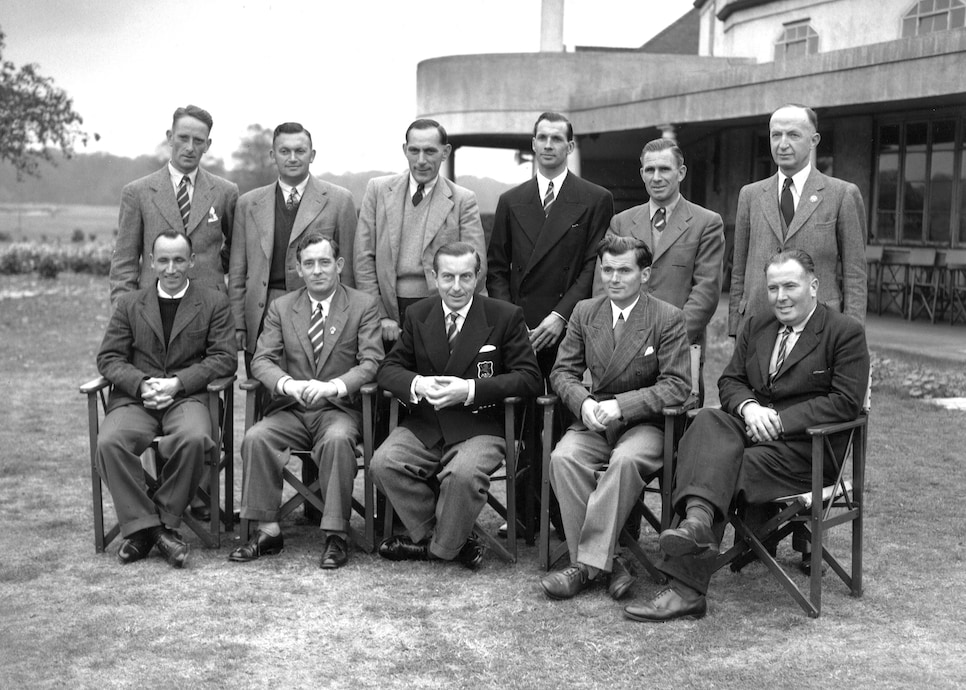 The Great Britain Ryder Cup team in 1947 had no idea the event would eventual take off the way it did.
The Ryder Cup parallel is almost perfect; one team is clearly superior (the gaudy American record is 11-1-1), and the talent pool doesn't seem to exist to the same degree on the other side. But there are already so many signs of change; the International team can't "expand" in the way the British expanded to all of Europe, but the increasing prominence of golf looks like an expansion anyway. Where the first team in '94 had seven players from Oceania, four from the two golfing African nations, and just one from Japan, the 2019 team had five Asian players from four countries, two from Latin America, a Canadian, three Aussies, and a South African. Plus, look at the scores; the last two Presidents Cups hosted by the Internationals were nail-biters that could easily have gone against the Americans. At the same time, a new International Team identity is slowly being formed, Ernie Els in '19 was the first captain to treat his role with the requisite seriousness, and Trevor Immelman seems to be following in his footsteps. The worm is turning, even if it's turning slowly.
This year's Presidents Cup at Quail Hollow will almost certainly be an easy victory for the U.S. Its captaincy system is extremely efficient, and the players are somehow both young and experienced, not to mention the toll LIV Golf has taken on the Internationals. A lopsided outcome will hasten the calls to either get rid of the Presidents Cup or force it through some dramatic format change. But what if instead we just enjoyed the competition and consoled ourselves with the idea that these matches are already getting tighter on the road, and will almost certainly be fantastic within the space of 10-20 years? That may seem like a long time, but viewed historically, it's practically tomorrow.
The Ryder Cup should have died several times, and it took the extraordinary energy and vision of certain individuals to ensure that it staggered on until the point at which it became unstoppable. Sure, LIV Golf has at least temporarily gutted the International team, but so what? It may not last very long, and even if it does, match-play team events are no stranger to huge upsets. It's not very likely that anything will trouble the Americans this year in Charlotte, but imagine if the Internationals make a run? What a great upset story that would be. That kind of narrative is in play every single year, and will be until parity is established. In other words, it's fun even when we think we know the outcome.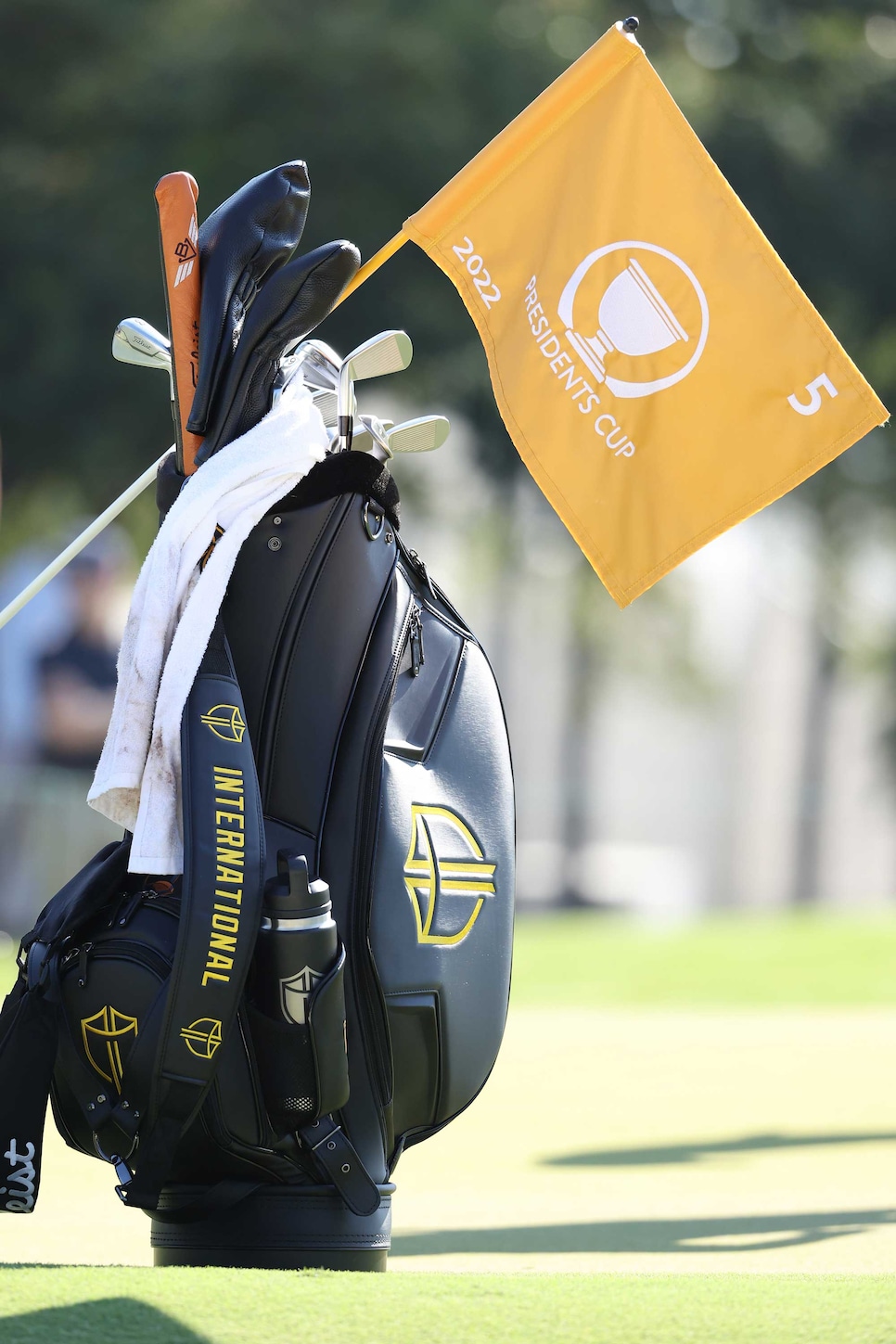 Patience is needed for the International team to catch up and content in the matches.
Warren Little
So why are so many people so insistent on giving it the Julius Caesar knives-out treatment? It's not detracting from anything else even now—would we really prefer whatever late-September filler event would replace it on the various world tour calendars?. And if we can just chill out and take some comfort from history, the day will come when we look forward to the Presidents Cup with the same anticipation we feel on Thursday night of Ryder Cup week.
If that sounds too crazy to believe, just imagine what a British player in 1947 might have thought if, while riding by train through the American prairies to play in a forgotten exhibition resurrected by an Oregon grocer after a crushing global war, he could have seen the spectacle of a modern Ryder Cup. Compared to that, what does a bit of patience cost us?