Few golfers owned a more majestic and universally admired swing than Tom Weiskopf. It was both a blessing and a burden. Maybe the outspoken Ohioan didn't win as much as some thought he should have—including himself. Still, Weiskopf, who died Saturday afternoon at age 79 from pancreatic cancer, enjoyed a full golf life that included a career as a successful golf course designer and television broadcaster in addition to being a major champion.
"Tom was a tremendous player and competitor, and he was one of the great storytellers in our game. He was wonderful to be around," said eight-time major champion Tom Watson, who was first to publicly report on Weiskopf's passing in a Twitter post Sunday morning. "He knew a lot about the game. He had a passion for it. That was apparent throughout his life."
The news hit Watson, 72, particularly hard. After Weiskopf was diagnosed in late 2020, he had reached out to Watson, whose wife Hillary had been stricken with the same disease and died in 2019. "They were on the same protocol," Watson told Golf Digest somberly on Sunday. "Pancreatic cancer is just so lethal."
Weiskopf died slightly more than a year after undergoing Whipple surgery for his cancer, which at the time was deemed successful and had allowed him to return to a limited amount of course design work. Laurie Weiskopf said her husband was declared cancer free late last year, but the disease came roaring back in April.
"He really fought it for a long, long time, and he did so bravely," Laurie said. "It was a shock, but not a surprise."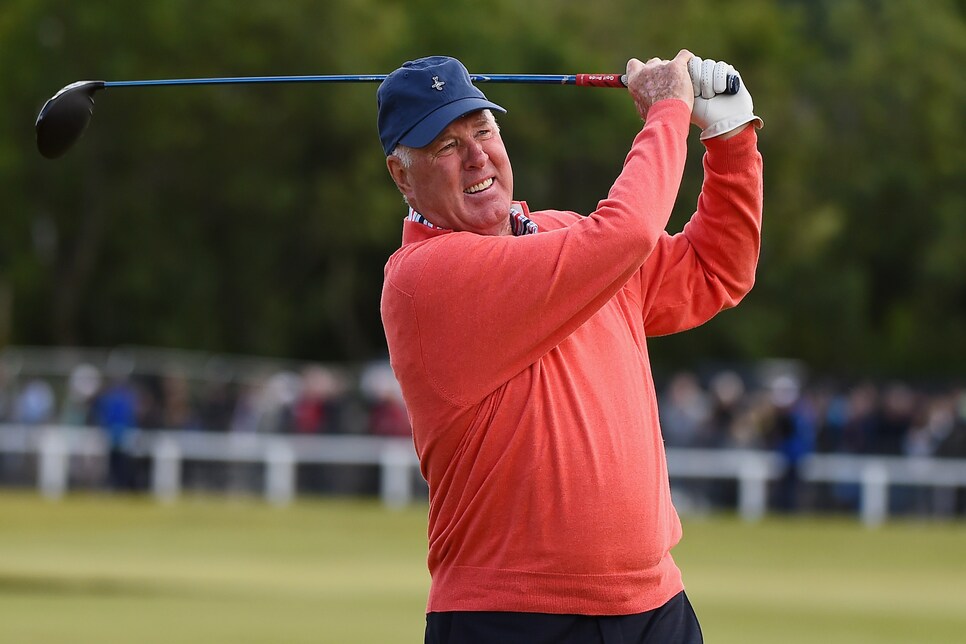 Weiskopf swings during the Champion Golfers' Challenge ahead of the 2015 Open Championship at St. Andrews.
Ian Walton/R&A
A native of Massillon, Ohio, and a standout at Ohio State University in the years after Jack Nicklaus starred for the Buckeyes and captured an NCAA individual title, Weiskopf won 16 times on the PGA Tour between 1968 and '82. The highlight came in 1973, when he claimed his lone major title in the Open Championship at Troon. Weiskopf won wire to wire, defeating reigning U.S. Open champion Johnny Miller and Neil Coles by three strokes.
The son of a railroad worker, Weiskopf captured another four titles on the PGA Tour Champions, including the 1995 U.S. Senior Open at Congressional Country Club, beating Nicklaus by four shots.
With a lanky 6-foot-3 frame, Weiskopf was long known to have one of the most rhythmic and picturesque swings. He also was long known to have a fiery temper, which earned him the nickname, "The Towering Inferno." The combination produced impressive results, but only mixed success in major championships. At the Masters, he finished second four times, the most of any player to never claim a green jacket. In 71 major starts he posted 21 top-10 finishes and 12 in the top-five.
"I definitely was over par for my career," Weiskopf told Golf Digest colleague John Huggan in 2010. "Even par would have been three majors and twice as many regular tour wins. I have to admit that. I've always been honest with myself."
Because of their common Ohio roots, the man he was most often measured against was Nicklaus. It was a standard that no other player of that generation could necessarily match, creating unfair comparisons. Weiskopf aptly described the challenge of going up against the 18-time major winner, saying: "Jack knew he was going to beat you. You knew Jack was going to beat you. And Jack knew you knew he was going to beat you."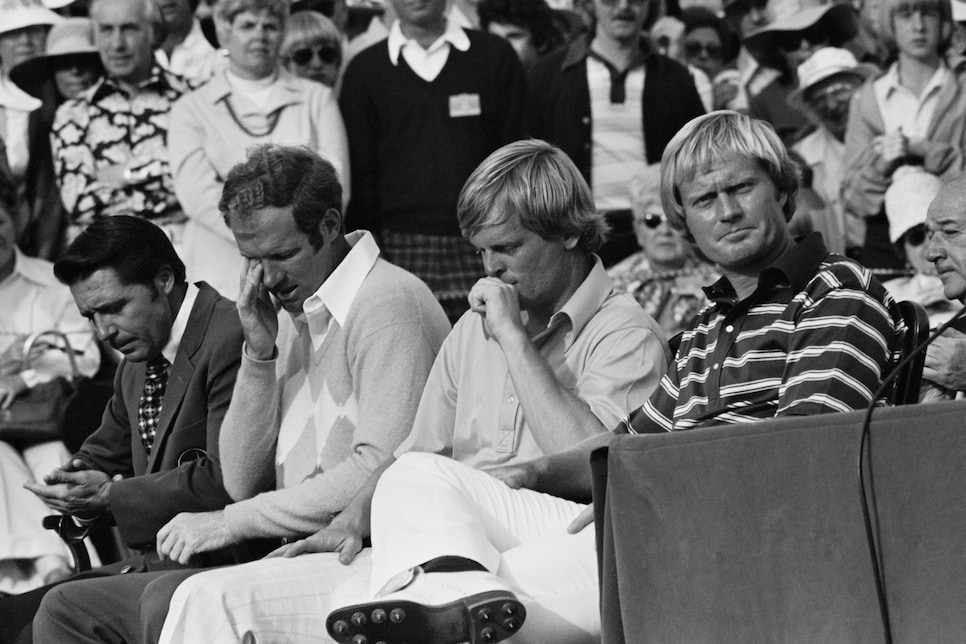 Weiskopf was a four-time runner-up at the Masters, including a T-2 finish behind Jack Nicklaus in 1975.
Bettmann
"Tom was a good friend and one heck of a player, one of the four or five most talented players I've ever seen, one of the top five ball-strikers I've ever known," Nicklaus said by phone on Sunday. "That tall straight posture that he had, just so natural over the ball."
Nicklaus, three years older than Weiskopf, said he didn't get to know Weiskopf well at Ohio State, but became friends when they played on the tour. "I know he always felt like he was sort of in my shadow because he followed me at Ohio State, and he shouldn't have felt that way," Nicklaus said. "He was a great player in his own right. He was impressive."
In all, Weiskopf collected 28 professional wins, and he qualified for the U.S. Ryder Cup team three times, but only played for the U.S. twice, going 7-2-1. He skipped the 1977 matches to go sheep hunting, one of his great passions. After his Whipple surgery, one of his first goals was to be ready for hunting season in the fall.
Weiskopf transitioned to golf course design in the mid-1980s, partnering with Jay Morrish, a protégé of Nicklaus', for much of his career on some 70 courses, including Troon North, TPC Scottsdale, Double Eagle Club and Loch Lomond in Scotland. His design work received praise from players, fans and media. Here's how Golf Digest architecture editor Ron Whitten described Weiskopf's designs in 2020:
"They're crisp and clean and timeless. They're subtle, not overwhelming. They're neither wedded to the past or reinventing the game for the future. I know some critics sneer that Tom's work is predictable. I prefer the term reliable, designs that provide an honest day's return for an honest effort at golf.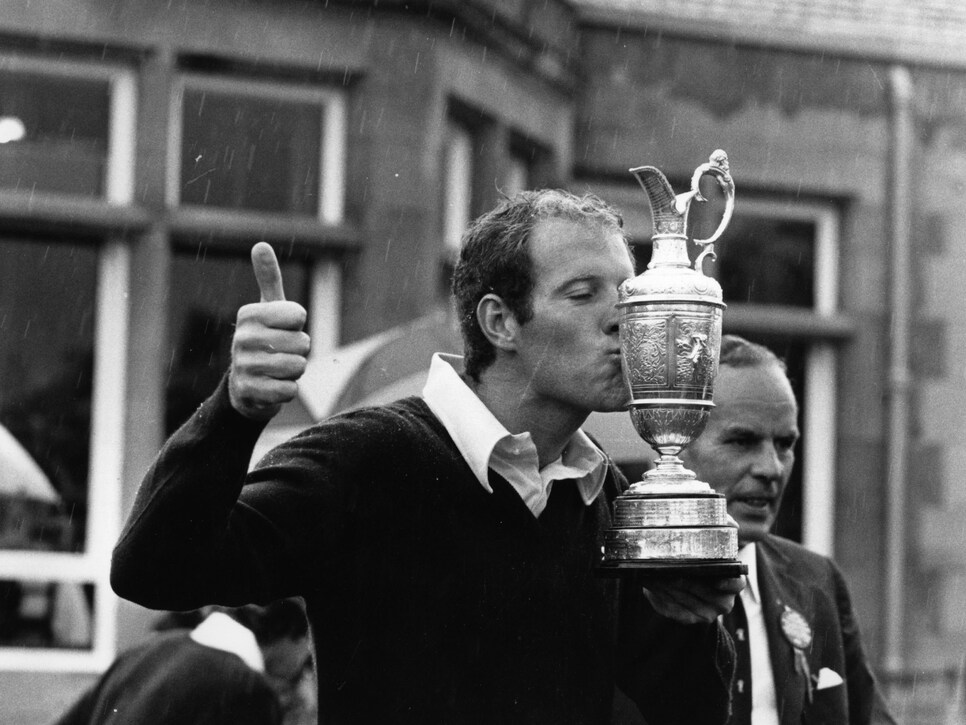 Weiskopf's signature playing moment came in 1973 when he won the Open Championship at Royal Troon.
Arthur Jones
His knowledge of the game and his candor also served him well as a broadcaster for CBS, ABC and ESPN. He was on the call for the Masters in 1981 and from 1985 to 1995.
During the 1986 Masters, as Nicklaus rallied to his sixth green jacket, Weiskopf was asked by Jim Nantz what might be going through the Golden Bear's mind as he stood on the tee at the par-3 16th tee. Weiskopf replied with one of the greatest quips in golf broadcasting history, saying, "If I knew the way he thought, I would have won this tournament."
Few remember that Weiskopf then said Nicklaus "is going to fire this at this pin. He's going to think, 'Jack, this is the time right now. Make the swing that you are capable of making.' " And Nicklaus proceeded to nearly make an ace, the ball skirting just past the cup before stopping three feet away.
In a phone interview last summer, Weiskopf summarized his relationship—and eventual contentment—with the game.
"Golf, to me, was always such a great challenge of the mind, and there were times I wish I had handled that challenge a little better," Weiskopf said. "But I love the game. I love talking about it and thinking about it and to me it is endlessly fascinating."