News
Tom Weiskopf's desperate hours trapped in a bog
From the archive (October 1995): For years he wouldn't talk about the experience at Loch Lomond that put his career in perspective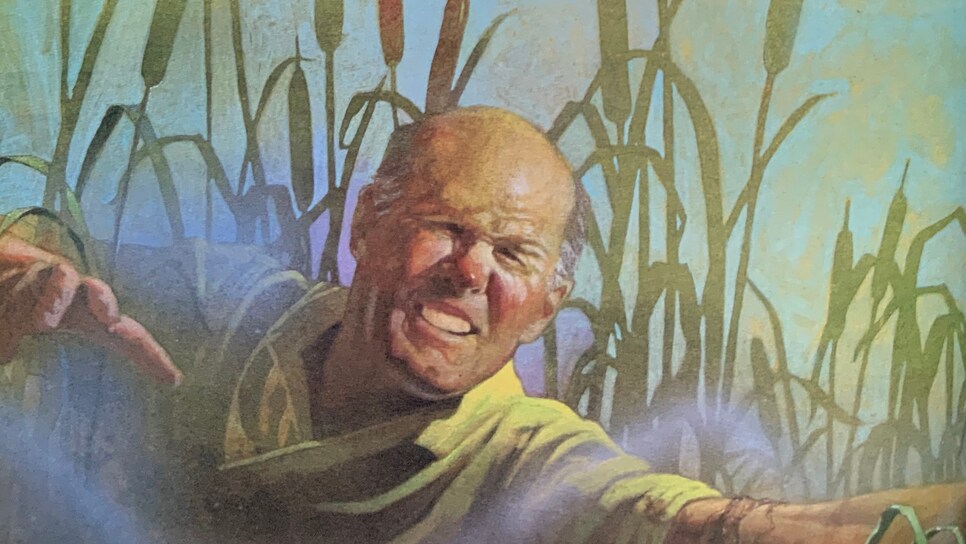 Editor's note: In celebration of Golf Digest's 70th anniversary, we're revisiting the best literature and journalism we've ever published. Catch up on earlier installments.
Tom Weiskopf of Columbus, Ohio, and Ohio State had the misfortune of playing in the same picture frame as Jack Nicklaus. He was Spyglass Hill to Jack's Pebble Beach. Against the backdrop of Jack's six Masters, Tom had four second-place finishes and no wins. Compared to Jack's four U.S. Open victories, Tom had a second, a third and two fourths—no wins. Save for Tom's victory in the 1973 Open Championship at Troon—Jack won three Opens—Weiskopf's career was a cruel and redundant roll call of near misses in the tournaments he wanted to win most.
With Weiskopf, now 77, there was always something, usually Nicklaus, waiting to break his heart. At the 1980 U.S. Open at Baltusrol, Weiskopf had just tied the 18-hole U.S. Open scoring record with a 63. He was in the clubhouse accepting congratulations when word came in: Someone had just tied his 63.
"Who was it?" Weiskopf asked.
"Nicklaus," a reporter said, and Tom, already sensing whom the culprit would be, was staring at his shoes when he heard the name.
Even the U.S. Senior Open was a nightmare. At Cherry Hills in 1993, Weiskopf was the leader in the clubhouse when Nicklaus overtook him and won by one. Their exchange in the clubhouse reportedly went like this:
Weiskopf: "Congratulations, Jack. I couldn't have played any better."
Nicklaus: "I played like crap."
After 20 years of this sort of thing, Weiskopf stole the show with a heroic victory in the 1995 U.S. Senior Open at Congressional Country Club, beating his old nemesis by four strokes. Everyone wondered where Weiskopf had gotten the strength.
The answer, which Weiskopf presaged in a 1991 interview with Golf Digest, is that he responds to personal tragedies. When his father died of cancer in 1973, Weiskopf responded by winning five of the of next eight tournaments he played, including that Open in Scotland. When his old golf coach at Ohio State, Bob Kepler, died in 1975, Weiskopf played well again. When his best friend, Bert Yancey, died in Park City, Utah, in 1994, Weiskopf won that very week, saying he felt Yancey's presence.
Crises motivate Weiskopf. There was one close call that he kept to himself for years, but it might have tapped into an inner strength at the Senior Open. In October 1995, Tom worked with Senior Writer Guy Yocom to produce this riveting tale.
The summer sun rises early in Scotland, and at 4 a.m. on a perfect June morning, Weiskopf awoke to see the sky already light. He could not go back to sleep. This happened often. Sometimes he would jerk upright in his bed as early as 3 a.m., always from a golf dream that followed the same pattern. There would be a golf course Weiskopf was designing, and one of the holes would somehow seem out of balance and beyond his ability to repair. That particular morning, Weiskopf was dreaming of the 14th hole at Loch Lomond Golf Club.
Set hard by the midnight-blue waters of the lake, on deep-green lowland terrain dominated by a huge manor and several stone cottages, the tract chosen for the Loch Lomond course was the choicest in Scotland. Weiskopf was inspired by it, and after months of trying, he emerged with a design that was as flawless as any his creative mind had devised. Of the 20 or so courses designed by Weiskopf and his partner, Jay Morrish, Loch Lomond would someday rate as their best. Weiskopf felt sure of it.
With construction near completion, Weiskopf was irked by that 14th hole, a short par 4 with a split fairway. Weiskopf was troubled by the location of the green. Maybe he should shift it a little to the right.
Weiskopf the architect has always been a perfectionist, and the specter of the 14th hole wouldn't go away even when he was awake. When he had that dream at 4 a.m., he decided to resolve the problem then and there. He arose from his bed in the little garden cottage on the Loch Lomond property, taking care not to waken his wife, Jeanne. He ate a bowl of cereal, donned some jeans and a pair of knee-high Wellington boots and lit out for the problem hole. He didn't leave Jeanne a note because he intended to be gone less than an hour.
Weiskopf walked up the graded area designed for the 14th fairway, toward the green. He stopped intermittently, eyeing the green location carefully. Finally he arrived at the green. He decided it was fine after all.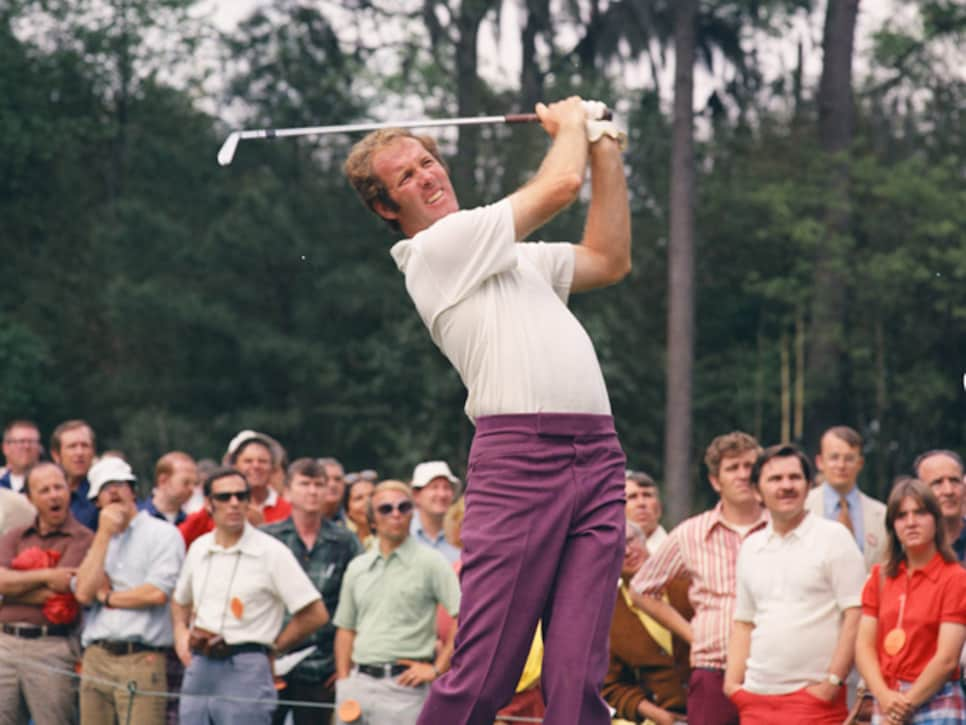 Just short of the green location was a skinny stream flanked by coarse, chest-high grass. Having crossed the stream to get to the green, Weiskopf would have to leap back across it to get back to the fairway. He paused as a mother mallard and her ducklings splashed past him down the stream, then prepared to make the jump. He reared back and bounded as high as he could.
Splat. Weiskopf cleared the stream but landed in oily black mud just on the other side. He immediately sank almost to the tops of his boots, and he looked down in disgust. Quickly, he endeavored to take a giant step forward, but when he unsheathed his right leg from the mud, his left leg sank in past the knee. Beautiful, he thought. And then he replaced his right leg to its former location, to gain a solid purchase for another try.
He sank up to his thighs.
Weiskopf felt a sucking action about his legs. Startled and confused, he reacted by struggling hard to escape from the mud.
Now full panic set in. He began thrashing maniacally, and only sank deeper. He was up to his chest now, and the full import of the situation filled him with a terror he had never known: I'm in a peat bog! A few months earlier, one of these innocent-looking morasses common in the Scottish lowlands had swallowed a bulldozer that ventured off firm ground. Weiskopf's construction crew had lost a backhoe, too. The bulldozer took three hours to sink, and when the great machine finally disappeared, the surface of the bog had returned to normal within minutes. It was as if nothing had happened.
Weiskopf's head swam. Inanely, he remembered reading about "Pete Marsh," a 2,000-year-old corpse exhumed by laborers during construction of a road through a dried peat bog. He was amused when he read about Pete Marsh. Scientists knew what he had to eat for breakfast. Now Weiskopf thought of Jeanne, his two children, and the prospect of dying.
He began screaming but stopped when he realized it was 5:30 a.m., and the nearest soul was half a mile away and fast asleep. Some workers would arrive in two hours—on the front nine, out of earshot. Weiskopf panicked some more and fought harder. He was in almost up to his armpits. Suddenly he began to calm down. He noticed that when he let his body go limp and motionless, he stopped sinking. Take your time, he told himself. Think.
Weiskopf instinctively spread his legs as far apart as he could and stretched his arms out wide. He reached forward slowly and clutched at the tall, coarse grass, which slashed his hands and made them bleed. He wasn't sinking, but he was tiring fast. How much longer could he last?
Concentrating furiously, Weiskopf groped with his bloodied hands through the thick grass, searching for something more stable to hold onto. His hand found something hard and sturdy: a tree branch. He squeezed it hard and pulled with all his strength. He moved forward an inch.
So began Weiskopf's real fight for survival. He would pull himself forward an inch, rest for 10 minutes, then pull again. The struggle went on and on, his sweat trickling into his eyes and burning them while, simultaneously, his lower body was chilled by the bog. Finally, mustering his last bit of strength, he pulled himself onto the far bank and lay there, heaving, yet otherwise motionless. He had been in the bog for more than four hours.
When Weiskopf recovered sufficiently to sit upright, he noticed he was wearing only his shirt and underwear. In the struggle against the sucking action of the bog, he had lost his boots, socks and belted jeans. His mind too addled to care, he rose and stumbled back to the cottage, trembling the whole way.
"What in hell ... where have YOU been?" Jeanne asked when she saw her mud-caked husband.
"Just out looking at the 14th hole," Weiskopf answered, not wanting to frighten her with the truth. He saw her wide eyes and smiled weakly. "I got stuck out there for a minute." He then walked quickly to the shower and slowly washed himself. Then he stumbled into bed and slept for 10 hours.
Later, friends who were locals told Weiskopf how lucky he was. Many people over the years had hiked into unexplored areas and never returned. "The bogs got them," they said, and the bodies were never found. Weiskopf listened and was embarrassed, for he was an experienced hunter and had violated one of the great common-sense rules for venturing into the wilderness: Always tell someone where you're going.
When Weiskopf came down the back nine at the U.S. Senior Open, he no longer felt cursed. He was alive and healthy. What was the worst that could happen? Lose to Nicklaus again? The thought had to almost make him laugh. It might have occurred to him there were no bogs at Congressional. He parred in and won, killing those alligators once and for all.