PNC Championship
5 intriguing teams to watch beyond Tiger and Charlie Woods in the PNC Championship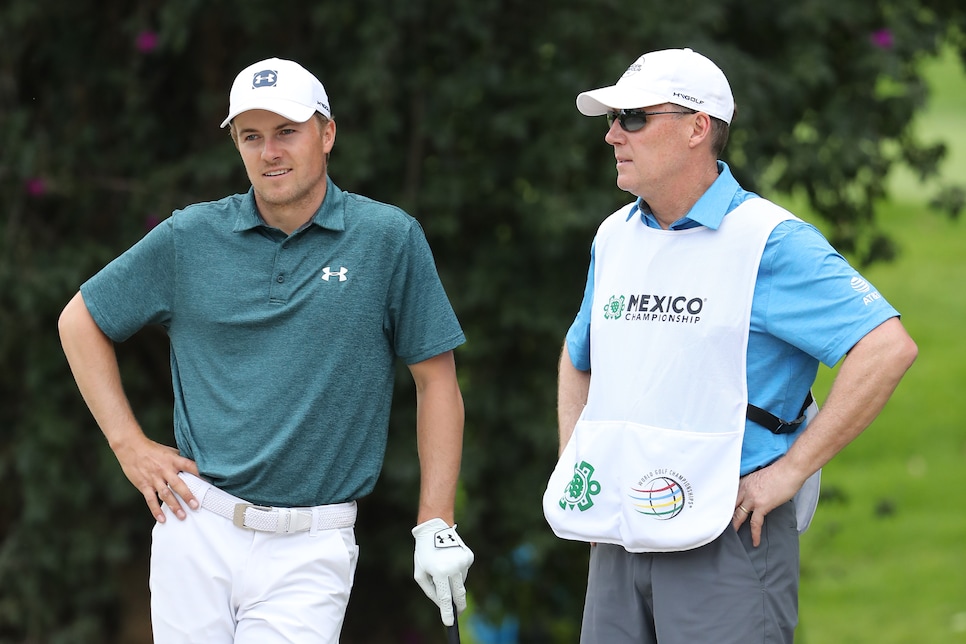 Jordan Spieth stands on the first green with his dad and caddie Shawn Spieth during the second round of 2019 WGC-Mexico Championship.
David Cannon
It's already been a very, very good few days for Will McGee, the 11-year-old son of Annika Sorenstam and Mike McGee. On Saturday night, with Mom making the introduction, Will met Tiger Woods for the first time before The Match.
Later this week comes another experience that Will is never going to forget. This time, he'll be on the same course, in the same tournament with Tiger and his 13-year-old son, Charlie, as Will and his mom combine to compete for the first time in the PNC Championship in Orlando.
Once a father-and-son outing until Sorenstam played with her father in 2019, the event staged officially by the PGA Tour Champions, has nicely evolved to include female players. This year the women are represented by Sorenstam and LPGA star Nelly Korda, the World No. 2 who returns for another appearance with her father, Petr.
There are 20 teams total that will compete over 36 holes on Saturday and Sunday in the two-person scramble at the Ritz-Carlton Golf Club. As always, much of the attention will be focused on Team Woods, with Tiger and Charlie making their third appearance and coming off a runner-up finish last year when they produced a stunning Sunday round that included 11 consecutive birdies. They lost by two shots to John Daly and his son, John II, who set a tournament record by shooting 27-under 117.
Tiger Woods, of course, is coming off his appearance in The Match after he had to withdraw from his own Hero World Challenge because of plantar fasciitis. Woods looked considerably hobbled while playing with Rory McIlroy in their loss to Jordan Spieth and Justin Thomas under the lights, and it remains to be seen if he and Charlie can be much of a factor this time around.
There are plenty of other teams to watch, and here are a few we're looking forward to seeing.
Mom is a Hall of Famer and one of the most talented women ever to play the game, and it sounds as if her son is as golf-obsessed as she is.
"It's insane how excited he is," Sorenstam said of Will in an interview with GolfChannel.com in November. "We were there [at The Ritz-Carlton Golf Club] before Thanksgiving playing and we were on the putting green and he's like, 'Mommy, in a few weeks I'll be putting with Justin Thomas and Jordan Spieth.' He's a golf nut, he's a golf fan, he watches everything, and for him to be part of this event and his name is in a press release with Tiger, it's his dream. And what a dream right? And I'm just proud to be a part of it with him."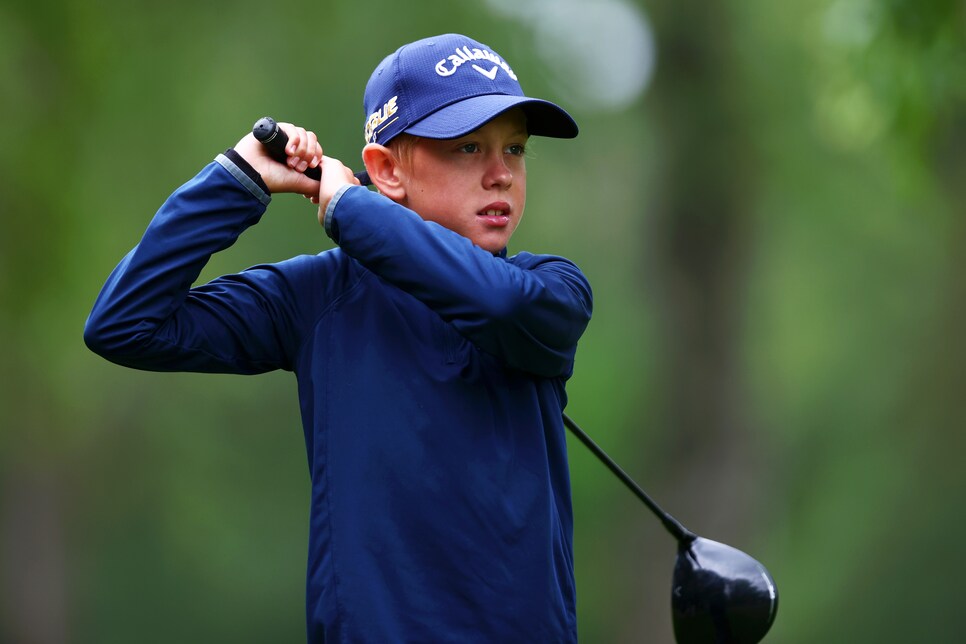 Annika Sorenstam's son Will McGee practices for the pro-am for the 2022 Volvo Car Scandinavian Mixed.
Naomi Baker
At 11, Will is the same age as Charlie Woods when the latter first played in the PNC, and it was seeing Charlie on TV that got Will begging his mom to give him a shot.
"I just want him to have a good time and just kind of think of what golf has meant to us," Sorenstam told Orlando's local Fox affiliate, WOFL 35. "We know what we're capable of; it's gonna be hard to beat all of them, but to us, it's a lot more than the score.
"If you want to inspire somebody, if you want to motivate somebody, this is it," Sorenstam added.
"I'm just really excited to be able to play in a tournament with all these professionals that have won many majors," Will said in the interview with WOFL 35. "And then just have fun with my mom."
Will was asked if his mom gives him tips, and he didn't hold back with a bit of a needle for her. "She gives me good advice," he said, "but I don't listen most of the time."
Will, who competed in his first U.S. Kids World Championship in August, made headlines early in the summer when the family was at Pinehurst in North Carolina while Annika competed in the U.S. Women's Open at Pine Needles. On a trip to Pinehurst's The Cradle par-3 course, Will aced the 50-yard fifth hole.
"We called him 'Ace' last night," Sorenstam told reporters. "That was his nickname, and every time we said 'Ace' he lit up."
This will be the first appearance for 13-time PGA Tour winner Jordan Spieth in the PNC, and he's playing alongside his dad, Shawn, a former college baseball player at Lehigh. Shawn has an MBA and is the CEO of MVPIndex, which analyzes athletes and their presence on social media; it's a metric that has been used by the PGA Tour as part of the formula for its Player Impact Program.
Shawn also has been called upon to caddie for Jordan on occasion. His most recent duty came in the 2020 Zozo Championship at Sherwood Country Club, where Dad committed a bit of a looper's faux paus. (Jordan's usual caddie, Michael Greller, was taking leave after his mother died.)
As Jordan told it at the time:
"It was funny … I'm stepping into the ball, and he goes, 'Just don't overdo it.'
"I step back, step back in. I'm like, 'Dad, there's only really like one or two things you just can't do and that's just don't say not to hit it somewhere while I'm stepping into the shot.'
"He goes, 'Well, you know, you did it on No. 11, so I didn't want you to do it on 13.'
"I'm like, 'I didn't overdo it.'"
As Greller knows, Jordan gets the last word, of course, and he striped the tee shot and made a solid par.
The close ties between Justin and his dad, Mike, on and off the course are well-documented, and this PNC has to be quite a bit sweeter for the PGA teaching professional father to play alongside the reigning PGA champion.
Knowing how competitive these two are, this is not a hits-and-giggles occasion for them. They won in their PNC debut in 2020 with a 25-under total, and it marked a milestone for the event: the first time the winning father was not a tour player. Last year, the Thomases shot 60-60 and finished T-3 with Team Cink, only three shots back of the Dalys.
This is another duo that comes to win. The ageless Bernhard Langer—65 and winner of 44 senior events—and son Jason have captured the PNC twice (in 2014 and '19) after Dad won back-to-back titles with another son, Stefan, in 2005-06.
Jason Langer, 22, played his college golf at Penn and doesn't have aspirations to follow his dad into professional golf. He did produce one of the greatest holes of his life in the '19 PNC when he lashed a 270-yard 3-wood to 16 feet and made the putt to give his team the lead en route to the win. ""I've seen clutch shots in majors and Ryder Cups, all over the place. For our family it doesn't get much better than that one," said Bernhard, a two-time Masters champion.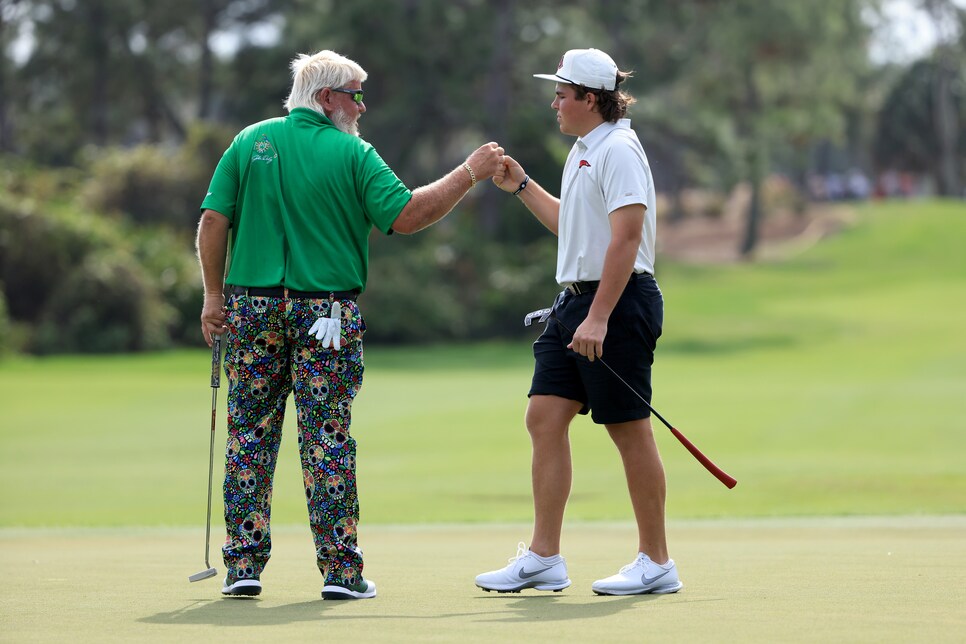 John Daly and John Daly II celebrate a birdie on the third hole during the final round of the PNC Championship.
Sam Greenwood
The Dalys have played the event since the former "Little John" was just 12 years old, and they finally got their breakthrough win last year. After Dad messed up their first round with awful putting, the two got on a roll on Sunday, making 13 birdies and an eagle in shooting 15-under 57 and setting the tournament record at 27 under.
"Every year we always try and win, but this was the year we just enjoyed it and being here playing with him in the holidays," John II said. "I guess that's what happens, when you win."
John II is in his second year at his dad's alma mater, Arkansas, but has yet to crack the starting lineup. He'll never get benched by his Pops.