Family Affair
At long last, Team Daly comes out on top at the PNC Championship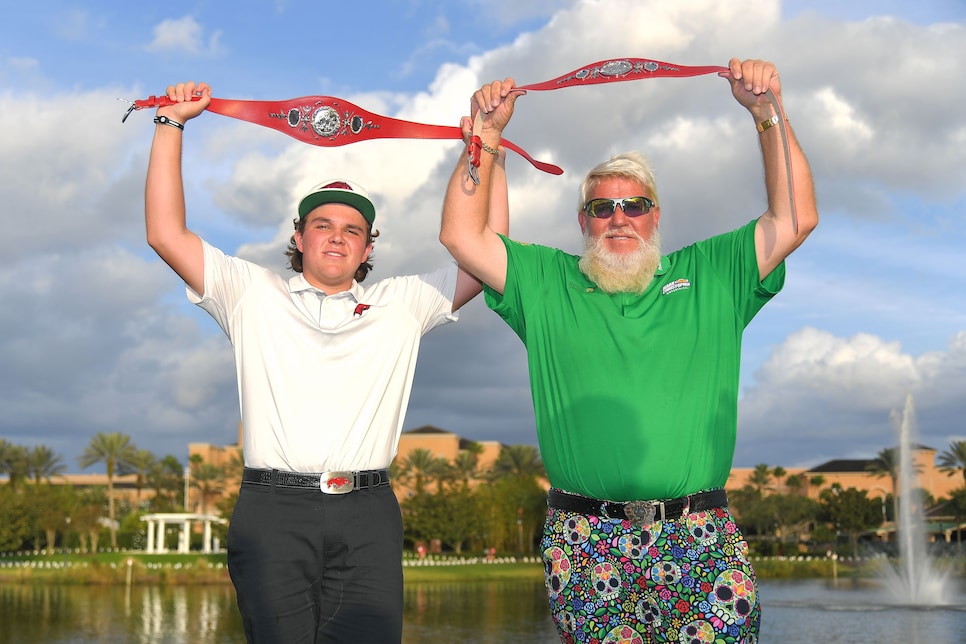 John Daly and his son, John II, hold their victory belts on the 18th green closing out the title at the PNC Championship.
Ben Jared
ORLANDO — A natural villain emerged on a balmy Sunday afternoon in Central Florida. Tiger and Charlie Woods were hard-charging toward the feel-goodest of feel-good victories at the PNC Championship. Their only obstacle: two large men with the same last name and the same preternatural speed. The Dalys.
Golf fans found themselves in a tough spot. Tiger and his mini-me are golf royalty, and the elder Woods was playing his first (semi) competition after a horrific car accident that nearly claimed his leg. Easy to root for. But rooting for one team means rooting against another, and no one roots against John Daly. This, then, was a no-lose situation. If Tiger and Charlie won, perfect. If John and John II—he's no longer Little John Daly, for such a moniker wouldn't fly on an SEC golf team—only slightly less perfect.
The Dalys, playing for the sixth time in this event, did indeed take the PNC title, surviving 11 straight birdies from Team Woods thanks in part to the play of the original John Daly. At 55, he is the same man he's always been: minimal warm-up, cigarettes on cigarettes, Diet Coke to wash it down and a hugely talented golfer. He was quick to note after Sunday's round that he made seven birdies on his own ball after being a no-show with his putter on Saturday. Pair him with his son, equally long but free of the vices, and you've got a father-son powerhouse. Their 27-under two-day total, after a Sunday 57, in the scramble format set a new PNC record at the Ritz-Carlton Golf Club.
"I've always told the media for years the greatest days of my life were seeing my kids born," Daly the senior said. "You can't top that. To be here and win a big tournament like this with my son, nothing can beat it."
John Daly II was a junior Rolex All-American and is now a freshman at Arkansas, his dad's alma mater. He has played just one event for the Razorbacks, shooting an eventful 83-68-78. He is still 18 and has plenty of time to develop into a professional-caliber golfer, if that's his thing. What is certain is he has enough power. Daly II lipped out for an ace on a par 4 during a pro-am round and summoned the shot of the tournament, a long iron from a fairway bunker on the par-5 third, over a not-small lip, to 15 feet. His dad brushed in the eagle.
Big John has battled bladder cancer over the past few years but remains competitive on the PGA Tour Champions, where he had three top-10 finishes over the 2020-21 wraparound season. This victory, he said, will occupy a special place in the memory of his golfing life.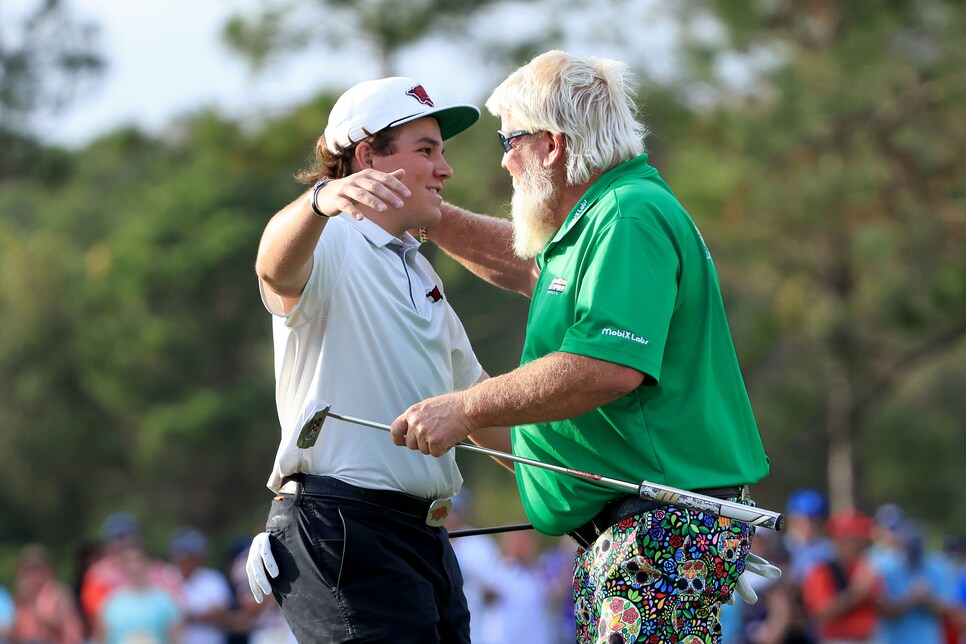 It was Team Daly's sixth start in the PNC Championship before finally coming out with the win.
Sam Greenwood
"Holidays everything and, just playing golf with my son every day when I can is just awesome. To watch him grow up to do the things he could do with a golf ball and a swing that's so perfect, but saving my you know what from putting yesterday, and he played phenomenal and I helped him with a few shots here and there. But it was just an awesome weekend."