Payday in Orlando
Here's the prize money payout for each team at the 2021 PNC Championship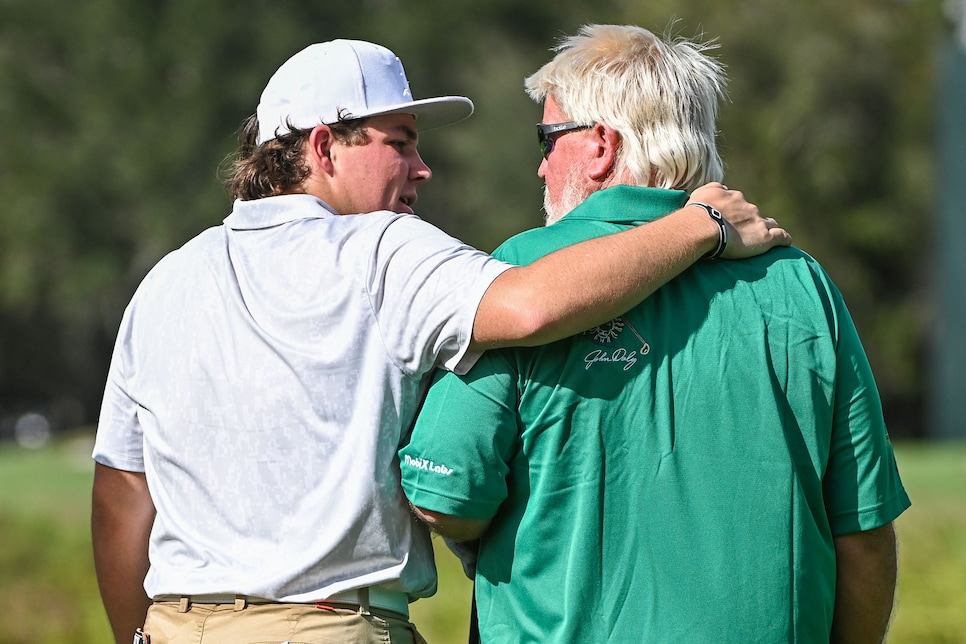 John Daly II puts his arm around his dad, John Daly, during the pro-am at the 2021 PNC Championshiip.
Ben Jared
The unique family atmosphere baked into the PNC Championship makes the two-day exhibition stand out in the minds of most participants. The event is about having fun and making memories. But it got interestingly competitive on Sunday at the Ritz-Carlton Golf Club in Orlando when Tiger and Charlie Woods made a seemingly improbably charge on the back nine.
While playing for pride, there was also a financial reward on the line for the victory. The overall prize money payout at the Ritz-Carlton Golf Club in Orlando is $1.085 million with the professional on the winning team earning $200,000 for the victory.
Watch: Tiger Woods and Joe LaCava Back Together Again
Here's the prize money payout breakdown for every team at this week's event. Come back shortly after the tournament end and we'll update the results with names and individual payouts.
Win: John and John II Daly, -27 $200,000
2: Tiger and Charlie Woods, -25, $80,000
T-3: Justin and Mike Thomas, -24, $53,625
T-3: Stewart and Reagan Cink, -24, $53,625
T-5: Vijay and Qass Singh, -21, $48,500
T-5: Tom and Sean Lehman, -21, $48,500
7: Matt and Cameron Kuchar, -20, $47,000
T-8: Mark and Shaun O'Meara, -19, $45,500
T-8: Henrik and Karl Stenson, -19, $45,500
T-10: Rich and Michael Beem, -18, $44,500
T-10: Gary and Jordan Player, -18, $44,500
12: Nelly and Petr Korda, -17, $43,500
T-13: David and Brady Duval, -16, $42,750
T-13: Bubba Watson and Wayne Ball, -16, $42,750
15: Padraig and Paddy Harrington, -15, $42,000
T-16: Tom and Michael Watson, -14, $40,812.50
T-16: Jim and Tanner Furyk, -14, $40,812.50
T-16: Nick and Greg Price, -14, $40,812.50
T-16: Nick and Mathew Faldo, -14, $40,812.50
20: Lee and Daniel Trevino, -13, $40,000