The Year of Nelly
Nelly Korda met Tiger Woods for the first time at the PNC Championship, and she positively gushes with joy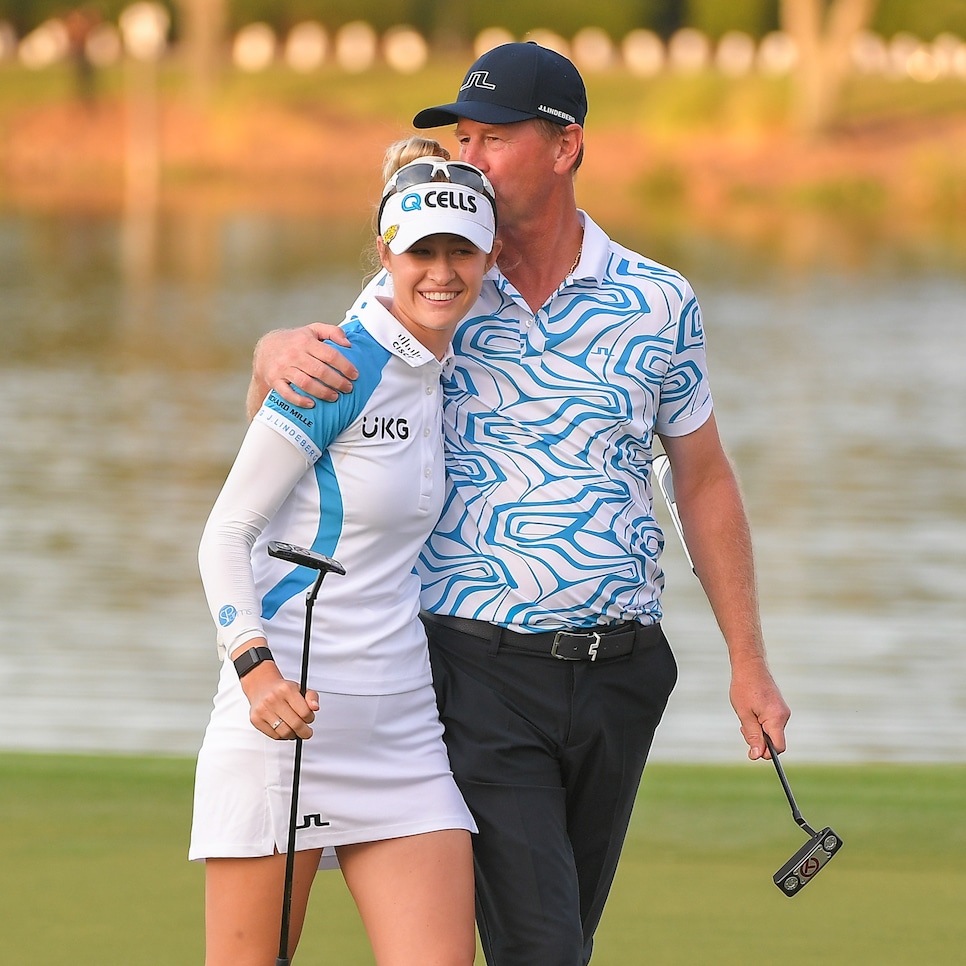 Nelly Korda and father Petr walk off the 18th green in the PNC Championship.
Ben Jared
They're all professional golfers. Many of them live in Florida. We know it's a big state, but you figure that they cross paths at one time or another. So this is one that shocked us: Nelly Korda, the current No. 1 female player in the world, had never met Tiger Woods.
The ensuing video posted by the PGA Tour Champions is absolutely priceless. It may be our favorite video of the year.
As if she were a 12-year-old nearly too embarrassed to even approach Woods, this year's 23-year-old Olympic gold medalist carefully sidles up, between caddies Joe LaCava and Jim "Bones" Mackay, to Tiger as he's unpacking his personal items from his golf bag.
"Hi Tiger," she says meekly, before asking if she can get a picture with him.
"Nelly!" he says, soundlng like he's known her since birth. "Yes! You got it! Done deal!"
Korda then pulls the complete fan move and asks if her brother could be included. You know, brother Sebastian, the professional tennis player. Petr Korda takes over the camera, gets a shot of a beaming Nelly with Tiger, and then Nelly steps out so Petr and Sebastian can pose with Tiger. The video stays on Nelly, who is clearly giddy.
Tiger asks them what they shot, and it's the same 63 as Team Woods. Nelly slips in a brag about the birdie Petr made on the second hole.
As she thanks him repeatedly and walks away, Nelly is asked if it was cool. "Dream come true," she says.
Olympics. Best in the world. Meeting Tiger Woods. The Year of Nelly now has a bow on top.