Like father, like son
Henrik Stenson's son hilariously daggers him at PNC Championship dinner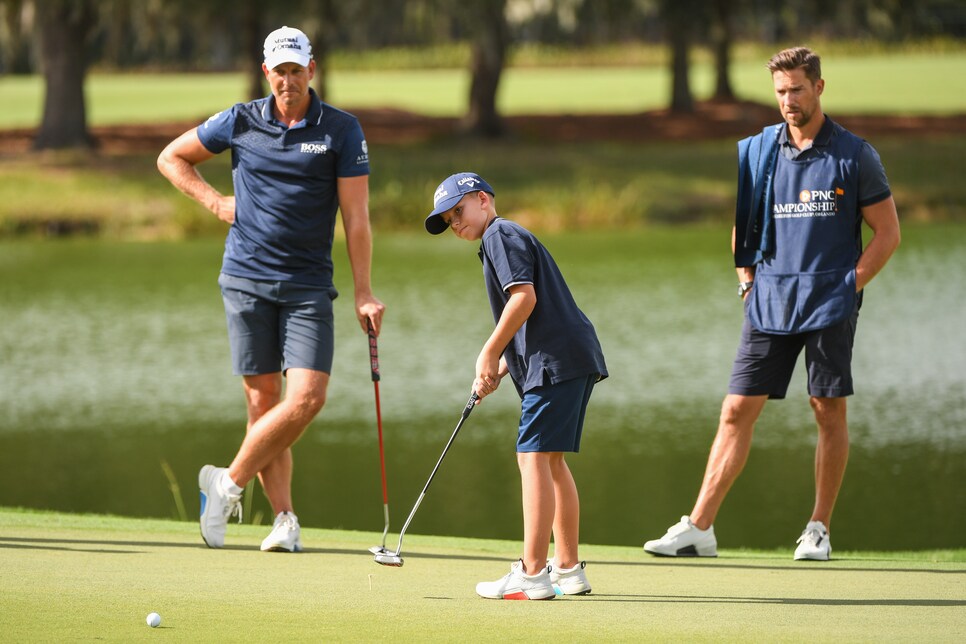 Henrik Stenson was attending his own celebrity roast party, and he didn't even know it. Or if he did, his 11-year-old son, Karl, created an act with Peter Jacobsen that was worthy of a "Saturday Night Live" skit.
On the stage on Friday night during the PNC Championship formal dinner, Jacobsen sat with Henrik Stenson and Karl, who, as a first-time participant, is the youngest in the field at 11—the same age Charlie Woods was last year when he competed for the first time. The elder Stenson is known for a sense of humor as dry as the Sahara, and his son is an uncanny Mini Me in both looks and delivery.
And boy did the kid deliver a couple of hilarious daggers that had the crowd in the dining room roaring.
Jacobsen asked if they had a shot at winning the tournament, and Karl deadpanned, "Not the way he's playing."
He glanced at his dad, who was chuckling.
"He's not playing well right now?" Jacobsen prompted.
"No, not at all," Karl replied.
They already had discussed Henrik's intermittently explosive temper.
"Sometimes he can get a little angry," Karl said. "… First time … ooof."
Dad playfully put his hand over Karl's mic and said, "That's what I'm thinking, now don't say anything more here."
Reviewing the performance on Saturday during the NBC broadcast, Henrik Stenson said, "I thought it was excellent. He had an accomplice in Peter Jacobsen; he kind of set it all up, and [Karl] was just firing away at me. I'm a big boy. I can handle that."
Karl said his dad told him on the car ride to the dinner that he was the youngest player in the field. Team Stenson fared well in the first round, shooting a 10-under-par 62 that included Karl making an eagle putt on the third hole. Henrik compared the proud moment to what Tiger Woods experienced last year with Charlie.
"I had one of those moments that Tiger had," Stenson said. "Standing on the fourth tee, he had just drained a 15-footer for eagle on the third. Then he stands up and hits a beautiful 5-iron into the middle of the green. It was, OK, look how far he's come."