Like Father, Like Son
Little John Daly's college golf career is already off to a wild start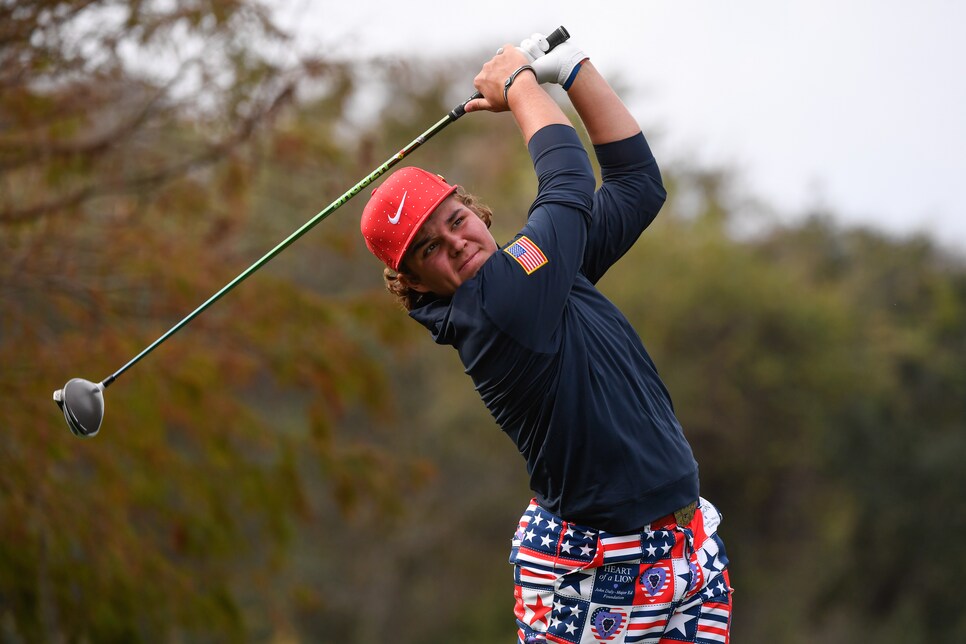 It's hard to believe, but "Little" John Daly is little no more. Last month, he became a freshman at the University of Arkansas, where he'll play on the Razorbacks' golf team. On the team website, he goes by John Daly II. How official.
The season began early last month with the Carmel Cup, held at Pebble Beach. Daly II did not make the trip to California, missing out on his team's third-place finish in the event. This week, though, the second event of Arkansas' fall schedule, The Blessings Collegiate Invitational, is being held at Blessings Golf Club, not far from them U of A campus in Fayetteville, Ark. Daly II is in the field, playing as an individual, meaning his scores won't count toward the team's overall score.
Daly II's college debut got off to a rather inauspicious start, as the 18-year-old opened with an 11-over 83 that featured just one birdie, six bogeys and three double bogeys. First collegiate round nerves may have played a factor, but he was able to overcome them in a big way the following day. After bogeying his second hole in Round 2, the par-4 11th, Daly II got rolling, making seven birdies and just two bogeys the rest of the way to shoot a four-under 68.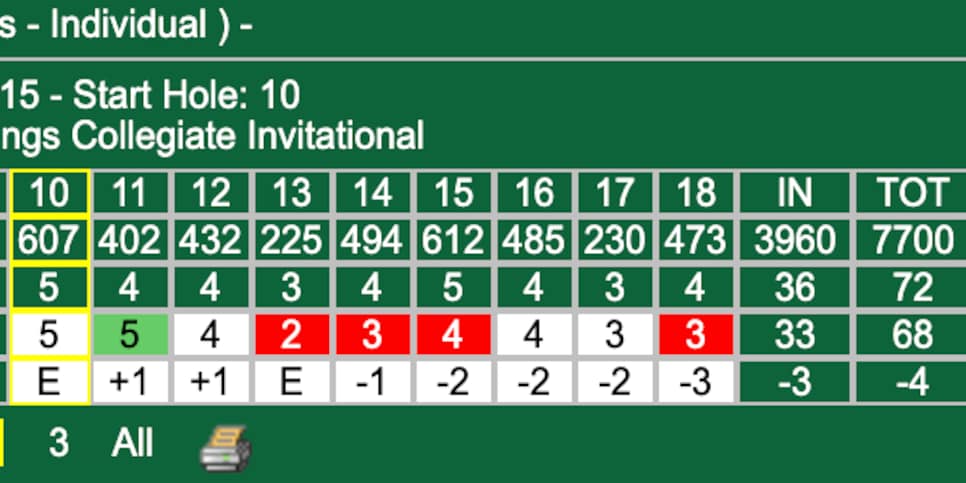 Atta boy, JDII. A turnaround pops will be very proud of.
Making his second-round 68 all the more impressive is the fact it's one of just seven rounds of 68 or lower in the 52-player field through two rounds. The first-round 83 may be too much to overcome, as Daly II is in a tie for 42nd with just one round to play on Wednesday, but another low one could see him vault up the leader board and post a solid finish in his first college tournament.
Daly II's third and final round begins at 12:15 p.m. ET, and you can follow along here.
UPDATE, Wednesday, Oct. 6, 9:45 p.m.—Daly II went back out for the final round and displayed more of the jitters from Day 1 then the confidence of Day 2. After starting on the 10th hole, Daly II made seven bogeys on his first 15 holes before a birdie on the par-3 eighth, his second to last, left him with a six-over 78. He finished the tournament with a 13-over 229 that left him in 49th place out of 52 players, 24 shots back of the individual winner, Arkansas teammate Luke Long.