The View from Pebble Beach
Thirty years later, John Daly reflects on an improbable PGA victory
Jim Nantz interviews the two-time major champ on his breakthrough win.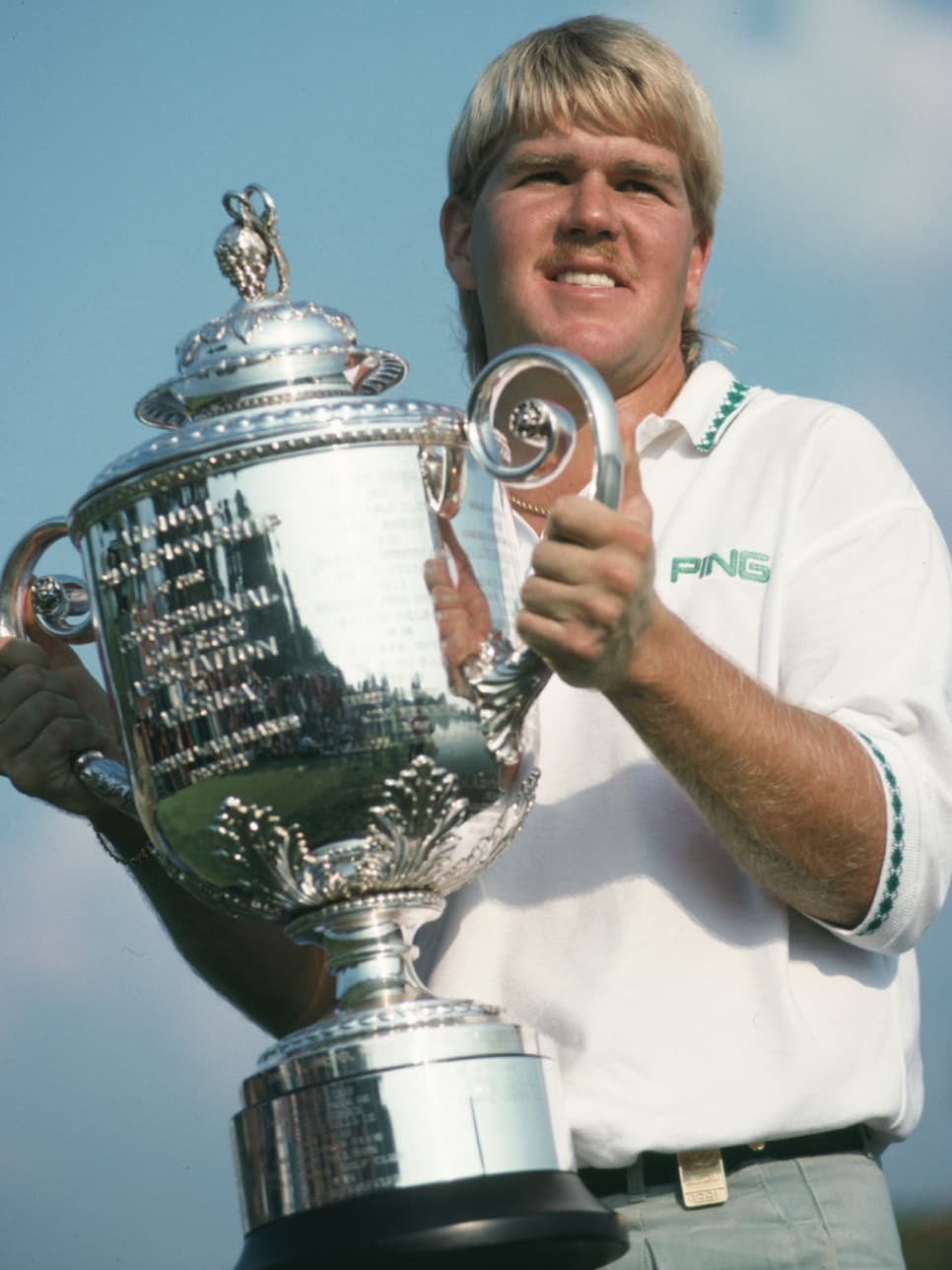 LONG SHOT Daly went from ninth alternate to major champion at the 1991 PGA. Photo from PGA Tour Archive via Getty Images.
John Daly will always be remembered for being one of the great Cinderella stories in the history of golf. In addition, it's doubtful we will ever see a two-time major champion who fits the description "a man of the people" more emphatically than J.D. When I caught up with him in April at the Insperity Invitational, where he tied for second, he had a full-length beard that had him looking more like Santa Claus than the raw-boned kid from Arkansas who 30 years ago this summer stunned the world by winning the PGA Championship as the ninth al- ternate into the field. J.D. is 55 now, and this past year has been a tough one, as he revealed he has been battling bladder cancer. But his colorful demeanor, big game and commitment to helping others remain intact.
How's your health? Your bladder cancer diagnosis in September 2020 has a lot of people very concerned about you.
We're getting there. I'm feeling OK. We caught it early, which is great. I've had two rounds of chemo, and the last test shows the cancer at the moment is benign. I go back for testing in October, and if it's benign at that point, I go back for testing once a year for five years.
It has been 30 years since that magical week at Crooked Stick and the 1991 PGA Championship. What's the first thing you think about when it comes to your mind?
I think of the Boys & Girls Club. It's been 30 years since I became involved with that, and it happened because I won at Crooked Stick. We've done great things with that not only in Russellville and Dardanelle in the Arkansas River Valley, but others as well. We've poured hundreds of thousands of dollars into them over the years, and they've made a difference. I'm proud of that.

The story of your winning is so rich.
It's one of the great underdog stories in all of sports. Take us back and put us in the middle of it. When did you get the phone call that you had a chance to get in as the ninth alternate?
We were in Memphis, and I had just bought a house in Germantown, Tenn., with my first wife, Bettye. We weren't married yet. I had just taken out a loan for a BMW. I had made $162,000 on the PGA Tour in 1991 and had secured my card for 1992. Life was good, and I was really happy. Then Nick Price called to tell me his wife, Sue, was ready to have their baby and that he was withdrawing and that I might get to play at Crooked Stick. Nick offered to have his caddie, Squeaky—that's Jeff Medlin, who passed away in 1997—caddie for me. I was like, "Oh, man, yeah." We drove 10 hours to Indiana on Wednesday and got in at 1 a.m. on Thursday. The light on my hotel phone was blinking, and I got the news. I had made it into the field.


Your game obviously was in very good shape.
On my second hole of the first round, Squeaky looked at me a little surprised and said, "Man, you hit it good." He caddied for Nick Price, one of the best ball-strikers ever, so he would know. I said, "Yeah, and I'm hitting my driver really good." I was pounding it, and straight, too. Squeaky said there was no trouble on the course I couldn't carry, and I formed my strategy right there. I told him we were going to hit driver every time, and I did.


The distance you drove the ball got everyone's attention. From my place in the CBS booth, I remember our commentators raving about your power.
It wasn't just the driver. On the first par 5 I played, my tee shot left me 202 to the hole. I asked Squeaky, "What would Nick hit here?" Squeaky said, "A cut 4-iron, or a big, hooking 5." I said, "Give me the 8-iron." I hit it pin high and Squeaky, in that high voice that gave him his nickname, said, "OK, we're four clubs longer than Nick. Got it." I remember club selection being real easy after that.
You shot 69 in the third round and finished with a 71 to win by three over Lietzke. The scene of you coming up 18, pumping and waving your fist, revving up the fans, is indelible to this day.
You followed that opening 69 with a 67 to take a one-shot lead. Do you remember who you played with?

Bob Lohr and Billy Andrade during the first two days—super guys. Bruce Lietzke in the third round. Bruce was an awesome ball striker, a lot shorter than me but a machine. He just didn't miss fairways. The final round I was paired with Kenny Knox. Bruce was one hole ahead.


The story quickly became about you, this unknown coming out of nowhere to contend at a major. Did you feel the pressure?
I didn't care. All I knew was that the fans were loving it, and they were behind me in a huge way. Saturday night, I had to ice my right hand. I had high-fived so many fans going from green to tee and signing autographs, it was killing me.
It was such a blur. Four days seemed like a minute. It didn't hit me until I got to Colorado for The International the next week. The crowds outside the clubhouse were packed, waiting for me to come out, and the tournament hadn't even started. Only then did I realize that what I'd done at Crooked Stick was a big deal.
Would you call it the greatest moment of your career?
To be honest, winning the British Open in 1995 at St. Andrews was more special. By then, there was pressure to win again. Life had changed. The history of St. Andrews and being surrounded by the blue-collar people like me who came out over there really got to me. It was just different than Crooked Stick and harder to do, so big picture it meant more. But I don't know how you compare these things.


One thing that impressed me at Crooked Stick was what you did when you received the winner's check for $230,000. You were far from a rich man at that point in your career, yet you donated $30,000 to the family of a man who had been killed by lightning earlier in the week. Where does your big heart come from?
I came from a small town in Arkansas and didn't have much growing up. I've always felt for the little guy out there, kids especially. On Saturday I read the news about the guy dying. I learned he had been on the course watching me and was struck by lightning as he got back to his car to leave. He was 39. It was such a sad thing to read about, especially that he had two young daughters. I guess it stayed with me because I did make that $30,000 gift. Years later, I went back to Indiana to play in Fuzzy Zoeller's charity tournament and met the family I'd helped. One of the man's daughters became a doctor and the other became a lawyer, and they have kids of their own. It made me feel so good, and it's why I'm involved with charities to this day.
What is the most misunderstood thing about you?
People think I'm a slob, but I might be the neatest guy on the planet, in an almost OCD way. My shirts have to be hung in order, color-wise and have to hang a certain way using a particular type of wood hanger oriented in a certain way. I vacuum and do dishes like a maniac. It drives my girlfriend, Anna, a little nuts.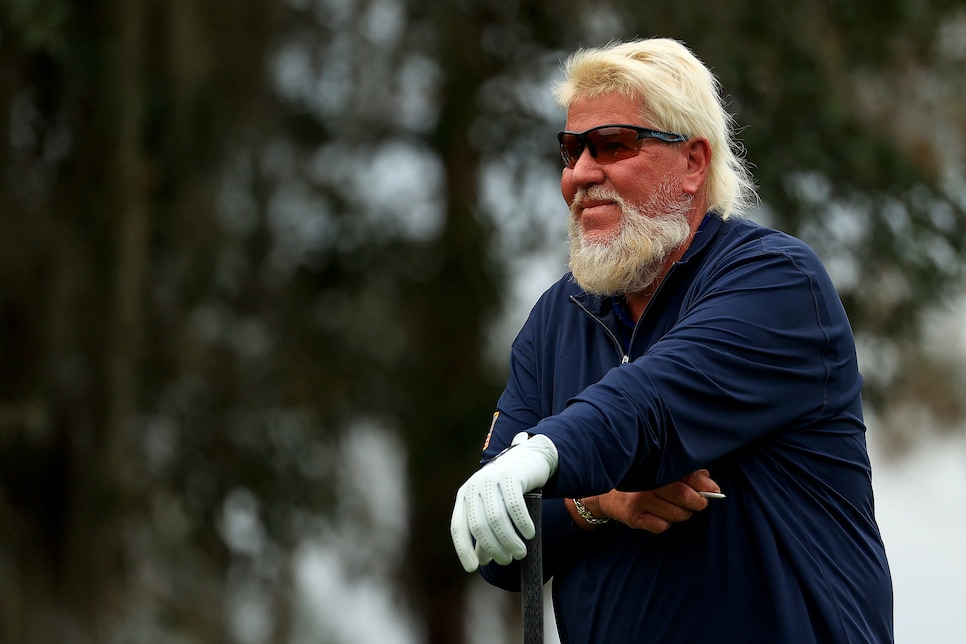 RECOVERY ROAD Daly says he doesn't plan to shave his beard until he has been cancer-free for six months.
Mike Ehrmann
Any regrets about your career?


I shouldn't have chased the money like I did. I'd go overseas and play for three weeks, then fly back and play five in a row in the U.S. I was tired a lot, and I think it kept me from winning more. Fuzzy, Arnold Palmer and Jack Nicklaus all warned me about that, but I didn't listen. The ironic thing was, I've never been obsessed with money. To me, it was about winning trophies. But damn, when an appearance fee overseas guarantees you're going to make triple what you could make here, it's hard to turn down.


What does money mean to you today?
You have five PGA Tour wins, including two major championships. Should you be inducted into the World Golf Hall of Fame one day?

I wish the fans could decide that rather than a committee. If it were up to the fans, I probably would make it in. A committee, I'm not so sure.


Bryson DeChambeau and his pursuit of distance is a big story. What are your thoughts?
The way he uses science is cool, and I can't help but imagine him and me in my best years having a distance rivalry—a smart kid from California doing it through equipment, nutrition and physical conditioning, and a redneck from Arkansas doing it my natural way. It would have taken the excitement about driving the ball to another level.


Who's longer, Bryson or John Daly?
If Bryson were hitting a balata ball and persimmon driver, the John Daly of old would fly it 40 yards past him. On the other hand, if the 1991 version of me were using the modern clubs and balls alongside Bryson, he would fly it 40 by me. See, our swings and technique are different and tailored for the equipment of our time.
Everyone is pulling for you to get better. We want the John Daly story to continue for years to come.
Months ago, I started growing a beard and promised I wouldn't shave it off until I had a clean bill of health. After the test in early April showed the cancer was benign, Anna asked me to shave off the beard. I told her no; we had to wait until the test in October came back clear. So if you see me with a clean face on Halloween, you'll know it's all good.
A version of this interview will also run in the June/July issue of Golf Digest.