PONTE VEDRA BEACH — On this most chaotic March afternoon, Justin Thomas found a moment of tranquility. Three minutes and three seconds of it, to be exact—the time between his birdie on 16 and his turn to hit perhaps the scariest shot in championship golf.
The ever-shifting leader board at the 2021 Players Championship had begun to crystallize. THOMAS -14 sat one slot above the rest, and he knew exactly what he needed to do: Find. Dry. Land. The fans are back but the cameras never left, and five of them crammed his space as he made the trek between green and tee. People in his grill, noise in his ears.
Thomas never even considered giving them a glance, let alone a wave. Hell, the man hardly blinked. This was winning time, and he had a job to do, and he had to do it on the game's most chaotic stage: No. 17 at TPC Sawgrass.
He did indeed find the island green, eventually sinking a nervy five-footer for par. Back across the pond—speaking literally here, not geographically—England's Lee Westwood failed to capitalize on the par-5 16th, walking off with a disappointing par and putting Thomas in firm control. When Westwood three-jacked 17 for a decisive bogey, all Thomas had to do was avoid the water hazard down the left side of 18, and this was likely his.
So, today being today, he proceeded to roast a hooking 5-wood that someway, somehow ran out of gas on the very left edge of the fairway. Water avoided, barely.
Finally—freakin' finally—the madness had settled. Thomas played safely right of the hole, two-putted for par and emerged as the last man standing on a truly wild day at TPC Sawgrass. His 14th PGA Tour victory came via a winning score of 14 under, good for a one-shot win over Westwood and two clear of Brian Harman and Bryson DeChambeau.
Win No. 14 is a bit of a milestone, too. Thomas became only the fourth player since 1960 to claim 14 victories before turning 28. The others: Tiger Woods, Jack Nicklaus and Johnny Miller.
"The hair on my arms and neck and legs were standing straight up walking to 17 green, and I had to play five to eight yards for adrenaline just because of the fans and the moment," Thomas said. "It's stuff that's so hard to explain. But it felt great. I mean, that's why we all play. That's why we all do this."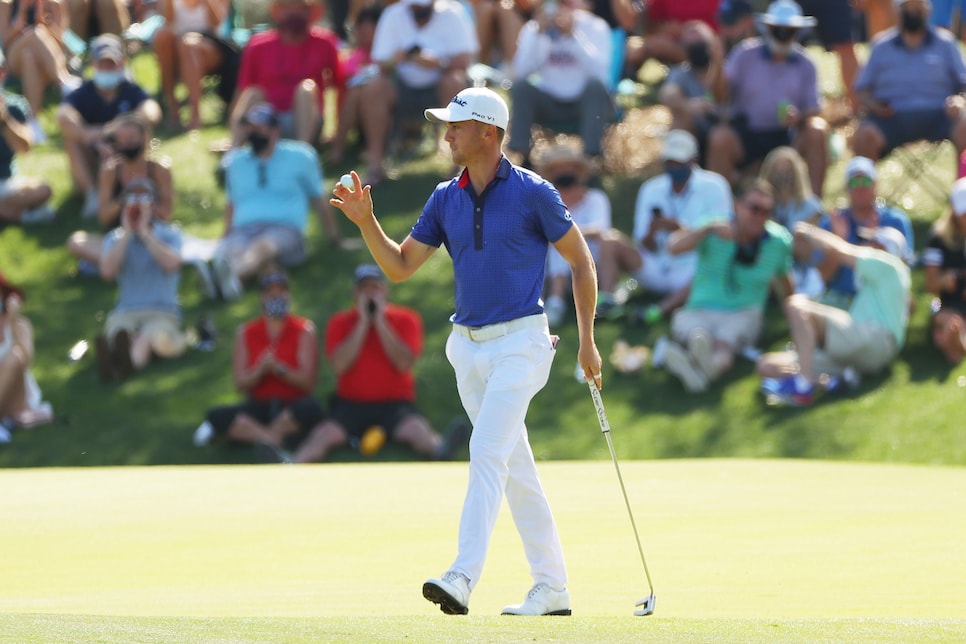 Thomas' 132 score over the weekend tied the lowest closing 36-hole score in Players Championship history.
Kevin C. Cox
Thomas' 68 on Sunday followed an electric 64 on Saturday, and his weekend score of 132 equals the lowest in Players Championship history. He entered the third round seven shots back and trailed by three at the start of the day, knowing full well the tournament was likely out of his hands. If Westwood and DeChambeau kept playing like they had been the first 54 holes, he'd need help.
The rematch of last week's final-round duel at Bay Hill, where DeChambeau emerged victorious, never quite materialized. Not after they both butchered the fourth hole in hard-to-believe ways. DeChambeau stepped to the tee first and wanted only to bunt a hybrid into the fairway. He was playing by Pete Dye's rules, keeping his biggest weapon in his bag and playing for position. What followed next was a shot that none of his speed training or physics equations could account for.
"I was trying to hit more of a low bullet and just kind of caught the heel, a little high on the thing," he said. "It wasn't really a top, it was more like a thin ball that just had no spin on it and just knuckled. If there was a top there, it would have been down on the ground."
Instead, it traveled 143 yards until it nose-dived into the drink. DeChambeau took a drop and missed 60 yards right with his third, and the heavyweight champ was woozy. His double bogey forced him to play catch-up from then on, a big ask at a course with his much trouble.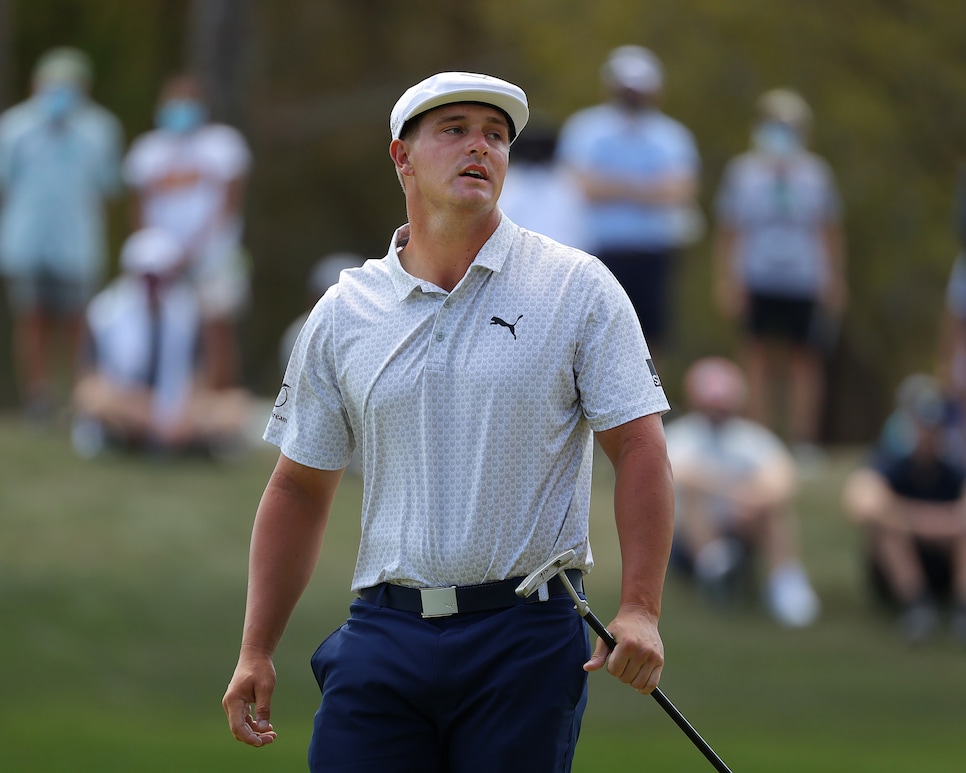 DeChambeau was trying for back-to-back wins in PGA Tour events, but this Sunday he didn't have his best stuff.
Kevin C. Cox
Westwood had an adventure of his own, block-slicing his tee ball into a hazard that should never come into play. It was a harbinger of an uneven ball-striking day to come, the reason the 47-year-old sentimental favorite among many will leave Florida with back-to-back runner-ups.
"I didn't play my best golf today by any stretch of the imagination," Westwood said, "but I battled it out. I was proud of myself for that. People question whether I can hole putts under pressure, and I rolled in a lot of must-make putts all day, really."
Indeed he did, highlighted by a miraculous and somewhat stolen birdie on 14 after his tee shot was about one foot away from finding a hazard. That drew him even with Thomas, but Thomas played the closing holes in one under and Westwood could only manage even.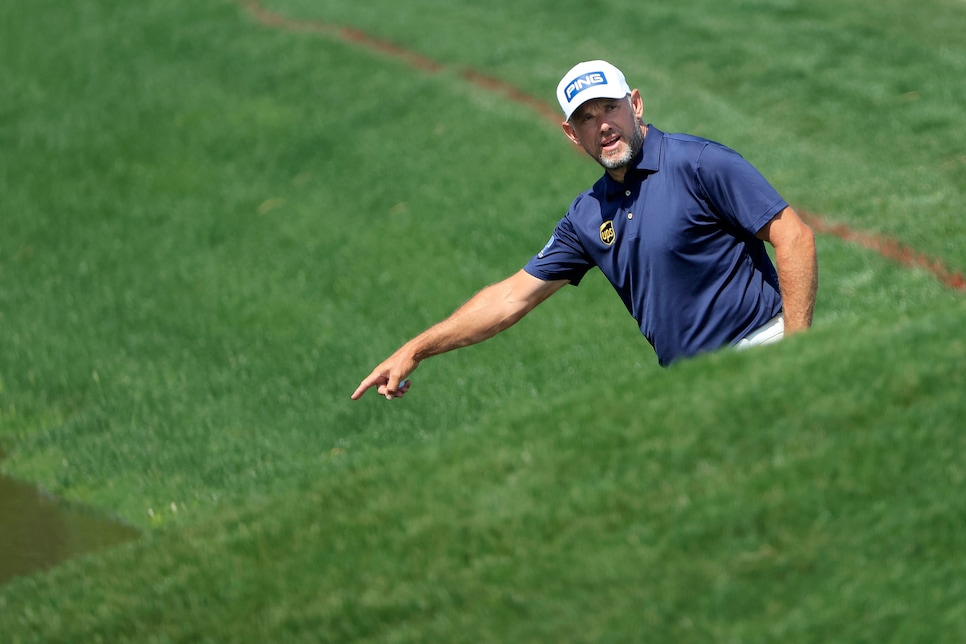 Westwood was the sentimental favorite heading into the final round, but he couldn't continue the solid ball-striking he'd displayed the first three days.
Sam Greenwood
Harman played a role, too, the plucky underdog who refused to go away. Talor Gooch made an appearance. Paul Casey ebbed and flowed. Corey Conners had a half-chance until an ice-cold putter doomed his comeback effort.
As putt after putt from the others fell by the wayside, Thomas caught fire. He tends to do that. Thomas idolized the late Kobe Bryant, but his golf brings to mind another NBA star: Stephen Curry. Like Steph, JT seems to be coasting along, doing nothing of note, until the switch flips. The whole week fit that cadence—he opened with a pair of 71s (snooze), even looked like he wasn't going to make the cut halfway through this second round on Friday, before he got hibachi-hot on Saturday with a 64 that proved the low round of the tournament.
And it happened again on Sunday—Thomas was one over par through eight holes, putting like a blind rhinoceros, before going (deep breath): birdie-birdie-eagle-birdie.
Thomas started to get the crowd on his side after a birdie on the 10th hole.
Kevin C. Cox
"I was playing so well those first eight holes, and I felt like I was hitting a lot of good putts—just wasn't making anything, wasn't getting anything out of my round. I just tried to stay in that same mind frame. I really just tried to keep executing and hitting the shots how I wanted and I felt like the putts were going to fall eventually.
"Jimmy [Johnson, Thomas' caddie] did a good job keeping me calm and in that frame of mind, but I knew one hole wasn't going to affect me or impact me. I know you can shoot six, seven, eight under on the back nine out here if you get it going, and I just tried to make sure that I was in the frame of mind to where that was possible."
That one-hour stretch vaulted him to the top of the leader board, where he stayed despite missing his first putt inside three feet all year on 14.
You're going to hear the word adversity used quite a bit in regard to Thomas' victory. Perhaps baggage is a more appropriate term. There is no question Thomas came into this week in something of a rut. He said so himself on Tuesday. But a not-insignificant portion of that rut was self-inflicted. He said a terrible word in Hawaii, one that has no place anywhere let alone on a golf course, and he paid the consequences. Surely the fallout from that slur weighed on him. Thomas showed genuine contrition in the aftermath and has said all the right things since. But any apology won't be enough for some to forget, let alone forgive, him.
That wasn't it, though. On the Saturday of last month's Waste Management Phoenix Open, Thomas lost his grandfather, Paul, a golf professional who nudged his son and his son's son into the game that would come to define their family. When he was asked about his late Pop on Sunday, Thomas broke down. They spoke every day. Nothing made him happier than hearing grandpa's voice.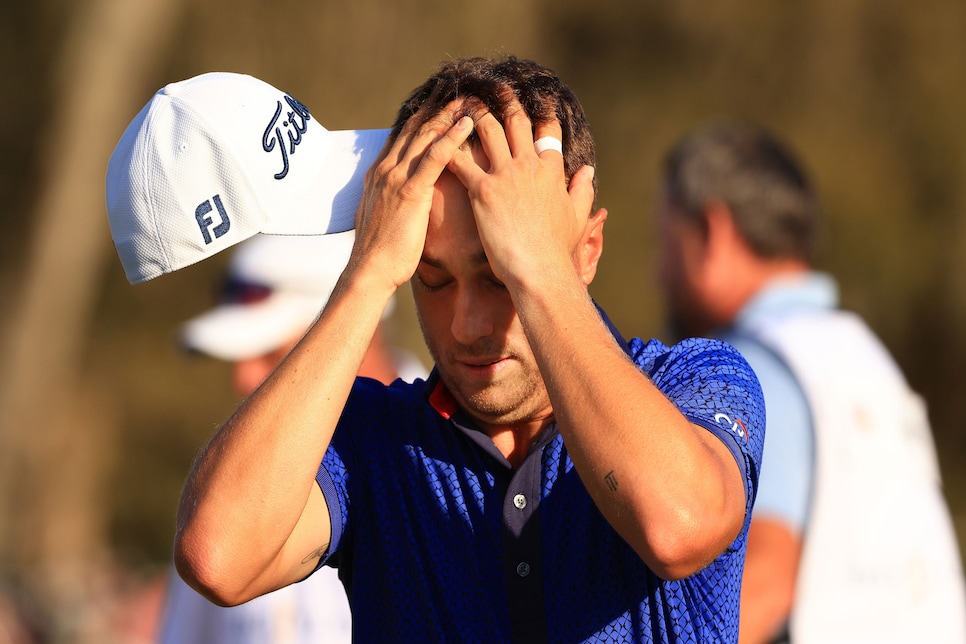 A closing 68 was still emotionally crueling for Thomas.
Mike Ehrmann
There's also Tiger. Woods has been an open book to virtually any young player who wants advice, but his relationship with Thomas goes deeper than that. JT was visibly shaken upon hearing of Tiger's accident, and he's been in constant contact with him in the weeks since. Woods hasn't just taken him under his wing; they've become best friends, and JT models his on-course demeanor after him. Remember, that moment of tranquility amid the chaos? Tiger's had to do that a few times in his career.
"I kept telling everyone on my team or my family I'm ready for something good to happen this year. It's been a pretty bad year and a lot of bad things have happened, but that's life, that's a part of it, and you've got to take it for what it is and try to get better because of it and take everything that's happening with a grain of salt.
"Yeah, I'd say this qualifies as something good."